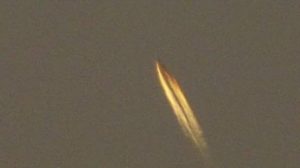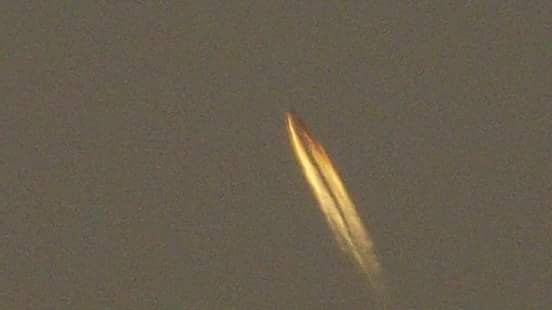 (Last Updated On: January 3, 2018)
Date:  Various since New Years Eve 2017
Location:  Stubbington Hampshire
Time:  Started at 4:45pm now they come around 9:00pm
Summary:  Two incandescent Purple and Red lights seen many times these past two weeks in our area they occasionally turn red before descending then return to purple again ascending. They have been observed by myself and a work college to briefly turn Purely Green for a very short period before returning to Purple and Red again They are mostly Purple (LEDish light) with a Red streak running through their mid section On the last sighting on the 7th my college recorded a video with three of these objects but that was the first time we have seen three prior to that only two have been observed.They are very luminescent purple and red and sometimes before descending they turn pure red. On occasion they flash pure green. Once we witnessed three flash green simultaneously. They started out with just two now the come in threes and fours. They tend to mostly form Triangle shapes and last sighting yesterday they formed a T shape on its side
Source:  www.uk-ufo.co.uk
---
Date:  January 2017
Location:  Brooklyn, New York
Time:  daytime 
Summary:  
Source:  latest-ufo-sightings.net
---
Date:  January 1 2017
Location:  Kampinos Forest, Poland
Time:  
Summary:  
Source:  latest-ufo-sightings.net
---
Date:  January 1 2017
Location:  California
Time:  
Summary:  A triangular craft was seen over the skies of California.
Source:  latest-ufo-sightings.net
---
Date:  January 2 2017
Location:  Cole Valley Road, Yardley Wood, Birmingham
Time:  12.35am
Summary:  At 12.35am early on the morning of 2nd January 2017, Nigel was outside his house on Cole Valley Road, Yardley Wood, Birmingham. It was a clear, still and dry night, with the stars and moon fully visible. Looking to the South he noticed an object moving quickly in his direction. It appeared to be very large and tubular/cylindrical in shape. The main body of the object was quite hard to see due to the darkness. Along one side of it appeared to be between 6-8 square shaped panels or windows, which emitted a dull orange/reddish coloured glow. The panels were equally spaced out along the length of the object. It appeared to be flying at a height of 300-400 feet, about the same height a helicopter would fly at. Nigel estimates it was about the same size as a cruise liner aircraft.
The UFO moved extremely fast on a straight and level course. Within seconds it had reached his location. It passed over the roof of his house, then turned to the left and headed off in the direction of Kings Norton to the West. It vanished into the distance within 10-15 seconds. Nigel was convinced he had witnessed something extremely unusual.
Sighting Analysis
When the witness first contacted me about the sighting via E-Mail, my initial thought was that it may have been a launch of multiple Chinese lanterns which were drifting on an air current in a straight line, giving the impression of a single larger object with glowing "windows". However when I suggested this to Nigel he was adamant that it definitely wasn't these. He has seen lanterns before and knows exactly what they look like. He says the panels/windows were exact squares and precisely level with one another. He was also able to see the main body of the object around them, it was clearly a single object rather than multiple. It was also travelling much too fast to be lanterns drifting across the sky.
If it was not lanterns then what else could it have been? It was definitely not a normal aircraft as no wings, tail or navigation lights were visible. Solar airships are cylindrical in shape and usually black or dark coloured. However these only ascend during sunny daylight and the sighting took place in the middle of the night. Also they do not have glowing panels along them. The size and speed of the object also make it unlikely that it was a radio controlled model of some kind or a novelty LED balloon.
With none of these possibilities sufficiently able to explain the sighting, we are left with the very real possibility that this was a genuine sighting of an advanced craft, one that appeared to be under intelligent control. The witness was quite surprised that nobody else had reported seeing it. If any further information does come to light, this report will be updated.
Source:  Copyright Dave Hodrien 2017
---
Date:  January 2 2017
Location:  Bexhill on sea
Time:  7 pm
Summary:   I had just come out of a nursing home after visiting my fiends father with her. the moon was shining brightly and the night was very clear. I was looking at the moon and a red light caught my attention from the right. as I looked at it there were three more in a perfect horizontal line and equally spaced travelling behind it, we both watched them as they travelled directly across our vision until one by one they disappeared as they arrived directly under the moon, a fifth red light further back caught our eye. also moving in the same direction, My friend caught a photo of that but sadly I dont have a copy yet , looking at her photo once we got into the car we 'opened' it up by zooming in to discover an oval shaped object with bright lights through the middle. there was no sound, no vapour trail just this silent object. it too vanished once it got directly under the moon, as though it were going through a door. The silence was eerie with no sounds at all, no cars, no wind noise, no tree's rustling, in fact in was like time stood still except these objects moved through the sky. there were no flashing lights just bright red objects that looked like they could be plucked from the sky. Planes make noises of some sort, so do drones etc. birds are not perfectly round and bright red. Can't explain it but I know what I saw. Witness Name: Jax
Source:  www.uk-ufo.co.uk
---
Date:  January 2017
Location:  Near Pojoaque New Mexico
Time:  6:20 p.m.
Summary:  The witness was driving with her husband from Taos County to Santa Fe at 6:20 p.m. on January 3, 2017, when the incident began. "I saw a bright, strobing object heading south on the west side of the highway just as we were coming up to the exit for Los Alamos," the witness stated. "Near Pojoaque and the stores and gas stations and casino that are at that point on the road." The witness was headed northbound. "It was less than 100 feet elevation. Very bright green. It seemed to be a spiraling or spinning pattern to it and round, but flat. I think it seemed to spiral on the bottom of it, but it may have been more spherical. There were no other lights on it, and in my mind, I tried to say it was a helicopter because of the spinning, but it was bright green and no other lights on it." The object appeared to move twice as fast as the vehicle moving along at 50 mph – moving at about 100 mph. "I tried to point and tell my husband fast enough so he could see it, but he was only able to see it in the back window of the SUV maybe a mile or more behind us over an overpass. He was able to see the strobing green light, but not the spiral or spinning pattern. I had music on and the windows closed, so I have no idea if it had a noise associated with it. I was very aware that it was not explainable in my mind. I had no frame of reference for what I had seen, nor did my husband, who could not explain something moving at that speed, so low and bright lime green. I was constantly looking for others or something to explain it. We lost sight of it because I was headed north. And while I did have the desire to turn around and chase it, I knew I was not fast enough to pull a U-turn across six lanes."
Source:  MUFON Case 81321
---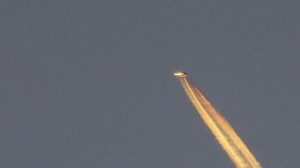 Date:  January 4 2017
Location:  Exmouth in Devon England
Time:  shortly after 1pm
Summary:  Above Image: Tyron Osborne snapped the rare sight shortly after 1pm on Wednesday (Picture: Tyron Osborne/Facebook) A 'flaming UFO' has been spotted soaring above Exmouth in Devon. At least that's what this musician claims he saw shortly after 1pm on Wednesday. According to Mark Emmins, the oval-shaped luminous object appeared in the sky and remained there for about three hours. His friend, Tyron Osborne, snapped the rare sight as the pair looked on in amazement, convinced it was a UFO.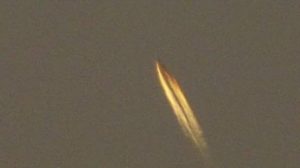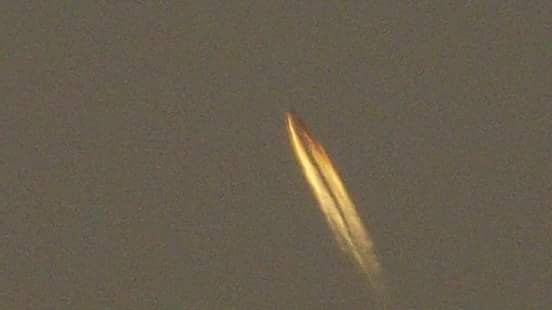 The rare object remained in the sky for three hours (Picture: Tyron Osborne/Facebook)
Posting pictures online, Mark wrote: 'Today for the second time in my life I can honestly say that myself and my neighbour watched a UFO. 'It was stood still in the sky for some hours and then decided to move and then vanish. We got photos too.' The object, which is most likely not a UFO, was initially dismissed as a star, but Mark insists he later windows on it. He said: 'If you look closely you can see what appears to be windows. I have never seen anything like this. His post led to dozens of people speculating at what it could be (Picture: Tyron Osborne/Facebook)
'As for believing in aliens, I've always thought we are not alone in the universe and hoped to see something that would make me believe they would visit us. 'I didn't expect it to actually happen.' Mark believes the object came from the US after he noticed it was traveling east from Dawlish. His post led to dozens of people speculating at what it could be, with most people saying it was probably not a UFO. Wendy Seaman wrote: 'Looks like the Enterprise. Are you sure it wasn't a satellite, one goes over about 4ish daily. When its a clear day you can see it clearly.' Paul Oxenham said: 'It could have been someone's drone.' But Steph Pommier wasn't going to put it off that easily, writing: 'UFOs have been spotted since the beginning of Man. Just accept it. We cannot know nor control everything.'
Source:  http://metro.co.uk
---
Date:  January 4 2017
Location:  Lower Austria
Time:  about 10:30 p.m.
Summary:  The witness was driving home with two friends on January 4, 2017, when the incident began. "During the drive, we spoke almost nothing," the witness stated."It was about 10:30 p.m. and completely dark. Then we drove a path that was very deserted and also secluded. Without having thought something, I looked up into the dark sky and all of a sudden I saw three very bright light objects that floated very slowly, turned in a kind of circle pattern, and remained standing in the air." The three were very impressed by the objects and decided to stop and investigate. "We left the car and I tried with my phone to film these objects. Except for the chirping of insects in the nearby forest and far-away cars, it was deathly silent. So the three light objects made absolutely no noise. Unfortunately, I could shoot the three pulsating light objects on film for only a very short time because I had little space on my phone. And my friend, Franz, unfortunately has an older phone without a camera. Also, Gernot's phone is older too. I was filming these three objects about 40 Seconds. After this 40 seconds of filming, we watched these three objects about 3-4 minutes before this object then just disappeared. Like turning off a Light. Actually, I'm skeptical about these things before, but after this scary event, I'm much more open to alien things/UFOs/extraterrestrials and so on. I hope that they perhaps can find out what it is/was."
Source: MUFON Case 82239
---
Date:  January 8 2017
Location:  Homer City Pennsylvania
Time:  9 p.m.
Summary:  The witness was sleeping at 9 p.m. on January 8, 2017, when he was awoken to a low humming sound that seemed to be coming from every direction. "I then saw what appeared to be a low flying Apache or Black Hawk helicopter," the witness stated. "It slowly flew by and afterword the humming got intense." The witness then saw an object in the sky that pulsated with red, white and orange lights. ​"They were also softly pulsating. I looked at my clock when I woke up and it said that 25 or so minutes have passed, but it felt like it was no more than two or three. I really hope that doesn't mean what I think it does. I tried to dismiss it as me being tired, but I fear that I have had time loss. After what seemed like a minute, the saucer shot away and then changed directions very abruptly. Afterword, another or the same black helicopter came through the direction the UFO was going to fly until it changed direction. I just want answers to what this was. I want rationality." "Object estimated to between 90 to 100 feet long, according to witness," Geis stated in his report. "During the interview, the witness alluded to a possible abduction situation. Witness said he had missing time (approximately 25 minutes) and said he had marks on his arm. They were beginning to fade and he sent me a picture of the marks. He then went on to explain that a few weeks ago he felt a presence in his bedroom, and at one point felt as if something was pulling at his legs, although he could not see anything."
Source:  MUFON Case 81494 
---
Date:  January 8 2017
Location:  Ashland Missouri 
Time:  about 5 a.m.
Summary:  The witness got out of bed to let a dog outside in the dark at about 5 a.m. on January 8, 2017.  "I saw coming down the street what I thought was a truck because it had a lot of bright lights, but noticed there was no sound," the witness stated. "I went to the window of my front room to see if it was a truck, but nothing came towards the front. No car. No truck. I let my dog back in the house and sat at the side of my bed. Went to call my friend to wake her up and she was at the grocery store, which shocked me because it was just 5 a.m. And now it was 7:30 a.m. I have no recollection of what happened in between letting the dog out and seeing this thing and noticing it was 7:30 a.m. All this happened this morning and I am baffled to what it was and how I lost all that time."
Source:  MUFON Case 81400
---
Date:  January 8 2017
Location:  Kouts Indiana 
Time:  
Summary:  The witness was outside walking a dog at 5:10 a.m. on January 8, 2017, when the incident occurred. "It was around 5 in the morning with a clear, dark sky," the witness stated. "When I was on my way to my house, I noticed a very bright light moving above the trees in the forest. It was around 50 feet above the trees moving from north to south." ​The witness described the object. "It was a circular object around 10 feet in diameter. As it moved over the trees, it did not light up the woods underneath the light. As it approached the road, the object and light just disappeared. It made no sound." Indiana MUFON State Director Philip Leech investigated this case and closed it as an Unknown. "The object hovered in place for around one minute and then began to come out of the wood line heading towards a cornfield," Leech stated in his report. "Witness describes the object reacting as if it had seen him, with the result being the bright, white light 'just shut off .' The witness advised that the event did not cause his K-9 to react in anyway. No time loss, due to the witness being on somewhat of a timeline to walk the dog before work. The witness did describe the morning as being 'eerie' which somewhat concerned him during and before the walk. Of special note: The witness did describe the white light as not shining on the trees or landscape, just illuminating the object itself."
Source:  MUFON Case 81407
---
Date:  January 8 2017
Location:  Las Vegas, Nevada
Time:  
Summary:  The end of 2016 and the beginning of 2017 have been strange here in Las Vegas. I don't remember a time where we had so much wind and rain. Between November of 2016 and now I have only had a few opportunities to get outside to do some skywatching and last night was one of them. I got video from Nellis, Henderson and a short night vision clip from the Blue Diamond Hills and the Southern Valley. This video is just Nellis. In parts of the video, you can see it hasn't been very warm here because you can see heat waves from somebody's home distorting the objects I am filming. I didn't speed this video up at all so that you could witness these incredible objects just like I do. When one of my videos is really good the tabloids get hold of them and make up all kinds of stories to go along with them. To date, not one of the tabloids has ever tried contacting me to get the real facts and that really bugs me. All along I have said that I don't know exactly what these are and I would never make an "as a matter of fact" claim that these are anything other than amazing technology that is being systematically withheld from us. My hope is that one day soon I will be able to tell you exactly what they are but until that happens they are just amazing aerial objects that defy plausible explanations. Author (Steven Barone @ youtube)

Source:  latest-ufo-sightings.net
---
Date:  January 2017
Location:  
Time:  
Summary:  
Source:  
---
Date:  January 9 2017
Location:  Gosport, UK
Time:   22.50
Summary:  3 lights flying randomly side to side, up and down, forming triangles, seemed random flight paths. I work as a cleaner, I went outside at 22.50 to dispose of rubbish bags into a bin and noticed 3 green lights at around a 30 degree angle north-west of my position. Distance and height were too difficult to estimate from my position but after checking on google maps there are mostly only fields in that direction. The postcode I observed from was PO13 0HR. The lights were evenly spaced in a large triangle formation with one more forward than the others when I first noticed them. They then all turned purple and started to move. You can observe in the video how them moved. I had full zoom using a phone camera so quality isn't great but they were all bright purple in colour and didn't change again. They seemed to move in a random manor, moving side to side and up and down very quickly and turning very sharply. They would pass each other to swap sides, sometimes coming back to form triangles for a few seconds before moving again. Several times it looked as though one moved into another and became one light before breaking apart again. They disappeared below the houses several times so that I couldn't see from my position what they were doing until the final time when I waited several minutes before giving up that they wouldn't appear again so whatever it was possibly landed because they didn't appear above the houses again. I went back inside the building onto the second level to view from a higher angle and could see one light again just above the house but it quickly disappeared downwards and that was the last I saw of them. They never went higher than the initial height I observed them at.
There were no other aircraft I noticed in the area although there is a small airfield behind my position. The weather was dry (although rain earlier in the day), the sky seemed clear, stars were visible overhead but none visible at the angle/height of these lights, presumably because of light pollution. When I left where I was 30 minutes later, the sky around the area where the lights were was a hazy red colour. The rest of the sky in the surrounding area was black but this area specifically was a different colour. I thought this might be some kind of heavy light pollution in that direction but according to google maps there are mostly just fields there, nothing that would give off unusual light pollution.

Source:  MUFON
---
Date:  January 10 2017
Location:  Kentucky/Ohio Area
Time:  
Summary:  Earlier this year I interviewed a witness who had a strange encounter in the Kentucky/Ohio area. The witness was driving east bound on Route 52 on a desolate area of road, about a ¼ mile from the Ohio River. It is my understanding this took place around the Ohio/Kentucky border in the vicinity of Ashland, Kentucky. That evening there was a cold, misty rain occurring with few cars on the road. Suddenly only about 35-40 feet off the ground, the driver observed a silhouette in the approaching traffic lights and then from the headlights of his vehicle what appeared to be a large humanoid creature with huge wingspan. The witness described the humanoid body as about 5 to 5½ feet long. The skin color was dark tan, not black or brown. The wings of the creature were estimated to have a wingspan of 12-15 feet and no feathers were observed on the body only what appeared to be skin. The witness only observed the creature for several seconds as it approached him and passed overhead. The man stated that he never saw the wings flap, and that the wings were spread out. He did notice that the joints of the wings were very pronounced, that the legs were held together and held back, and that the arms were held along the side of the body and extended to around the thighs. The witness heard no sound during the few seconds that he observed the winged creature.
Source:  Lon Strickler at the Phantoms & Monsters   HERE
---
Date:  January 13 2017
Location:   Pakenham, Ontario
Time:   7:48 pm to 8:03 pm
Summary:  I have been taking trail camera pictures of the wildlife in my backyard for over 6 years. i am using a bushnell trail camera. i noticed in three pictures on january 13 at 7:48pm to 8:03pm a very bright light moving over or within the tree tops. when viewed in quick sequence you can clearly see the path of the object. it appears to have individual lights on it when i zoom in using my laptop software. i have had this camera in the same location for years and can show thousands of day and night time pictures from this exact spot. the object appears in the first picture at 7:48pm. the second picture at 7:52pm the object has moved a little closer and you can see the individual lights better. the third picture at 8:03pm the object seems to be moving up and away to the top right of the frame. i worked as a restricted radio operator and a weather observer at an airport in the high arctic. i am used to identifying aircraft and weather phenomena. the object is hovering for 15 minutes so this is not a plane. there are no navigation lights that i can see nore did i hear a helicopter hovering over my back yard for 15 minutes. i have never seen any civilian or military helicopters acting in this fashion and there is nothing but forest below the object at this time and location. a drone comes to mind however this is a very bad location to be flying a drone over the forest and at night. there is nothing there but trees and i know the two closest neighbors and they do not own or fly drones at all. the nearest house other than mine and my two neighbors would be unlikely to fly a drone that far away,blind over the forest hovering for 15 minutes with powerful lights shining into the trees. it is hard to tell the size of the object but it appears to be large but i'm not sure. it makes no sense to me after all these years of taking pictures from this exact spot that someone would be flying a drone here at that time at night over the forest for 15 minutes. why my camera started taking picture is strange in its self. i would be happy to explain more as there is much more to tell. if you have any questions please ask. the camera will remain right where it is. thank you.

Source:  MUFON
---
Date:  January 16 2017
Location:  Everett, Washington
Time:  7:20 in the morning
Summary:  Footage showing three UFOs forming a sustained triangle formation has brought excitement among UFO investigators. The incident reportedly happened over a remote U.S. farmland in Everett, Washington. The sighting of these unidentified flying objects was reported to Mutual UFO Network, which currently investigating the case. The strange event occurred at 7:20 in the morning on January 16 when the witness was walking through fields to assess tide flats for duck hunting. The unnamed witness claimed to have seen three white, blinking lights to the south in a triangular formation. He managed to take photos and videos, which he submitted to MUFON together with his report for further investigation. Tim Ward, MUFON Washington state section director, is currently investigating the case. The witness said that the lights could be aircraft, but he was not very certain about it. He expected the formation to break, but it remained intact longer than any planes. The report was submitted to MUFON on February 20. MUFON communications director Roger Marsh reminded everyone that most UFO sightings could be explained as something human-made or natural. Some skeptics believe that planes circling and waiting to land can sometimes appear to have created a formation.

Source:  MUFON
---
Date:  January 17 2017
Location:  Bedford UK
Time:  18:15
Summary:  While walking to the chip shop, both myself and my 5 year old son witnessed a number of star like lights moving across the sky in a peculiar fashion. At first I thought it was a flock of birds, but it was pitch black and they appeared to be much higher and moved in and out of different formations. They broke off into 2 groups and formed 2 diamonds, then joined together on a straight line, formed a large V and then began to split off into pairs which rotated around each other. All the time while continuing to move in the same direction until they disappeared behind rooftops and we could no longer see them. I have no idea what they were, I've never seen anything like it in my life and my son was terrified!
Source:  www.uk-ufo.co.uk
---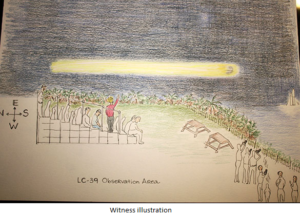 Date:  January 19 2017
Location:  Titusville Florida
Time:  around 8 in the evening
Summary:  An unnamed witness at Titusville in Florida reported seeing an oval-shaped flying across the sky shrouded in what she described a bright, meteor-like light while waiting for the launch of an Atlas V rocket. The report is filed in Case 81674 in the witness reporting database of Mutual UFO Network (MUFON). According to the report, the strange event took place on January 19, 2017, at around 8 in the evening. The reporting witness, together with her husband, was in the viewing bleachers for the Atlas V rocket launch, which carries a missile-detecting satellite. The witness said that it came to her mind that UFOs sometimes show in launches, so she decided to look at the sky while standing in the bleachers. She looked towards the east when she spotted nearby a brilliant, yellow-green, wide light.  She yelled to call the attention of some other people sitting in the bleachers, but the UFO was so fast that many had missed it. She said that the woman behind her thought it was just a meteor. However, she was convinced there was something in it. Just before the streak of light disappeared, the reporting witness claimed she saw part of something metallic with a seam and shape that was rounded. However, she only observed a small part of the object as the yellow/green light obscured most areas. The launch was canceled because of a wayward aircraft in the rocket's flight path. They all got on the buses and left, but she was still filled with excitement as she believed she had a UFO sighting. She reportedly checked the internet and could not find any record of a meteor when she noticed the UFO.
Source:  MUFON Case 81674
---
Date:  January 19 2017
Location:  Eastern Portsmouth UK
Time:  1920 to 1930
Summary:   Returning from Bognor after dropping my wife at work (Nurse), o was driving east along A27 approx between Bedhampton & Farlington. I was facing almost due east as Venus was directly ahead. Appearing from 'nowhere' travelling very fast and low from north to south was a very large white ball with a long tapering white tail. It appeared in tact with no signs of breaking up or orange type emissions, suggesting it being on fire. Otherwise it had the appearance of a meteor, but in my view was too large and too low. It was descending at about a 30 degree angle from the ground and disappeared in the direction of approx. eastern/southern Portsmouth. It was maybe approx. 1/2 to one mile away and around 200 to 500 feet high as I observed it for around 1-2 seconds. IF it was a meteor it would have made a very serious impact, setting fire to its landing place ….no reports of such an impact have been recorded to date. It was too large to be ignored.
Source:  www.uk-ufo.co.uk
---
Date:  January 20 2017
Location:  Crewe
Time:   7:52am
Summary:  I was in my kitchen this morning and as I looked outside I looked above and I saw a fireball looking thing shooting through the sky it was bright orange, from then I saw another and another and my children even noticed and counted them, altogether we saw 12, one we saw above our home way up above was sparkling like a sparkler! Seeing is believing and it wasn't a plane! Witness Name: Amy
Source:  www.uk-ufo.co.uk
---
Date:  January 20 2017
Location:  Bedford UK
Time:  18:15
Summary:   While walking to the chip shop, both myself and my 5 year old son witnessed a number of star like lights moving across the sky in a peculiar fashion. At first I thought it was a flock of birds, but it was pitch black and they appeared to be much higher and moved in and out of different formations. They broke off into 2 groups and formed 2 diamonds, then joined together on a straight line, formed a large V and then began to split off into pairs which rotated around each other. All the time while continuing to move in the same direction until they disappeared behind rooftops and we could no longer see them. I have no idea what they were, I've never seen anything like it in my life and my son was terrified! Witness Name: G Storey
Source:  www.uk-ufo.co.uk
---
Date:  January 21 2017
Location:  Sutherland Springs Texas
Time:  1:49 p.m.
Summary:  The witness was loading PVC pipe into the back of his pick-up parked at the diesel pump at the VP gas station and convenience store on Highway at 1:49 p.m. on January 21, 2017, when the incident began. Texas MUFON Field Investigator Kenneth Jordan took the report directly from the witness. "Witness was facing southeast when he first saw the object to the southeast," Jordan stated. "Its silver reflective color caught his attention (mid-day, bright sunlight). It was hovering approximately 450 feet southeast of witness's position, about 300-400 feet off the ground, to the right, southeast of Highway 87." The witness had no idea what it could be, so he continued to watch it. ​"He describes the object as a silver disc about 8 – 10 feet in diameter. Did not see any other markings or shapes (i.e. dome, lights, etc.) From its hovering position it made an 'erratic' sudden move to the right (south) and then ascended somewhat, tilted, and began moving off toward the northeast, crossing Highway 87." The witness took out a cell phone and took four photos as the object flew off toward the north. "Witness describes the motion of the object as it was flying off as an extended arc, similar to skeet being launched on a gun range. Witness remained in his position behind his truck throughout the sighting. He did not hear, smell or sense anything else from the object. The sighting lasted approximately 45 seconds from when it was first noticed until it flew out of sight. Witness states that later in the day, he felt some anxiety, but does not think this was related to this sighting."
Source:  MUFON Case 81691 
---
Date:  January 22 2017
Location:  Columbia, Alabama
Time:  
Summary:  First I was taking out the trash, as I looked up I saw a red orb in the sky, I looked over it and thought it was mars, later I walked out to feed the dogs and it was still their, them I couldn't take my eyes off of it. It began to rise , then it shot to another location in the sky and made a straight line, intersecting with two other glowing orbs. Number of UFO(s), including the Color(s), Size(s) and Shape(s): 3 red/orange , orbs Distance of UFO(s) in sky: Around 25 miles apart Direction of Travel for UFO(s): Near Georgia Other Known Object(s) (For possible reference, or contrast): Flying orbs 
Source:  ufo.net
---
Date:  January 24 2017
Location:  Happy Valley, Oregon
Time:   07:47:00
Summary:  While driving, i saw a brightly shining sphere in the sky. i got my phone out and when i stopped at a stop light i took a picture, but it was no longer a sphere. i drove to a nearby fuel station and went inside. by the time i got out it was
Source:  MUFON
---
Date:  January 26 2017
Location:  Essex UK
Time:  19:30
Summary:  I was in my car Travelling westerly 270 deg course along A120 from Coggeshall to Braintree (50 mph) Ahead of me, on same course was a white bright light travelling a high speed, I thought it was ISS, but it was firing green lasers (focused green light) from its rear (firing easterly)the white machine then accelerated a high speed over the horizon in front of me. This was very odd! Witness Name: Simon Ward
Source:  www.uk-ufo.co.uk
---
Date:  January 26 2017
Location:  Fleet, Hants
Time:  9PM
Summary:   I was looking skyward, watching a small plane across the night sky, as my dog had barked. My neighbours garden is lit skyward. The plane was heading NW when in my peripheral vision, from E to W a dark object went past at speed. It was about 100 – 200 feet up, no lights but the base was lit somewhat by my neighbours lighting. Too fast for a bird and not the impression I got. A solid dark object, with what seemed to be a square'ish bottom, possible it had triangular orientations about it though. It happened so fast. A UFO in that I can't be sure it isn't man made. Not a drone from the high street as it was solid with no detectable camera function. Witness Name:Carolyn Gray
Source:  www.uk-ufo.co.uk
---
Date:  January 27 2017
Location:  Terrace, British Columbia
Time:  00:00:00
Summary:  Around 2000h object flew directly over head on a northeast to southwest path no sound/noise. clear night sky, the object glowed very bright florescent orange/yellow. about the same altitude planes circle to land at the airport. similar to the size of a twin engine beachcraft.

Source:  MUFON
---
Date:  January 28 2017
Location:  Mexico
Time:  
Summary:  Amazing bright light leaves the Mexican volcano.
Source:  Streetcap1
---
Date:  January 28 2017
Location:  Las Vegas, Nevada
Time:  night
Summary:  shot this video from my backyard in the Summerlin area of Las Vegas, Nevada on the night of January 28, 2017. They could have been brighter at times but I was very happy to see that a group of UFOs had returned to the Black Mountains in Henderson, Nevada. It has been six months or so since I last observed UFOs in groups over in this spot. I left the video running at actual speed even though it's more than thirty minutes long because of suggestions I have been getting from viewers. It should have occurred to me to turn the night vision camera on earlier. No doubt some folks will claim that these are ATVs moving around on the mountain but they aren't. What gives that away is the fact that the UFOs are lining up in a perfectly horizontal row on several occasions which would be nearly impossible if they were on the ground because the terrain on the mountain is so uneven. I think that there is an excellent possibility that these UFOs belong to the same group I film regularly in the Blue Diamond Hills on the west side of the valley closer to my home.
Source:  Steven Barone @ youtube
---
Date:  January 28 2017:  Santa Rosa, California Sighting
---
Date:  January 30 2017
Location:  Summit Hill, PA 
Time: about 8:15 pm 
Summary:   i saw a ufo…. no joke!… all i can say is wow! i was coming home from wal-mart about 8:15 pm on rt 902. i was driving on buggies mt. off to the right a police officer was dealing a person with car trouble. i came down buggies, and was on the straight away heading to summit hill. it's about 1/2 mile long before going up the hill to the house. then i look up and saw lights. first let me say the road is dark, and it was snowing. 4 cars in front of me started to slow down. the lights were blinking one after another. going round and round. i couldn't believe what i was seeing. it was a ufo! a very big ufo. moving very slow heading north. as if it was looking for some thing. did i say it was big, so big! about 300 ft off the ground. then it just hug the mt. and keep moving so slow. we flew up the hill. the other 4 cars and my self. i came home and made a few phone calls. one to 911. it was a wow, wow night. i never saw a ufo before. it was as long as my block. wow!
Source:  MUFON CMS
---
Date:  January 2017
Location:  
Time:  
Summary:  
Source:  
Related articles