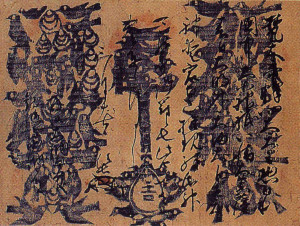 (Last Updated On: January 5, 2015)
THINK ABOUTIT SIGHTING REPORT
Date: 2357- 2258 BCE
Sighting Time:
Day/Night:
Location: Japan
Urban or Rural: Rural
Hynek Classification:
Duration:
No. of Object(s): 1
Size of Object(s):
Distance to Object(s):
Shape of Object(s):
Color of Object(s):
Number of Witnesses:
Source: Space Visitors in Ancient Japan by Mikhail Rosenshpitz in: "Unbelievable World" # 8
Summary/Description: According to Tau-se from an ancient manuscript called "Sey-to-ki", during the time of Emperor Ton-Yo, in the year of "Mon-Sham" a "divine man" descended from the sky, using a "monster that was emitting light" (spacecraft??). The people called this man "the master". He received the name Tan-kun (Sandalwood God) and his country was called Peson.
Related articles