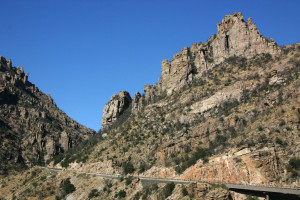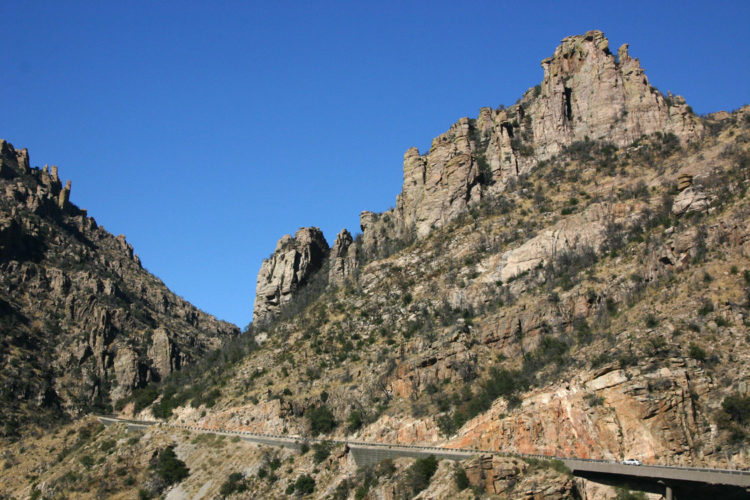 (Last Updated On: July 4, 2016)
Date: July 1987
Location: Wortley, England
Time: night
Summary: On the B6088 Road, Judy Simpson and her husband saw a figure running through a field next to the road. It was "just a gray outline of a person" and was not quite touching the ground. It leapt from the field over an embankment landing on the road in front of the Simpson's car. They screeched to a halt too late to avoid impact, but the figure just seemed to melt into the car.
Source:  Paul Devereux, Haunted Land
---
Date: July 1987
Location: Near Wortley, England
Time: night
Summary: On another occasion, Graham Brooke and his young teenage son were jogging along the same stretch of road. Up the road he saw a figure wearing a dark brown hood with a cape covering his body walking towards him. It was walking on a level a little lower than the existing surface of the road. Brooke's son also saw the figure. They came within 50 yards of it and both had the sensation of the hairs rising on their necks, and could smell "something really musty." Brooke noticed the figure's blank face and every detail on its cloak before it simply vanished.
Source:  Paul Deveraux, Haunted Land
---
Date: July 1987
Location:  El Yunque Puerto Rico
Time:  2100
Summary:  Four members of the Puerto Rico National Guard, together with three young kids went to isolated area to fish for fresh water shrimp. At night one of the men became separated from the group and was looking around next to a river when all of the sudden he noticed a small three to four foot tall figure walking in the brush. Curious and thinking that it was a lost child he followed it into the brush. The small figure walked with a wavy motion gait to the sides. The others saw him entering the brush and followed him. As they approached the figure it suddenly turned around and they could see that it was a thin humanoid with a large egg shaped head, with dark eyes, long arms and hands. The being had a membrane that connected his torso with his upper arms. As they stared at the creature they noticed a glow to their backs, turning around they saw a luminous disc shaped craft descending from above. The craft landed in front of them, right behind the humanoid creature. The craft had three powerful and blinding lights in front of it, which prevented them from observing any details of the craft. At the moment the craft landed they all felt unable to move. A hatch door opened in the front of the disc and two more beings similar to the one they had been following came out of it, walking down a ramp and positioning themselves one to each side of the first creature, placing their hands on the shoulders of the first creature while looking at the men. The frightened men then heard the middle creature say something in Spanish. Then all three of them turned their backs on the group and ran inside the disc shaped craft. After this the craft rose in the air and flew away very fast towards the top of the mountain, where it disappeared.
Source:  Jorge Martin
---
Date: July 1987: Abduction of Jason Andrews
---
Date: July 1987
Location: Santa Catalina Mountains, Arizona
Time: afternoon
Summary: Christa Tilton experienced a three-hour missing time in which later under hypnosis she recalled being dragged into a craft by two small aliens after they had rendered unconscious. The next thing she remembered was waking up on a table inside some type of small craft. A guide greeted her and gave her something to drink. She believes that it was a stimulant of some kind because she was not sleepy after she drank the substance. She was then taken out of the craft and when she looked around she noticed she was standing on top of a hill. It was dark, but she saw a light near a cavern. She walked up to this area and it was then that she saw a man, dressed in a red military type jump suit. Her guide seemed to know this man as he greeted him as they came closer. Tilton also noticed that he wore some type of patch and was carrying an automatic weapon. When they walked into the tunnel, she realized they were going right into the side of a large hill or mountain. There they met with another guard in red and she saw a computerized checkpoint with two cameras on each side. To her left was a large groove where a small transit vehicle carried people further inside. To her right she saw a long hallway where there were many offices. They took the transit car and went for what seemed to be a very long time to another secure area. She was then told to step onto some type of scale-like device that faced a computer screen. She saw lights flashing and numbers computing and then a card was issued with holes punched into it. It appeared to be some type of ID card. Her guide did not speak much but did tell her that they had just entered Level One of the facility. She was eventually transported to a lower level. There she saw additional armed guards. She was then taken down another hall and there she noticed a horrid smell. She then saw huge tanks with computerized gauges hooked to them and a huge arm-like device that extended from the top of some tubing down into the tanks. In a large laboratory like room she saw a small gray being with his back turned doing something at a computer. She was told to sit on a table in the middle of the room. About this time a human man dressed like a doctor entered the room. He wore a white lab coat with a badge. The temperature in the room seemed awfully cold. At this point Tilton began to cry and to tremble, she then felt a stabbing pain. She screamed and the human doctor stood next to me and rubbed something over her stomach. The pain immediately subsided. Soon she became drowsy and was apparently returned to the point of the original encounter.
Source:  Commander X, Underground Alien Bases
---
Date: July 1987
Location:  
Time:  
Summary:  
Source:  
Location. Kannus, Parsiala, Finland
Date: July 1987
Time: 2200-0100A
A 19-year old student was watching television together with a friend when they heard a whistling noise and saw through a window a gray object with a bright white light. The object resembled a tea saucer and was visible in the northern sky for only a few seconds. Both boys rushed to the terrace door. Then from behind the wall of the house two men emerged, one of them older than the other. Both were tall, bald, and clad in white clothing. They appeared friendly and smiled at the boys and then asked telepathically if they could come in. The next thing the 19-year old witness remembered was of sitting on the sofa involved in a profound conversation. The older one of the humanoids spoke, the younger one remained silent. The 19-year old student's friend remained standing nearby and staring right ahead without any reaction, but he was not worried about his friend. Sometime later the older humanoid said that they had to leave. The witness did not want them to leave, but they smiled and emitted a warm and pleasant feeling. They say that there was no cause for fear and promised to return one day and take him with them. The next morning the boy woke up on his bed, with a headache and with a strange taste in his mouth. The television was still on. He assumed he had been involved in a very realistic dream. He talked to his friend who did not recall anything of the night before.
Source: Mervi Virtanen, Finland
---
Date: July 1987
Location:  
Time:  
Summary:  
Source:  
Location. Lages, Brazil
Date: July 1987
Time: late night
The main witness, Jaciara was staying at some family members house and was alone that night, when the lights of the house began turning on and off by themselves. A strange sensation overcame her and she went to bed. The lights began turning on and off faster and faster now. Terrified she stayed in bed and heard a loud metallic voice that resembled that of one of the young family members that was not at home. She ran to the kitchen then up to the loft where she opened a window and screamed for help. Later that night as she slept in the same loft with a cousin, she woke up in a trance like state and went out to the courtyard and saw an enormous bright silvery disc shaped craft maneuvering over the area. At the same time her cousin seem to be in a confused state and was acting very peculiar. Another family member had heard footsteps and strange voices in the house. Jaciara apparently then encountered in her room a tall human like individual, with long arms, blond hair, with perfect facial features who in a friendly tone told Jaciara not to be afraid, to be calm. The tall being wore a tight fitting metallic gray suit that covered most of his body, which was extremely muscular and fit. The being smiled at the witness and told her that she had been contacted several times before. She was then apparently taken inside a huge cigar shaped "mother ship" which was occupied by numerous similar friendly beings. Inside the craft the witness was given several physical examinations including a gynecological exam. Blood, tissue and hair samples were taken from her. Inside the object she noticed that it seemed endless and there appeared to be no walls. Among other things the humanoids told Jaciara that they were "mapping" the Earth and that their planet of origin was "Venus."
Source: CPB UFO Brazil
---
Date: July 1987
Location:  
Time:  
Summary:  
Source:  
Location. Nuñomoral, Caceres, Spain
Date: July 14 1987
Time: 0100A
Juan Jose Azabal along with some friends were heading to the small village of Aceitunilla along a wooded path when they began to hear strange howling and moaning sounds of an undetermined nature. At first they thought it could have been an abandoned baby until they noticed a strange creature standing on the other side of the path. It was the size of a small child and appeared heavyset and was totally covered in a glowing white tunic. It stood unmoving at about five meters from the men. They could not see its face, but it did appeared to have a large head and small arms that moved up and down very quickly without stopping. It stood on two very small feet. Terrified, the men ran away from the area and did not see the creature depart. Days before, strange flying objects had been seen over a nearby cemetery.
Source: Iker Jimenez, Encuentros La Historia de Los Ovni En España
---
Date: July 1987
Location:  
Time:  
Summary:  
Source:  
Source: tion. Sacramento, California
Date: July 14 1987
Time: 0130A
The witness was sleeping late at night when he was awakened by a quiet buzzing—droning sound resembling that of an engine. He opened his eyes but was totally paralyzed, unable to move. He saw standing next to the bed a figure about 1.50 to 1.60 m in height with a large headless head, blue white in color. His eyes were of a striking yellow color. It appeared to have some type of "snout" or breathing apparatus coming from the nose area that was connected to the chest. It had gaunt looking cheeks. It had pointy ears and a leathery skin and wore a bluish transparent suit surrounded in a bright bluish aura. After a few moments the witness was able to scream and yell out for the rest of the household. The buzzing sound seemed to stop and the creature apparently vanished. A search was conducted in the house and the garden, but nothing was found.
Source: DEGUFO, Germany
---
Date: July 1987
Location:  
Time:  
Summary:  
Source:  
Location. Passo Saltello Italy
Date: Late July 1987
Time: 1000A
Anna Rosa Giovannetti and her brother in law were collecting mushrooms in a field early one morning when Mrs Giovannetti became separated from her brother in law. She looked up at the sky and noticed a peculiar object resembling a small "wing." Then she noticed two strange "individuals" approaching on a nearby path in the woods. Scared she yelled for her brother in law but this one did not respond to her cries. Apparently noticing the witness the figures stopped about 200 meters away and stared intently at the witness. She described them as tall, wearing shimmering black monk-like outfits, and on their heads round black helmets, no other features could be seen. After a few moments the beings left moving quickly over the brush as if on an "invisible conveyer belt." They soon disappeared into the brush. At this point her brother in law showed claiming not to have heard her. Later Mrs Giovannetti was overcome by a strange malaise and sleepiness.
Source: Archivio SHADO
---
Date: July 1987
Location:  
Time:  
Summary:  
Source:  
Location. Terre Haute, Indiana
Date: July 31 1987
Time: 2330
Two men riding their motorcycle saw a pyramid shaped object flying low overhead, they followed the object until it was lost from sight. The men returned to the site and came upon a large car full of strange "people' with very peculiar looking eyes that acted very odd. They suddenly found themselves walking one mile from that point with no other recollection of what happened. No other information.
Source: Francis L Ridge, Regional Encounters the FC Files
---
Date: July 1987
Location:  
Time:  
Summary:  
Source:  
Related articles