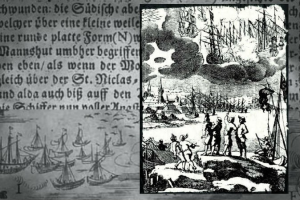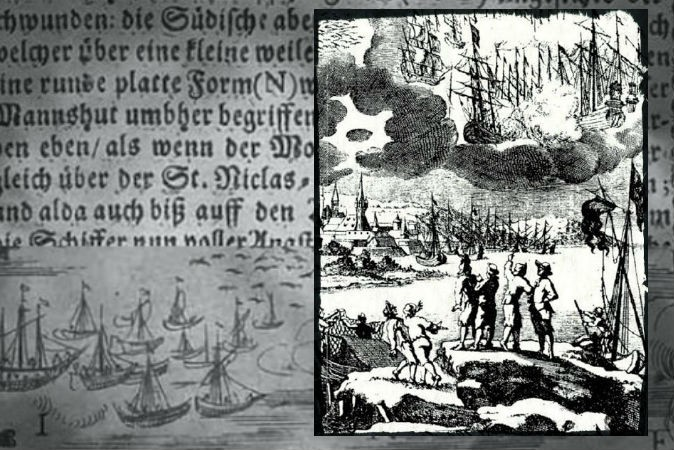 (Last Updated On: January 22, 2016)
Date:  1650: Volga, Russia Sighting
---
Date: 1650
Location: Limerick, Ireland
Time:
Summary: A luminous globe brighter than the Moon shed a vertical light on the city, and then it faded as it passed over the enemy camp.
Source: Dominic O'Daly, History of the Geraldines (1665).
---
Date: 1650
Location: Fisherton Anger, Wiltshire, England
Time:
Summary: A woman named Anne Bodenham, formerly a servant to Dr. Lamb of London, was accused of witchcraft and commerce with devils. She was eventually put to death in 1653 at the age of 80. The cleric who recorded her trial noted that: "Arrived at the place of execution, she attempted to go at once up the ladder, but was estrained. Mr. Bower pressing her to confess, she steadfastly refused, and cursed those who detained her." A maid testified at the trial that she had seen Anne Bodenham invoke the Devil. After Anne had made a circle with a stick, and filled it with burning coals, " Then appeared two spirits in the likeness of great boys with Jong shagged hair and stood by her looking over her shoulder, and the Witch took the maid's forefinger of her right hand, in her hand, and pricked it with a pin and squeezed out the blood, and put it into a pen, and put the pen into the maid's hand, and held her hand to write in a great book, and one of the spirits laid his hand or claw over the witches, whilst the maid wrote, and when she had done writing whilst their hands were together, the Witch said Amen, and made the Maid say Amen, and the Spirits said Amen, Amen. "And the Spirits hand did feel cold to the maid as it touched her hand, when the witches hand and hers were together writing."
Source: James Bower, The Tryal, Examination and Confession of mistris Bodenham, before the Lord chief Baron Wild, & the Sentence of Death pronounc'd against her, etc. (London: printed for G. Horton, 1653). See also Doctor Lamb revived, or, Witchcraft condemn 'd in Anne Bodenham a Servant of his, who was Arraigned and Executed the Lent Assizes last at Salisbury… by Edmond Bower an eye and ear Witness of her Examination3
and Confession (London: printed by T.W. for Richard Best, and John Place, 1653).
---
Date: December 22, 1651
Location: Almerdor, Holland
Time:
Summary: Dutch sailors saw a fleet of ships in the air, with many people and soldiers.
Source: A report made before the harbormaster (Seville: Juan Gomez de Bias, 1652).
---
Date: May, 1652
Location: Near Rome, Italy
Time:
Summary: A single luminous object, 80 meters in size, was seen in the air. A mass of "gelatinous matter" fell to the ground.
Source:Edinburgh Philosophical Journal I (October 1819): 234.
---
Date: 1655: Blue Clad Woman reported in Czestochowa, Poland
---
Date: 1656
Location: Cardiganshire, Wales
Time: night
Summary: In a letter written by John Lewis he describes the experience of an acquaintance of his: A man lay in bed at night while his family was all fast asleep. Just after midnight "he could perceive a light entering his little room." Suddenly a dozen or so little beings "in the shape of men, and two or three women, with small children in their arms" walked in. The room seemed different somehow. It was illuminated, and appeared to be "wider" than before. The beings began to dance around and tuck into a special feast, inviting the witness to try the meat. This went on for four hours, and in the meantime "he could perceive no voice" except for the occasional whisper in Welsh "bidding him hold his peace." He found it impossible to wake up his wife. Finally, the party of little spirits moved their dancing on to another room, and then departed. Until the man cried out at last and woke up his family, for some reason left unexplained "he could not find the door, or the way into bed."
Source: William E. A. Axon, Welsh Folk-lore of the Seventeenth Century. Y Cymmrodor Vol. XXI (1908), 116.
---
Date: 1659
Location: Leicester and Nottinghamshire, England
Time:  1 P.M.
Summary: Starting at 1 P.M. people observed an object "in the perfect figure and form of a black coffin, with a fiery dart and a flaming sword flying to and again, backwards and forwards the head of the said coffin, which was with great wonder and admiration beheld by man hundreds of people." This was seen until 3:15 P.M., when it broke up with great brilliance.
Source:The five strange wonders, in the north and west of England as they were communicated to divers honourable members of Parliament, from several countrey gentlemen and ministers, concerning the strange and prodigious flying in the air of a black coffin betwixt Leicester and Nottingham, on Sabbath day last a fortnight, with a flaming arrow, and a bloody sword, casting forth firearms of fire… (London: W. Thomas, 1659).
---
Date: 1660
Location: North Sea
Time: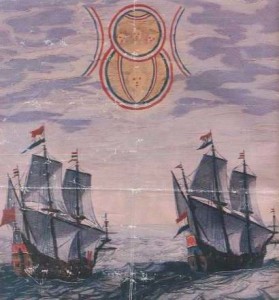 Summary: The illustration depicts a sighting by two Dutch ships in the North Sea of an object moving slowly in the sky. It appeared to be made by two disks of different size. The source for this account is one of the books entitled, "Theatrum Orbis Terrarum" by Admiral Blaeu.
These books were compilations of articles by different authors and consisted of detailed accounts of long engagements at sea, cartography information etc.
Source:
---
Date: 1660
Location: Ragunda, Sweden
Time: night
Summary: Peter Rahm alleges that he and his wife were at their farm one evening late when there came a little man, swart of face and clad in gray, who begged the witness's wife to come and help his wife then in labor. The witness, seeing that they had to do with a troll, prayed over his wife, blessed her, and bade her in God's name go with the stranger. She seemed to have been borne away by the wind. The woman accepted no food in fairyland and was therefore returned unharmed.
Source: Chris Aubeck, Return to Magonia
---
Date: 1660
Location: New England, American Colonies
Time: evening
Summary: Some remarkable phenomena having appeared in the air, one of which is described as "resembling the form of a spear, of which the point was directed towards the setting sun, and which, with slow majestic motion, descended through the upper regions of the air, and gradually disappeared beneath the horizon," (note: possibly the zodiacal light) the magistrates and clergy availed themselves of the deep impression which these signs created, to promote a general reformation of manners among the people. For this purpose, they published a catalogue of the principal vices of the times, in which were enumerated "a neglect of the education of children, pride displayed in the manner of cutting and curling the hair, excess of finery, immodesty of apparel, negligent carriage at church, failure in due respect to parents, profane swearing, idleness, and frequenting of taverns, and a sordid eagerness of shopkeepers to obtain high prices." 
Source: James Silk Buckingham, America, historical statistic, and descriptive (London: Fisher, Son & co., 1841), 259.
---
Date: March 14 1660
Location: London (Westminster) England
Time: 8 P.M.
Summary: Boat passengers saw a dark, then bright cloud dropping fire over Westminster. About 8 P.M. they observed "a white bright cloud which gave such a light that they could plainly see the windows of the Parliament House, and people walking to and fro upon Westminster Bridge". The cloud was seen to "drop down fire several times upon Westminster Hall and then it removed and (flew) over the Parliament Hall and did drop down fire upon that also several times".
Source: Eniaytos terastios Mirabilis annus, or, The year of prodigies and wonders being a faithful and impartial collection ofseverall signs that have been seen in the heavens, in the earth, and in the waters; together with many remarkable accidents, and judgements befalling divers persons, according as they have been testified by very credible hands: all which have happened within the space of one year last past, and are now made  publick for a seasonable warning to the people of these three kingdoms speedily to repent and turn to the Lord, whose hand is lifted up amongst us (London, 1661).
---
Date: August 1660
Location: Statford Row, near London, England
Time: evening
Summary: The likeness of a "great ship" was seen in the air. It decreased in size and eventually disappeared. The worthy chronicler does not fail to inform us that "this is testified by an able Minister living not far from the place, who received the information from the spectators themselves".
Source: Mirabilis Annus (1661)
---
Date: September 1660
Location: London, England
Time: evening
Summary: "A gentleman of good quality and an Officer of Eminency in the late King's army and now a Justice of the Peace in the Country" reported seeing a bright light in the Southwest, along with six smaller ones. "Whilst he with several others, were with some admiration beholding them, they all fell down perpendicularly and vanished."
Source: Mirabilis Annus (1661).
---
Date: October 3 1660
Location: Hull, England
Time: evening
Summary: The soldiers on guard at the South Blockhouse saw a large fiery object tapering off at one end and leaving a narrow stream behind. It was so brilliant that they could read fine print or take up a pin from the ground by its light. This object was in sight for half an hour. Someone who was approaching Hull that same night, coming from Lincolnshire, confirmed the first report: "He saw a very great light in the sky, whereby he could perfectly discern his way, though it was exceedingly dark." The whole relation-continues our chronicler-" is signified by letters from several eminent men in Hull who spoke with the eyewitnesses, as also by some inhabitants of London, who upon occasion have been at Hull since that time, and there from very good hands have received credible information concerning the premises."
Source: Mirabilis Annus (1661).
---
Date: October 11 1660
Location: Hertford, England
Time:
Summary: A person of very good note and credit awoke at 4 A.M. to see "a flashing like fire against his window, and fearing some house near him had been on fire, he immediately arose and went to the window."
He saw a large object with a circle around it, and two appendages above and below it, from which great flashes were indeed emitted. This object remained in view for several hours, and was observed by others in the town.
Source: Mirabilis Annus (1661).
---
Date: 1660: 5 naked men dancing in Shenly, Hertfordshire, England?
---
Date: November 30 1660
Location: Ilford, Essex, England
Time: evening
Summary: Very early in the morning two men saw a fiery cloud in the southwest. From under it appeared two bright objects as large as the moon, which began a dogfight in the atmosphere. One of them eventually grew dimmer while the other increased in size and remained in view for two hours, "a great part of which time they saw streaming from it. streams of fire and streams of blood." It then diminished until it was no larger than an
ordinary star.
Source: Mirabilis Annus (1661).
---
Date: December 1 1660
Location: Houndsditch, England
Time: 5 A.M.
Summary: At 5 A.M. an inhabitant of Houndsditch saw an unexplained, bright object the size of the moon in the eastern sky.
Source: Mirabilis Annus (1661).
---
Date: 1661
Location: Goult, Vaucluse, France
Summary: Antoine de Nantes, a messenger from Goult, who was gravely ill, caught sight of a marvelously beautiful child who hovered above a fiery halo. When this figure vanished, the man found himself fully healed. A chapel was consecrated two years later and "miracles became commonplace after that date."
Source: Louis Leroy, Histoire des pelerinages de la Sainte Vierge en France (Paris, 1873), 30.
---
Date: February 1661
Location: Darken, Surrey, England
Summary: A "discreet sober gentleman" saw a strange cloud in the evening sky, and two objects he compares to cathedrals or churches, "having upon it diverse goodly Pinnacles, and each of them a long streamer flying upwards upon it, and as he beheld it, he thought it grew up to a greater splendor and glory." The other object was darker. After a while, the large one emitted puffs of vapor and disappeared, while the smaller one grew and became brighter. The witness was called into his house and could not observe the end of the phenomenon.
Source: Mirabilis Annus (1661).
---
Date: March 20, 1661
Location: Canterbury, England
Summary: A very large "star" with an "opening" underneath, from which issued streams of fire was seen for thirty minutes.
Source: Mirabilis Annus Secundus (1662).
---
Date: April 1661
Location: Between Ilford and Romford, England
Summary: About 10 P.M. Captain Chelmsford, of Ipswich, and another man riding to London saw a fiery light with a green-white glow that changed direction. It approached at great speed, emitting light beams. When it was exactly overhead it suddenly changed direction again  and disappeared at the horizon. Upon arriving in London, the two travelers had a notarial deed drawn up, recording their experience.
Source: Mirabilis Annus Secundus (1662).
---
Date: April 23, 1661
Location: Bednall-Green, England
Summary: People saw a great pillar of fire with smaller objects (compared to "burning coals") within it, and at 10 o'clock that night "several persons near Piccadilly saw strange fiery clouds and other objects very terrible to the spectators, from some of whose mouths we received the information".
Source: Mirabilis Annus Secundus (1662).
---
Date: June 29, 1661
Location: Eastberry, Berkshire, England
Summary: The Sun was obscured by a great number of dark balls passing in front of it. Other objects looked like crosses.
Source: Mirabilis Annus Secundus (1662).
---
Date: 1661: Possible USO sighting near River Seavern, Bristol England
---
Date: 1662: Dwarf seen near Saalfeld, Germany
---
Date: April 1662
Location: Tedworth, Wiltshire, England
Summary: Numerous incidents of bedroom visitations, knocks and reports of witness paralysis by lights and humanoid entities.
Source: Rev. Joseph Glanvill, Saducismus Triumphatus (1681).
---
Date: May  11,1662
Location: near Salt Ash, Cornwall, England
Summary: At St. Stephens near Salt Ash, a "very great star" was reported, with the likeness of two red "legs" and a black square object. The star moved to and fro.
Source: Mirabilis Annus Secundus (1662).
---
Date: August 6 1662
Location: High Tatras, Mt. Slavkovsky Stit, Slovakia
Time: noon
Summary: A luminous body hit the top of Slavkovski Hill and smashed it into pieces. Next the UFO landed at the Strba village and vanished. The event was witnessed by many people and later described in the Levoca town's chronicles. The UFO came from the Polish side of the border.
Source: Robert K. Lesniakiewicz
---
Date: 1663
Location: Montreal, Quebec, Canada
Summary: Heaven and Earth have spoken to us many times during the past year, and that in a language both kind and mysterious, which threw us at the same time into fear and admiration. The Heavens began with Phenomena of great beauty, and the Earth followed with violent upheavals, which made it very evident to us that these mute and brilliant aerial voices were not, after all, mere empty words, since they presaged convulsions that were to make us shudder while making the Earth tremble. As early as last autumn we saw fiery Serpents, intertwined in the form of the Caduceus, flying through mid-air, borne on wings of flame. Over Quebec we beheld a great Ball of fire, which illumined the night almost with the splendor of day—had not our pleasure in beholding it been mingled with fear, caused by its emission of sparks in all directions. This same Meteor appeared over Montreal, but seemed to issue from the Moon 5 bosom, with a noise like that of Cannon or Thunder; and, after traveling three leagues in the air, it finally vanished behind the great mountain whose name that Island bears. But what seemed to us most extraordinary was the appearance of three Suns. Toward eight o 'clock in the morning, on a beautiful day last Winter, a light and almost imperceptible mist arose from our great river, and, when struck by the Sun's first rays, became transparent,—retaining, however, sufficient substance to bear the two Images cast upon it by that Luminary. These three Suns were almost in a straight line, apparently several 'toises' distant from one another, the real one in the middle, and the others, one294 on each side. All three were crowned by a Rainbow, the colors of which were not definitely fixed; it now appeared iris-hued, and now of a luminous white, as if an exceedingly strong light had been at a short distance underneath. This spectacle was of almost two hours' duration upon its first appearance, on the seventh of January, 1663; while upon its second, on the 14 th of the same month, it did not last so long, but only until, the Rainbow hues gradually fading away, the two Suns at the sides also vanished, leaving the central one, as it were, victorious.
Source: The Jesuit relations and allied documents: travels and explorations of the Jesuit missionaries in New France, 1610-1791: the original French, Latin, and Italian texts, with English translations and notes. Reuben Gold Thwaites, 1853-1913. (Cleveland: Burrows, 1899.)
---
Date: Late July 1663
Location: Saint Martin, Brittany, France 
Summary: In the parish of Saint-Martin, near Quimper, a man named Frangois Carre, from Bodeau, saw a red cross in the sky. It seemed to fly away from Saint Martin church and headed towards the chapel of Saint Michel.
Jerome de Lestour, a priest in Caudan in the diocese of Vannes, reports that "fearing to be the victim of an illusion, Carre called his wife without saying anything else than to look in the same direction. 'Do you see anything?' he asked. 'Yes, a red cross heading towards the chapel of Saint-Michel,' she answered."
Source: The diary of Jesuit Father Julien Maunoir, written in 1672, kept in the library of the Society of Jesus in Rome. Translation of this passage is by Yannis Deliyannis.
---
Date:  August 15 1663: Robozero, Russia
---
Date: 1664: Virgin Mary Sighting near Grenoble, France 
---
Date: 1665: Dwarf in Lutzen, Germany
---
Date: January  19, 1665
Location: Quebec, Canada
Summary: "About a quarter to six in the evening, there was heard to come from beneath the ground a report so loud as to be taken for a cannon-shot. This sound was heard by persons distant three and four leagues from one another; while our Savages, knowing that the cannon is not fired toward evening, except to give warning of the appearance of the Iroquois, left the woods where they were, and came all through the night to ask us why we had fired such a terrible cannon shot. "About seven minutes after this report, there appeared over Quebec a ball of fire which merely passed by, coming from the mountains toward the North and emitting so bright a light that houses two leagues from Quebec was seen in broad day. In the course of the year there were seen several other similar fireballs, not only at Quebec, but below Tadoussac, and on the way to Three Rivers."
Source: The Jesuit relations and allied documents: travels and explorations of the Jesuit missionaries in New France, 1610-1791
---
Date: February 1665
Location: Vienna, Austria
Summary: An object resembling a coffin was seen in the air, causing much anxiety.
Source: Walter G. Bell, The Great Plague in London in 1665 (New York: Dodd, Mead & Co., 1924).
---
Date: April 8, 1665: Stralsund, Germany
---
Date: May 26,1666
Location: Tokyo (Edo), Japan
Summary: A mysterious light "20 feet long" shaped like a man flew towards the East. This is another example of a tantalizing report from Asia, about which we need more detailed information.
Source: Morihiro Saito, The Messenger from Space.
---
Date: January 20, 1667
Location: Gjov, Faeroe Islands
Summary: Jacob Olsen, 24, was awakened by a luminous visitor who healed him. He saw him again later, coming from the sky.
Source: Jacobsen Debes, Faeroae & Faeroa Reserata (1673).
---
Date: November 15, 1667
Location: Mittel Fischach, Germany
Summary: An engraving preserves the sighting of a "terrible sign of wonder" that took place during sunrise, and was seen for several hours in the sky over the town of Mittel Fischach. The image shows the sun shining through a break in the clouds while a group of people watch a formation of round lights. There is a scene of battle in the sky, and three crosses among dark nebulosities. The village is shown in detail to the left, with its church and a few houses.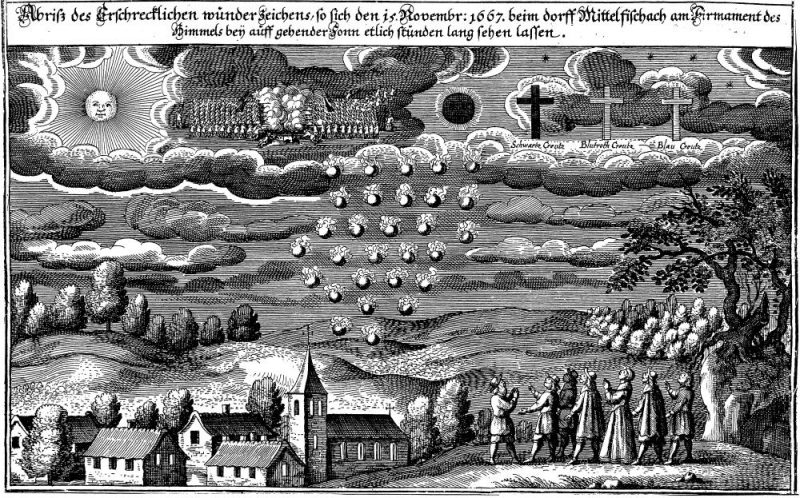 Source: Abriss des Erschrecklichen wunderzeichens, so sich den 15. November  1667 beimdorff Mittelfischach am Firmament des Himmels bey auff gehender Sonn etlich stundenlang sehen lassen. [s.l.] (1667). [Goethe Universitatsbibliothek Frankfurt-am-Main, Einblattdr. G.Fr. 11]
---
Date: Late December 1667
Location: Bayarcal, Spain
Summary: Bayarcal was a focus of attention for the inquisition. Among many testimonies relating to strange lights was that of Juan Munoz, a tailor from Santander. In his sworn statement he said that in 1667, around Christmas time, at midnight, he saw a cross, behind which there was a banner, followed by four lights like wicks that flashed on and off. He supposed it to be the priest carrying the Viaticum (the Christian Eucharist given to a person in danger of death), though it seemed to be too bright. As the lights moved, and he was also walking home, he reached a point some fifteen steps from them. He arrived home, quite anxious about what he had seen, but before closing the door he turned around to take another look. He then saw the lights pass in front on the church. Too frightened to investigate what the luminous thing was, he shut the door and swore he wouldn't even tell anyone about what he had seen. However, when he heard other neighbors relate they had seen the phenomenon, he told them what he had witnessed. They all agreed that such things had been seen many times before, and that the only possible explanation was that God sent them as signs to commemorate the lives of martyrs from the area. The fact that Munoz was new to the village and had never heard of the phenomenon was taken as proof that such things were not a mere figment of the imagination. Processions of lights were seen in many Spanish villages, and in other European countries. Sometimes they would be seen over the rooftops, but usually at ground level, and could range in size from tiny to several meters across.
Source: Francisco A. Hitos, Martires de la Alpujarra en la Rebelion de los Moriscos (1568). Republished by Apostolado de la Prensa, Madrid (1935).
---
Date: November 1668
Location: Boston, MA
Summary: A letter from Cotton Mather to Mr. Waller of the Royal Society dated "at Boston, November 24, 1712" (now in the Library of Massachusetts historical Society, Boston) refers to "ye star below ye body of ye Moon, and within the Horns of it . . . seen in New England in the Month of November, 1668."
Source: Lowes, 1927
---
Date: 1669: Dwarf sighted inTorgau, Germany
---
Related articles