(Last Updated On: January 3, 2018)
Date: January 1926: Several Circular Objects Surrounded Plane
---
Date:  1926
Location: China
Time:
Summary: Nicholas Roerich sees a daylight disc UFO in a clear blue sky in northern China.
Source:
---
Date: 1926
Location: Mongolia
Time:
Summary: During his expedition explorer Nicholas Roerich and members of his caravan, caught sight of a huge oval-shaped object high in the sky. It had a shiny surface that reflected the sun on one side and moved at great speed north to south.
Source::
---
Date: January 1926
Location: Wichita, Kansas
Time: 13:00 
Summary:  Six "flying manhole covers" circled plane of stunt pilot. Size, according to Frank Edwards, was 3-4′ diameter, approached to within 10′.
Source: Weinstein, Dominique Aircraft UFO Encounters Project ACUFOE, Paris, 1999
---
Date: March 17 1926
Location: Rockland St Mary, UK
Time: 17:00
Summary: An object was sighted that had an appearance and performance beyond the capability of known earthly aircraft. One object was observed.
Source: Newspaper 
---
Date: 1926
Location: Westmont, Illinois
Time: 20:00
Summary:  One large disc-shaped object trailed by 5 smaller discs in line to the west beneath cirrus clouds. Light from objects reflected from the clouds.
Source: Eberhart, George M. A Geo-Bibliography of Anomalies Greenwood Press, Westport, 1980 ISBN:0-313-21337-2
---
Date: September 1926
Location: Nr. Salt Lake City, UT
Time: 11:00 PM.
Summary: An air mail pilot was repeatedly buzzed by a long, cylindrical object. Each time the object came within about 50 yards, the aircraft engine would begin to sputter and misfire, until the pilot was forced to make an emergency landing in a pasture. At this point the UFO "took off like a shot out of a gun" and sped away.
Source: Hall, 2000, p. 13
---
Date:  1926
Location:  
Time:  
Summary:  
Source:  
---
Date: November 1926: Humanoid Hide and Seek
---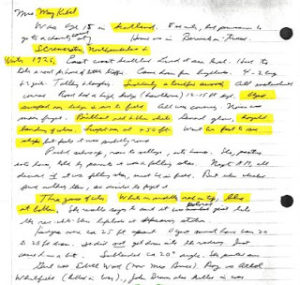 Date:  Winter 1926
Location:   East Coast Scotland.
Time:  
Summary: The individual whom McDonald interviewed was Mrs Mary Kibel of Melbourne. 'Was age 15 in Scotland. One (-) but permission to a charity concert at Scremerston, Northumberland. Home was in Berwick on Tweed. Winter 1926. East Coast Scotland. Lived at sea level. Had to take a road from home and little traffic. Came down from (-). 4 – 2 boys and 2 girls. Talking and laughing. Suddenly a terrific swoosh. All (-) cowered. Road had a  high hedge (-). 12-15 ft high. Object swooped over hedge and over to field. All was cowering. Noise was (-) (-). Brilliant red and blue white. (-) glow. (-). Banding of colors. Swept over it +50ft. Went too fast to see shape but feels it was possibly round. (-) (-) near to village, into homes. She (-) into houses, told by parents it was a falling star. Next AM, all decided if it was a falling star, must be in field. But when checked found nothing, so decided to forget it. Three zones of color. White in middle, red on top, blue at bottom. She recalls saying to aunt it was colored just like the red-white-blue lifeboats at (-) station. Hedges were ca. 25 ft apart. Object must have been 20 to 25 ft diam. It did not get down onto the roadway. Came d. a bit. Subtended ca. 20 degree angle. She (-) over. Girl was Edith Ward (now Mrs Bruce.) Boy was Athol Whitfield (killed in war), John Brown also killed in war.'
Source:  McDonald collection at the University of Arizona.
---
Date:  1926
Location:  
Time:  
Summary:  
Source:  
Related articles