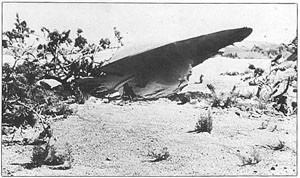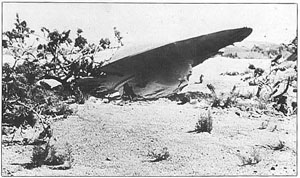 (Last Updated On: August 31, 2016)
Date: 1941
Location: Germany
Time:
Summary: German aviatrix Hannah Reisch sees a UFO speeding by at an altitude of 66,000 feet.
Source:
---
Date: 1941 (Spring?)
Location: Cape Girardeau, Missouri
Time:
Summary: Charlotte Mann states her grandfather, Rev. Wm. Huffman, told her about a UFO crash site story which occurred in July 1941 outside of Cape Girardeau.  The Cape Girardeau police department and some military personnel were at what they thought was a plane crash site, but Rev. Hoffman said it obviously was not a plane.  There was crumpled aluminum like metal debris scattered over the area and an object that was disc shaped.  There were three humanoid bodies, child-like with large heads, big black eyes, no nose, slit for a mouth, and a form fitting uniform covered with debris.  The MJ-12 cited this Missouri Ozarks 1941 UFO crash site story along with the 3 Roswell 1947 crash sites as recovered exhibits deemed extraterrestrial.
Source:
---
Date: February 1941
Location: Wearyan River, Northern Territories, Australia
Time:
Summary: February 1941, Wearyan River, Australia, a nurse went to an isolated village to take care of a man wounded by a bullet in the leg. While she cured the wound, two men dressed in white robes as if they came out of a theater stage appeared and helped her. When she looked up to thank them, they had disappeared. Several aboriginals were witnesses of this.
Source: Janet and Colin Bord in "Modern Mysteries of the World", Guild Publishing London 1989, page 309.
---
Date: Spring 1941: 1st Alien Humanoid Retrieval – Cape Girardeau, Missouri
---
Date: April 5 1941: Charleston, Missouri Encounter
---
Date: June 1941
Location: Belorussia. Near the villages of Goszevo and Dubrovnik
Time:
Summary: wreckage salvaged by NKVD troops and transported to Omsk. Later moved to Zhitkur in l945.
Source:
---
Date: Sept. 1941
Location: Bt. African mainland of Mozambique
Time:
Summary: Que and Island of Madagascar strange globe glowing with greenish light about half the size of full moon.
Source: Page 17 Ref. 1
---
Date: 1941: Three Naval Craft Sent Out To Hunt Plane Base
---
Date: 1941: City's Black-Out Called Success – Newspaper
---
Date: Early Dec. 1941
Location: Georgia
Time:
Summary: Light moving in counterclockwise circles
Source:; Page 17-18 Ref. 1
---
Date: Dec. 22, 1941
Location: NY
Time:
Summary: Round sharply outlined object with bright aluminum or chrome finish
Source: Page 18 Ref. 1
---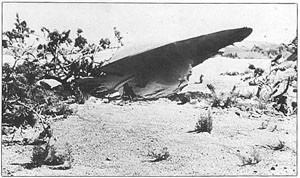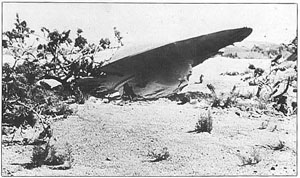 Date: 1941 | 1942
Location: North Carolina and vicinity
Time:
Summary: The noted UFO researcher Leo Stringfield relates the story of a possible UFO crash that occurred in either North Carolina or in some state that is, in Stringfield's words, "north of Georgia". According to his research for a story discussed in his book, UFO Crash/Retrievals: Search for Truth in a Hall of Mirrors, Stringfield posits that a UFO may have crashed and been recovered by members of the military. Stringfield relates how the mother of a son in the military had reported that he had been involved in an exercise involving the recovery of a round, metallic object that had crashed and had included dead extraterrestrial beings. The craft, stashed at a nearby Army post, was 15 feet wide and 10 feet high with a control room, 4 seats and markings on the inside and outside of the silvery craft. The beings recovered were described as small with large black eyes like a bug's. All the beings were reported to have died. Sadly, no corroborating evidence for this story was ever provided other than the accounts from second-hand witnesses.
Source:
---
Date:  1941
Location:  
Time:  
Summary:  
Source:  
Related articles