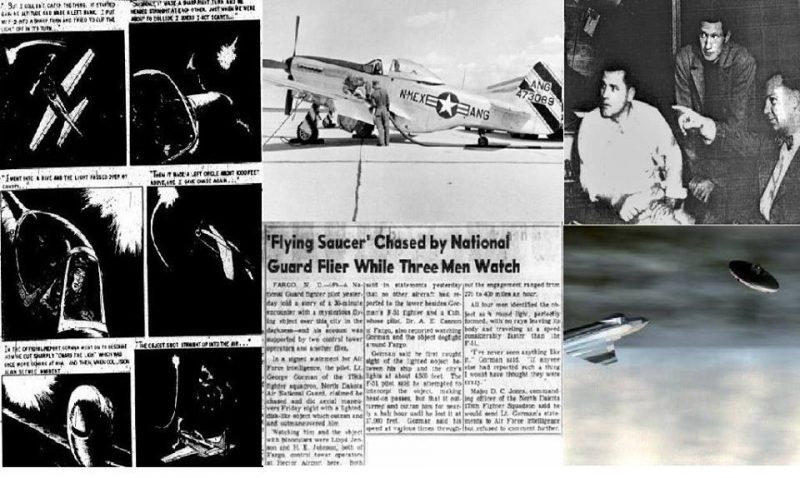 (Last Updated On: June 29, 2016)
Date: October , 1948
Location: Qingdao, China
Time: 09:40
Summary: A hovering object was observed. It departed by rapidly flying straight up until lost to sight. One disc was observed on the shore for over three minutes.
Source: Stevens, Wendelle C. UFOs over Modern China UFO Photo Archives, Tucson, 1983 ISBN:0-9608558-3-1
---
Date: October , 1948
Location: Hollis, Oklahoma
Time: Noon
Summary: One object was observed by one witness for a few seconds (Tyson).
Source: NICAP 
---
Date: October , 1948
Location: Benton, Wisconsin
Time: 16:30
Summary: Silver disc hovered at low altitude, shot away extremely fast. A hovering flying disc was observed. One silver disc, about 40 feet across, was observed by one experienced male witness on a farm for over one minute. Farmer incident.
Source: Benton, Wisconsin
---
Date: October , 1948
Location: Langhorne, Pennsylvania
Time: Evening
Summary: One object was observed by four witnesses for a few seconds.
Source: Newspaper 
---
Date: October 1, 1948      BBU #00174
Location: Ascension Parish, Louisiana
Time:   05:40
Summary: Silent cone-shaped object flew at 300 mph over woods, wide-end forward. Project Blue Book case #00174
Source: Hatch, Larry 
---
Date: October 1, 1948: The Gorman Dogfight
---
Date: October 2 1948
Location: Dreamy Draw, Paradise Valley, Arizona
Time: unknown
Summary: A UFO crashed somewhere in the Dreamy Draw area. Another version to the report has it that a UFO settled down in the Dreamy Draw area but actually crashed 10 miles away near Cave Creek landfill. The remains of its two aliens, described as about 4-1/2 ft tall were recovered. They were kept in some guy's freezer for a while and then taken away by the military. Some believe the reason the Army Corps of Engineers built the Dreamy Draw dam was not for flood control, but to bury the UFO. There are reports of a large underground vault in the area.
Source: Burlington News UFO crash list
---
Date: October 7, 1948
Location: Stinson Beach, California
Time: Daytime
Summary: Two objects were observed by one witness (Huff).
Source: Newspaper 
---
Date: October 9, 1948
Location: Osage, Wyoming
Time: Daytime
Summary:More than one object was observed by two male witnesses for two minutes (Griffin).
Source: Arnold, Kenneth Coming of the Saucers Authors, Amherst, 1952
---
Date: Oct. 11, 1948     BBU
Location: Neubiberg AFB, Munich, West Germany
Time:
Summary:
Source: McDonald list; FUFOR Index
---
Date: Oct. 13, 1948     BBU
Location: South Bend, Indiana 
Time:
Summary:
Source: McDonald list; FUFOR Index
---
Date: Oct. 14, 1948
Location: Between Dayton, Ohio, and Indianapolis, Ind.
Time:
Summary: Air Force pilot, major, saw a UFO flying in an oscillatory path, up and down motions. Intelligence report missing.
Source: Project GRUDGE Report Case No. 181; Fund Report C-13; 2 pp.
---
Date: October 14, 1948
Location: Dayton, Ohio
Time:
Summary: A group of objects was observed by military witnesses.
Source: Keyhoe, Donald E. Flying Saucers: Top Secret G. P. Putnam's Sons, New York, 1960
---
Date: October 14, 1948
Location: Bear Creek Harbor, New York
Time: 01:15
Summary: One sphere was observed by two witnesses at a lake. Nautical UFO. Spherical object entered "remote lake."
Source: Sanderson, Ivan T. Invisible Residents World, New York, 1970
---
Date: October 15 1948
Location: Fukuoka, Japan
Time:  23:05
Summary: This is an early radar visual case of 1948, in which a F-61 "Black Widow" night fighter crew on patrol over Japan picked up a UFO target on radar moving at about 200 m.p.h. The crew made six attempts to close in on the object, and each time it rapidly accelerated to about 1,200 m.p.h. leaving the interceptor behind.On one pass the crew saw the silhouette of an object shaped like a "rifle bullet and apparently 20-30 feet. This case has the number 218 in USAF's Project Blue Book and is listed as an "Unknown."
Source: Sparks Database of Bluebook Unknowns Version 1.7, Dec. 31, 2003
---
Date: Oct. 15, 1948
Location: Le Havre, Seine-Maritime, France
Time: 4:00 p.m. (approx). 
Summary: A domed disc hovered over the city. It moved away slowly at first, then sped up and shot away very fast. There were three witnesses who reported the sighting, which lasted about a minute. 
Source: Lumieres dans la Nuit, issue # 123
---
Date: Oct. 15, 1948     BBU
Location: about 50 miles E of Virginia coast in the Atlantic
Time: 5:20-6:10 p.m. (EST).
Summary:  Ship's observer aboard SS Gulfport Keme [?] saw a bright nearly moon-shaped object with distinct bright center about 1/4 moon's angular size at 350° azimuth (nearly N) 40°18′ elevation heading SE becoming darker with nightfall, at 5:30 p.m. at 358° azimuth 43°41′ elevation, [passing near the North Celestial Pole by about 10°], at 5:54 at 50° azimuth (nearly NE) 57°5′ elevation. 
Source: FOIA
---
Date: October 15, 1948
Location: Kyushu, Japan
Time: 23:05
Summary: At 11:05 p.m. U.S. Air Force pilot Halter and radar operator Hemphill in a propeller driven P-61 'Black Widow' night fighter tracked up to six objects on radar over Fusuoka, Japan . Only one of the bogeys was seen visually. It was a dull or dark object, shaped like a dirigible with a flat bottom and a clipped tail end. The six bogeys were seen on the radar separately by Hemphill. The pilot attempted to close on the visual object, but it dove away fast.
Source: Project Bluebook
---
Date: Oct. 16, 1948 
Location: 1 mile S, 8 [5?] miles E of Sterling, Utah  BBU
Time: 11:45 a.m. 
Summary: Airplane mechanic and used car dealer Mr. Nash on a hunting trip on a mountain at 9,000 ft MSL heard a fluttering, throbbing or purring noise and saw a flattened football or lozenge shaped black object with wide silver longitudinal stripe 9 x 6 x 3 inches, with blunted opening in the rear but no exhaust, pass 500 ft overhead on a NNW path at 4+ secs 300 mph.
Source: FOIA
---
Date: Oct. 17, 1948;
Location: Crescent City, Calif.  BBU
Time: 4:10 p.m.?
Summary:  Blimp Like object much too fast and maneuverable for a blimp. [Siler, Haley and 2 other witnesses saw bright silvery oval object heading SE at 6,000+ ft altitude moving faster than an aircraft.] 
Source: FOIA; FUFOR Index
---
Date: Oct. 18, 1948
Location: Pacific Heights, Oahu, Hawaii (21.31° N, 157.87° W).
Time: 5:05 p.m.
Summary:  (AHST). USAF rated pilot Major Robert C. Drum, wife and daughter, saw a round or elliptical bright silver object 10-15 ft in size [or 4-5 inches at arm's length??] about 10,000­14,000 ft altitude heading NE on a steady course horizontal to the ground about 200 mph, no trail or sound, no markings of any kind seen, observed intermittently for up to 10 secs at a time [due to cumulus clouds?].
Source: Dan Wilson; FOIA
---
Date: October 19, 1948
Location: Japan
Time:
Summary: One object, about 10 feet across, was observed.
Source: Vallee, Jacques 
---
Date: October , 1948
Location: Garrett, Indiana
Time: 14:30
Summary: More than six objects were observed by two witnesses (Bradin).
Source: Bloecher, Ted R. 
---
Date:  Oct. 24, 1948
Location: 10 miles SW of Junction City, Kansas   BBU
Time:
Summary:
Source: McDonald list; FUFOR Index
---
Date: October 24, 1948
Location: Phoenix, Ariz.    BBU
Time:   22:00
Summary: Number of Observers: 1; Reliability: unknown; Area: Phoenix, Arizona; Direction: East to west; Color: Green; Duration: 75minutes; Size: Star; Speed: Very slow. (33.45° north, 112.05° W). Peterson.
Source: McDonald list; FUFOR Index
---
Date: Oct. 24, 1948
Location: 4 miles SE of Moorhead, Minn.   BBU
Time: 5:45 p.m.
Summary: Mr. Sanders and his wife while driving NW on Hwy 52 towards Moorhead and Fargo (46.88° N, 96.78° W) saw a brilliant golden-white round object suddenly appear as if a light switched on, about 3 miles away to the NE at 1,000 ft altitude in a gradual climb traveling at high speed, estimated 600-1,000 mph, heading W towards Moorhead, no trail or sound, about 1/2 full moon angular size [moon and sun both below the horizon]. When they reached the N of Moorhead the object, which was slightly to the left of directly ahead, suddenly made a right turn to the N then 1 sec later disappeared by suddenly switching off. 
Source: FOIA; McDonald list; FUFOR Index
---
Date: Oct. 29, 1948
Location: Goose Bay AFB, Labrador, Canada  BBU
Time: 4:12 AM.
Summary:  A target was picked up on scope #2, also subsequently found on the search scope #1. Goose tower was queried about possible aircraft in the area but gave a negative reply. GCA shop was called and a S/Sgt was asked to come over immediately. When he arrived the target had disappeared after being observed for about five minutes. At 4:19 another target showed up and both men watched it 4:25 AM when it faded from view. Again, at 5:16 AM, they sighted a target which faded into the ground clutter after about 4 minutes. Targets were small but very clear. Alerted by the previous operator, the next operator at the GCA unit observed as many as three blips at one time. He recorded a speed of 30 mph for each blip with the objects moving into the wind or crosswind. One blip was described as a very strong target. 
Source: Fran Ridge, Dan Wilson
---
Date: Oct. 30, 1948;
Location: About 15 (25?) miles WNW of Grays Harbor/Pacific Beach, Washington    BBU
Time: 4:20?-4:30 p.m. (PST).
Summary:   While flying in an F-82 fighter headed N at 8,000 ft at 240 mph on a GCI intercept mission initially directed by the ADC radar site 634th Aicraft Control Sq., Neah Bay, Wash. (505th AC&W Group, Everett, Wash.) radar observer AF 2nd Lt. Robert L. Kunzman, 318th All Weather Fighter Sq, 325th Fighter Group, McChord AFB, Wash., saw as he headed toward an interception point a single compact group of yellow objects in the WNW at 10 o'clock position which burst into an in-line formation of about 10-20 or 25 white egg-shaped objects that crossed over in front of aircraft to 1 o'clock (in the NNE) heading W to E still in line formation at about 8,000 ft heading S and dropping back to 3 o'clock position in the E, which he first thought might be seagulls.  Objects maintained same altitude and horizontal flight throughout.  Objects then doubled back heading N paralleling the F-82's course while moving back up to 2:30 o'clock position at high speed, turning translucent part of the time just before disappearing by fading out or dissolving without going far enough to have vanished due to distance (some fog with visibility 5 miles may account for disappearance).  [If at 5 miles objects covered 15° from 3 to 2:30 position in possibly 5-10 secs, time assumed not reported, then relative velocity was possibly 500-1,000 mph greater than F-82's 240 mph.]  He called attention of the pilot Maj. Homer William Morris who missed seeing the objects.  Ground radar lost object at this same time. AFOSI interviewed radar controllers at 635th AC&W Sq at Pacific Beach, who tracked "no unidentified objects at high rate of speed" (leaving unstated what about unidentifieds at moderate speed) but did not interview at 634th AC&W Sq at Neah Bay which did the tracking.   ? (radar) + 20 secs (visual) 2+ witnesses RV
Source: McDonald list;  BB Maxwell Microfilm Roll 4, pp. 630-657;  NARA Roll 88 pp. 144-149
---
Date: Oct. 31, 1948
Location: Goose Bay, Labrador, Canada   BBU
Time:
Summary: This was .Incident #195, the object reported in this incident has no astronomical explanation; speed was too slow and time in sight too long. The object, observed on a GCI radarscope with PPI.. If the speed indicated the radial velocity of the object or true space velocity it is obviously too slow for conventional aircraft. One document mentioned the target was as large as an aircraft and was observed for a total of 8-1/2 minutes. There was no visual sighting but eight witnesses were involved in the radar tracking. 
Source: BB documents, McDonald list
---
Date:  October 1948
Location:  
Time:  
Summary:  
Source:  
Related articles