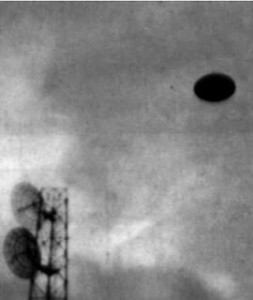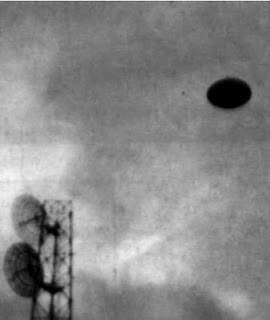 (Last Updated On: December 6, 2016)
Date: October, 1957
Location: Pescara, Italy
Time:
Summary:
Source:
---
Date: October 1, 1957
Location: Martelle, IA
Time: 20:30
Summary: I Fly and have been in Viet Nam and around the world and have never seen anything like it again. I am not sure if it was 1956 or 57 as I was only 9 or 10 at the time. We had left my grandfathers farm a mile west of the martelle just over the Linn county line and were going north on highway 1. We were going to my aunts farm near Anamosa with my mother in the back pass side and my grandmother in the front. My Grandfather was driving and I was in the back on his side. We were were 2 or 3 miles north of Martelle when the radio on the car stopped playing music and had nothing but static. The car then started to stall and my grandfather pulled off the right side of the road. Just as he stoped it became like daylight out as a vary bright cigar shapped object appeared to the west of the car over a field. All I can remember is that it looked huge and was so bright that I was able to see all the picked corn rows in the field. It was a bright orange and with what looked like large port holes that were bright orange. This may have been for 20 or 30 sec. and the next thing that I remember is it being dark and that I rolled down the window and stuck my head out looking up and seeing all the stars as it was a clear night. We all said what happened and then just looked at each other. My grandfather started the car and the radio came on and we went on to my aunts farm. When we got there they wanted to know where we had been as we then realized that it was 22:00. I have always wondered about this but as my mother is the only one still living and she never wants to talk about it I have never told anyone else about this event. If anyone might have also seen this event I would be interested in what they saw.
Source: NUFORC
---
Date: October 1, 1957
Location: Northeast Cape AFS, AK
Time: 22:00
Summary: Radar sighting and filming I was a radar operator at an early warning radar sight. At about 2200hrs we painted a target about 200 miles west, in Soviet territory. It was moving eastward at a high rate…about 10,000kts. We had no height finding radar, so could only guess at the altitude. We thought it was a missile. In accordance with SOP for picking up unidentified targets, we turned on the scope camera. As the target continued eastbound we lost radar contact, but the next site, at Cape Romanzoff picked it up. We were later told that the target was carried continuously until it was east of Iceland, and that the total time was about twenty minutes.
Source: NUFORC
---
Date: October 1, 1957
Location: Shippingport, Pennsylvania
Time:
Summary: From the direction of the nearby town of Ohioville something strange approached at an altitude of 2,000 feet.  The two men spotted it and were astonished.  The thing was a big luminous torpedo they estimated was 200 feet long.  The top half was green-colored and the bottom half was reddish-orange. It was the  witness' opinion the mystery ship made a U-turn over the nuclear facility.  This suggestion was taken seriously by the Air Force and the FBI." 
Source: The Beaver County Times, Beaver, Pennsylvania, 8 November 1957.
---
Date: October 5, 1957
Location: Sao Francisco, Brazil
Time:
Summary: Antonio Villas-Boas. Early abduction, sexual encounter with alien-human hybrid. DETAILS
Source: Dr. Olavo Fontes of APRO
---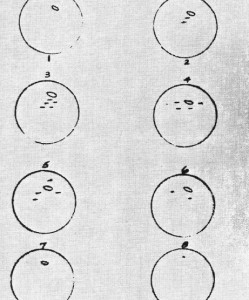 Date: October 6, 1957
Location: Tucson Arizona
Time: 4:15-4:30 p. m. MST.
Summary: large, Small UAOS Over Tucson ln 1957 Earl E. Sydow, engineer and amateur astronomer of Tucson, submitted the following account of a sighting of unconventional aerial objects to APRO in 1962. The original account and drawing were sent to Dr. McDonald of the Atmospheric Phyics Institute, University of Arizona, in 1958. DRAWING: The drawing shown aboae illustrates objects seen bE EarL C. Sadow on October 6, 1957 wi.th aid of telescope (see tert). Sunday, Oct. 6, 1957 – 4:15-4:30 p. m. MST. Observed UFO's at 60 degrees elevation, 135 degrees Az. Bright object was seen having the magnitude approximately of the planet Venus or approximately -3. The single object measured approximately 3 minutes in diameter along the major axis and measured about 1 minute along the minor axis. Smaller objects seemed to exit from the larger object as observations continued. A total of 6 objects were seen at one instant, but other observers noted a total of 10 objects. The objects appeared to be flat white to a silver white. The shape of the smaller objects appeared to be short traces of light at times and at other times appeared to be somewhat semiwedge shaped. The objects moved from the SE toward the NW. The smaller objects disappeared from the field of the telescope until in the final phases of observations there was only one object still in the field of view. This object was the original object sighted and it slowly disappeared from view as if it were moving away from the observer. I would estimate the diameter of the smaller objects to be about 15 to 30 seconds. The last object was observed at about 180 degrees Az. and 85 degrees elevation. Condition of sky: Clear, light blue. Wind conditions: None. Type of instruments used: 1 20mm x 15x; 1 70mm x 140x Astro scope. Number of observers: 7
 Source: 
---
Date:  October  1957
Location:  
Time:  
Summary:  
Source:  
Summary: Oct. 7, 1957; Cape Canaveral, Fla.
White oval object seen near Cape for second consecutive night. [UFOE, XII]
 Source: 
---
Date: October 08, 1957
Location: Nabouwalu Fiji Islands
Time: 1500
Summary:  Two couples going from Nabouwalu to Nawaca in a motor boat saw a white object come down from the sky, thought it was a plane in trouble and went closer. They found the object hovering 7 m above the water, and a figure on board the craft aimed at them a beam so bright they "felt weak." The figure disappeared suddenly, and the object took off vertically at high speed.Oct.8,1957; Nabouwalu, Bua, Fiji Islands
3:00 p.m. Two middle-aged couples saw an object that came down from the sky near the island of Nawaca [sic-Nawaka], eight miles away from Nabouwalu, southwest of Viti Levu. The witnesses were in a punt1 with an outboard motor, and when they saw the object, they first thought it was an airplane in trouble and decided to go near it. As the Fijian[s] came closer, they found it hovering about 20 feet above the sea and it appeared to be revolving. The witnesses said they picked out what looked like a figure of a man standing on the outside of the object. This figure shone a very bright light on their boat which was so powerful that they were dazzled and "felt weak." When the boat was about five chains from the rotating object, the figure disappeared and the object then rose in a rapid vertical movement and was soon out of sight. The newspaper is said to have emphasized that all four agreed on the details, that they lived in a fairly isolated area "without access to comic books or other literature on flying saucers." The witnesses['] statement was obtained by R. O. Aveling, an official of a local Adventist Church, who, in the night of the sighting by the four Fijians, had seen a light, apparently at an altitude of 5.000 feet, between the islands Beqa and Viti Levu. This light was at first stationary, then started sliding slowly through the sky for about five minutes, then vanished entirely, although there were no clouds. (Rullan; Website: UFOs at Close Sight)
Source: Round-up 202; Challenge 18; Magonia 408
---
Date:  October  1957
Location:  
Time:  
Summary:  
Source:  
Time: Oct. 8, 1957; Bua Province, Fiji Islands
Natives in small boat saw UFO descend vertically, hover about 20 feet above sea.
Summary:
Source:
---
Date:  October  1957
Location:  
Time:  
Summary:  
Source:  
Summary: Oct. 8, 1957; Nr. Boston, Mass.
Pan American Airways pilot saw a brilliant object flying at high speed in daylight. [UFOE, V]
Source:
---
Date:  October  1957
Location:  
Time:  
Summary:  
Source:  
Summary: Oct. 8, 1957; Seattle, Wash. (BBU 5003)
9:17 a.m. PST. M/Sgt. Walter W. Housley and Sgt. First Class Merrel E. Lee, observed two flat circular objects the apparent size of a dime held at arm's length appearing in the NW and banking away to the SW. The objects remained in line astern at all times while flying along an irregular path, frequently banking. The length of observation was 25-30 seconds. The two witnesses were from the 313th AAA MSL BN (NIKE).(Berliner) 
Source:
---
Date: October 10, 1957
Location: Schenectady New York
Time:
Summary: ). Mrs. Edward Yeager who lived in a trailer on the Duanesburg-Church Road near Mariaville, saw a circular object go down behind the hill. Two min later it flew up again, very bright. The next day she was feeding animals that ran away as the same or a similar object came within 2 m of the ground. Two dark, little men came out of the craft and went into the woods. The object remained there two min, then left. A search for the occupants proved futile. A bus driver was said to have seen two craft land in a nearby field at the same hour.
Source: FSR 58, 3; Magonia 409
---
Date: October 10, 1957
Location: Quebra Coco Brazil
Time: night
Summary: Naval officer Miguel Espanhol and another man, traveling to Ceres, saw a bright object that illuminated the countryside and came down to ground level as the truck stalled. It was oval or saucer-shaped, over 150 m in diameter and 40 m deep, with a dome supporting a long "aerial" with a red light on top. The bright light went off and the witnesses saw seven childlike beings, with long hair and luminous suits, who looked down at them for about 3 min. The craft flew south and released a smaller disk, which flew north.
Source: Humanoids 36; Magonia 410
---
Date:  October  1957
Location:  
Time:  
Summary:  
Source:  
---
Date: October 11, 1957
Location: Roulon France
Time: 2000
Summary: ). Two witnesses in a car saw something they described as "a dark, transparent ball" about 50 cm in diameter rising from the side of the road. It had appendages trailing behind.
Source: Magonia 411
---
Date:  October  1957
Location:  
Time:  
Summary:  
Source:  
Summary: Oct. 11, 1957; nr. Nawaka, Fiji Islands
Afternoon. Two middle-aged couples boating, observed a circular white object descending vertically from the sky to the surface of the ocean. When they got close to the craft, they found it hovering about 20 feet above the water. As the Fijians moved closer to the craft, they saw what they took to be the figure of a man standing on the outside of the UFO. This figure shone a very bright light on the boat ­ a light so powerful that they were dazzled and left weak. Then the figure disappeared and the craft went into a high speed vertical climb and vanished in a few seconds. (Rullan; MUFON UFO Journal, #234, October 1987, p. 18
Source:
---
Date:  October  1957
Location:  
Time:  
Summary:  
Source:  
Summary: Oct.12, 1957; near Martha's Vineyard, MA
3:20 p.m.  Three members of the Woods Hole Oceanographic Institution, Ronald A. Veeder, Capt. Scott Bray, and Capt. Eugene Mysona, with these three men were two fliers from Charleston, South Carolina, one a Air Force jet pilot. All five men where aboard Veeder's boat, the Sports Fisherman. At 3:20 p.m., a strange round object bearing southeast approached the boat at high speed. As seen by Veeder and the others, through binoculars, the UFO appeared to be a sphere with sensing elements or spikes protruding from it. The tips of the "spikes" were red. The object hovered for about two minutes then took off to the southwest at a speed greater than any object the witnesses had ever seen. The sighting was reported to Otis AFB, Mass. (UFO Investigator / JULY – AUG 1960, page 6)
Source:
---
Date: October 14, 1957
Location: Francisco de Sales Brazil
Time: 2145
Summary: )Second observation by
A. Villas-Boas. He was plowing a field with his brother when they saw a red light at the edge of the field. He went toward it, but it shifted its position every time he went close. It vanished on the spot.
Source: FSR 66, 4; Magonia 412
---
Date: October 15, 1957
Location: Covington Indiana
Time: daylight
Summary: Mr. Moudy, a farmer, observed a silvery disk which hovered above his tractor; the engine failed when the object rose.
Source: Magonia 413
---
Date:  October  1957
Location:  
Time:  
Summary:  
Source:  
Summary: Oct. 16, 1957; Australia
Round UFO sighted by former Commander-in-Chief of Royal Australian Air Force. [UFOE, X]
Source:
---
Date: October 16, 1957
Location: Francisco de Sales Brazil
Time: 0100
Summary: Third observation by A.
Villas-Boas. Alone in the fields on a clear night, he saw a big, red star which took the appearance of a luminous, egg-shaped object and stopped 50 m above his tractor. Its light was brighter than that of the headlights as it landed 15 m away. The top part was spinning. It became green as it slowed down, was then seen as a flattened dome. Three legs emerged from the machine as it settled down. The tractor engine stalled, and the witness was seized by unknown individuals and carried aboard the craft, where he was medically examined, then left with a woman of short stature with whom he had sexual intercourse. Villas-Boas reported that crew members wore tight, white clothes with a light on the belt, heelless white shoes, big gloves, and opaque helmets with a slit at the level of the eyes. Their language was shrill, and he could establish no verbal communication with them.
Source: FSR 66, 4 et seq.; Magonia 414
---
Date: October 16, 1957: Holloman Air Force Base, New Mexico Sighting
---
Date: October 17 1954 or 7
Location: Cabasson France
Time: 1430
Summary: Maxime Pignatelli was hunting with his dog when he saw a gray object, about 4 meters long and 1 meter high, on the ground 40 meters away. It had a dome, from which 2 helmeted figures emerged. The witness fled, but his dog started toward the object; but it soon retreated, walking awkwardly as if partially paralyzed.
Source: Jacques Vallee, Passport to Magonia
---
Date: October 19, 1957
Location: Mildenhall, England, UK                 BBU
Time: 5:40 p.m., local.
Summary: A/2C Pringle and A/2C Warsewich on duty in the control tower at Mildenhall RAF Station, observed a circular disc-shaped object, yellow to orange in color to the SW of the station. The object appeared as large as a dime held at arm's length. The object when first sighted was approx. 5 degrees above the horizon and appeared to be stationary. At 5:55 p.m., the weather observer working in the tower was notified. The wx observer said he could not identify the object , but it definitely was not a star or other celestial body. At 6:03 P.M., Lakenheath RAPCON was advised of the UFO. The UFO was obscured from the tower's vision at Mildenhall at 6:09 p.m. by clouds. At 7:28 p.m., Lakenheath RAPCON advised Mildenhall tower they could see an object to the SW of Mildenhall. At 7:30 p.m., Lakenheath advised Mildenhall they had 3 targets on their radar. Two of the targets were NW of Mildenhall at approx. 11 miles. The two targets were also stationary. The 3rd target was north and moving slowly towards the station. Also the targets NW were visible from Lakenheath. Mildenhall GCA was notified and also picked up the targets which coordinated with Lakenheath. At 8:40 p.m., Sculthorpe WX station picked up the unidentified targets on their radar. The positions coincided with those of Lakenheath Control and Mildenhall GCA had reported.   The UFO report's preparing officer, 1st Lt. David A. Zillmer, wrote in his report on this incident. After investigating possible confusion with some known object the sighting was considered to definitely involve an unidentified object. ()
Source: Dan Wilson, Brad Sparks, McDonald list
---
Date:  October  1957
Location:  
Time:  
Summary:  
Source:  
Summary: Oct. 21, 1957; RAF Gaydon, Warwickshire, England (BBU)
9:18 p.m. RAF pilot flying Meteor fighter had near collision with object near atomic base, 6 lights emerged when fighter approached, object disappeared suddenly, ground radar tracking confirmed sighting. (Project 1947; FUFOR Index; Mary Castner/CUFOS)
Source:
---
Date:  October  1957
Location:  
Time:  
Summary:  
Source:  
Summary: Oct. 22, 1957; Wiesbaden, West Germany (BBU)
2:00 p.m. local time. A target was picked up on an AN/TPS-1D radar at 286.5 degrees azimuth at 160 miles range. The blip was 2 to 3 times larger than any blip seen on radar set. The shape of the target was that of a normal aircraft target as seen on a PPI scope. The speed of the target was estimated at 6240 nmph. The target closed to a range of about 45-50 nm, reversed direction and went outbound on same azimuth without turning around or changing speed until disappearing at a range of 160 nm (at the rim of the PPI scope).  After a few seconds the "blip" reappeared and followed path as mentioned above. This happened again for a third time and then the blip disappeared from view. The total length of the observation was 5-6 minutes. (McDonald list; FUFOR Index)
Source:
---
Date:  October  1957
Location:  
Time:  
Summary:  
Source:  
Summary: Oct. 22, 1957; Pittsburgh, Pa.
Family saw six UFOs in two separate groups, changing position in formation. [UFOE, II]
Source:
---
Date:  October  1957
Location:  
Time:  
Summary:  
Source:  
Summary: Oct. 23, 1957; Kent,  England
Disc traveling on edge. [UFOE, XII]
Source:
---
Date:  October  1957
Location:  
Time:  
Summary:  
Source:  
Summary: Oct. 23, 1957; Lake Wales and Bartow AFB, Florida (BB)
3:15 p.m. (approx) A large oblong object with a tail projecting north horizontally was observed high in the sky by five pilots in a Piper Apache aircraft The object was described as too shiny to be a weather balloon. The object stayed stationary over Haines City for more that two hours as the plane flew approximately 10 mile circles around it. All the witnesses were licensed pilots who have been flying for many years and have seen many such weather balloons, and therefore, discounted the weather balloon theory on the basis of their experience. A B-47 aircraft with the call sign Venice 37 also observed the object as well as others on the ground in central Polk County. The object was estimated to be at 66,500 to 76,500 feet in altitude. Winds were reported to be 22 mph at 50,000 feet. The object was kept in sight until 5:42 p.m. when at that time the object appeared to be ascending rapidly and the next circling of the aircraft the object had completely disappeared. (Dan Wilson, BB files)
Source:
---
Date: October 25 1957
Location: Petropolis Brazil
Time:
Summary:  A girl suffering from cancer appeared about to die when the house was suddenly illuminated by a strong light, as if a searchlight had been aimed at the room. It came from an object whose top part was reddish yellow. Two figures emerged from it and entered the house. They were about 1.20 m tall, had long yellow-red hair, small green, slanted eyes, and wore white gloves and glowing white clothes. Before the astounded witnesses (the author of the report and the family of the girl), they used a device producing a bluish-white light and another instument, in what appeared to be radiation treatment of the patient. After 30 min they went away, leaving her completely cured. The report was anonymous.
Source: Magonia 415
---
Date:  October 30 1957
Location:  Casper, Wyoming
Time:  
Summary:  Cat. 3. Car motor kept stalling as motorist tried to turn around to avoid UFO sitting on road.
Source:  
---
Date:  October 31 1957
Location:  Lumberton, N. Carolina
Time:  
Summary:  Cat. 3. Car motor failed as UFO observed.
Source:  
---
Date: October 31 1957
Location: Longchaumois France
Time: 0000
Summary: A businessman and his wife saw a large, lighted object with openings, which hovered, came to ground level, and took off with a great increase in brightness at very high speed, but without noise.
Source: Magonia 416
---
Date:  October  1957
Location:  
Time:  
Summary:  
Source:  
Related articles