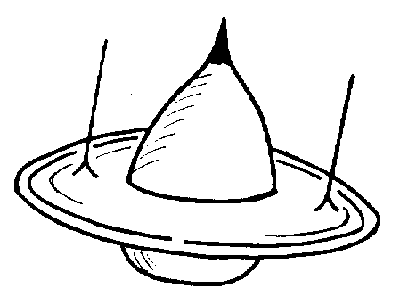 (Last Updated On: May 25, 2016)
Date:  November 1967
Location: Burgo de Ebro Spain
Time: sunset
Summary: Baltasar C Andreu was headed back home in his motorcycle after having placed his flock of sheep in their pens 2 kilometers from town when halfway along the road, he noticed three men standing on the road. He soon came to within 40 or 50 meters of the strange men. Puzzled, the witness turned on his high beams. The "men" turned around and began running downhill. Baltasar followed them for some 200 meters, but after doubling a curve, he was unable to find any trace of them. The three "men" were almost 7-feet tall were clad in white and had blue bands on the back of their outfits that reached from their shoulders down to their waists. Two days later he ran into the strangers again. On that occasion, Baltasar was heading to the pens to make sure his animals were well when he noticed something unusual was going on, the sheep and dogs were exhibiting strange excitement—they were huddled against one of the walls. As he tried to open the lock to the pen's large door, he noticed two of the strange beings in white he'd seen earlier. They were still dressed in white and were flattened against the wall as if to avoid detention. The terrified witness fled the scene and headed for the local police authorities. A search by the police failed to find anything.
Source: Javier Garcia Blanco, Inexplicata # 3
---
Date:  November 1967
Location: Indiana County Pennsylvania
Time: late night
Summary: The witness recalls being taken from her home late at night by a dark complexioned man in dark clothing, about five-foot three inches tall. The man led her through the woods towards a metallic object sitting on the ground. The man helped her up into the object. Inside the object it was very dark and she was led into a room. She noticed a dimly illuminated desk in the room and on top of it a logbook which she began reading. At this point a humanoid creature entered the room and became very angry, apparently slapping or shoving her. This being was described as having two holes instead of a nose, no ears, a small slit for a mouth and large dark slanted eyes. He was also dressed in black with a dark cap. This being was accompanied by at least four similar but shorter beings and escorted the witness into another dark room where she was asked to undress and lie on a steel table, which was very cold. She was given a physical examination while the original human like entity looked on. The beings took blood and skin scrapings from various parts of her body. The witness was pregnant at the time of the abduction and the beings insisted in taking her child, she resisted and this angered the beings that eventually released her.
Source: Paul G Johnson, Creature Research Journal Issue # 1
---
Date: November 1 1967
Location: Vaucouleurs LorFrance
Time: 21:00
Summary: In the winter of 1967 or 1966, myself and my girlfriend were sitting in my car on a rural mountain near Vaucouleurs, Lorraine, France and we saw what was first thought of as a shooting star (comet) moving horizontally from our left to right(approx. 45 degrees) across the sky and then just stopped to our right, after abt. a half minute of watching it. It was motionless for about. 20 seconds and then just shot up vertically to abt. 80 degrees instantaneously and again was motionless. It appeared to be way above our atmosphere. At that time we became frightened and left the area and returned to Vaucouleurs.
Source: National UFO Reporting Center
---
Date:  November 2 1967
Location: Ririe Idaho
Time: 2130
Summary: Two 23-year old Navajo Indians, Guy Tossie and Willy Begay, driving south of town, were blinded by a flash of white light; their car came to a stop and immediately ahead of them, hovering five feet of the ground, they saw an object 6-8 feet in diameter and 3 feet thick, shaped like two saucers joined together; and on top was a transparent bubble dome, occupied by two small entities. The dome flipped open and one of the two occupants floated out and to the ground, approached the car. By the flashing lights, the Indians were able to see that he was no more than 3-feet tall, and bald, with ears set up high on his head; his facial skin was scarred and wrinkled, "like a cantaloupe," his eyes were round and showed no pupils, and his mouth had lips so thin as to be barely visible. They saw no nose. He was wearing tight fitting coveralls and carried a pack on his back. To the Indian's horror, the little being opened the car door and seated himself behind the wheel; they drew over to the right as far as they could as the car towed, or driven, off the highway and out into a field of stubble wheat. As soon as it stopped, a terrified Tossie Jumped out of the right side of the car and began running to the farmhouse of William Hammon, a quarter of a mile away. As he ran, he found his shadow preceding him, as though a bright light were shining on him from behind. (It was presumed that the second occupant gave chase with a light, although Begay, who was otherwise preoccupied, could not confirm this). In the car, Begay cowered in the right side of the front seat as the little being attempted to communicate with him, twice saying something incomprehensible in a high, chirruping voice. Getting no response, the being got out of the car and joined the second being (presumably returned from his brief chase), and the two floated into the object, which took off in a zigzag motion. At the Hammon farmhouse, Tossie banged on the door, screaming for help. The farmer and his son Bob admitted him, and it took a period of time to calm him sufficiently to get his story; by the time they accompanied him back to the field, the object had departed and Begay was found in a state of near shock in the front seat. The farmer had to escort the youths by car; their fear was so great. There were attendant sightings in the area, and cattle had been "spooked" on several farms that night.
Source: Cpl Thomas Harper & C Reed Ricks
---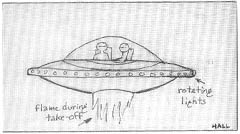 Date: November 2 1967
Location: Between Ririe & Rigby Idaho
Time: 2330
Summary: Two Indian youths in a car saw a disc with a transparent dome on top and multicolored lights along the rim (body lights). The object hovered in front of the car which stopped (EM effects). Two occupants were seen in the craft. One occupant got out and entered the driver's seat of the car. The car either followed the craft or was towed into a field where one witness got out and ran off for help, followed by the second occupant, while the other frightened youth stayed in the car with the first occupant, who tried to communicate with him. The second occupant returned, and the two re-entered the craft, which rose and departed, a yellow flame-like light coming from the bottom. An anonymous witness, two hours after the previous case, was driving to Rigby in his truck; a few miles northwest of Ririe, "a small UFO came down in front of his truck and stopped it," and a small humanoid being got out and tried to get in the truck, tapping on the side window and scratching on the windshield. The man, who had been drinking, thought he was losing his mind. He confided the story to a co-worker the following day when news of the Begay-Tossie sighting was known, and the co-worker told Ricks. The man was very reluctant to co-operate in Rick's inquiries and, a year later, when follow up inquiries were made, the man had moved away.
Source: C Reed Ricks; Hall, 2001, pp. 480-82; Keyhoe and Lore, 1969a, pp. 31-32; Keyhoe and. Lore, 1969b, pp. 23-27.
---
Date: November 2 1967
Location: Point Pleasant West Virginia
Time: late night
Summary: A woman working in her kitchen heard a loud squeaking sound coming from outside, she looked out and saw a huge shadow spreading across the grass, and then a figure described as tall, man-shaped, and gray in color appeared. It glided quickly across a field and disappeared into the woods.
Source:  John A Keel, The Mothman Prophecies
---
Date: 
Location:
Time: Nov. 3, 1967; Verner, Ontario, Canada
10:45 p.m. EST. While driving, a couple and their children saw an oval light that moved alongside the highway, crossed over it, crossed back and went out of sight. The object was described as turning on itself or turning sideways (rotation), like the beaters of a mix-master. (NICAP report form.) 
Summary:
Source:
---
Date: 
Location:
Time: Nov. 4, 1967; Greenfield, CA
12:35 a.m. PST (2:35 a.m. CST). Two women saw a bright circular object about 100 feet in diameter hovering 100-150 feet above a house at an angle. The object made a sharp turn, shot out flames, and disappeared after about a minute, leaving a cloudy yellow luminous trail. (California NICAP Subcommittee report, NICAP report form; U.F.O. Investigator, Vol. IV, No. 5, March 1968, p. 3.)
Summary:
Source:
---
Date: 
Location:
Time: Nov. 4, 1967; Fort Riley, KS
5:00 a.m. CST. Multiple witnesses saw four bright lights that hovered, moved off, changed direction (maneuvered), and went out of sight. An Army unit was dispatched to investigate at the request of local police. (Topeka Capital-Journal, Kans., 11/5/67, NICAP files.)
Summary:
Source:
---
Date: 
Location:
Time: Nov. 5, 1967; Alderwood Manor, WA
5:35 p.m. PST. A witness saw a bright orange oblong object that passed overhead, maneuvered, hovered, and descended. It produced a humming sound. (Washington State NICAP Subcommittee report, NICAP files.)
Summary:
Source:
---
Date: 
Location:
Time:
Summary: Nov. 5, 1967; Fordingbridge, England
Just before midnight. A diesel lorry (truck) driver experienced engine and radio failure (EM effects) and saw a glowing green, egg-shaped object, with a whitish dome or projection underneath, hovering 10 feet over the road. A car coming from the other direction was also stopped. The object rose to about 40 feet and sped away. (Flying Saucer Review, Nov-Dec. 1967, p. 4; London Daily Express, 11/7/67, copy in NICAP files; Hennessey report, NICAP files; U.F.O. Investigator, Vol. IV, No. 5, March 1968, p. 3.) (See Section VI, UFOE II [E,R,L]) 
Source:
---
Date: 
Location:
Time:
Summary: Nov. 6, 1967; River Avon, Hampshire, England
1:30 a.m. GMT. A man driving a diesel truck noticed his headlights dimmed and then failed (EM effects). He stopped, his engine still running, and saw a large purplish-red oval object (estimated 80 feet long) moving across the road ahead at telegraph pole height, emitting a humming sound. The object hovered, and after a few seconds started to move and sped away. The witness noticed a pungent burning odor. Another car going in the opposite direction was also stopped and experienced both engine and headlight failure. (Randies and Warrington, 1985, pp. 105-07.)
Source:
---
Date: 
Location:
Time: Nov. 6, 1967; Treysa, Federal Republic of Germany
3:30-5:45 a.m. LT. Five UFOs were reported hovering over Hartdurg area. Two of the UFOs were approximately 15 to 20 feet in diameter and three were approximately eight to ten feet in diameter. All of the UFOs were of a red and white color with a green fringe. Witness photographed the UFOs on color film and submitted the unprocessed film to the Military Police. (NARA-PBB92-607
Summary:
Source:
---
Date: 
Location:
Time: Nov. 6,  1967; Kazan, USSR
Night. A luminous red Saturn-shaped object hovered for 7-10 minutes spinning on its axis, then accelerated and sped away. (Vallee, 1992, p. 194.) 
Summary:
Source:
---
Date: November 8 1967
Location: Manaus Brazil
Time: night
Summary:  A creature described by police as a "mini skirted" vampire reportedly terrorize locals on a beach. Several people who were attacked described the creature as a blond haired woman with sharp and pointed teeth, wearing a mini skirt and black stockings. Two small round marks were said to have been found near the jugular vein of a child that was bitten.
Source: Jacques Bergier for INFO
---
Date: 
Location:
Time: Nov. 8, 1967; Ramsgate Harbor, England
5:05 p.m. GMT. A large unidentified object was seen on radar. It was stationary (hovering) at first, then accelerated to 5 miles/second flying in a semicircle near the harbor, then shot off the scope. (Hennessey report, NICAP files.)
Summary:
Source:
---
Date: 
Location:
Time:
Summary: Nov. 8, 1967; Elsinore, CA
Cat. 3. Red-orange disc, witness felt pressure on head and shoulders. (Gilmore , Case 39, 1969, p. 380 [E,R,L]) truck and car.
Source:
---
Date: 
Location:
Time:
Summary: Nov. 9, 1967; Miass, near Chelyabin, Russia
A white cigar-shaped object with some black dashes at one end was seen moving through the sky by I.S. Lunyanov. It was flying toward Zlatoust. (Ref. 3)
Source:
---
Date: 
Location:
Time:
Summary: Nov. 9, 1967; Nr. Erin, TN
11:45 p.m. CST. Two nurses driving home from a Waverly, Tennessee hospital stopped for a traffic light in Erin, Tennessee. While stopped they saw a large UFO approach and land on the highway in front of them. Without the driver "feeding gas or anything" the car began to move of its own accord until it stopped a mere thirty feet or so away from the semi-transparent craft. Inside the craft there were at least five small figures looking at them. The women felt completely unafraid and transfixed. The craft rose up and moved away and the women began eagerly to follow it. It "led" them to a rural road where they saw it land. The lights on their car went out. The next recollection was of the object high in the sky leaving them, but they perceived no time lapse nor did they ever check the time. (MUFON Sympap 81, p. 23)Miss Dianne Marable & Mrs Pearl Robins were driving home to Tennessee Ridge and had reached Erin when they noticed a luminous object in the sky, which they at first mistook for the moon. It approached and landed 50 ft in front of them, covering the whole highway. It was dome shaped, in part of a color that varied between fiery orange & light yellow, and in part "grayish black; ash-colored." Inside it they could see a number of dark green creatures, 4 ft tall, "milling about inside some type of machinery." After at least 5 minutes of watching it, they started to approach more closely, but the object then swiftly rose, after which it traveled beside the car. It landed again in a field, which the witnesses approached by a gravel road, upon which its lights went out, though they could see a bright red light in the sky. The young women then drove home.
Source: Budd Hopkins 
---
Date: 
Location:
Time: Nov. 10, 1967; Wabash, IN
2:00 a.m. EST. A woman heard a sound like a sonic boom and went to the window to investigate. She saw a glimmering, white-green-yellow egg-shaped object hovering in the northwest. The object was the apparent size of two full moons (about 1 degree of arc). The witness went to another window seeking a better view of the object, but the view was obscured by trees. When she returned to the original window, the object had disappeared. (Witness notes and NICAP report form.)
Summary:
Source:
---
Date: 
Location:
Time: Nov. 11, 1967; North Olmsted, Ohio 
At 9:05 p.m. EST, the Olmsted FAA (Cleveland) Air Traffic Control Center tracked an object on ARSR radar for 1 1/2 hours. The object was first detected at a point 20 to 25 miles north of Erie, Pa. The object traveled at about 50 mph in a straight line towards Buffalo, New, York. The object was a definite, primary target and was in a place they didn't ordinarily pick up targets. The object vanished approximately 10 miles from Buffalo. Radar at Buffalo also tracked the object. (Dan Wilson)  
Summary:
Source:
---
Date: 
Location:
Time:
Summary: Nov. 13, 1967; Nr. Reed Park, Springfield, OH
4:00 a.m. LT. Described as a 30′ diameter orange object. When witness shown spotlight on it it changed to a pinkish object and came towards him. Witness became frightened and fled, called police. (NARA-PBB90-354)
Source:
---
Date: 
Location:
Time: Nov. 14, 1967; Liepaya, Russia
A large, luminous object shaped like a hemisphere hovered low over the ground. It moved away quickly with a fiery light that was painful to the eye. There were several witnesses. (Ref. 3)
Summary:
Source:
---
Date: 
Location:
Time: Nov. 15, 1967; Yerecoin, Western Australia
Time not reported. A farm manager saw a dome-shaped object with two square portholes bracketed by two round ports and emitting a loud humming sound. The object approached, hovered near a farm vehicle, and departed upward. Possible EM effects on TV. (The West Australian, 11/17/67; Flying Saucer Review, Jan.-Feb. 1968, p. 32.)
Summary:
Source:
---
Date: 
Location:
Time: Nov. 15, 1967; Sasnava, Russia
4:30 a.m. V. Treychis observed a round object in the sky for thirty-five minutes, twenty degrees above the northeast horizon. It seemed to measure 300 feet in diameter. It was very bright and tongues of flame were visible. (Ref. 3)
Summary:
Source:
---
Date: 
Location:
Time:
Summary: Nov. 15, 1967; Florence, Italy
2:30 p.m. LT. The pilot and crew of a British European Airways plane flying at 27,000 feet had a 10-minute encounter with an object that passed over them at about 50,000 feet. The object first appeared star-like, then as it neared was seen to be delta-shaped with a notch in the shortest side, and similar to a streamlined F-111. It was aluminum colored (silvery), very bright, with no shadows and estimated to be two to three times the size of a normal aircraft. (Roth Volunteer Flight Officers Network report, NICAP files; U.F.O. Investigator, Vol. IV, No. 4, Jan.-Feb. 1968, p. 3.)
Source:
---
Date: 
Location:
Time:
Summary: Nov. 15, 1967; Fort Simpson, NW Terretories, Canada
7:11 a.m. PST. A weather observer at a local airport saw a spherical object glowing blue-green that moved across the sky, made a 90-degree turn, slowed down, turned around, and resumed its original flight path. The object then made another 90-degree turn and continued until lost from view behind clouds. (Letter from witness, NICAP files; U.F.O. Investigator, Vol. IV, No. 4, Jan.-Feb. 1968, p. 3.)
Source:
---
Date: 
Location:
Time: Nov. 15, 1967; Carlisle, PA
8:30 p.m. EST. Two women saw an oblong object which had white glowing lights in front and back (body lights). It traveled slowly eastward, passing in front of the moon, eclipsing three-fourths of the moon. The object then gained altitude and disappeared. (Pennsylvania NICAP Subcommittee report and NICAP report form, NICAP files.)
Summary:
Source:
---
Date: 
Location:
Time: Nov. 15, 1967; Harrisburg, PA
10:00 p.m. EST. Several witnesses saw a shiny metallic-appearing ball with small discs positioned to each side. The object swayed, descended with rays of light (light beams) becoming visible, stopped, turned, and ascended (maneuvered). The small discs seeming to play tag during the ascent. (Pennsylvania NICAP Subcommittee report, NICAP files.)
Summary:
Source:
---
Date: 
Location:
Time: Nov. 15, 1967; Summerdale, PA
Bt. 10:50 and 11:15 pm. Multiple witnesses saw a white ball of light, possibly with red blinking lights on the side, bounce around over WTPA TV towers for 2-10 minutes. (Pennsylvania NICAP Subcommittee report and NICAP report forms, NICAP files.)
Summary:
Source:
---
Date:   November  1967
Location:  
Time:  
Summary:  
Source:  
---
Location. Coma De Vaca, Girona, Spain
Date: November 16 1967
Time: 0200A
At an isolated mountain climbers refuge, alpinist Antony Pujador Estany and a young priest, J M A, were resting that night sleeping in separate cots when suddenly a weird sensation described as a mixture of sadness and fear invaded them. They jumped out of their cots and walked outside to see a hovering reddish colored triangle-shaped craft that appeared to balance itself a few meters from the refuge. Upon returning inside both men were almost overcome by the strange compulsion to attack and injure each other, a bizarre turn of events given their great friendship. Terrified they both fled the location convinced that both had been guinea pigs of some type of mind control "experiment." Several months before at the same location, Ana Maria Brunet, Carmen Martin & Ramona C had woken up in the middle of the night terrified upon hearing footsteps of what they thought could had been a "child" outside their cabin. Something attempted to push open the door which had been luckily shut with the help of a large rock, propped up against it. Soon they heard the footsteps apparently climbing up the outside wall and onto the roof. At daybreak they fled the location in terror. Soon they learned that at the nearby refuge of Uli De Ter a mysterious red triangular-shaped object had landed near the cabin.
Source: Iker Jimenez, Encuentros, Las Historia De Los Ovni En España
---
Date:   November  1967
Location:  
Time:  
Summary:  
Source:  
---
Date: November 16 1967
Location: Storrington Sussex England
Time: 1700
Summary: Leone Quick was walking toward the Downs at sunset when she saw an object that at first looked like a steam roller some half to three quarters of a mile off on the Downs. Through opera glasses she could see that it showed a vertical ellipse of gunmetal gray, with a trumpet shaped projection at the left from which shone a bright whitish-yellow beam, and another extension on the right that was illuminated by a blood red glow. This curious object changed its position once or twice at great speed, and then it took off rapidly for the sea. "At one moment I noticed a dark figure approaching the craft, apparently 8-10 feet tall, and appearing to glide rather than walk. It disappeared suddenly." Another woman, passing by, saw Mrs Quick looking at the object and saw the same thing through the glasses. There were earlier sightings.
Source:Omar Fowler
---
Date: November 17 1967
Location: Calgary Alberta Canada
Time: 1745
Summary: David Seewalt, 13, started a 3 minute walk home at 1745, but did not arrive until 1830 when he dashed in and tried to hide under the bed, saying "I've been chased by a flying saucer!" He seemed to be in shock and one if his shoe was missing, found later in the road nearby. Five months later, he had a nightmare, after which he told his father he knew what had happened to the missing time. Under regressive hypnosis, the boy recounted having been abducted into a low flying UFO by means of an orange light beam; inside the object he was undressed and examined by a being with "a rough brown skin like crocodiles;" he was assisted by at least 3 other similar creatures and they communicated with each other in voices that sounded "like a kazoo." Their hands had only 4 fingers. David was wheeled into an "operating like" room for the examination; at the conclusion, they put his clothes back on and beamed him back into the field where he had been abducted.
Source: William K Allan
---
Date:   November  1967
Location:  
Time:  
Summary:  
Source:  
---
Date:   November  1967
Location:  
Time:  
Summary:  
Source:  
Time: Nov. 17, 1967; Winona, MN
5:20 p.m. CST. A man saw a metallic-appearing saucer that had a large canopy (dome) on top and a smaller one underneath. The object was trailing a long stream of white fire (exhaust) with wispy black smoke behind that. It emerged from clouds on a downward path and then moved back up into clouds (maneuvered). Once it seemed to hover. (Unidentified newspaper clipping, NICAP files.)
Summary:
Source:
---
Date: 
Location:
Time: Nov. 18, 1967; Kingston, Jamaica, west Indies
8:00 p.m. LT. Four people saw two red lights (body lights) on an object with a row of windows below. The object circled, approached the witnesses, tilted, circled, and sped off. (Letter, NICAP files.)
Summary:
Source:
---
Date: November 18 1967
Location:  Bowie Maryland
Time: 0400A
Summary: A group of college students saw 2 figures in black running towards a hovering oval shaped object on campus grounds. No other information.
Source: Bowie State College campus Newspaper
---
Date: 
Location:
Time:
Summary: Nov. 19, 1967; Calgary, Alberta, Canada
5:45 p.m. MST. While walking home, a 14-year-old boy saw a silver-grayish object with flashing , multi-colored lights (body lights) around the center. The object was making a high-pitched sound. He ran home, discovered that 45 minutes of time was missing, and an abduction was revealed under hypnosis. (Bondarchuk, 1979, pp. 83-88.)
Source:
---
Date: 
Location:
Time:
Summary: Nov. 19 or 20, 1967; Burlington County, NJ
Bt. 3:30-4:00 a.m. EST. A police officer, who is also a private pilot who has tracked aircraft with NORAD, saw a  bright circular object about 50 feet in diameter that traveled under the cloud deck at an estimated 1,000 mph. (Letter, NICAP files.)
Source:
---
Date: 
Location:
Time: Nov. 20, 1967; Roosevelt, UT
10:00 p.m. MST.  A man saw pulsating, rotating , red, green, and amber lights about 100 yards away. A shadowy round area could be seen below the lights. With night binoculars, no aircraft shape could be seen. The 5 object/lights flew slowly, then sped up. (Salisbury, 1974, Appendix B, Table 1, case 58.)
Summary:
Source:
---
Date: 
Location:
Time: Nov. 21, 1967; Sofia, Bulgaria
5:10 p.m. LT. An unknown number of witnesses saw a slowly moving, high altitude object emitting a pale blue light over the city. First it looked like a large ball, then it stopped directly over Sofia and had a trapezoid shape. The object resumed its round shape (like an open parachute or balloon). It had a green light in the shape of an arch over the top, which created a greenish halo with sharp, fiery ribbons. After sunset, the object glowed with a silvery-blue color, then orange, before disappearing over the horizon. Scientists ruled out a balloon (moving against the wind) or a satellite. (U.F.O. Investigator, 5 Vol. IV, No. 4, Jan.-Feb. 1968, p. 3.) [Possible high-altitude plastic research balloo
Summary:
Source:
---
Date: Nov. 22, 1967
Location: Romania
Time:
Summary: Animal Reaction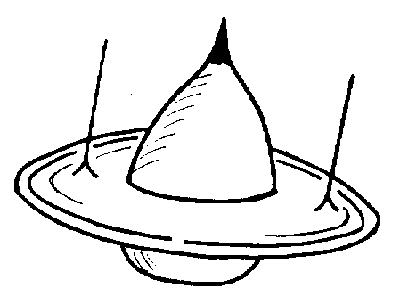 Source:
---
Date: 
Location:
Time: Nov. 23, 1967; Zagreb, Yugoslavia
Picture taken by Farcich Zoran, near Zagreb. 
Summary:
Source:
---
Date: November 24 1967
Location: Rio De Janeiro Brazil
Time: 1430
Summary: Ugo Battaglia, a radio technician, and his 14-year old assistant, Carlos Alberto do Nascimento, were in an eight floor apartment building repairing a phonograph, when they heard a high pitched sound and, looking out the window facing the coastal hills, saw a brilliant metallic disc shaped object land on a hill opposite the apartment building. The object struck and shattered a tree as it came down. Underneath, at either end, was a red light, and on top a spinning cupola with slat "windows." Three men clad in white coveralls came out of the UFO (which was actually hovering and not on the ground), and walked about it side by side, their arms hanging by their sides; then they returned to the disc, after about five minutes, and disappeared underneath it. The two continued their work and left the building at 1455, noticing that the object was still at the same spot as they came out into the street; by the time they reached a nearby corner, the object was no longer in view. They had not seen it depart.
Source: Irene Granchi for Apro
---
Date: 
Location:
Time: Nov. 25, 1967; Mikhaylovka, Russia
Midnight. V. Rogov was listening to the radio inside his home when a bright green light called his attention outside. He saw an object flying at great speed across the sky. It disappeared like a meteor but it then reappeared on the same trajectory. It was round and flat, with bright edges. The phenomenon lasted ten minutes. (Ref. 3)
Summary:
Source:
---
Date: November, 26, 1967: Ohio UFO Sighting
---
Date: 
Location:
Time: Nov. 27, 1967; Fayette County, IN
9:00 p.m. The object was observed by four witnesses at a rural home. The object dropped down near three other witnesses in a car on a rural road northwest of the Philco-Ford Manufacturing Plant. The object was larger than a house. It was a silver, domed disc with masses of red lights pulsating in an erratic fashion underneath it. The witnesses in the automobile stopped and observed windows inside the dome with computer lights behind these. The witnesses fled the scene, tearing down the gravel road at high speed. The duration of this sighting was ten minutes. (Don Worley files)
Summary:
Source:
---
Date: 
Location:
Time: Nov. 28, 1967; High River, Alta, Canada
Cat. 3. Elongated blue-green object, sound like a "jet motor", flew by, after which lights, radio worked normally. (CUFOS report: See Rodeghier, 1981, p.39 [R,L] car).
Summary:
Source:
---
Date: 
Location:
Time: Nov. 28, 1967; Rockport, MA
7:15 p.m. EST. Three witnesses saw a row of 8-10 revolving white lights and a parallel upper row of yellowish lights (body lights) apparently attached to a curved surface of an object concealed behind the lights. (Fowler, 1974, p. 350.)
Summary:
Source:
---
Date: November 28 1967
Location: Alexania, Brazil
Time: 0218A
Summary: Farmer Wilson Gusmao (involved in other encounters) was suddenly awakened by a telepathic voice that called his name. He got up from bed and upon raising the curtain on the window he noticed a huge bright light resting on the ground about 100 meters from the house. Immediately he attempted to wake his wife but to no avail "she seemed dead" according to Gusmao, he also attempted to awake his brother in law but with the same results. Walking over the living room he could now clearly see a landed object encased in a bright blue glow, that was about 5 meters in diameter. He left a written note to his wife telling her that he was going to check a landed "spacecraft" and grabbing a flashlight walked outside. It was also raining very heavily as Wilson approached to within 3 meters from the object, at this point a bright beam of light from the object struck Wilson around the waist area, this caused him to levitate closer to the object completely paralyzing him. A door now opened and Wilson could clearly see inside the craft. He could see four humanoids, all dressed in tight-fitting coveralls. They wore a belt with a large buckle that had what appeared to be "piano keys" on it. The beings started at Wilson intently. Wilson somehow felt inferior as the humanoids observed him. He described them as human-like, with long blond hair. Their skin appeared porcelain-like, as they had never been exposed to any sunlight. The leader of the group apparently conversed with Wilson and gave him several messages dealing with the nuclear armaments on Earth. He was to have later contacts along with members of the Brazilian defense establishment including General Uchoa.
Source: Revista Brasileira de Ovnis
---
Date: 
Location:
Time:
Summary:
Source:
---
Date: November 28 1967
Location: . Near Americana Brazil
Time:  0230A
Summary: An unidentified Brazilian highway patrolman saw an immense object, "as high as a 15 story building, apparently made of aluminum and with enormous rivets on it," come down to hover 50 yards from the ground. It carried searchlights too bright to look at and made a loud humming sound that made the patrolman's head ache. His police car would not start, and its lights went out, as well as the lights in the police booth; they came back on as soon as the object departed. Two nights later, the UFO returned, stopping 100 feet up, 50 yards away from him. From its underside descended a sort of open elevator, in which he could see two men dressed like frogmen in skin-tight clothing, wearing wide belts with lights on them. One of them spoke to the patrolman, telling him to put his gun away and not to be afraid, saying that they would be coming back again. Then the object immediately took off. The officer was unable to move during the encounter; "His legs would not obey his will." The object apparently did not return, as promised by the humanoid.
Source: Methodios Kalkaslief & Dr. Max Berezavsky
---
Date: 
Location:
Time:
Summary:
Source:
---
Date: 
Location:
Time:
Summary: Nov. 29, 1967; Quinan, Nova Scotia
2:00 a.m. AST. A man saw an object the size of a car with a rounded back, a pointed end, and two or three lights (body lights). It descended and landed in a clearing in woods for about 5 minutes. When the witness called out, the object took off quietly with flame and lights. While the object was on the ground, there was a sound like several radios on full blast all at once, contrasting with the quiet take-off including discharge of flame. (The Vanguard, Yarmouth, Nova Scotia, 12/6/67, copy in NICAP files; U.F.O. Investigator, Vol. IV, No. 4, Jan.-Feb. 1968, p. 6.)
Source:
---
Date:   November  1967
Location:  
Time:  
Summary:  
Source:  
Related articles