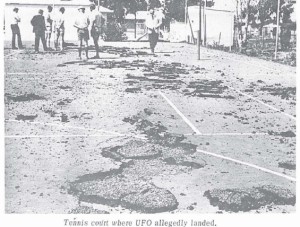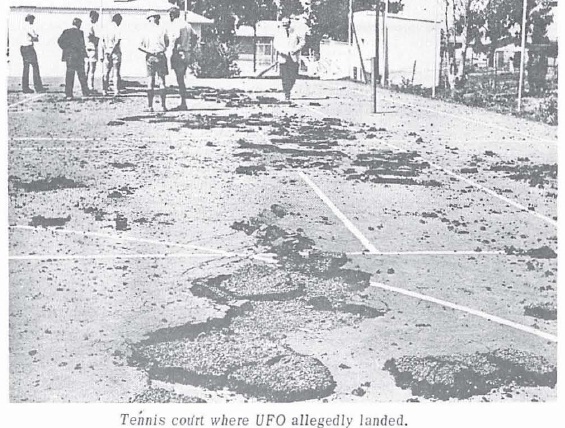 (Last Updated On: January 18, 2017)
Date: November 1972
Location: Winding Stair Camp Grounds, Oklahoma
Time: 0100A
Summary: Two men had been deer hunting in southeastern Oklahoma and decided to stay at the local campgrounds. They parked on the lot overlooking a canyon. At around 0100A something woke up one of the men and he saw a bright light in the parking lot overlooking the canyon. He started to climb out of the camper with armed with a gun when something told him to stay inside. He woke up the other witness and both saw the brightest light they had ever seen, oddly enough the light did not cast any shadows. Again when the witness had decided to go outside and investigate the internal voice told him to say inside. They both noticed figures walking in the light that cast no shadows on the camper they also heard weird audible voices resembling a muffled radio. After watching for a while a peace came over the two men and both laid down in their sleeping bags and about 3 minutes later the light went out. Other than the garble language the men heard no other noises.
Source:NUFORC  
---
Date: November 1972
Location: Entre Pinos Beach, Isla Cristina Spain
Time: afternoon
Summary: Maria Asuncion Echague along with her sister and a small dog had gone out for a morning walk along the beach, as they walked on the beach they came upon a pair of peculiar tracks that seemed to originate from the water and continued on perpendicular to the beach until they abruptly disappeared on a nearby sand dune. Later while in her apartment Maria saw two strange individuals standing in front of the building. These figures had very shiny white straight hair, were about 1.9m in height, and wore shiny gray coveralls, even though they stood under the shade of a large tree. Stunned she thought to herself in her mind, "Who are you?" and both figures suddenly turned simultaneously and then both lifted their right arms also simultaneously with the index and the thumb lifted up. At that same moment Maria notices their being's peculiar skin pallor. Moments later both figures walked to a nearby wooded area and vanished from sight. Days later a strange bluish-green luminescence was seen just under the waters of the beach.
Source:J J Benitez, La Quinta Columna 
---
Date:  November  1972
Location:  
Time:  
Summary:  
Source:  
---
Location. Fruasta, Kalmar, Sweden
Date: November 1972
Time: 1700
A witness watched three elongated object about 100meters in diameter and hovering
at about 300meters in altitude. The objects hovered about 2 minutes emitting a
wheezing sound. One of the craft then shot out a beam of bright light at the witness
which caused him to black out. When he woke up the crafts were gone. The craft
were gray blue in color. (Possible missing time?)
Source: M.G. Peterson & Hakan Fernander UFO Sweden
---
Date:  November  1972
Location:  
Time:  
Summary:  
Source:  
---
Location. Campania, Tasmania Australia
Date: November 1972
Time: night
Two people sitting in a car noticed what they described as a brightly lit railway
carriage like object. They could see six or more separate lights in which shapes or
figures were visible, facing the front motionless. After awhile the object was lost in
the distance
Source: Keith Basterfield
---
Date: November 1972
Location: Culebra Island Puerto Rico
Time: 2200
Summary: Several men working on a construction project began hearing a strange "whipping" or swishing sound coming from outside. They went out to investigate and at first could not see anything. The area was well lit and the grass had been recently cut. Soon they noticed that towards the perimeter of the property where the vegetation was a little higher, something was moving very rapidly above the ground at lighting speed. It seemed to be moving back & forth over the area. Curious, the men got into their vehicle and decide to drive towards it in order to see what it was. As they approached the location the vehicle headlights suddenly illuminated a bizarre figure that seemed to have been caught off guard by the lights. The stunned men described the figure as about 4 ft tall, very thing, with long thin legs that seemed to end in claws, a long thick tail that the creature appeared to use as a "third leg" in order to support itself. It also had long thin arms with long claw-like fingers. It had a large oval shaped head with huge bulging eyes. The creature's skin appeared to be scaly, and reptilian in nature. The creature stood there briefly, staring at the men then after a few moments it shot away into the brush at incredible speed and disappeared from sight.
Source:Jorge Martin, Milenio X # 7
---
Date: November 1972 
Location:  Fort Gay, West Virginia
Time: 2300
Summary: The witness, Scarlett, was resting after a long busy day and was lying on her bed looking out the window when she saw a bizarre creature about 7 ft tall. Terrified she could not move and could only stare at the creature. It was sitting on a tree about 50 ft or so off the ground about 50 ft from the house across the yard. The creature had big, red bright glowing eyes looking dead into the witness face. She finally worked up enough courage to close her eyes and put her head under the covers, when all of the sudden the figure flew up against the window, striking it. Terrified she ran across the house screaming. Years later she saw a drawing of the infamous Point Pleasant Mothmen and realized it had been the same type of creature.
Source:Your True Tales, February 2004 
---
Date: November 1972
Location: Not given
Time: night
Summary: Mimi Gorzelle saw a disc shaped object with a revolving center hovering outside her country cottage. Inside were two small men. Some weeks later she dreamt she was out driving along a familiar road in the middle of the night when a bright light came from the front, swinging from side to side. Her car and three others stopped. A man dressed in a white coverall, like a hospital orderly approached, held her arm, and led her to a machine on the prairie. A bright light came on and she could see three men dressed in business suits also being escorted on. Inside, the object appeared to be filled with metal cabinets, which had controls and gauges. The beings appeared to be all alike, in their thirties, and balding, with a leader who seemed smaller than the rest. She was told that she would awaken with no memory. They were all then led back to their cars.
Source: Fate Magazine, also Magonia UK Magazine
---
Date: November 1972
Location: Alabama (exact location unknown)
Time: midnight
Summary: A woman was at home with her two older daughters and a son when she heard the dogs start barking and then started jumping on the fence towards the north. She got up and went outside to see what they were barking at. She looked around and saw a light above the woods behind her house. It then dropped behind the mountains; she didn't think much of it. So she went back inside the dogs still barked for almost 30 more minutes. A few days later she went to town and found out two campers had gone missing on the mountain she saw the light go behind. She told some people what she saw but they didn't think it had anything to do with the disappearance. About a week later around midnight the dogs started barking again trying to jump the fence that faced the mountain. This time she stayed inside and looked for the light again. She saw the same light again dropping behind the mountain. She remained at the window to see if she could see the light come up again. About 20 minutes later the light came up again and took off towards the west. A few days later the woman and her skeptical husband went into town and read in the paper that the missing men were found at their camp, with some kind of glittery stuff on their clothing and they had no recollection where they had been.
Source:NUFORC 
---
Date: November 4 1972 
Location: Near Clyde Alberta Canada
Time: 1643
Summary: A woman washing dishes in a remote cottage began to see silvery shiny discs all around her inside the house. She looked through the window and saw the torso(bottom part not visible) of a beautifully proportioned golden haired being. The being's eyes were brilliant gold, with beams of light that were blinding. Later that night she had a "dream" where she was taken to the moon by the being.
Source: John Brent Musgrave, UFO Occupants & Critters
---
Date: November 6 1972 
Location: Playa Bani Dominican Republic
Time: night
Summary: During an indoor evangelistic religious service, a strange flying object "like a big star" was seen to come over the house. It lit up the house completely inside, and everyone there panicked. The preacher, Maruno Enrique Baez, said he saw a strange being, he called an 'angel' that took him by the hand and led him (followed by those present) to the room where Ramona de Baez was lying in bed, suffering from stomach cancer. The preacher touched the stomach of the lady, who said later, 'I felt cold on my back," and from that time she was cured. (This was verified at the place where she had received treatment).
Source:Robiou Lamarche, Manifesto Ovni en Puerto Rico Santo Domingo Y Cuba 
---
Date: November 11 1972
Location: Near Chauchilla, Peru
Time: evening
Summary: Will Rocinsky; a Polish National Television newsman was flying over the Pampas when he spotted a dark metallic disc-shaped craft, which had apparently landed next to an ancient archeological site. After filming the craft for about 3 minutes the craft appeared to dissolve and vanished. Moments later Rocinsky landed the aircraft and was driving in the same area on the Pan-American Highway on his way to Nazca when a luminous glint on the side of the road caught his attention. He stopped the car and again saw the metallic disc-shaped craft on the ground. Afraid, but very curious, Rocinsky exited the vehicle and approached the object. Very close to the UFO and lying hidden on the ground he watched a strange a very tall baldheaded being, gray in color with three protruding canine teeth in his half-opened mouth, near the creature was a shiny square device apparently metallic. Terrified at the creature's appearance Rocinsky drove away from the area as fast as he could. As he drove away he looked back to see bright flashes of light emanating from the landed craft. Sadly, only a few days after relating his incredible encounter, Rocinsky was killed in a head on crash on the Pan-American Highway.
Source:Iker Jimenez, "Fronteras de lo Imposible"
---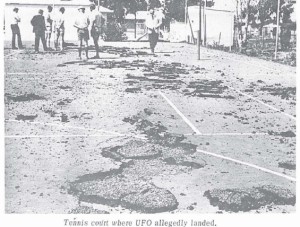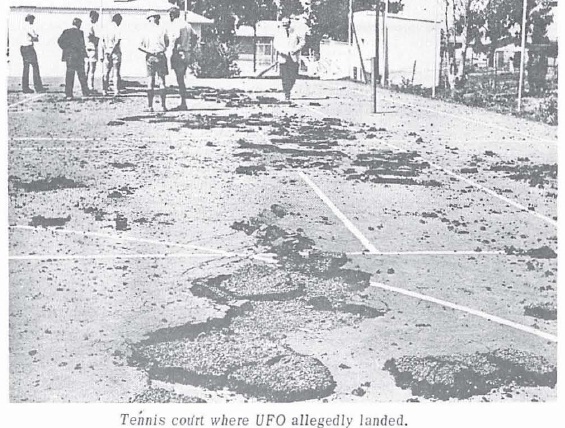 Date: November 12, 1972
Location: Rosemead, South Africa
Time: 9:30 p.m.
Summary: The Case of the Damaged Tennis Court November 12, Rosmead, South Africa. Hundreds of sightseers from the , Middelburg area flocked to neighboring …., Rosmead on Monday to see a damaged tennis court believed to have been the landing place of a UFO the night before. At about 9:30 p.m. on Sunday policemen at Middelburg watched a strange g l owing object through binoculars. It appeared to change color and it s shape from circular to elliptical. The officers said the Iigh I hovered over "a hill" at Rosmead, then disappeared and reappeared. A while later the principal of Rosemead school, Mr. harold Truter was just arriving home when he saw "a beam like a searchlight" in the sky and he and his wife and children watched it for some time. He then discovered that chunks of tar had been gouged from the school tennis court ncar his home. The next morning he made a closer inspection and found that there was no damage to the fencing a round the court and that the gate was st ill firmly secured with wire as it had been before the object was seen. lie thought it significant hat lumps of tar were found caught high up in the tennis court fence. On the 13 th , po lice who were searching the area found lumps of tar on a hill some distance away. Lieutenant Colo nel B.J. van Heerden, District Commandant of Police at Middelburg said that the reports from his men on the object tallied with those of the UFO seen at Fort Beaufort earlier in 1972. As the investigation continued, it waS found that a tree next to the tennis court at Rosemead High School had started to die. It is a large blue gum tree which shows signs of scorching, according to van Heerden. Theories had been advanced that the ten to twelve feet chunks of tar which had been ripped up from the court's surface were caused by a gas explosion or a whirlwind but were dist: ounlcu l"'::t:<:luse not a piece of tar had been overturned, and the other trees in the vicinity had not sustained any damage. After the news about the ,mysterious damage was reported, four men who had been guarding the petrol dumps four hundred meters away on Sunday night made independent statements to the po lice that t hey had observed red lights on the courts. " It looked as if someone in a car without headlights but with tail lights burning were riding a round in circles on the tennis court", they told the police. The lights disappeared , they said . and t h e n the whole petrol dump was illuminated with a "strange incandescent light". Riflemen P.K. Nel and SJ. Rosseau said that the lights were on the court and not next door. A Mr. E. van Zyl . who holds a DSc in astronomy and lectures It the University o f Witwatersrand. investigated the case and concluded that the damage was caused by a whirlwind. In ,1 Jetter 10 Mr. T. Geary. Director of the Planetarium , he THE A.P .R.D. BULLETIN argued that upon examining the surface of Ihe lennis court " I saw no signs whatever of melting and no signs that could have been made by a rocket or jet blasting off" (here V'1Il Zyl makes the fatal error of assuming that whatever was over the court was using a mundane type of propulsion). He also made the flat statement that two holes pressed into the asphalt surface at each end of the court "definitely could not have been made by a leg or stay pressing down into the tar" without listing his reasons. Van Zyl further says, "The whirlwind does not explain the light which waS seen on the Sunday night – some folks say they saw a red light, others yellow <lnd some blue! So it must have been a piece of hardware left over from a satellite burning out. " Mr. van Zyl's Mendelian explanation of the cause of the damage to the tennis court conveniently ignores some evidence or distorts it, whichever is the most effective to bolster his theory. Some cdilorhll comments are in order in Ihis case: Although we do not have exact times for the sigh lings involved. we can reconstruct to some extent. The petrol dump guards saw two red lights going around in circles – !lot next to, but 011 t he tennis court. Then the lights disappeared and the petrol dump was lit up. Meanwhile, Principal Truter, arriving home (which is located next to the school) saw a "beam like a searchlight" in the sky. Shortly thereafter he discovered the damage to the court. Now the question is: Did the guards first sec a UFO with rotating lights over the court? When they disappeared and the dump was lit up, was Mr. Truter, at the same time looking at the "searchlight" which was .. '. -,;. …. -.. , .~ PAGE 7 spotlighting the petrol dump? Where Mr. van Zyl's hypothesis is concerned , we must again ask some questions. Can .1 whirlwind pick up material as heavy as the material which was torn oul of the tennis court? Why was asphalt found on a hill some distance away, but there was no evidence of the ravages o f a whirlwind bet ween the tennis court and the hill? Why were the green shoots at the base of the gum tree dying the next day? The tree was partially denuded and the remainder of the foliage is withered – it is doubtful that a whirlwind could do that. 
Source:
---
Date: November 17 1972
Location: Middelburg South Africa
Time: 2000
Summary: Gert Pretorius and his wife, out for a drive, saw a brilliant round lighted object over Ouberg; it descended and hovered several feet above the ground about 1500 feet away and from it alighted two little men about a meter tall, of a luminous red color. They wore something like rucksacks on their backs, and each appeared to be carrying a flashlight in his hand. The "ball" lit up the area on the mountain bright as day; after several minutes the light went out, and the object reappeared in the sky. Koos Coetzee also saw the UFO, but did not see the occupants; it appeared to him like legs on which the object rested.
Source: Apro Bulletin Vol. 11 # 4
---
Date:  November  1972
Location:  
Time:  
Summary:  
Source:  
Time: Nov. 24, 1972; Patoka, IL
6:45 p.m. A lady was on her way to Patoka from her home on RR 2, 2 miles SW of the city, when she saw a sudden flash in the sky. First expected to be a "falling star" she then saw it was moving rapidly in a zigzag fashion from W-E and she slowed her car to watch. When seen at best performance the object seemed to be a silvery disc. It was still in the sky when she reached town. When she went into the grocery store a lady shopper told her that her son had picked up transmissions on his short wave about strange lights in the sky. Later that evening the Patoka telephone operator received two calls from Odin, IL (8-10 miles SE) asking where to report strange lights in the sky north of Odin (SL-62, Page 11)
Summary: 
Source:
---
Date:  November  1972
Location:  
Time:  
Summary:  
Source:  
Time: Nov. 26, 1972; Bt. Bedoga Bay and Woodland, CA
Judy Kendall abduction, three types of beings (UFOE II, Section XIII).
Summary: 
Source:
---
Date: November 26 1972
Location: River Po area Italy, exact location not given
Time: early morning
Summary: A man hunting in a wooded area in the midst of a thick fog noticed five short human like figures standing next to a large gray object. Thinking it was some hunters looking for a stray dog, he used his ultrasound whistle in order to assist. Suddenly a powerful beam of white light shone on the witness. He threw himself on the ground and could hear the beam emitting a sizzling sound. After yelling to turn to beam off, the witness fired at the light. There was an explosion accompanied by bright sparks. Three more beams of light came on and the witness fired at them with the same results. Suddenly he saw three of the short men running towards him using peculiar jumping motions. He shot at one of them; it stopped and was apparently then assisted and taken away by the other two. The witness then fired at the gray object,  and heard a metallic ricocheting sound. A loud whistling sound was then heard while the gray object began lifting up from the ground. The object had a bright red bluish halo completely encircling it. It then shot away at very high speed. A strange metallic fragment was reportedly found at the site.
Source: Maurizio Verga, Itacat
---
Date: November 26 1972
Location: Near Zamora California
Time: 2200
Summary: Driving home from her grandmother's at Bodega Bay, to Zamora, with her two younger sisters, Judy Kendall, 28, expected to be home at approximately 2000. She in fact got home about midnight, finding her parents alarmed over her lateness. She recalled having crossed over Cache Creek Bridge about 2000, and then crossing over it a second time, feeling very tired and barely able to keep her eyes open. Under hypnotic regression, she described feeling an extreme coldness, and of a void around the car; she believed she was floated out of the car and awakened in a round room encircled with windows through which she saw stars. She was on a hard cold surface, and her head seemed to be restrained at times, prohibiting movement. She was able to observe, with restraints removed, two-bucket seats facing a console type instrument panel with a gear like shift; and on her left a table with instruments and a black box. The feeling of cold was intense. Present were five entities of frightening appearance; with insect like eyes and a pale, or white translucent skin through which was visible a number of red veins. They wore an outfit with a turtleneck top that apparently concealed the lower portion of their faces. She is told that no harm will come to her but the voice does not appear to be spoken normally; sounding more like it came through a megaphone. Three other entities are dressed in similar outfits but apparently lack the bug like eyes of the first. The fifth is an entirely human appearing woman with blue eyes and long black hair, who speaks to her normally, and calms her. She was given an examination, which, she believes, included catheterization; she felt "shaky" experienced pain in her head, and a pain in her side. At times she experienced some difficulty in breathing. She expressed concern about her sisters, one of whom she believed she heard calling out to her in distress. She was not certain that both sisters were brought on board with her. Her feet were examined closely and at one point during the examination, one hand, or arm, was restrained so that she could not move it. The sensation of cold was relieved briefly several times, but severe headaches persisted throughout. Finally a large "scanning" device was placed over her face, and she was unable to see; it gave off a motor sound and when removed, she was again able to see. She was then carried out of the room and next thing she recalled was being "thrown" into the driver's seat of the car, and her sister was suddenly in the seat next to her. She felt very tired and recalled crossing the bridge for the second time, after which she and her sisters proceeded straight home, arriving four hours later than expected.
Source: Dr William McCall & Prof Alvin Lawson
---
Date: November 28 1972
Location: Tres Arroyos Buenos Aires Argentina
Time: 0030A
Summary: Alfonso Rey was watching TV when the picture stopped; as he got up to adjust it, he saw a man seated in an armchair in the opposite end of the room; he wore a onepiece coverall of a blue green color, whose fabric appeared metallic, with a black belt and a helmet like those formerly worn by airmen, and with short boots. On the belt was a small box or device. He stood up, at least 6.5 ft tall, and Rey asked him what he wanted; he merely held his hand out, which felt cold and abnormally soft, "like foam rubber," Rey could not described the features save for the eyes, "which seemed to emit a silvery light." They both sat down again; Rey now began to feel a condition of unusual well-being. He went into the kitchen, followed by the stranger, where he noticed that the refrigerator's motor was not running normally; he also noticed that his visitor seemed to "walk on air." Rey offered him a glass of water, which he declined. Then the man pressed buttons on his belt apparatus, causing an amber-colored light to come on; the being then went to the kitchen door and, looking up at the sky, pressed other buttons; he then walked out into the yard, where he vanished in thin air, leaving no trace. Later that afternoon, around 1620, other people reported seeing a similar "stranger" in a bar on the corner of Calle Alsina and Calle Pringles, in Tres Arroyos. Descriptions by several witnesses matched those provided by Rey. They said the "stranger" went into the bathroom and did not emerge. No further details are available.
Source: FSR Case Histories # 14
---
Date:  November 28 1972
Location: La Sarre Quebec Canada
Time: 1030A
Summary: A 9-year old boy, Mario Mercier, was alone on an ice skating rink on a sunny day when he observed a spherical white "cloud" fall rapidly from the sky, and come to rest beside the extension of his house, 700 ft away. Out of this "cloud," bout 7 ft in diameter, stepped 3 chunky, square shouldered little men 4 ft tall, wearing black clothing & black square helmets. One carried a little square black "kettle," which he proceeded to fill with snow. Then he walked to the Mercier's chicken house, and was just about to open its door when the boy cried out. He turned toward the boy, who tried to hide himself in a hockey net. Then he went back, and with one of the others, was seen to "climb" back into the "cloud," which then rose swiftly vertically. Left on the ground, & seen by other members of the family, were square tracks in the snow, and a 10" circle of black soot where the grass was burned. It was 2 years before the grass grew again.
Source: Jean Ferguson, UFO Quebec
---
Date: November 30 1972
Location: San Diego, California
Time: midnight
Summary: The witness was visiting friends at their beach house but once there she became very ill and told his mother she was going to the car to sit down. Once in the car she felt weird and her hair started blowing. She was in a large parking lot alone. She looked up and to right above her head and hovering above the trees she saw a huge glowing object. The object appeared to be spinning and the trees directly under it appeared to be on fire but they weren't. Suddenly two men appeared next to the car and told the witness, "We have come to take you home". However the witness told the strangers that she couldn't go since she had to take care of her sick mother. She was very afraid and had to beg them not to take her with them. She began reciting the Lord's prayer over and over again, and the men then smiled at her and said that they understood and turned around and vanished. The glowing object then lifted up quietly and went off to the east.
Source: http://www.ufoseek.com/forum 
---
Date: November 30 1972
Location: Murray Bridge, SA Australia
Time: 2315 hrs
Summary: Motor mechanic Mr Maxwell was out testing his vehicle when upon coming over a rise in the road, the motor and lights of his car cut out. They came back on but rose and fell in intensity several times. He decided to stop the engine and the car came to a halt.To his left he saw a "diamond shape with the top cut off" noiselessly sitting on the ground forty five metres away in a paddock. His car radio went "funny", making a noise like a "computer on TV", a constant rhythm. As soon as he stopped the car he had tried the ignition key but when he turned it nothing happened, not even the oil light came on. He then tried the wipers and the electric air horn but they didn't work either. He locked all the doors and wound up the windows and just sat there for the next forty five minutes. After this time, the object left and he found he could restart the car quite alright. An inspection of the vehicle next day revealed no cause for the electrical problems.
Source: Keith Basterfield.
---
Date:  November  1972
Location:  
Time:  
Summary:  
Source:  
Related articles