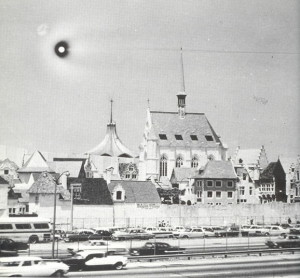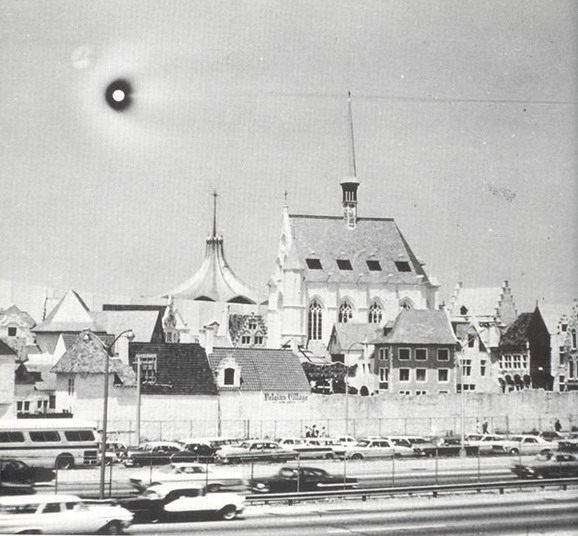 (Last Updated On: January 24, 2017)
Date: May  1974
Location:  Bulloo River Queensland Australia
Time:  unknown
Summary:  A prospector at an isolated campground watched a hovering cigar shaped object near the ground. Through a window on its side he was able to see a normal looking woman and at a cockpit section a man operating controls. 
Source:  Keith Basterfield, Mufon Journal # 130
---
Date: May  1974
Location:  Ramstein AFB, Germany
Time:  unknown
Summary:  A disc-shaped spacecraft was seen hovering at a low altitude over the base. It was reportedly shot down by a US surface to air missile, and crashed nearby. The disk was seriously damaged in one section. It was moved to the US and then to the Nellis Air Force range. Apparently there were dead humanoids inside apparently killed by the explosion and impact. These were typical gray dwarf-like aliens with tiny dystrophic-looking bodies, big pear-shaped heads, dark almond-shaped eyes, and four fingered hands with claws. More precisely the object resembled two flat plates joint together, the upper plate higher than the lower one, 10 meters in diameter. The top and lower sections were flat. In the lower section the disk had a cylinder-shaped central prop that moved from inside to the outside the disk, it was encircled by a band beneath segmented by squares. The origin of the crash disk was later established as a standard reconnaissance vehicle from the Zeta-Reticuli-2 system.
Source:  Phillip J Corso, The Day after Roswell and Anton Anfalov
---
Date: May  1974
Location:  Cove, Hampshire, England
Time:  0615A
Summary:   Mrs. E S was walking her dogs in the garden early in the morning. She glanced up and observed a gray or silver object stationary in the sky "not very high up." It was discoid in shape with a row of square windows around its circumference, which emitted a reddish glow. The witness "felt" there to be "movement and shadows" within. No sound was to be heard as the object slowly moved in a circular fashion. The witness became scared, collected the dogs, went in and bolted the door and did not see how the object departed.
Source:  Andy Collins, Bufora Journal Vol. 8 # 1
---
 Date: May  1974
Location:  Near Paraipaba Ceara Brazil
Time:  midnight
Summary:  Two men, Manoel P Juca & Pedro had been fishing along the Atlantic coast and were walking to another location when Manoel looked back over his shoulder and saw, forty yards away, three men standing near what appeared to be a jeep near the water. Both men were frightened. They ducked down and watched. The strangers were dressed in dark clothing and apparently did not see them. Five times the three dark clad men hurried side by side into the ocean and just as quickly returned to the jeep like object. They were wet and seemed to be measuring something with a rope. They said nothing and no sounds were heard. After about three minutes, the three climbed into the "jeep" and disappeared into the ocean.
Source:  Bob Pratt, UFO Danger Zone
---
Date: May 1974: An Enormous UFO Shaped Like The Giant Cross Of Lorraine
---
Date: May  1974
Location:  El Yunque, Puerto Rico
Time:  midnight
Summary:  Federico Alvarez led a group of college students to El Yunque in an effort to see if there was any truth to the stories being circulated about the mountain rainforests black reputation. Driving up to the peak in a car with its headlights off, the band of investigators had an early taste of the supernatural: a shadowy silhouette dashed across the darkened road ahead of their vehicle. No details could be made out of the figure, aside from the fact that "it was very tall." Four of the students seated in the back seat, opened the doors, and charged out in hot pursuit, charging through the dark woods. Alvarez stopped the vehicle and joined the chase, realizing that he and his peers were running along a "path" that appeared to have been previously cleared through the vegetation. The trail led to a large stone landing or "lookout point" from which the lights of San Juan could be seen in the distance. No trace of the mysterious shadow could be found. The students decide to make for the Yokah Observation tower—a three story, turret-like structure that affords the excellent view of the surrounding countryside and the neighboring peaks. The incident with the elusive shadow had visibly disturbed some members of the expedition, causing nerves to fray. The possibility that they too might become the victims of a siege by unknown and inhuman forces was now all too real. The students devised an ingenious "tripwire" consisting of aluminum cans, which they strategically placed at the bottom of the stairway leading to the observation tower's top. Early in the morning the cans began to rattle. Hesitantly, the students descended from the tower's observation deck to witness an unsettling sight: the cans were moving around of their own accord, motivated by an invisible force. Some group members felt that things had gone far enough, and wanted to leave the site immediately, yet they were prevailed upon to remain for what promised to be another long night. Later on in the morning a massive, oval shape craft, some 300 ft in diameter appeared from the gap between two adjacent peaks. It remained motionless for five minutes and in full view of the students before vanishing behind one of the mountains.
Source:  Jorge Martin
---
Date: May 1 1974
Location:  Villa Velha Espirito Santo Brazil
Time:  2330
Summary:  Samuel Faria, 27, was returning home from the center of Vila Velha when he saw on the street corner a "little man" no more than 3 ft 3″ tall, clad in clothing of "astronaut type." Faria approached to within 30 ft of him; the little man then pointed a flashlight like instrument at him, and shot a beam of light into his eyes that temporarily blinded him. Although blinded, Faria ran for his uncle's house, only 60 ft away, and succeeded in reaching it. The little man wore no helmet, and had muscular arms. In February 1973 Faria had seen a ring shaped luminous UFO hovering low over his uncle's garden, and on March 11 of that year, returning from the bathhouse in the garden, he had been seized by something that left "claw marks" on his upper arms; these marks remained for 8 months.
Source:   Marcos Alexandre Fundao, SBEDV
---
Date: May 2, 1974: UFOs 'escort' Mexican aircraft
---
Date: May 5 1974
Location:   Lincolnshire, IL
Time:  
Summary:  Six photos taken. Boys sight UFO, Hynek called in.
Source:  Review Vernon, IL, May 23, 1974 clipping
---
Date: May  1974
Location:  
Time:  
Summary:  
Source:  
Location. Pisgah Ridge Tennessee
Date: May 5 1974
Time: 1900
Becky Ingram, driving alone on a country road, heard her nickname called ("Tomboy") and was telepathically directed to a field where she saw a 100-foot, football shaped UFO on the ground. In an open door, with a ramp on the ground, stood Alton and Tombo, who invited her on board. She greeted them with a handshake and entered, where she saw five or six more humanoids seated around a table, eating. She declined an invitation to join them. They spoke in an incomprehensible tongue. She declined an invitation of another ride explaining that her family was expecting her. She noticed this time that Alton & Tombo walked without bending their knees.
Source: Stanley Ingram & Don Worley
---
Date: May 7 1974
Location: Coatesville Pennsylvania
Time: 2100
Summary: Margaret K Roffe, nurse's aide at the local Veteran's Hospital, was walking from one building to another when she saw a disc descend and land on the roof of building # 1. Four legs emerged and a ramp came out of the bottom down which three entities climbed backwards. They were less than five feet in height and had long heads, and arms with clawed hands; their legs were short and their skin gray, and their heads were bald. They spoke amongst themselves in high, squeaky voices. The scene was well lit by an illuminated dome on the roof of the building. When the entities noticed the witness, they re-entered the object. The object took off slowly over nearby trees, which were agitated violently. The legs withdrew into the object as it took off.
Source: George Fawcett
---
Date: May 9 1974
Location: Near Mount Vernon Indiana
Time: late night
Summary: The main witness and six other persons were returning home late at night on highway 57 when they all spotted a large object hovering close to the ground. The object approached and hovered above the vehicle giving off heat. All the occupants onboard the vehicle except for the main witness became sick and passed out. The main witness then felt as if he was moving upwards and also passed out. He next became aware of a bright white light around him and several figures looking down on him. The beings called him by his name then he passed out again. The beings were described as five-foot tall, of light skin, huge almond shaped eyes and a small lower jaw. They were apparently also very strong. The witness reported that his aging process had allegedly slowed down after the abduction.
Source: Francis L Ridge, Regional Encounters, The FC Files
---
Date: May  1974
Location:  
Time:  
Summary:  
Source:  
Location. Chingford Essex England
Date: May 11 1974
Time: 2045
Near dusk, Barry King and Ian Vinten observed through binoculars, at a distance of about one half mile, a figure resembling a woman with long blond (or white) hair wearing a long, black dress, with a featureless face. The figure stood perfectly still for 10 minutes, when a second black gowned figure was seen moving among nearby trees. The first figure had then disappeared, and the second disappeared from view. The first figure then re-appeared 50 yards away from the original position and stood motionless once again for 10 minutes, and then vanished from sight.
Source: Barry King for Bufora
---
 Date: May  1974
Location:  
Time:  
Summary:  
Source:  
Location. Chingford Essex England
Date: May 11 1974
Time: 2135
Upon returning to the site, the two witnesses again saw through binoculars two more figures, this time dressed in white; one was motionless, the other "darting about making very quick movements," but showing no leg movements, as if gliding rather than running. At this point a red lighted UFO was seen rising slowly over the treetops in the same direction; after 5 minutes it moved off, passing almost directly over the witnesses, making a "weird throbbing, similar to a ship's sonar." It had a central white light and two blinking lights near the edge, as well as a vertically revolving bluish light around the center. It displayed a central red light and two blinking white lights as it moved off.
Source: Barry King for Bufora
---
Date: May  1974
Location:  
Time:  
Summary:  
Source:  
Location. Hampton Beach New Hampshire
Date: May 20 1974
Time: 0030A
A young man of 20, was swimming at midnight when he saw a disc shaped object approach from the ocean; it landed on the beach about 80 yards away and had a dome above and below & central rim, and was about 50 feet in diameter. It stood on four legs and had several lights on the main body of the object, gave off heat and emitted a humming or pulsating sound. A hatch folded down and a ramp slid out; a motor like noise was now audible. A 6-foot tall occupant emerged on the ramp, dressed in a head to foot kind of light colored coverall; two hoses ran from the jaw area to the back of the head, with one hose running down the back. The figure stepped briefly out on the sand and then re-entered the object, which ascended and moved off in the direction from which it came. The witness searched the landing site and found a "deep, rose colored pasted and thick liquid" in four deep landing marks; also a spot of red where the hatch had opened. Traces had been obliterated by the tide the following morning.
Source: John Oswald
---
Date:  May 22, 1974
Location: Fairfield, OH
Time:  10:00 p.m.
Summary: Boat-shaped or oblong object 50-60′ wide. Green and white lights around lower part rotating 3 to 4 square windows emanating white light. Brightly lit transparent area on top. Two small, dark humanoids. Object rising and falling as it hovered over a house. Occupants visible in top part of object in cramped position, continually gesticulating or moving levers. Object then moved horizontally and departed at high speed. 
Source: Ref.5
---
Date: May 23 1974
Location: Sewickley Pennsylvania
Time: 1800
Summary: An anonymous motorcyclist, coasting onto a road, observed a figure about 7-foot tall entirely covered by a "stainless steel colored" uniform, wrinkled except over the head, which was shaped like a "vertical football" and covered "skin tight," obscuring the facial features. Upon noticing the witness, the entity "half squatted" for several seconds, then took three large steps and vanished into the woods. Three footprints were later found at the site.
Source: Stan Gordon, Skylook # 81
---
Date: May  1974
Location:  
Time:  
Summary:  
Source:  
Time: May 23, 1974; Calhoun, IL
10:00 p.m. State Police at Parkersburg, Illinois, took this call and relayed the information to CUFOS. Three witnesses reported a close encounter with telephone affected. Few details. (CUFOS)
Summary:
Source:
---
Date: May  1974
Location:  
Time:  
Summary:  
Source:  
Location. Near Mitchell Caverns California
Date: May 26 1974
Time: pre-dawn
Joseph Susedik, asleep in his camper (with his wife and two small children), was awakened by a humming sound and a pulsating light reflected on the inside of the camper. He tried to call his wife and children but was immobilized. He saw "pinwheels of odd shaped colored lights," red, orange, yellow and blue green, but could not recall any further details. He awoke two hours later than usual in the morning, eyes bloodshot, and body aching. He had vague impressions of having been inside an object, but could not recall any specific details. He had observed a UFO earlier that evening, with other members of his family. After this incident, he claims to have become a prolific inventor. Later under hypnosis the witness recalled being inside a UFO and described a row of gyroscopes along an inner wall—"pinwheels" of light energized the gyroscopes to form an "artificial gravity field." He described a crew of 8 men, 7 of whom wore maroon "foil type uniforms, one a "pale blue, soft" uniform. One of his examiners looked at his eyes through a magnifying glass. He also saw a "nebulae in various colors to show concentrations of metals and minerals," a color close up of Saturn on a coil edged screen, and 3 "black reclining type high backed seats" at the control panel.
Source: Idabel Epperson & William McCall
---
Date: May  1974
Location:  
Time:  
Summary:  
Source:  
Location. Les Nourrissons, Var, France
Date: May 26 1974
Time: 2200
Mr. A Rias, a stonemason, is listening to his radio in his small cabin in the middle of a field. Suddenly there is static on the radio. The witness then arms himself with a gun and goes out to see a being running on the field and a bright beam of light is shone on him. He enters the cabin and closes the door. He then hears knocks on the door and the cabin is shaken. His dog trembles, apparently terrified. Going out he sees an object resembling a shuttle or a racecar prototype moving low over a field with two beings inside. Five other humanoids walk nearby, moving with heavy steps. The beings are wearing khaki uniforms, large belts and a kind of mask on their faces. One being points a glass tube at the witness and a luminous beam of light strikes him. He is then paralyzed along with his dog. Soon the beings and the UFO go towards a forested area and vanish. The day after he sees red lights on the field, which fly away as he approaches. The witness suffers from shock and stays in bed for two days. His dog appears to suffer some discomfort for several days.
Source: Herve Laronde "Et's or time travelers", ADEPS # 10
---
Date: May 28 1974
Location:  Albuquerque, NM
Time:  
Summary:  A resident was awakened to see a large glowing object moving across the western face of the Sandia Mountains. It was so bright that no discernable structure could be seen. The witness opened his window to listen for noise coming from the object; there was none. As he watched, the object appeared to land on a nearby hill where it remained for an hour before it shot into the air and vanished. 
Source:  UFO INVESTIGATOR, July 1974, page 3
---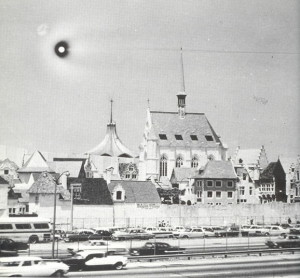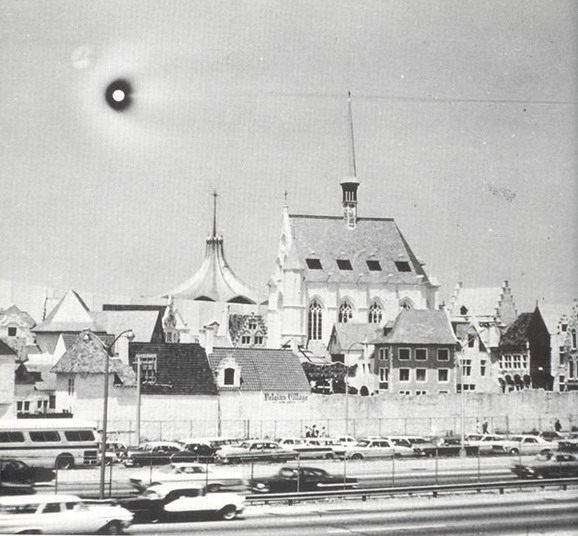 Date: May 30, 1974
Location:  Queens, New York, NY
Time:
Summary:
Source:
---
 Date: May 31 1974
Location:   Near Umvuma Rhodesia
Time:  0230A
Summary:  The witness and his wife were driving from Salisbury, Rhodesia to Durban, South Africa. About 6 miles south Umvuma, Rhodesia, the couple observed a figure along the road believed at first to be a police officer; the figure had a box in his hand, and the uniform was "metallic" and shiny. Almost immediately afterward a light was observed in the distance. An object appeared to pace the car for a major portion of the remainder of the journey, during which some strange and inexplicable phenomena as well as out of the ordinary psychological effects was experienced. Under deep hypnosis, the witness recalled, "a form was beamed straight to the back seat and sat there during the entire journey." He was told that if he looked, he would see only what he wanted to see, but he did not look. But he could "see, through the beams," the interior of the UFO, which had 3 floors, which he described in detail, and the beings in it, which had "the same basic form as humans, with large trunks, necks, hairless heads, two arms and two legs," but who had no reproductive organs. They came from "outer galaxies," or from "12 planets of the Milky Way." They traveled "by time" and "will change the earth;" and there were "thousands" of them amongst us now. Among the strange effects was the couple's impression of driving through a landscape that neither recognized, although they had traveled their planned route before; the face that during a major portion of the trip Peter had no control over the movement of their car; and the strange fact that by the time thy reached Beit Bridge, into South Africa, at 0700A, the car had used but a fraction of the petrol it would normally take to travel that distance.
Source:   Carl Van Vlierden for FSR & Mufon
---
Date: May 31 1974
Location:  Salisbury, Rhodesia to Durban, South Africa
Time:  2:30 a.m.
Summary:  Prolonged car-pacing case during which motorists experienced E-M effects, loss of steering control for their vehicle, abnormal cold and silence, translocation from one place to another, altered appearance of the terrain, humanoid encounter, and amnesia. 
Source:  Skylook No. 88, March 1975, Mutual UFO Network.
---
Date: May or June 1974
Location:  Port Latta, Tasmania
Time:  0545
Summary:  A man doing a newspaper run at ninety five km/h saw a very bright light coming from the south. It was travelling north at high speed. It went over his vehicle in ten seconds, being lost to view behind tall trees. After it passed by he realised his vehicle was slowing down, the engine had stalled. He had to stop and restart it. The headlights also went off for a few seconds.
Source:  TUFOIC
---
Date: May  1974
Location:  
Time:  
Summary:  
Source:  
Related articles