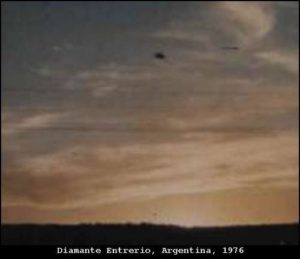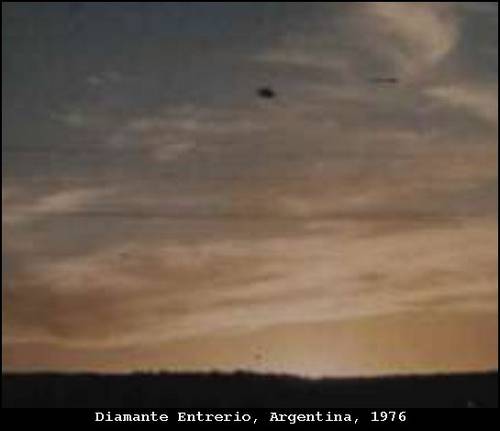 (Last Updated On: February 13, 2017)
Date:   July   1976
Location:  Oakenholt Clwyd Wales
Time:   mid-afternoon
Summary:  A young boy was walking down a quiet deserted lane when he saw a glint of silver at a nearby field; he then went to take a closer look. On the field rested a silvery oblong shaped object on four tall metallic legs. It had a large round dome on top apparently made out of dozens of tiny square windows. There appeared to be some black writing on a silver rim. Six or five wires came out of the object and seemed to stick into the ground. Then six men walked around the object clumsily and somehow appeared to be in an angry mood. (?) They carried gun like objects, which had a blue button that would release a red beam of light when touched. The men were described as four-foot 10 inches tall, human like but with sparse hair sticking up. They wore silver tops with green pants. The men proceeded to strike some colored bulbs that were stuck on the ground at the end of the wires. At this moment a central ramp came down from the craft then a bizarre creature appeared, it was described as reptile like with a green body and a red neck. It appeared to have long floppy cheeks. It then went back into the object after one of the men growled at it. A human like figure now appeared inside the dome. He had a rosy complexion with abundant black hair and appeared to be wearing a white T-shirt, he seemed to be operating some controls, and he smiled then hid behind a wall and disappeared. The witness thought that everything looked smaller inside of the craft. Moments later the object left silently.
Source:  Jenny Randles and Paul Whetnall, FSR Vol. 25 # 3
---
Date:   July   1976
Location:  Oakenholt Clwyd Wales
Time:  1350
Summary:  About the same time of the previous incident, Gaynor Sutherland, the sister of the above witness was riding her bicycle along a secluded stretch of the same road at a different location when she caught sight of a silvery cigar shaped object behind a nearby hedge on a field. The witness hid behind the hedge and was able to see a narrow rim along the base of the object and a dull red box on top. There were three rectangular windows along the side of the object. Minutes later a five-foot five inch human like figure appeared from behind the object. The being was very thin with an angular body, he walked clumsily in a stiff manner, and his face was long, thin, and very pale. He also had very large round eyes, white in color with a pink dot in the middle. He only had a few sandy wisps of thin hair. The being wore a silvery one-piece suit and boots with thick black soles. On his head he wore a silvery helmet with a glass bubble on the front. He carried a gun like instrument, which he pointed to the ground several times, each time emitting a wavy red beam of light, which made cup size holes in the ground. At one point the being noticed the witness and briefly stared at her, she felt cold and dizzy at that point. The being disappeared behind the object and was not seen again. Another being now appeared, described as similar but shorter and possible a female. This being carried a knife like object attached to her side and seemed angry when she noticed the witness. The being then walked up a ramp into the object and disappeared. The red box on the top of the object began to pulsate and the witness ran from the area noticing the cigar shaped craft angle skywards and vanish into a low hanging cloud. The witness noted a burning smell.
Source:   Jenny Randles and Paul Whetnall, FSR Vol. 25 # 3
---
Date:   July   1976
Location:  Sierra Nevada California
Time:  night
Summary:  A man living alone in a cabin in the foothills was lying awake in his bedroom when he suddenly felt something in the room. He felt an overwhelming pressure on one side of his body and heard a loud rasping exhale next to his ear. Looking up he was confronted by four humanoids one taller than the others, which were about four-½ foot tall with slender arms and necks, and large hairless heads with huge black eyes. He was assured by telepathy then carried out the back door. He then felt floating up into a bright light, inside the bright object he was taken through several large chambers, some empty, and others full of growing things. He eventually ended up on an examining table where several medical tests were performed on him.
Source:   UFONS # 231
---
Date:   July   1976
Location:  
Time:  
Summary:  
Source:  
Location. Temasopo Mexico
Date: July 1976
Time: night
Several witnesses spotted two strange beings described as very tall and wearing tight fitting luminous outfits and belts that emitted multi-colored beams of light. The beings were seen walking in a wooded area. Around the same time locals reported seeing luminous disc shaped objects flying low over the hills.
Source: Contacto Ovni
---
Date:   July   1976
Location:  
Time:  
Summary:  
Source:  
Location. Cadiz, Spain
Date: July 1976
Time: night
A colonel's daughter suddenly woke up full of unexplained sadness not knowing why. Something attracted her to the window and looking out she saw a huge lighted object resembling "an enormous electrical plant" she could see numerous figures moving and operating equipment about. She then went to the bathroom washed her face and drank some water. She went back to the window and again saw the bizarre structure. She then went back to her bed and fell asleep. The same night here had been reports of a landing of a UFO and of a local power outage.
Source: Ignacio Darnaude
---
Date: July, 1976: Silent cigar-shaped object
---
Date:   July 1 1976
Location:  Madras India
Time:  night
Summary:  A woman saw an eight-foot tall humanoid with shiny skin come out of a wooded area, it then disappeared back into the woods, then a large yellow red cigar shaped object rose up into the sky and vanished.
Source:  Janet & Colin Bord, Unexplained Mysteries Of The 20th Century
---
Date:   July 1 1976
Location:  Imnaha, Oregon
Time:  00:00
Summary:  My husband had brought back a truck load of wild horses from southern oregon. we had them locked up in the old saw mill and were castrating some stallions. we had to use several ropes to subdue them. a rope broke and i went back to the barn to retrieve a new one approx 1/4mi away. trisha and i walked thru the pasture to the barn and back towards the sawmill on the road. we had just gone thru the barb wire gate by the sawmill when i saw this incredibly shiny oval object just hanging in the air partway up the canyon wall on the north side of crazyman creek. i pointed it out to trisha who was 13 yrs. she didn't seem interested at all and headed on to the sawmill. years later when i asked her about the ufo she had no recollection. i can still see it so so shiny like it would reflect the sky and hide itself. the sun was reflecting off the craft and it was like a shiny i'd never seen. hot white shiny. there are major power lines that come down crazyman and cross the imnaha river at this point. it was almost like the were up against the canyon wall trying to capture the electrical energy of the wires. they communicated telepathically say "you need to come here". i replied in my mind "i can't they are waiting for me. next thing i remember i am several yards from the sawmill. when i entered harry was a bit angry and wanted to know where i had been. this episode triggered so many things. recalling the footsteps i'd hear come down the hall and dark figures peeking around the bedroom door when i was a child. feeling restrained and not being able to move out of pure fear. some experiences i wonder were they real or dreams. white fireballs falling in a line outside the cabin along with "them" telling me to stay. keeping me somewhat a captive in my own home. you may call me crazy but these haunt me to this day. an alien/,human baby lying in the middle of the trail on saddle creek down in hells canyon. naked and curled in a fetal position. it's skin almost a thin grayish, taunt. just laying there. i knew instinctively it was mine. i was told to pick it up. i remember being fearful because it did not look completely human. very thin. long limbs and leathery grayish white skin. i don't remember holding the baby. but i believe they wanted me to hold and love it because their children were not thriving. they had become so cerebral they didn't love like we do and there race was in jeopardy because of that. oh the stories could go on and on. my son was started his encounters when he was about 3 years old. he was frighten of the lil white men in his closet and spots of blood moon his pillow from his nose. he told me dreams of them going out his window. he was very afraid of them. as he grew up he would dream of things before they happened. car accidents. deaths. he and i talked in length. agreed aliens are very prominent in our thinking. always vigilant. always. looking and a lil on edge. when he was 23 he became incredibly agitated with life. began having visions. and very strange events. would watch the nite sky for ufos. and detailed elaborated flight movement. halo graphic images he could see thru yet communicate with. they wanted him to join them. told him he could help save humanity. they drove him crazy. because i understood some of his events he thought i could make them stop. leave him alone. that i must be a leader of sorts or in cahoots with them and know more than i was telling him. he just wanted to b left alone. his distrust became so intense that one day he trapped me in my bedroom. told me he had to kill me. that they had taken over my mind/ body. called me the queen. he stabbed me in the chest burying a 15″ carving knife. he then commuted suicide. i know you think i'm nuts but i think the aliens harnessed my son to the point of death. this is just some of what we have encountered.

Source:  MUFON
---
Date:   July   1976
Location:  
Time:  
Summary:  
Source:  
Location. Mawnan Cornwall England
Date: July 3 1976
Time: 2200
Two 14-year old girls, Sally Chapman and Barbara Perry, were camping out for the night not far from the church of Mawnan when they heard a hissing sound; then they saw, 20 yards away, a strange figure standing among the pine trees. "It was like a big owl with pointed ears, as big as a man. Its eyes were red & glowing." Both girls thought it was someone dressed up trying to scare them, and laughed at it. Then it flew up in the air, and they could see that its feet were like black pincers. Its feathers were gray.
Source: Doc Shiels, Fortean Times # 17
---
Date:   July   1976
Location:  
Time:  
Summary:  
Source:  
Location. Mawnan Cornwall England
Date: July 4 1976
Time: morning
A young girl, Jane Greenwood, and her sister saw, in the trees near Mawnan Church, a bird man "standing like a full grown man, but the legs bent backwards like a bird's." It saw us and jumped up and rose straight up through the trees. It has red, slanting eyes and very large mouth. The feathers are silvery gray and so are his body and legs; the feet are like big black crab claws."
Source: Doc Shiels, Fortean Times # 17
---
Date:   July 4 1976
Location:  Bilbao, Spain
Time:  12:45 p.m. 
Summary:  A huge disc-shaped object hovered for a long time over Bilbao, Spain. It flew back over the city and surrounding area several times, then made a ninety-degree turn and flew off toward the south
Source:  Larry Hatch, U computer database, case 11764
---
Date:   July 4 1976
Location:  Montrose California
Time:  2100
Summary:  The witness was walking down the driveway of her home with her 9-year old granddaughter when she saw a dark lilac colored glowing round object hovering just above the ground. Orange flames were emitted from its edge. It was about 25 ft in diameter. Something impelled the witness to walk down the street and look down a side street, where she saw another object hanging low in the sky over a church, 75-100 ft away. This 2nd UFO had "no color, no lights, and a strange appendage in the back." She watched the purplish object, which hurt her eyes, for 4-5 minutes. During this time, strangely, there were no cars on the street and no other persons around except her granddaughter, who did not observe the UFO. The next day she examined the site where the purplish object had been, and saw "a lot of brown oil" on the fence and bushes; the oil stains remained for months. The witness later remembered that she saw a man sitting at a table inside the purplish object; he was human looking, brown haired, and was watching a screen of some kind. She felt he was contacting her mentally, warning her not to tell anyone what she was seeing.
Source:  Ann Druffel & Vince Uhlenkoff for Mufon
---
Date:   July 5 1976
Location:  Gitchie Manitou Park Lyon Iowa
Time:  0900A
Summary:  Two boys, Andy, and Joel Riygh, were playing in Gitchie Manitou State Park when they heard, "strange noises followed by a grunting sound and then a whistle." They looked and saw a person at least 7 ft tall standing behind a bush about 70 ft away; part of his leg which was visible was covered with shiny blue material. When the noises became louder, they boys ran ¼ mile to their brothers Chris and Tom. All 4 then saw a pulsating glowing object about the size & shape of a large haystack emerge from behind a large tree about 50 yards away; it hovered with a humming sound for 5 seconds, then sped away. Small oak trees over which it hovered were later found defoliated.
Source:  Pat Miller of the Sioux Falls Argus Leader
---
Date:   July   1976
Location:  
Time:  
Summary:  
Source:  
Location. Fuengirola Malaga Spain
Date: July 10 1976
Time: 0100A
Five young people in a mountain chalet were photographing its rooms when they heard a deep and powerful breathing sound outside. They went out but saw nothing, and the sound ceased. They went to bed. At 0500A Manuel Linares was awakened by noises; he woke the others. All heard the heavy breathing again, together with a very loud squealing noise. 3 of the party looked out the window, and saw, standing by a tree in the garden, "something" bigger than the tree, unclear in outline, "as though wrapped up in a black blanket," with two bright lights where the eyes would be. The witnesses got axes and machetes and went out into the garden, but the thing was gone. After this a terrific heat began to invade the chalet, together with a smell of sulfur. Someone outside began to hammer on the doors and walls. At 0900A they again heard the hammering, this time on the roof, and heard something walking on the roof. But when they got up on the roof there was nothing to be seen.
Source: Miguel Peyro, CIEFE Sevilla Spain
---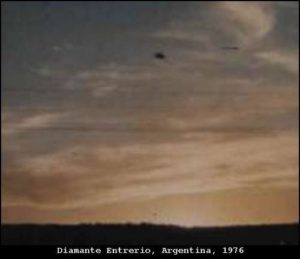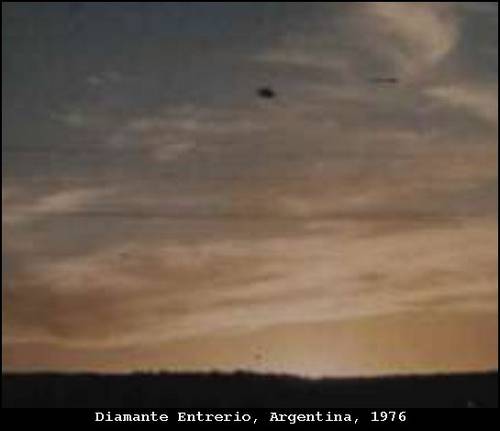 Date:   July 11 1976
Location:  Diamante, Argentina
Time:  
Summary:  
Source:  
---
Date:   July 11 1976
Location:  Egg Harbor (Door) Wisconsin
Time:  0330A
Summary:  Dean Anderson was cutting grass on a golf course under the bright full moon when he noticed 2 round discs "coming off the moon" side by side. One flew off; the other dropped down and landed 200 yards away. A ladder appeared at the side and 3 figures ran quickly down it, after which Anderson, heard "pounding coming from under the ship, toward the back." A few minutes later the figures ran back up the ladder, which was hauled back in. The men were 5'8"-6' tall and very agile. Three landing balls or spheres on the UFO left depressions 2 ft deep and 15 inches wide, 20 ft apart. The witness took photographs of these indentations.
Source:  Keta Steebs, Sturgeon Bay Advocate
---
Date:   July 13 1976
Location:  Rochester, Victoria
Time:  1930
Summary:  Two nursing sisters were driving in a Kombi van following a girlfriend who was travelling in front of them on a motorbike. The driver of the van suddenly saw the girl on the bike start to run off the road, then for a few seconds noted a single light coming towards them. The next thing they knew the girl on the bike was in a ditch and the bright light had followed her across to the other side of the road as far as the gravel. The van was stopped, the light swung around in front of the Kombi and was soundlessly lost to view. The light had been white in colour and about a metre in diameter. There had been a radio on in the Kombi but the driver had turned it off due to static. The next day the van was difficult to start, and minor ignition and electrical problems plagued it for a while afterwards.
Source:  VUFORS
---
Date:   July   1976
Location:  
Time:  
Summary:  
Source:  
Location. Escalante Santander Spain
Date: July 15 1976
Time: 0530A
Margarita Caginas, 28, and Miguel Ruiz Sampeiro were on their way to work, when they saw from behind a being "over 3 metes (10 ft) tall," dressed in brightly shining dark brown clothing and wearing on its head a silvery three pointed disc. Caginas had the impression that it floated along, its feet not touching the ground. It paid no attention to the witnesses as it disappeared around a bend. There were other independent witnesses including the local mayor that saw from his window a tall entity wearing a dark outfit that emitted luminous flashes from the chest area.
Source: FSR Vol. 22 # 4
---
Date: July 15 1976
Location: Cave Junction, Oregon
Time: afternoon
Summary: A family driving on freeway 84 when they noticed what at first they described as "funny looking airplanes" north of their location. The father described the objects as three black triangular-shaped craft above the other side of the river gorge, heading their way. Suddenly their car engine quit working, including the dash lights, radio, CB, etc. He then coasted to the side of the road wondering what was going on. His next memory was of standing in front of the car wondering what he is doing there. His mother and kids were looking at him from inside of the vehicle with a confused look in their faces. He got back into the car and everything was now working fine. They were all dazed and disoriented and stopped in a diner at the next time. While the father sat down eating a hamburger the hair on the back of his neck stood up as if someone was behind him, he turned around and saw a man sitting two tables away, not eating but just staring at the family. The witness sensed danger. He stood up and walked over to the stranger, he was thin, with olive-brown skin, coal black hair, and beady eyes framed by bushy-black eyebrows and pointed chin. The stranger wore black shoes and suit, and a white shirt. The witness then asked the stranger, "May I help you with something?" He shot back crisply, "Where are you going"? Feeling very uneasy the witness answered "I am going to take the family down to Fossil and see the sights". The stranger then replied in a low but distinct voice, "Do not go down there, things bigger than houses, come in over tops of the trees." With that he stood up and went out the door. Stunned, the witness went back to his table and discussed the events of the day and it dawned on him how that somehow they were unable to account for three hours of time, and then the encounter with this weird stranger. Then they all saw him drive very slowly by the side glass door of the diner, in a very black highly polished utility truck, just staring at them as he passed by. Afraid the family drove quickly on highway 97 when suddenly a large black car passed them like if they were standing still, with the same face looking at them as he passed (the witness were driving at 65 mph). The strange black car was quickly out of sight. Everyone in the car became quite upset again. The witness then mashed the gas pedal up to 80mph attempting to leave the area, but again the strange black car with the stern face passed by them again. In a panic the family went looking for a place with other people around and drove towards Deschutes State Park just ahead, as they made a quick right turn, they saw standing on the side of the road the same strange man. They camped at the location overnight but never saw the stranger again. Their car never functioned correctly after the incident.
Source: NUFORC
---
Date:   July 15 1976
Location:  Walker's Flat, SA
Time:  2115
Summary:  A red object, the size of the Sun was seen and the lights of a car were affected for about a minute. The object then accelerated rapidly away.
Source:  UFORSA
---
Date: July 16, 1976
Location: Tokyo, Japan
Time: About 6:30 p.m.
Summary: Seven staff members of the National Police Agency criminal investigation section saw an unidentified object  that circled over the Imperial Palace, about 400 yards from the police building. The object circled at a low altitude for about 10 minutes, then flew out of sight. 
Source: Agence France-Presse story, Washington Post, July 18, 1976.
---
Date: July 18, 1976
Location: Gravel Switch, KY
Time: 
Summary: C2, no details. Witness: Gilpin
Source: SRUFOS,242
---
Date: July 22, 1976
Location: Central India
Time: 
Summary: DC-10 encountered object with windows
Source:
---
Date: July 22, 1976
Location:  Germantown, WI
Time: 10:50 p.m.
Summary:  A hexagonal object with a flat bottom hovered over the highway. No color was noted, but it had 4-5 lights in front, with a green light on one end and a red on the other. It hovered for five minutes, and had a red flame coming from the bottom the entire time.
Source: CUFOS News Bulletin, September 1976, p. 6
---
Date: July 26, 1976: Boys out camping sight UFO
---
Date: July 28, 1976: Fourteen young hikers encounter saucer-shaped object
---
Date: July 29 1976
Location:  Ste. Anne de Sabrevois Quebec Canada
Time: 0110A
Summary: Ms. Bernier looked out the window to see a "carpet" of white light 50 ft long, 9 ft wide and 13" thick, floating 2 ft above the ground. At the end of it she could see the legs of two men wearing grayish, very crumpled trousers. She woke her husband, who saw 2 8" spheres of brilliant white light, surrounded by red "lacework," at waist height, which sank near the ground while merging into one. Then all disappeared in a few seconds, giving the witness the impression of an electric crackling.
Source:  Marc Leduc, UFO Quebec # 7

---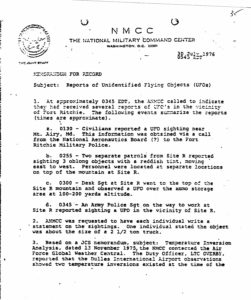 Date: July 30, 1976
Location: Fort Ritchie, MD
Time: 0345 EDT. 
Summary: NMCC in Washington, DC put out this memo at 0545 EDT: 1. At approximately 0345 EDT, the ANMCC called to indicate they had received several reports of UFO's in the vicinity of Fort Richie. The following events summarize the reports (times are approximate) 0130 – Civilians reported a UFO sighting near Mt. Airy Md. This information was obtained via a call from the National Aeronautics Board (?) to Fort Richie Military Police. 0255 – Two separate patrols from Site R reported sighting 3 oblong objects with a reddish tint, moving east to west. Personnel were located at separate locations on top of the mountain at Site R.   0300 – Desk Sgt. at Site R went to the top of the Site R mountain and observed a UFO over the ammo storage area at 100-200 yards altitude. 0345 – An Army Police Sgt. on the way to work at Site R reported sighting a UFO in the vicinity of Site R. 2. ANMCC was requested to have each individual write a statement on the sightings. One individual stated the object was about the size of a 2 1/2 ton truck. 
Source: Actual FOIA document
---
Date: July 30, 1976
Location: Portugal
Time: Evening
Summary: Three pilot crews from 3 different airlines observed and confirmed seeing an unidentified flying object as big as a battle ship after being alerted by Lisbon Air Traffic Control Center. The sighting, described by experts as the most important in the past decade, was also made by the crew of a British Tristar below the Trident and the pilot of a Portuguese airliner.
Source: You Tube
---
Date:   July  1976
Location:  
Time:  
Summary:  
Source:  
Related articles