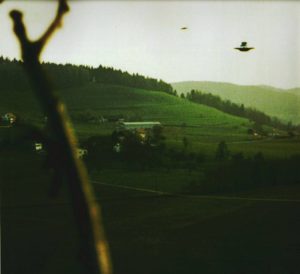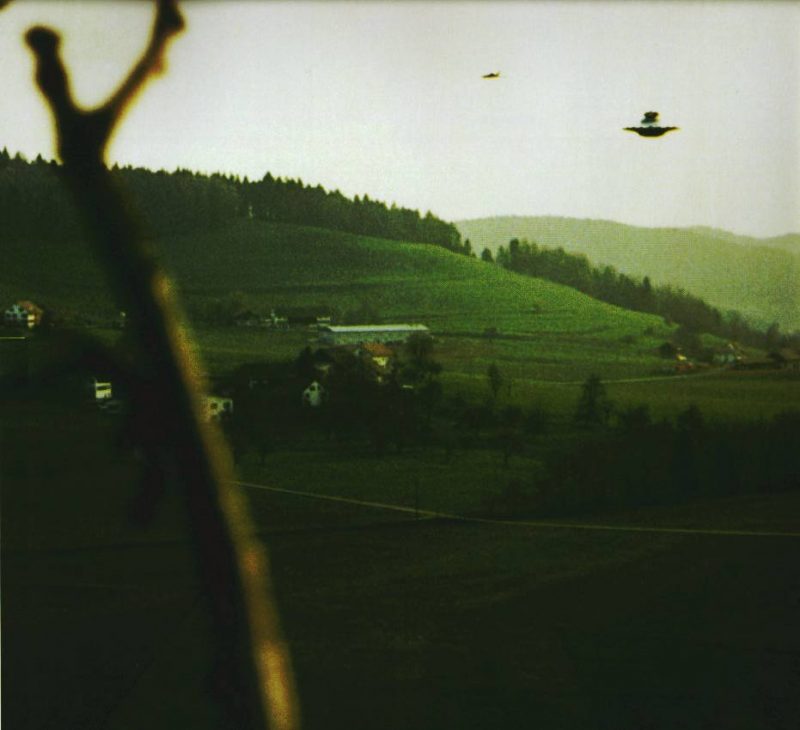 (Last Updated On: January 27, 2017)
Date: March 1976
Location: Ridgefield, Connecticut
Time: 0200A
Summary: The witness and his now ex-wife were sleeping in their apartment at the Casagmo Apartment complex with the large sliding window partly open. A loud buzzing sound woke the witness. He covered his head with a pillow but soon realized that the buzzing seemed to be coming from inside his head. He went to the window and saw what he thought were 3 electrical company employees at the far side of the parking lot (about 100 feet from the witness). He thought they were electrical linesmen because they had their backs to him and appeared to be wearing very shiny hard hats that looked like chrome. Each was dressed oddly, appearing to be wearing dark "wet suits". Each looked to have on mittens and the witness only saw a "thumb" and what looked like a mitten like glove. Each of the individuals looked to be 5 ft tall or less. Quietly he pointed out to his wife the strange scene in the parking lot. The three figures were clearly visible because they were illuminated by an overhead light source. One of the individuals was looking up into the tree line, another was looking very intently at the ground and the third was looking around almost as if keeping a watch. The witness continued standing at the window, behind a very large potted philodendron plant that they kept in the bedroom. The three figures suddenly turned as if they were given a command (right face) and faced directly at the window where the witness was standing. The witness was surprised since he had not made any noise and had not turned on any lights; he felt immediately uncomfortable and crouched down behind the plant. As the individuals turned toward him, it appeared that one of them had a reflective stripe running down his pant leg. The helmets were no longer visible from the front (only slightly around the perimeter of their heads, somehow resembling ancient Egyptian headdresses). They had unusually large reflective goggles over their eyes (or unusually large reflective eyes). He asked his wife to take a look; she got out of bed and came to the window. The three individuals then turned to their right again (all at the same moment). They all then walked as if they were in a strobe light. Two went out of the witness field of vision and one simply "disappeared" from the open parking lot. The overhead light and buzzing sound disappeared at the moment the last figure disappeared. His wife described the figures as walking as in "slow motion" and she was also perplexed as to what had occurred to the third individual. The witness checked the parking lot area the next morning but found no marks or traces. Around the same time there had been numerous UFO reports from Danbury Connecticut to Katonah New York. The main witness had a hypnotic regression performed on him in 1981, which he recalled being outside his apartment and the humanoids looking at him from up close.
Source: NUFORC
---
Date:   March 1976
Location:  Coto De Donana Spain
Time:  late afternoon
Summary:  A man chopping wood in an isolated forested area suddenly noticed two very tall beings almost seven-foot tall standing nearby looking at him. The beings were humanoid and appeared to have a tail like protrusion that ran from the back of their heads down through their backs. The beings then walked back to a landed silvery disc shaped object, which quickly left at high speed.
Source:  Antonio Ribera, Los Doce Triangulos de la Muerte
---
Date:   March 1976
Location:   Toppenish Ridge Yakima Washington
Time:  evening
Summary:  A family was returning to their ranch on the South Harrah Road when they were surprised to see several tall thin long haired men like figures chasing some of the cattle down the road. The beings had extremely white or pale features and wore black outfits with white trapezoid emblems on the chest area, and were estimated to have been at least seven-foot tall. (Similar beings were seen in the area 3 months before.)
Source:   Greg Long, Examining the Earth light Theory The Yakima UFO Microcosm
---
Date: March 1976
Location: Hummingbird Ranch, Simi Valley, California
Time: late evening
Summary: There was a report that several motorists and at least two police officers saw an object coming from the southwest over the Simi Valley Freeway and going northwest, it appeared to crash at what was termed the Hummingbird Ranch just north of Simi Valley Freeway at Kuehner Avenue at the off ramp coming westward into Simi Valley. Later that night the witness was driving and had just come off the Simi Valley Freeway southeast of the freeway. She made a full stop at the Kuehner avenue sign, and paused a moment. Suddenly at her right she saw a hand with elongated fingers on her passenger side window and then a gnome like man's head popped up. He was beating on the windowpane frantically, and was frightful in appearance. He had an extremely long neck and appeared to be bald, very aged and wrinkled and tiny, gnome like. The witness panicked and gunned the car and raced home. Later accompanied by her son and others she went back to the area. Two armed soldiers that aimed their guns at them stopped them at the entrance of the Hummingbird Ranch. They noticed many lights in the area and numerous military personnel. They were then told very harshly to turn around and leave the area immediately. The witness family, suffered from police persecution afterwards and the son died mysteriously under police custody. Eventually the surviving alien occupant that had escaped from the crash scene was captured by the military and taken to Edwards AFB for research and interrogation. Two other gray type alien entities were apparently discovered dead or unconscious onboard of the craft found with an opened hatchway. The disk was about 50 ft in diameter, appearing like tarnished silver, about 15 to 18 ft thick, encircled by what looked like mostly rectangular windows on top. There was a groove around the disk about 4ft from the edge all the way around. On the bottom section it had several structures resembling vents or louvers. The disk had insignias on the underside and on the top, described as a "Trilateral insignia", the typical alien flag of the grays, shaped like a triangle crossed by 3 horizontal lines. At night the military moved the disk to the surface hangar at North Edwards AFB at Haystack Butte. In the morning it was taken to the main Edwards facility. This hangar was guarded by special "Delta" force teams. Because the disk was totally undamaged and operational the military succeeded in flying it at the Groom Lake base over Nevada from 1977-1978, escorted by helicopters and also in the 80's and 90's. Gary Schultz photographed the disk during one of the test flights in the presence of his wife on Wednesday February 28 1990 at about 2100. The surviving alien was eventually moved to an underground area at Haystack Butte laboratory and imprisoned in a special electro magnetically secured chamber, with 3ft thick walls consisting of numerous levels of wires, similar in design to previous YY-2 versions. This was done in order to prevent the being from sending telepathic impulses to his alien group that could possibly rescue him from captivity. The creature apparently died in captivity after some period of imprisonment and all attempts to interrogate it and to extract information were done. The 2 other dead aliens were sent by aircraft to Wright Patterson for autopsy.
Source:CSETI, William F. Hamilton, "Cosmic Top Secret, America's secret UFO Program", Phillip Mantle, Michael Hessemann and Anton Anfalov
---
Date: March 1976
Location: Kaipara Flats New Zealand
Time: night
Summary: A man encountered near the railway station two silvery suited men standing on a paddock. Thinking they were poachers he approached to within 100 yards but noticed that they had very long arms that tapered off to a point. He quickly left the area. No other information.
Source: Lee Strange, Xenolog # 115
---
Date:   March 1976
Location:  
Time:  
Summary:  
Source:  
Time: March 2, 1976; Theville, France 
8:10 p.m. A silver box, about five meters in diameter, flew low over the trees in Theville, France. Two men, Messrs. Leveziel and Mahaut witnessed the UFO, which was described as having 30 round holes on each side. It flew off toward the northwest. (Source: Francis Leblond, Phenomenes Spatiaux, September 1976, p. 12, citing Lumieres dans la Nuit, issue 163).
---
Date:  March 3 1976
Location: Near Refrigerio Ceara Brazil
Time: 1600
Summary: Francesco Ojeda, 12, was walking through the woods on his way home from school when, in a clearing, he came upon a shiny circular object about 40 ft in diameter, resting upon a metallic platform. 2 persons in shiny suits, less than 5 ft tall, stood beside the machine, apparently making repairs. When they saw the boy they leaped into the UFO through an open port, which closed after them; then a device on top of the saucer rotated and flashed an intense light at the boy, blinding him. He fell to the ground, semi conscious. He hazily remembered being taken inside the object, where the occupants stripped him and placed him on a table under a huge amber light. "In his head" he heard a voice assuring him that no harm was intended, and adding, "we are coming here in great numbers to visit your planet." Some time later, guided by his dog, his parents found Francesco in the woods a mile from the house, crying and wandering aimlessly; he was blind and all of his skin was reddened as if from sunburn. The next morning he recovered his sight, and told what happened to him.
Source:Gray Barker, Saga UFO Report 6-77
---
Date:   March 1976
Location:  
Time:  
Summary:  
Source:  
Time: March 3, 1976; Tours, Indre-et-Loire, France
Night. French AF T-33, object illuminates aircraft. Testimony of French fighter pilot Colonel Claude Bosc. On night training flight in a T-33, Bosc saw a bright light approach at high speed on a collision course. His jet was then enveloped in green phosphorescent light for several seconds. Radar showed nothing, but two other pilots saw the encounter from a distance.
---
Date: March 5 1976
Location: Cheshire Connecticut
Time: dusk
Summary: A woman went to her back doorstep to call in the children; she looked up and saw an object moving slowly at treetop level "a few thousand feet away." Her husband came out and saw it; it had a translucent dome on top and gold lights around its periphery. Above the dome a deep red light was flashing, and there were holes in the bottom out of which a blue light shone. He estimated it as 80 ft in diameter. It descended among trees in a swampy area near their home. They watched it for 2 hr, until 2130. The man and two sons then got into their van and drove to a point nearer the object. They noticed an unnatural silence, but cold not get a good view. When they returned to the house, the wife was missing. After searching the house, they returned to the living room; suddenly the woman showed up, her speech slow and slurred; she claimed she had been in the bedroom. At 2330, the couple went to bed; at about 0045 they woke up, finding that they had somehow exchanged positions in bed. Both felt nauseated. The back door of the house was found open. The next day an investigator visited them and discovered 3 wedge shaped holes in the ground and broken tree branches, where a UFO had evidently landed near the house. A few days later the couple vaguely remembered being taken onboard a spacecraft during the hour before they woke up. The husband clearly recalled "being in a galley area where they were eating. An extraterrestrial was sitting there with his head on his hand looking up at me as if saying, "What are you doing here?" This being had wrinkled whitish gray skin, high cheekbones, a high forehead, and eyes that were 3-4 times as large as human eyes; he was bald. He was looking at the man with an expression of "disdain." Under hypnosis the wife remembered much more. One kind about 4 ft tall; a second class "the doers", about 5.5.5 ft tall; a 3rd type, 6.6 ft tall, with huge eyes, with a pupil resembling that of a cat, with some type of covering over it, when the eyes were smaller they were speckled yellow-green, when they grew large they turned yellow. The couple said the beings communicated with them by telepathy, and that they think "their minds have been probed by extraterrestrials since the March incident."
Source: Dr. James Harder & James Barrett Dick Nycz for Cufos
---
Date:   March 1976
Location:  
Time:  
Summary:  
Source:  
Time: March 5, 1976; Redmond, OR 
9:25 p.m. A 23-year-old woman saw an object high in the sky, which then dropped down to an altitude of only 75 feet. The object was disc-shaped, about 26 feet in diameter, and had red and white lights revolving around its exterior. Two light beams were directed from the object to the ground. The radio in her car went dead when the object came near, and although the woman kept driving, the radio did not work again until two miles down the road. The object did not follow the car. (Source: Mark Rodeghier, UFO Reports Involving Vehicle Interference, case 395, citing CUFOS)
---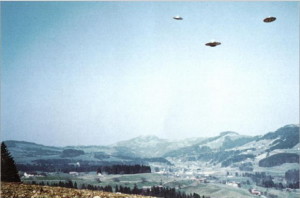 Date: March 8, 1976
Location: Switzerland
Time:
Summary:
Source:
---
Date:   March 1976
Location:  
Time:  
Summary:  
Source:  
Location. Chingford England
Date: March 10 1976
Time: 0050A
The witness was alone in the living room when he encountered a tall featureless gray-faced figure wearing a black gown. The figure moved its head jerkily and the witness began to receive mental images in which he saw a domed disc shaped craft and himself walking towards the object. The tall gray figure then nodded its head and vanished.
Source: Norman Oliver, Bufora Journal Vol. 7 # 4
---
Date:   March 11 1976
Location:   Palma de Majorca, Spain
Time:  
Summary:  Object paced airliner.
Source:  
---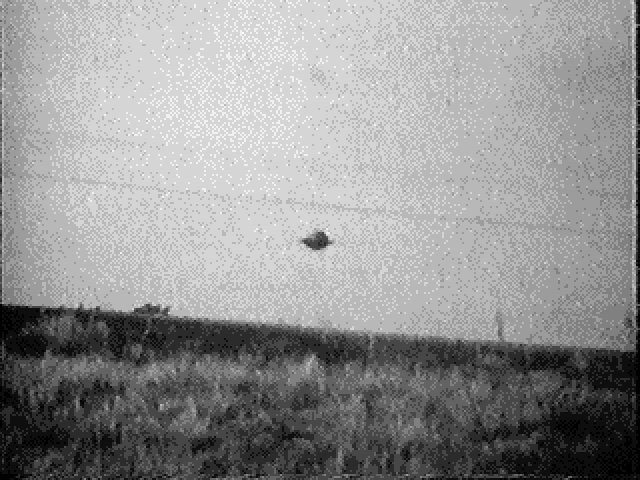 Date: March 12, 1976 SHOULD BE MAY 12th
Location: Paso Fondo, Brazil
Time: 
Summary: Photo case. 
Source:
---
Date:   March 1976
Location:  
Time:  
Summary:  
Source:  
Location. Near Providence Rhode Island
Date: March 14 1976
Time: night
Three women were driving near Providence when they got lost, and ended up a distance away much later. A time lapse of 1-1.5 hours was unaccounted for. Subsequently the elder woman experienced anxiety and had dreams of "men" in suits in a room. Eventually she sought help, fearing she would go insane worrying about it. Under hypnosis, one of the women remembered being forcibly removed from the car and conducted along a path to a large craft. Then she remembered being on a table without clothes except for a covering of some kind, wires leading from the table, and a human like face looking into her face from very close.
Source: Joe Nyman, New England Study Group
---
Date:   March 1976
Location:  
Time:  
Summary:  
Source:  
Location. Liria & Olocau Valencia Spain
Date: March 14 1976
Time: 2145
A couple, on their way home, were driving between Liria and Olocau when they saw, on the right shoulder of the road, a medium tall figure approaching in their direction. He wore a tight fitting, shiny but dark outfit, with rolls or bulges from the waist to the neck, similar to the Michelin Man. It appeared to be dark blue in color, extending over the head in a tight hood. No features could be observed. The figure held his arms close to his side, and did not move his legs as he moved along, but appeared as if floating just over the surface of the shoulder, a cloud of dust could be seen directly below him. As the couple passed the figure, the car lights dimmed to the point where they were almost extinguished. Right before seeing the strange entity, the couple had seen a bright oval shaped area of light hovering on the side of the road, a few hundred meters before they encountered the figure.
Source: Ignacio Benvenuty Cabral, CIFE Sevilla
---
Date:   March 1976
Location:  
Time:  
Summary:  
Source:  
Location. Near Wichita, Kansas
Date: March 14 1976
Time: night
The main witness, 21-year old Ben and two friends were on a four day leave from the Army at Fort Polk Louisiana. At the time Ben had broken a leg, which was in a cast. He had been given light duty "because he was against the military". Ben and a black friend named "JJ" were in the back of a pickup truck while two other men rode in the front of the truck. At about sundown, the two men saw in the sky a gold-colored cylindrical object that appeared suddenly from space at the 2oclock position. The object which appeared to have motors on the back, seemed to stop in midair and then moved north to south. Ben nudged JJ and asked whether he knew what the object was, but the latter responded that he had never seen anything like it. Then the object came down close to them and hovered above them. The next thing they knew they were being awakened eight or ten hours later in Wichita at a truck stop. The men in the front of the truck said they had stopped before and tried to awaken Ben and JJ but they could not be roused. Ben said that there were no liquor or drugs being used, so that was not the reason for their heavy sleep. Both men had the impression that they had just left a spaceship. For a time the two men could "see each other's thoughts". Later they were picked up again by the same truck and taken back to Ft Polk where they met Timothy an African American friend, who came running out to meet them. Timothy said, "I have to tell you something about Friday night". I lay down on the bed and woke up about 0500 or 0600 in the morning and saw you guys on a spaceship way out in orbit." The other two were astonished but felt they were being "guided" to do something, so they sat down and recorded their experience on tape. They felt they were programmed to "do something against the military". Three months later all three men were "undesirably" discharged from the military.
Source: http://www.skyscan.org/ben.htm
---
Date:   Mid March 1976
Location:  Tea Tree Road, Tasmania
Time:  2200-2300
Summary:  What they originally thought were aircraft lights, were observed by a man and his wife on their way home. The object appeared to pace their car on the left hand side, all the time. The lights were five in number and orange in colour. A car passed them going in the other direction, and the husband dipped the vehicle's headlights. Both headlights went off, although the parking lights remained on. They then drove along the road stopping for all oncoming traffic. The orange lights were visible all this time and seemed to stop when they stopped. Finally the lights veered to the north-east and were lost to view. Total duration was thirty minutes.
Source:  TUFOIC
---
Date:   March 1976
Location:  
Time:  
Summary:  
Source:  
Time: March 15, 1976; NW Maryland
9:20 p.m. The sighting lasted until 1:30 a.m. on March 16. The first observer happened to have a citizens band radio and began communications with other people regarding the light that was displaying unusual movements in the clear night sky. The citizens band contact initiated responses from at least six to twelve different individuals. The witnesses were positioned within five to six mile radius from one another. All the individuals involved with the citizens equipment remained in contact with one another throughout the sighting. The UFO was basically described as, "large, yellowish and indistinct." The object behaved erratically throughout the sighting. The distance of the object was reported as being approximately 1,000 feet off the ground during most of the sighting. One witness stated that the object was directly overhead for a matter of moments and the altitude could not have been over 500 feet. During the sighting, it was noted by all witnesses that the object behaved erratically. At times it appeared to hover and then move off at incredible speeds many times during the sighting. See magazine cover at top of this chronology. Reference: UFO INVESTIGATOR, April 1976, pages 3-4) 
---
Date: March 20 1976
Location: Near Bennington Vermont
Time: 2330
Summary: The main witness and his girlfriend were riding in a car when suddenly they were overwhelmed by a strange sensation. Soon their vehicle stopped and two figures outlined in a purplish glow approach the car. In a second they found themselves onboard an object. Onboard the object a being surrounded in a golden light approached the witness and communicated with him about several subjects. He remembers being in a room with 2 or 3 guards watching him. He was told that he was not going to remember any of this when he got back to his car. No other information.
Source:NUFORC
---
Date:   March 22 1976
Location:  Nemingha, NSW
Time:  0545
Summary:  A couple stopped their car after noting a bright greenish- yellow light descend from the sky and envelope a car approaching from the opposite direction. The light then disappeared. The other car moved to the wrong side of the car, became enveloped in a thick ball of white haze and stopped. After about two minutes the white haze disappeared. A woman got out of the car and used a cloth to wipe the windscreen. The car lights were assumed to be out at this stage. After a few minutes she was about to get back in the car when the lights came back on. The cloth which had been used burst into flames.
Source:  Bill Chalker. APRO Bulletin 25/1/6 & 25/2/1&3.
---
Date:   March 1976
Location:  
Time:  
Summary:  
Source:  
Time: March 25, 1976; Belt, MT
11:40 p.m. UFO descended over vehicle, 50′ diameter. (UFO 77 NIDS)
---
Date: March 25 1976
Location: Rotorua, New Zealand
Time: 2211
Summary: A man and his girlfriend were driving to Rotorua when the girl saw what appeared to be a blank panther-like cat scamper across the road, soon after that their engine stalls. He was able to turn right on the road and coast up to a local general store. Suddenly the headlights picked up two "Mario" head posts carved out of wood right in front of the vehicle, these started to bleed what appeared to be real blood from the eyes, ears and nose (?). They looked to their left and saw what appeared to be two phones booths with a pine tree directly on top of them. The pine tree suddenly disappeared in plain sight and they saw a little "boy" run across in front of them looking and smiling at them. Confused the witnesses looked to their left at the general store and heard what appeared to be old time music coming from inside, which looked like a big hall. At the back of the building there were large windows all around it. They could not see anybody dancing but could see the floor inside. They now both believed that the "store" was really some kind of ship. The music was still playing when suddenly about 16 human like beings seemed to float down from the stair straight towards the witnesses. As they got closer they witnesses noticed that the beings had powder white skin, with red very deep set eyes. Some of the beings were young and some were old. The beings approached the vehicle and put out the palm of their right hand in an attempt to calm the witnesses. As one of the beings opened the car door, the witnesses seemed to black out and their next memory was of re-starting the car and driving away from the area.
Source: UFO Group.com
---
Date:   March 26 1976
Location:   10 mi. S of Great Falls, MT
Time:  9:15 p.m. 
Summary:  UFO described as a light that zigzagged in the sky. 
Source:  UFO 78 NIDS
---
Date:   March 27 1976
Location:  St. Denis, Reunion 
Time:  6:45 a.m. 
Summary:  The engine and headlights of a car died in St. Denis, Reunion, a French territory in the Indian Ocean, while in the presence of a small cloud by the roadside. The small cloud then rose up vertically, and shot off toward the southwest.
Source:  Lumieres dans la Nuit, October 1976
---
Date:   March 27 1976
Location:  Mt. Vernon, IN
Time:  5:95 p.m. 
Summary:  Distant cylindrical object described as a jumbo jet with no wings observed for 25 seconds moving SE to NW and climbing at a high rate of speed. No sound
Source:  Ridge files, UFO Filter Center
---
Date:   March 28 1976
Location:   Villa park, IL
Time:  
Summary:  No details on this close encounter
Source:  CUFOS
---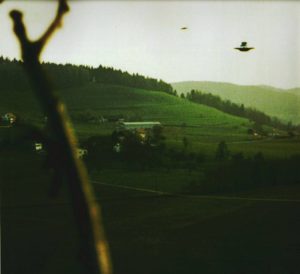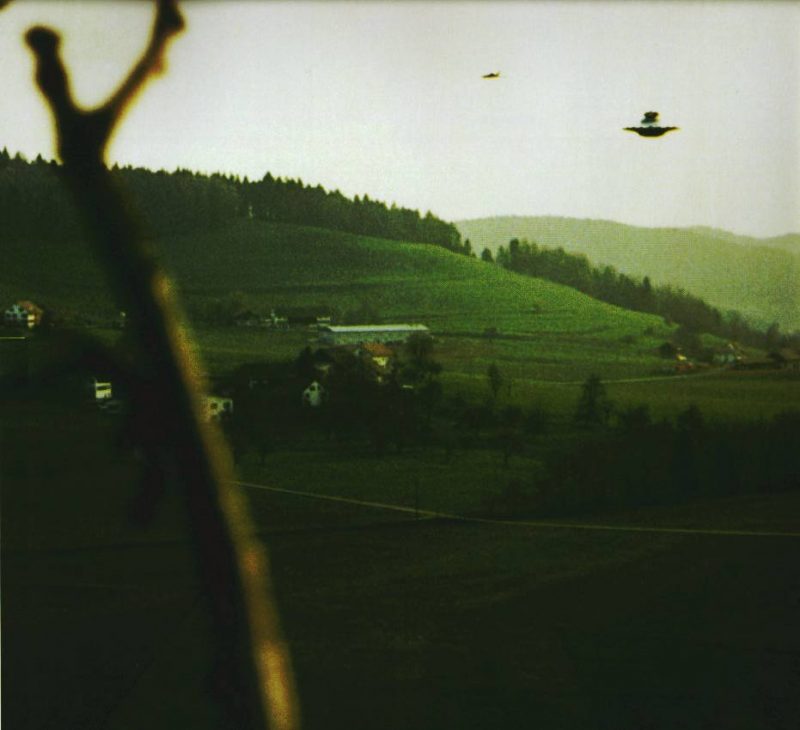 Date:   March 28 1976
Location:  Bachtel Hornli-Unterbach Tel Switzerland.
Time:  09:38 
Summary:  
Source:  
---
Date:   March 1976
Location:  
Time:  
Summary:  
Source:  

Related articles