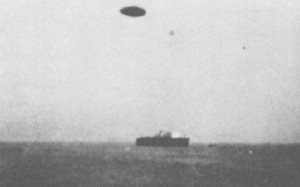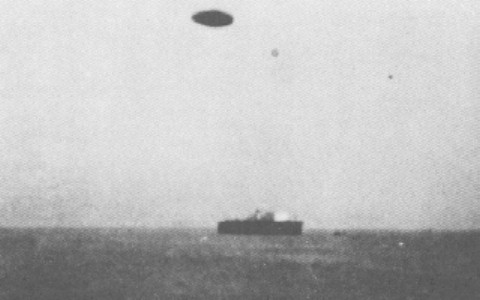 (Last Updated On: July 3, 2016)
Date: November 1976
Location: Taunton Somerset England
Time: unknown
Summary: A human like entity of normal stature and wearing a white uniform was seen. No other information
Source:
---
Date: November 1976
Location:  Llandyrnog Moors, Wales
Time:  0200A
Summary:  A couple traveling on a road near Aberystwyth spotted two tall human like silhouettes standing on the side of the road. The men were wearing white jumpsuits and large dark boots. The couple stared at the strange pair for a few minutes and then continued on their journey.
Source:  NUFON # 157, Denys Breysse Project Becassine
---
Date: November 1976: Rota, Spain
---
Date: November 1976
Location:  Houston Texas
Time:  0330A
Summary:  Night security guard on rooftop of building was rendered defenseless by several humanoids. He was apparently taken onboard an object, dazed and helpless. The aliens seemed interested in testing his IQ. A discussion ensued that his IQ was not suitable for their purposes. Other humanoids dressed in what appeared to be armor and soft silver, tried to seek permission from the examiners to kill the witness. He was later left very weakened and confused on the roof of the building. 
Source:  NUFORC
---
Date: November 1976
Location:  
Time:  
Summary:  
Source:  
Location. Near Fayetteville Arkansas
Date: November 1976
Time: daytime
About six weeks after her first encounter with two humanoids, the witness dog was missing, and she set out on foot in search of it. She crossed a golf course near her property and entered a wooded area; at the edge of a clearing she discovered a bizarre scene; two men in white coats were apparently in the process of mutilating a horse that lay on the ground; two more men dressed in what seemed to be "Air Force" uniforms stood by watching, while two Air Force helicopters were seen on the ground; and also in attendance were what seemed to be the same two humanoids that the witness had encountered earlier. Frightened by what she saw, she turned and began to run away but she was apparently discovered, as she heard someone running after her for a brief while. Then she heard a helicopter, which quickly overtook her and began descending. A blue beam of light was directed upon her, producing serious burns in the area of her right breast and burning part of her clothing. For whatever reasons, the helicopter departed, the witness sought help for her burns, and eventual hospitalization. While in the hospital, the witness talked about the incident and was subsequently visited by "strange people," she believed were government agents.
Source: Tom Adams, Stigmata # 4
---
Date: November 1976
Location:  
Time:  
Summary:  
Source:  
Location. Harpers Ferry, West Virginia
Date: November 1976
Time: afternoon
The 15-year old witness (involved in a previous bizarre encounter in 1967) was on his way home riding his school bus. The bus was moving on a steep road at a slow pace and he was gazing out the window when he saw what at first he thought was a man sitting on a large branch of a tree. As the bus got closer, he realized that it was not human. He was seeing a figure with wings on its back, sitting on a horizontal branch, with its back against the trunk, and its legs resting on the branch. It was the size of a man, but was very dark in appearance; the wings were folded back behind it. The witness pointed it out to several others on the bus and they also saw it.
Source: UFO HBCCUFO.org
---
Date: November 1976
Location:  
Time:  
Summary:  
Source:  
Location. El Paseo de Alto, Guanajuato Mexico
Date: November 1976
Time: sunset
The main witness, 6 years old at the time, and his mother & aunts had gone on a picnic in this mountainous region. The group consisted of a total of 17 persons, mostly children. The mountain is called "El Chilarillo" and there is a legend that humanoid creatures that resembled women during the day and transformed themselves into "light beings" at night lived in the area, sometimes appearing as a glowing orange sphere. The legend states that these creatures called "Nahuales" were dangerous and are rumored to take children for unknown reasons. After sunset several of the children, including the main witness, noticed a strange orange "beach-ball" bouncing from tree to tree, and moving its way in their direction. Its movement was very fast and before they realized it, the sphere had come very close and at that point the children began to run, however the sphere followed them keeping itself only a few meters away from them, always behind them. The "chase" lasted around 20 minutes and there was no doubt that it was something real and "intelligent". It finally stopped chasing the children once they reached the outskirts of town, the first streetlights which were now lit seemed to keep it from entering further into town. But before entering the town the main witness had gotten a very good look at the sphere, since it had been very close during the chase, apparently within the sphere he saw a person sitting in a fetal position, the same size as a human. The witness thought that it was very odd that it was glowing orange and had bounced around from tree to tree. The witness reported seeing the same thing again in 1989 along with many other witnesses.
Source: Direct from witness wishing anonymity
---
Date: November 1976
Location:  
Time:  
Summary:  
Source:  
Location. Near Uleaborg, Sweden
Date: November 1976
Time: night
Erno Lammi watched a light cross the border and land in a nearby field. When he went to look at it, a ray of light shot out from the object hitting him on the chest. He felt a searing and everything went black. Some of his friends watched from a safe distance. Doctors later found burn marks on his chest and back.
Source: MUFON UFO Journal January 1977, True Spring 1979
---
Date: November 1976
Location:  
Time:  
Summary:  
Source:  
Location. La Salle County, Illinois
Date: early November 1976
Time: night
During reports of "classic" cattle mutilations in the area, multiple independent witnesses verified sightings of a "helicopter" manned by a crew wearing red suits. There were rumors of continued mutilations in November, but by then the authorities had clamped a firm lid on the matter.
Source: Thomas R Adams, The Choppers and The Choppers
---
Date: November 1976
Location:  
Time:  
Summary:  
Source:  
Location. Isla, Cantabria, Spain
Date: November 1 1976
Time: night
The local sacristan, 77-year old Pedro Higuera Perez had climbed up the spiraling staircase of the town's church tower. That night he had had some difficulty in falling asleep and had the uncanny feeling that he was not alone in the building. Once at the top of the stairs he noticed what appeared to be a dark form that appeared to be standing by the wall. Surprised he shone the flashlight on it and was stunned to see a bizarre humanoid of huge size that floated in a horizontal position a meter from the floor. The huge figure was wearing a dark flowing garment that had a glowing orange color stripe on the neck and upper trunk areas. Perez estimated the humanoid to have been at least 2.80 meters in height. It floated still with its arms held straight on its sides and its legs slightly bent. The being had a disproportionately small oval shaped head without any visible facial features. Terrified the witness dropped the flashlight and ran down the stairway. Out of the corner of his eye he was able to see the bizarre humanoid apparently dissolve into thin air.
Source: Iker Jimenez, Enigmas Sin Resolver
---
Date: November 1976
Location:  
Time:  
Summary:  
Source:  
Location. Near Belo Horizonte, Brazil
Date: November 4 1976
Time: 1900
Back in August 1976 a 9-year old girl named "Dirce" became ill and was diagnosed with infectious rheumatism. After examining her vision it was determined that she only had 9% of the normal vision. Photograph of the deep eye revealed an apparent degeneration of the macula. The night in question "Dirce" was taking food out for her dog in the backyard as she fed the dog she noticed standing in the backyard a dark figure about 2 meters in height, it seemed to be wearing a type of helmet and tight-fitting dark overalls. It had extremely dark eyes resembling holes; another hole occupied the place of the mouth. It seemed to be carrying a sort of "weapon" in his hand and walked slowly towards the young girl. He stopped about 1 meter from the witness, and then he pressed a button on his chest and in that instant the girl's vision became every more cloudy. When she regained her vision she now clearly saw the being walking away into the darkness and disappearing from sight, it seemed to the young girl that her vision had somehow returned to normal. An eye doctor, Tadeu Cuintal confirmed that the girl's vision had been inexplicably restored to normal. As of August 1982 her vision was still completely normal.
Source: INFA Brazil, "Benevolent behavior by humanoids"
---
Date: November 8 1976
Location:  Givet Ardennes France
Time:  1530
Summary:  An engineer was driving with three other persons when they observed at a distance of 30 meters a landed object on 3 legs, flattish on the bottom and surmounted by a transparent cupola in which could be seen two torsos topped with large heads. They stopped the car to observe the object and felt a wave of heat upon the object's arrival and departure. It hovered just above the ground, never quite touching down, and the three legs had rectangular footplates. The observation lasted no more than 5 minutes. At the site, the grass beneath the object had been beaten down or crushed over a diameter of 8 meters.
Source:  LDLN # 76
---
Date: November 11, 1976: South Hwang, Indonesia
---
Date: November 12 1976: The Glowing Giant
---
Date: November 12 1976
Location:  Tarboro (Edgecombe) North Carolina
Time:  1815
Summary:  James Howard, 15, and Brian Hollis, 14, observed an object with pulsating red, green, and blue lights, which stopped and descended into some nearby woods. They were alarmed and ran home. Looking back, they saw a milky white figure 9 ft tall, with a diamond shaped red helmet, come floating out of the woods about 150 yards away. Its head under the helmet appeared blackish gray. Its short legs seemed to have no feet. It stopped and seemed to look at the boys, then floated onward toward a billboard, behind which it disappeared. They had it in view for about 15 minutes.
Source:   Mufon Files
---
Date: November 13 or 14 1976
Location:  Chandlers Ford Hampshire England
Time:  unknown
Summary:  Mr. and Mrs Haines saw a silver suited man-like entity near the Chandlers Ford hypermarket, 7 miles from the scene of the encounter at Winchester.
Source:   Leslie Harris, FSR Vol. 22 # 5
---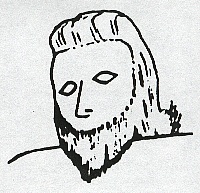 Date: November 14 1976
Location: Near Winchester Hampshire England
Time: 2100
Summary:Joyce Bowles, 42, was driving to a farm together with Edwin Pratt, 58, when they saw an orange glow descend from the sky. The car began to shudder and shake and went out of control, careering off the road onto a grass verge at the right, where it stopped. Its headlights were now at four times normal intensity. 15 ft in front of the car they saw a glowing orange cigar shaped object 15 ft long, hovering 12-18" above the grass. It had a window at the top left, inside which they could see 3 men's heads. Then a man emerged from the object, though they saw no door open, and walked toward the car. He was about 6 ft tall, slim, and wore a silvery one piece suit that looked like aluminum foil, with a seam or zipper down the front; he wore no helmet; his skin was pale, with long blond hair and a dark beard. When he reached the car he bent over and looked inside. He had a long, sharp pointed nose and piercing pink eyes "like a rabbit," the whole eyes seemingly pink. The car's engine then spontaneously started. After about 2 minutes he moved to the rear of the car and was seen no more; the object had meanwhile disappeared. The car then behaved normally, and afterwards it performed better than before the incident.
Source: John Ledner & Leslie Harris for Scan And Lionel Beer & Richard Nash
---
Date: November 14 1976
Location:  Kolsva and Aland Island, Sweden
Time:  
Summary:  Multiple sightings in the early evening, including a silver helmet-shaped (domed disc) object emitting yellow-red light from the underside hovering low above the treetops. Shortly afterwards the same or a similar object was observed hovering above the power plant for an hour, moving up and down. Three times the object emitted light beams into the woods, and after a while a smaller object appeared and hovered beneath the large object for 30 minutes.
Source:  Bertil Soderquist, MUFON representative in Sweden.
---
Date: November 1976
Location:  
Time:  
Summary:  
Source:  
Location. Voorheesville (Albany) New York
Date: November 22 1976
Time: 1000A
The 62-year old witness was reading a newspaper when she suddenly felt a sense of fear. Looking up, she saw an erect pig like creature 6.5 ft tall, covered with long, bristly, gray black hair, standing in the room only 5 ft away from her. The large head had small pointed ears, small dark eyes, and a long pointed mouth; the feet were cloven hooves. The being, seen in profile, was looking toward the window. A foul smell accompanied its presence. After standing motionless for about 2 minutes, the figure disappeared before her eyes.
Source: Richard Bonenfant
---
Date: November 26 1976
Location:  Gerena, Sevilla
Time:  2330
Summary:  Antonia Diaz Ramos was about ready to leave her kitchen when she saw a bright light blinding light outside her window, at the same time she could hear a loud buzzing sound. She then saw about 4 meters away a strange oval shaped craft, hovering about 1 meter from the ground about 2 meters in length and about 1 meter wide. It was bright red around the edge and in the center it was translucent white. Inside the white bright area she was able to see what appeared to be two helmeted heads staring fixedly at her. The craft then rose up and disappeared at high speed. Antonia then yelled for her husband who did not see the object.
Source:   J Ortiz, J Mateos
---
Date: November 27, 1976: Repeat sightings in South Dakota
---
Date: November 1976
Location:  
Time:  
Summary:  
Source:  
Related articles