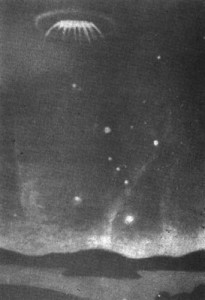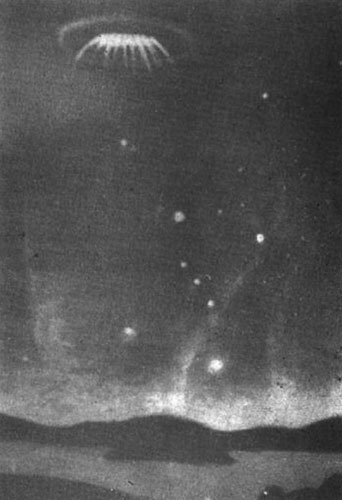 (Last Updated On: January 29, 2017)
Date:  Autumn  1977
Location:  Near Moulton Northampton England
Time:  0100A
Summary:  A motorist driving back home after a date noticed a bright light coming over a nearby hill. As the light approached he stopped his vehicle to watch. Moments later a large circular object became visible that had been masked by the light. The witness was then able to see that the object was dark and emitted an intense bluish green flare from a large oblong shaped window on its lower section. Behind the large window stood three man-like figures with large heads. They appeared to be staring at the witness. The beings had oriental features, large dark eyes, and very short dark hair. All three wore bluish green uniforms and had an expression of happiness on their faces. As another vehicle approached, the object began turning slowly on its axis and then sped away at incredible speed.
Source:   London UFO Studies, Skylink # 6 & 7
---
Date:  Autumn 1977
Location: East Sussex England 
Time:  1720
Summary:  While waiting for a bus the witness saw a domed disc hovering overhead. She waved at it, then the object changed course and tilted toward her, then apparently surrounded her with an invisible beam from its underside. Her next memory was of the bus stopped and of her cigarette burned down to the filter. Her motions were uncoordinated for a week and she suffered headaches, conjunctivitis, gastric troubles, and sleeplessness. She then had vague memories of having conducted a telepathic conversation with the beings onboard the object. They wanted her to go with them, but she had a feeling that she would never return.
Source:  Patricia B Grant, FSR Vol. 25 # 2
---
Location. Wallasey England
Date: Autumn 1977
Time: 2000
Miss Daisy Jenkins had been experiencing much different type of phenomena in her home including mysterious lights and other psychic phenomena. One night she was in her bedroom and had drawn the curtains when she saw a human figure encased in a silvery metallic outfit & with a light at the top of his head and one at the end of each arm. The figure stood by the wall at the rear of the garden, looking at her. The humanoid was about 6-feet tall. She has seen a similar figure on other occasions and apparently is able to float in midair and fly over the trees.
Source: Jenny Randles, Paul Whetnall
---
Date:  September  1977
Location:  
Time:  
Summary:  
Source:  
---
Location. Near Huelva, Spain
Date: Fall 1977
Time: night
The two young witnesses were traveling by bus and were seated at the back of the bus when they noticed a bright point of light in the sky that attracted their attention. Thinking it could have been an "extraterrestrial" craft they attempted to communicate with it by using telepathy. Apparently the object made several maneuvers that the witnesses commanded it to do. The driver and an adult companion also saw the lighted object, which at one point descended lower and became brighter. Later upon arriving at their destination they opened the curtains to see if they could spot the object again and saw a figure only about 20 meters away that appeared to be approaching slowly. It appeared to lack hands and was wearing a shiny corrugated suit. Scared both ran into another room and woke up the others. The next day several large footprints were found in the area.
Source: M Filpo
---
Date:  September  1977
Location:  
Time:  
Summary:  
Source:  
---
Location. Kranglvea, Cambodia
Date: Fall 1977
Time: night
The young witness was out playing when he heard some voices behind him, looking up he saw a metallic plate shaped object hovering over a field. He heard additional voices from the object that spoke in the Khmer language that told him: "You have to learn to teach your children, do not hurt him." He also heard a strange bell like sound, sounding like an alarm, suddenly the object shot away at high speed. A month later in the same area, the witness heard the same alarm sound and heard the sounds of giggling. He then saw clear images of girls hiding behind some bamboo trees laughing at him. He told them he wanted food and suddenly a table filled with foot appeared on the clearing, also a chair appeared, which the witness sat on it. As he prepared to eat the foot, which included mango fruit and tamarind, everything suddenly vanished including the girls. Later he saw a metallic oval shaped object hovering over the same area.
Source: NUFORC
---
Date:  September  1977
Location:  
Time:  
Summary:  
Source:  
---
Location. Near Windwhistle Hill, England
Date: September 1977
Time: 2130
Kate Walker her husband and two young sons, aged seven and six years old were returning home and were in a very isolated area. As they came to the top of hill Kate and her family all observed a huge orange light diffused by cloud, to their left hand side and at the far end of Windwhistle Hill. It seemed to be right beside the road, not very high up, and was partially obscured by cloud. As they drove nearer to the light, they could see it was massive and totally static and very low and bright. She describes it as being cigar shaped and vast in size, maybe 200-300 feet. The next thing they were clearly aware of was seeing a cyclist's headlamp coming the other way, which seemed to appear from nowhere, and continued on the road to Crewkerne. When they arrived home they were aware of an obvious time lapse. Years later they were able to remember that the vehicle engine had died and the headlights had gone off. The husband attempted to start the car but nothing happened. Everything appeared to be in slow motion. One of the son's last memories was of seeing a dark shape outside the car, beside the window. He describes it as being very tall and bending towards the window looking in, and having the impression that the shape was human, although he knew it wasn't. The other brother next memory was of looking back at the orange light and seeing the headlamp coming towards them only a few yards away.
Source: Bufora Files
---
Date:  September  1977
Location:  
Time:  
Summary:  
Source:  
---
Location. Near Chard, England
Date: September 1977
Time: night
A few days after the above incident, Kate and her family were once again making the journey back to their home, and as they were coming over the brow of the same hill, and about 300-300 yards from the first incident, they saw in front of them on the left hand verge, two people, one who appeared to be lying down, and the other standing. They slowed down and were stunned to see that the person standing up took one step out in front of them…one foot remained on the grass verge at the roadside and the other foot was right over the center of the road. Kate described the figure as being "abnormally tall" with legs that were horrendously long and thin. Her husband swerved to the far side of the road, and around the figure, and they kept on driving and did not look back.
Source: Bufora Files
---
Location. Caserta Italy
Date: September 1977
Time: 2200
A science student traveling by car was nearing a local castle when he noticed a very tall figure passing in front of the car. The figure was covered in a metallic outfit and resembled a robot. The figure was being followed closely by several very short humanoids resembling "Dwarfin (Dwarfs)." The witness stopped the vehicle while the creatures disappeared from sight. Soon after he saw a luminous disc shaped object taking off from a nearby field.
Source: Maurizio Verga, Itacat
---
Date:  September  1977
Location:  
Time:  
Summary:  
Source:  
---
Location. Colares, Brazil
Date: September 1977
Time: night
A young man named Luis was hunting and had been hiding in the brush waiting for his prey when he heard a loud noise, then a bright light descended over the area. Looking up he saw a bright object resembling the cabin of a Boeing 737. Suddenly a door opened and a figure stepped out, descending to the ground in a beam of light. The creature was human like. Frightened Luis hid behind a tree an observed the creature as it walked around inspecting the area, it illuminated the area with a red beam of light that appeared to emerge from the palm of its hand. Suddenly the creature turned and walked in the direction where the witness had been hiding, apparently knowing he was there. Terrified Luis ran from the area towards the nearby river. At the same moment the creature turned around and walked back and levitated back into the object. As Luis ran from the area other witnesses saw him running away from the area, they saw him run into a boat as the object followed him and hovered overhead, again the humanoid came out of the object and observed the boat and the terrified witness within. Soon the humanoid went back inside the object, which promptly took off at high speed. The humanoid was described as short and very muscular with a large head and wearing tight-fitting dark clothing. The witness, Luis, and a 9-year-old boy later disappeared under mysterious circumstances after a UFO sighting.
Source: Painel Ovni
---
Date:  September  1977
Location:  
Time:  
Summary:  
Source:  
---
Location. Hainault Forest Essex England
Date: early September 1977
Time: morning
As a result of an anonymous telephone call the investigator went to the scene of a previous humanoid encounter, with his photographic equipment. At Cabin Hill, he heard a call like "Oyy," and saw, about 100 yards away, the head and torso of a strange figure behind some bushes. The figure was dressed in a silver one-piece suit and wore a round, white helmet with a full-face visor. A second similar figure then appeared; both stepped out in full view from behind the bushes and stared at the witness. While the witness fumbled for his camera, the two beings disappeared.
Source: Andrew Collins
---
Date:  September  1977
Location:  
Time:  
Summary:  
Source:  
---
Location. South West London England
Date: early September 1977
Time: 2000
The witness felt a powerful urge to look outside and as she did, she suddenly received a mental image of a very dark metallic object with vertical grooves around its circumference hovering overhead. The witness felt that the object was from another dimension, she felt like she was being watched. She went back to the kitchen, but returned later to still see the image of the craft. At this point she also received a mental image of a humanoid figure and face. The face was long and metallic in appearance, flat and featureless; it had long slit like eyes, a straight nose, and a slit for a mouth. The entity wore a tight fitting jumpsuit with a large triangular symbol on the chest area; it had a belt with a red ruby like stone on its center. The being and craft eventually vanished.
Source: Bufora Journal Vol. 8 # 4
---
Date:  September  1977
Location:  
Time:  
Summary:  
Source:  
---
Location. Valfabrica, Italy
Date: September 1 1977
Time: 0600A
A number of witnesses reported seeing a metallic humanoid shaped figure flying low over some fields. The figure was thick with short legs and stubby arms and appeared to be standing on a small round platform, it had an antennae-like protrusion on its head. There are reports that the figure was a man-shaped balloon.
Source: Denys Breysse, Project Becassine
---
Date:  September  1977
Location:  
Time:  
Summary:  
Source:  
---
Location. Mediania Alta Loiza Puerto Rico
Date: September 1 1977
Time: 0900A
The witness had gone out to the yard to bathe her young daughter when the girl became agitated and began screaming and pointing to four little men that stood nearby, similar to the ones seen the night before in the same area. The only difference was that these beings wore green outfits and were motioning to the little girl to come closer to them. One attempted to grab the child but was pushed away by the hysterical mother who took the child and ran away screaming. The mother suffered a nervous breakdown after the incident.
Source: Robiou Lamarche, Manifesto Ovni en Puerto Rico Santo Domingo Y Cuba
---
Date:  September  1977
Location:  
Time:  
Summary:  
Source:  
---
Location. Near Moscow Russia
Date: September 3 1977
Time: 0200A
Living near a major scientific research center the witness was not asleep yet and was standing in her bedroom when she noticed a luminous Saturn shaped object hovering outside the window. From the object several glowing man like figures, resembling Soviet soldiers in uniform flew into different directions. One of the figures landed on the witness balcony and communicated with her, explaining that he was an extraterrestrial who was just camouflaged as a soldier. During the two-hour conversation the being spoke of the several reasons they were here on earth. At one point the being gradually changed his appearance to that of an acquaintance, which the witness liked and asked the witness if she wanted to have sex, she refused. After awhile the being flew back into the object which quickly then faded away.
Source: Vladimir V Rubtsov PhD Mufon Symposium Proceedings 1994
---
Date:  September  1977
Location:  
Time:  
Summary:  
Source:  
---
Location. Near Lvov Ukraine
Date: September 3 or 4 1977
Time: 0130A
The main witness, Muratova Medina, was among several scouts camping out in tents 50 kms from Kiev. Late one night he suddenly awoke with the feeling that someone was staring at him. Sure enough he then saw the figure of man that was leaning down on him. The figure had enormous deep-set eyes about 7cm in width that stared at the witness unblinking. In front of the eyes the witness noticed what appeared to be a transparent visor. No other facial details could be seen; the body seemed disproportionately narrow or thin. He wore a tight fitting outfit that shone with a metallic luster. There were no buttons, collars or seams. Terrified, the witness asked the stranger twice who he was but received no reply. The witness was able to yell thus waking up his friend G C Aliyevna, but ashamed the witness refused to answer, in the meantime the humanoid remained standing in the room immobile. Soon the witness quietly fell asleep. Another scout also reported seeing a similar or the same entity and further was able to describe the yes as blue in color, with thin and narrow facial features. Another witness saw a luminous spot floating in the room, which became wavy and disappeared.
Source: V G Azhazha, "Another Life"
---
Date:  September 4 1977
Location:  Billings, MT
Time:  10:50 PM.
Summary:   Airline pilot and two other witnesses encountered object at 15,000′. 75-mins.
Source:  Haines printout
---
Date:  September 7 1977
Location:  south of Havelock North, New Zealand
Time:  9:40 PM. 
Summary:  Five members of a family, traveling in a car south of the city of Havelock North, sighted a cigar-shaped, solid-appearing object moving parallel to the road. It gave off a brilliant, hot, bluish light from its leading edge, which seemed to reflect off the rest of the body of the craft. 
Source:  MUFON UFO Journal, March 1978, p. 18
---
Location. Cadogan Pennsylvania
Date: September 10 1977
Time: dusk
At the same time that heavy UFO activity was reported in the area, a witness reported seeing an eight-foot tall creature standing in the woods near his home. The creature was covered with brown hair; had a cone shaped head, broad shoulders, and no neck. It appeared to be slightly stooped at the shoulders. The witness also noticed strong sulfur like odor at the time.
Source: Paul G Johnson, Joan L Jeffers The Pennsylvania Bigfoot
---
Date:  September  1977
Location:  
Time:  
Summary:  
Source:  
---
Location. La Pobla de Montornes, Spain
Date: September 11 1977
Time: late night
The witness, who had been asleep for approximately an hour, suddenly awoke to see that the opposite wall was completely illuminated. The illuminated area seemed to slowly increase in size. Intrigued he turned to look at the window and was confronted by a bizarre figure that was bent over and observing him. The figure was man-like and was wearing a tight fitting black "frogman" suit. The face was human like, with slightly slanted eyes, a triangular shaped sharp featured face, with thin lips, and dark hair. Panic stricken the witness slowly began to move away then jumped to his feet punching the wall and screaming at the same time, apparently in order to attract the attention of other sleeping family members. The strange figure suddenly vanished in plain sight.
Source: Ramon Navia, IIEE, Spain
---
Date:  September 14 1977
Location:  Wannituck, Indiana
Time:  2130
Summary:  38-year old Marie Jorgenson was traveling in her vehicle when she suddenly became very tired & sleepy she then apparently blacked out. Soon she woke up sitting on what appeared to be some kind of padded chair. A small humanoid with large red shiny lizard-like eyes stood in front of her. The humanoid wore gray coveralls and stared at her intently. She blacked out again and found herself back in her vehicle.
Source:  UFO Sightings 11-81, Denys Breysse Project Becassine
---
Date:  September 15, 1977: Abduction by robot-like beings in Brazil (La Rubia case)
---
Date:  September 16 1977
Location:  Abra Centro Corozal Puerto Rico
Time:  0100A
Summary:  The witness an 82-year old man was suddenly awaken by a short figure standing at the foot of his bed, the figure had large round white eyes and pointed ears, it approached the witness but the witness struggled and pushed him back, a second figure now appeared and was heard to say, 'Take his pants off." They both wore tight fitting outfits, one had dark hair, the other blond and both had ugly mouths with thick lips. The witness struggled some more with the beings, these suddenly ran out the door quickly and did not return.
Source:  Robiou Lamarche, Manifesto Ovni en Puerto Rico Santo Domingo Y Cuba
---
Date:  September  1977
Location:  
Time:  
Summary:  
Source:  
---
Location. North Plainfield New Jersey
Date: September 18 1977
Time: 2045
A man who lives in Morris County saw a strange light on Route 22 near North Plainfield. He described it as a saucer shaped object with windows and some kind of figures moving inside. A half hour earlier a woman driving on Route 46 in Parsippany saw a red light and at 2120 a woman on Route 20 near Flemington saw a similar object.
Source: Kathy Krogstad, Stan Zabrowski, and Paul Cipriano for Vestigia.
---
Date:  September  1977
Location:  
Time:  
Summary:  
Source:  
---
Location. Corozal Puerto Rico
Date: September 19 1977
Time: evening
Luis Sandoval, 74, reported that while he was resting in an area he spends many evenings relaxing, a little man one meter high descended nearby in a green flame and examined the old man's feet, knees and chest; after the examination the little being disappeared in a flash with a noise similar to that of an aircraft landing. He had a large head and round nostrils and was wearing a white doctor's like gown.
Source: Lamarche, Martin, quoted in LDLN # 169
---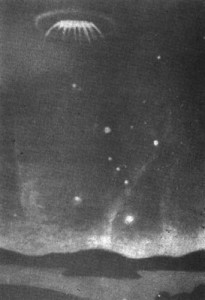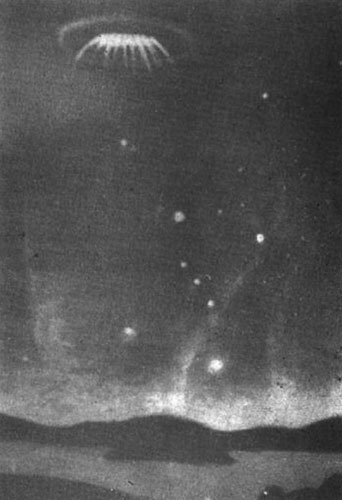 Date:  September 20 1977
Location:  Petrozavodsk  Russia
Time:  4:05 a.m.
Summary:  It was 4:05 a.m. on Sept. 20, 1977. Something serious was happening over the skies of Petrozavodsk . A group of dockworkers on the early shift that morning say they saw a blinding light emerge from the direction of Lake Onega in northwest Russia. As it approached Petrozavodsk, the light took on the appearance of a glimmering jellyfish, before slowing to a hover and unleashing a salvo of ultra-thin beams of light. The dockworkers were left wondering what they had seen. Some were concerned they were witnessing a nuclear attack: This was, after all, the height of the Cold War. But that did not explain what came next. After 12 puzzling minutes, the shining object transformed into a bright semicircle and jetted off back toward Lake Onega. Rather than disappearing over the horizon, it appeared to veer upward, before punching a burning red hole in the clouds, and disappearing into the abyss. No one died, and the United States, it seemed, was not involved. The Petrozavodsk jellyfish was not the first time a UFO had been spotted over the territory of the Soviet Union, but few sightings had ever been corroborated by so many people. Policemen, sailors, an ambulance crew and even a reporter for the TASS news agency all claimed to have seen the object. The TASS reporter filed his story three days later under the headline: "A strange natural phenomena over Karelia." Neighboring governments became alarmed, suspecting the Soviets had tested a new type of weapon. They demanded an explanation from Moscow, but Soviet leaders were apparently just as baffled. Officials even turned to the Academy of Sciences — the highest collection of scientific minds in the communist bloc — for an explanation. The Academy had no satisfactory answer, concluding that the UFO was a real physical phenomenon that required further study. As Soviet UFO enthusiasts began promoting their own interpretations, the Kremlin convened an unprecedented meeting of military and scientific experts. They all agreed the UFO issue was too big to ignore, and resolved to launch a state investigation into the phenomenon. Managed by the Defense Ministry and Academy of Sciences, the secret investigation began in 1978 and would run to the end of the Soviet era.
Source:  Little Green Men: A Look at the Official Soviet X-Files Investigation
---
Date:  September 22 1977
Location:  El Paso, TX
Time:  5:25 AM. 
Summary:  Three witnesses. Object with row of "windows" overtook airliner, accelerated, made 90-degree turn, soared upward out of sight 
Source:  Haines printout; NICAP UFOE II, Section III
---
Date:  September 22 1977
Location:  Omaha, NE
Time:  
Summary:  Three objects like aircraft tracked on FAA radar in V-formation at almost 17,000 mph 
Source:  NICAP UFOE II, Section VII
---
Location. Pedro Avila Puerto Rico
Date: September 25 1977
Time: midnight
The witness who the previous day had encountered a bright-multicolored object hovering above the highway was again on his way to San Juan when he began hearing strange voices in his head. He stopped the car and flagged down a passing police officer, he was then taken to the local station. There he felt better and left again towards San Juan, after a few minutes he again began to hear voices. He stopped the car and then a bright light appeared. There was a sudden bright flash and a three-foot tall figure that was encased in light appeared. The witness felt dizzy and exited the vehicle; he felt attracted to the little man and could not control himself. The humanoid carried in his right hand two loops and something resembling a flashlight that emitted a brilliant golden yellow light. The figure also radiated a blue aura that at times would change briefly to golden. The being pointed to a nearby hovering light and then entered the light, which disappeared suddenly at very high speed. The witness suffered from severe neck pain after the encounter.
Source: Robiou Lamarche, Manifesto Ovni en Puerto Rico Santo Domingo Y Cuba
---
Date:  September  1977
Location:  
Time:  
Summary:  
Source:  
---
Date:  September 26 1977
Location:  Griselles, France
Time:  8:10 PM. 
Summary:  Five silent disc-shaped object flew along some power lines. One of the UFOs shot away very quickly. An electric oven stopped working when the UFOs approached. 
Source:  Larry Hatch, U computer database, case 12346, citing Jean-Claude Bourret, La Nouveau Defi des OVNI, p. 238
---
Date:  September  1977
Location:  
Time:  
Summary:  
Source:  
Location. Bellbrook (Greene) Ohio
Date: September 27 1977
Time: unknown
An incomplete report regarding the observation by several children of a large entity seen in a nearby schoolyard, it apparently floated over a fence. Several days later, the same kids saw a UFO in the same area. No other information.
Source: Richard Hoffman
---
Location. Near Houston Texas
Date: September 27 1977
Time: 2000
While driving with a friend near Houston, Joe Venneman was stopped by a man in a silver suit. He was taken across a field and into a landed object. Afterwards, he had drying of the throat, watery eyes, a feeling of panic, and amnesia. No other information.
Source: John Schuessler, UFO Related Human Physiological Effects.
---
Date:  September  1977
Location:  
Time:  
Summary:  
Source:  
---
Date:  late September  1977
Location:  Huesca, Spain
Time:  night
Summary:  A local art teacher while having dinner at her apartment with a fellow instructor suddenly noticed a blue light flash into the room from the window. They looked out the window to see where the light was coming from and saw a strange looking machine hovering over the house. It was sort of round, but with a dome on top and one the bottom. They could make out the outline of moving shadows inside the domed windows which went all the around the bottom of the craft. The craft was about 50 ft across and had a red or orange ring around it, which seemed to be spinning. The blue light was coming from what appeared to be a dome. The light began to spin and as it did so, it became brighter. Suddenly the orange ring started to spin faster and faster as the machine rose straight up. As it picked up speed, the ring started to turn into a bright red. It made a whistling sound as it left.
Source:  Luis Castro, UFO Update Magazine # 1 Fall 1978
---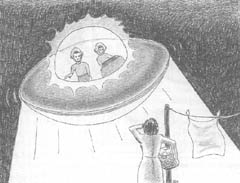 Date: late September 1977
Location: Parkstone Dorset England
Time: 2300
Summary: Going into her backyard to take the clothes in, Mrs Ethel Field felt a vibration in the ground, and believed at first that it was an earthquake. The she heard a humming sound, and, looking off toward the sea, saw a large saucer shaped object swooping upwards above neighboring gardens and headed in her direction. The object was bright and shiny, metallic, and in a dome on top, through square windows, she saw two figures. It stopped a short distance away and tilted downward toward her. One of the figures seemed to be at a control panel, and the other pointed at her. The light was so bright that the witness had to shield her eyes with her hands. The figures wore silver suits with tight helmets that came to a point over their noses. After a brief time the object zoomed off into the sky. A week after the sighting the skin on her hands began scaling—a problem she had not had before.
Source: David Haith from the Bournemouth Times
---
Date:  September  1977
Location:  
Time:  
Summary:  
Source:  
Related articles