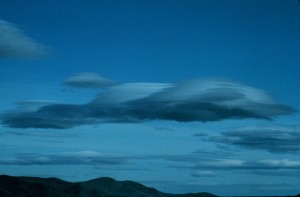 (Last Updated On: March 8, 2017)
Date: January  1980
Location:   Kastenga Karelia Russia
Time:  unknown
Summary:   Two forest rangers were out in a wooded area setting wolf traps when a luminous cylinder shaped object landed on the ground close to them. A red beam of light shot out of the object temporarily blinding both men. One of the rangers felt a tug on his belt and when he looked down he saw a short humanoid with spindly arms and legs and a pale face without eyes or mouth. The humanoid wore a dark green tight fitting outfit, gloves and had a dark tube hanging from its thin neck. The witness then swung his ski staff at the creature, but the creature then leveled the black tube at him shooting out a pulsating beam of light, blinding both men. Both of them recovered to see the cylinder shaped craft taking off enveloped in a red haze. The man that had swung at the creature collapsed and had to be carried home by the other. He later suffered from classic symptoms of radiation poisoning.
Source:  Gordon Creighton, FSR Vol. 37 # 4
---
Date: winter of 1980, January perhaps: Toronto Ontario Sighting
---
Date: January  1980
Location:  Moca Puerto Rico
Time:  0200A
Summary:   The witness (involved in other encounters) suddenly woke up and felt the urge to look out her window. She then saw a large silvery disc with a row of lighted windows and a dome protruding from its bottom descend and hover 10 feet from the ground, a beam of light was projected to the ground from the bottom of the craft and three small beings descended to the ground in the beam. The beings wore silvery outfits with luminous bars and one carried a roll resembling a scroll-like document. The beings were about 4-foot tall with large heads, large black slanted eyes, and long thin arms. They spoke among themselves in a high-pitched monotone. At one point the object rose and the beings hid as a car drove by. The beings eventually re-entered the craft via the light beam. The object then shot away at high speed.
Source:   Jorge Martin, Enigma 52/53
---
Date: January  1980
Location:   Haddenham England
Time:  morning
Summary:   A man taking a walk with his young children spotted a translucent teardrop shaped object the size of small helicopter flying over the area at high speed. A singular figure seemed to be standing inside the craft as it flew about 1000 feet altitude.
Source:   Quest UFO Report Newsclipping service
---
Date: January  1980
Location:  Coleshill Dorset England
Time:  daytime
Summary:   A young girl watched a huge cigar shaped craft gliding slowly above her house. It had four large square portholes and on each porthole she was able to see a purple bearded humanoid that stared at her. The object glided silently away.
Source:   F Turner, FSR Vol. 32 # 4
---
Date: January  1980
Location:   Barrio Olivares Lajas Puerto Rico
Time:  night
Summary:   A security guard at the local dumpsite had gone to investigate a bright light coming from the area, thinking that it was a fire, he was surprise to encounter a hovering luminous disc shaped object very close to the ground. A six-foot tall very thin humanoid emerged from the object; he wore a tight fitting white suit and a wide belt that emitted flashing lights in all directions. As the being attempted to approach, the witness fled the scene and did not returned.
Source:   Jorge Martin, Enigma # 1
---
Date: January  1980
Location:  Oakenholt Wales
Time:  night
Summary:   Roger Sutherland awoke one night to see an orange light materialize just outside the house. Unable to speak, he watched as a being enter the bedroom and felt himself leave the bed apparently in an out of body type experience. He followed the being to a craft and sat down on a bench. The being pressed a button and the witness saw his home, then his town and finally the earth recede. They landed near a strange city and stepped out beneath a blue sky and what appeared to be sunlight. He entered a building with the being, but then lost most of his memory. When he returned to his room to reunite with his body, he noticed the room felt unusually cold. He reported frequent visits by the same being the following weeks, and remembered visiting an underground laboratory and a mess hall where he ate sweet tasting material.
Source:   Jenny Randles, Paul Whetnall
---
Date: January  1980
Location:  
Time:  
Summary:   
Source:  
---
Location: Woodstock Ontario Canada
Date: January 1980
Time: night
The two witnesses were driving down a road when a strange figure ran up to their car. The figure ran zigzagging all over the roadway and acted as if injured. The being's face was apparently scarred and his cheekbones protruded out. He had fangs that came down from its mouth and there was blood dripping from them. The being was about 6-foot tall, thin but well built, had had scraggly or tore up clothing and his eyes were very peculiar looking. The driver of the vehicle had to swerve in order to avoid hitting the creature. He dropped off his girlfriend then returned to the scene to see the creature enter a yellow and black car then proceeded to turn into a dead end street and vanish.
Source: Pat De La Franier, Trofus December 1980
---
Date: January  1980
Location:  
Time:  
Summary:   
Source:  
---
Location: Wildbad Schwarzwald Germany
Date: January 1 1980
Time: unknown
A 28-year old secretary was at a wild life reserve when she claimed she encountered several human like visitors from the star system "Sirius" who gave her instructions and told her that the human race was in mortal danger. No other information.
Source: Ulrich Magin
---
Date: January  1980
Location:  
Time:  
Summary:   
Source:  
---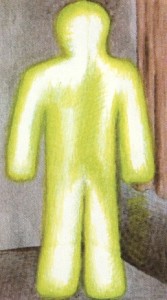 Date: January 5 1980
Location: Trowbridge, Wiltshire England
Time: 0500A
Summary: The witness, a 33-year old painter, suddenly woke up in his bedroom to see a huge 2-meter tall glowing green figure standing at the foot of his bed. To him it looked more like a holographic image than a solid figure. The being apparently communicated with the witness by using telepathy. Among the many things he mentioned was that his race regularly transported human beings to other planets in order to colonize them. When a planet was in danger of over population they somehow started a war in order to reduce the number of inhabitants in that planet. He also warned that the Earth was in danger of "breaking in half." Apparently the witness wife slept through out the whole encounter.
Source: Jenny Randles
---
Date: January  1980
Location:  
Time:  
Summary:   
Source:  
---
Location: Trafford, Pennsylvania
Date: January 10 1980
Time: night
A group of young boys observed a tall hairy figure with reddish brown hair and red glowing eyes. They also noticed strong sulfur like odor in the air and saw a strange white light in the vicinity. The creature retreated into the woods and began breaking branches and throwing stones before disappearing.
Source: Paul G Johnson, Joan L Jeffers The Pennsylvania Bigfoot
---
Date: January 12 1980
Location:  Huayna Potosi Valley, Bolivia
Time:  night
Summary:   In the Potosi Valley, Bolivia a man saw a lenticular-shaped object over him. The UFO projected a beam of light and formed a dome shaped luminous form on the ground, not far from the witness. He then experienced strange sensations when he walked inside the light dome. He was met there by a tall, blond-haired humanoid that had tanned skin and slanted eyes with a very prominent chin. The man claimed he had sensations of love and serenity projected to him by the tall humanoid
Source:  Luis Fernando Mostajo, The Missing Link # 124
---
Date: January  1980
Location:  
Time:  
Summary:   
Source:  
---
Location: Heald Moor, Lancashire England
Date: January 14 1980
Time: 0300A
A truck driver was on his way to deliver goods along an isolated road when as he crossed a local railway bridge he became aware of a loud humming sound. Seconds later the headlights of his vehicle picked up a strange shape on the road ahead. The object was large, dark, and metallic with three red beams of light projecting from the top down to the ground. He recalled seeing several men moving around it as if doing some type of task. As he came closer to the object he realized that it was a tortoise shaped craft with a curved pipe on top. He saw two figures that appeared to be inspecting the red beams. Reducing his speed he noticed that one of the figures wore a peaked cap and a dark two-piece uniform. His arms were at his side. The second figure was wearing a one-piece suit, gray, or silver in color and he was stooping down looking at the object as if inspecting it for damage. As the witness drove slowly away from the area his headlights suddenly cut off and he was forced to slam on the brakes, at this point he apparently blacked out. A sudden jolt woke him up and he realized that the headlights were working again and the truck had moved about a quarter of a mile further along. When he arrived at his destination he was stunned to find out that he had lost more than 3 hours of time. The witness apparently did not undergo hypnosis.
Source: Carl Nagaitis, Phillip Mantle, Without Consent
---
Date: January  1980
Location:  
Time:  
Summary:   
Source:  
---
Date: January 14 1980
Location:  Cherbourg France
Time:  0500A
Summary:  The witness saw a flat rectangular shaped object apparently on the ground at a nearby field. A port like opening became visible and a man like figure of average height was seen to step out and walk around the object apparently performing various tasks. At times a loud roaring sound was heard coming from the craft. 
Source:  Denys Breysse, Project Becassine
---
Date: January 23 1980
Location:  Nevada Test Site, Nevada
Time:  night
Summary:   A worker driving in a desolate nuclear testing ground saw a dark haired 6-7 ft tall hairy creature walk across the road and into sagebrush. No tracks were found.
Source:  Janet and Colin Bord, The Bigfoot Casebook
---
Date: January or February 1980
Location:  Evansville, IN
Time:  10:00 PM. 
Summary:   The lady, an RN. lives near Dress-Regional airport and was out walking her dog that extremely cold, clear evening before the 10 PM news. She said she would have seen the object even if it had no light, as it was close by and large and was shiny as aluminum and motionless. She first thought the object was some type of blimp, an airliner was on its landing approach at the time and she assumed the "blimp" was awaiting landing clearance, since the airport is nearby. She stared at the object for awhile, wondering what it could be, then returned to her living room. The object was still hovering outside. The next morning she contacted the airport to inquire what craft it was and wanted to see it since it appeared unusual. "The airport asked me many questions," she said. "So I knew then it was a UFO and was sorry that I had not watched it and not called others to see it." It looked like "a blimp with an extension on the lower surface and one row of lights or lighted portholes. Object was soundless and hovered higher than the one story house next door, but not much higher than treetop level. 
Source:  Ridge files
---
Date: January  1980
Location:  
Time:  
Summary:   
Source:  
Related articles