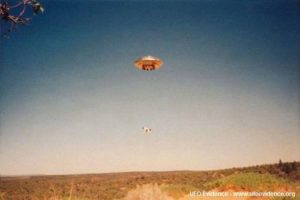 (Last Updated On: July 13, 2016)
Date:  Spring 1992
Location:  Southeast New York
Time:  0200A
Summary:  Several individuals belonging to an organization that conducts paranormal research were at Reservoir Road one night when they began to hear what they described as a buzzing sound. The noise seemed to be coming form a section of the road located near some stone chambers. One of the members of the group, a male in his late fifties, started walking toward the noise. The other members of the group tried to keep their flashlights trained on him as he slowly walked into the darkness. Off to the right was a large outcrop of rock and he could still hear the noise and was sure that it was coming from inside the rock. As the others watched, they tried to call out to him because they had difficulty seeing him, as there was some type of distortion around the area. As he stood and stared at the rock, he went into a hypnotic, dream-like state, and was unable to move. As he watched the rock, it started to shimmer and it looked like a circle of blue water. Then out of the portal that had formed in the rock three dwarf-like, hooded beings walked out. The beings slowly walked towards him and, even though he was scared, he was unable to move. The three beings surrounded him and then, all at once, grabbed hold of him. They started pulling him toward the rock, and although his companions called out to him, he now felt very calm and wanted to go. Then he realized what was happening and began to awaken from his trance-like state. He was still unable to break free from the dwarfs and was now being forcibly dragged to the portal in the rock. As the others ran down the road, they shined their lights on the beings. This seemed to frighten them, and broke their grip, ran up the hill, merged with the rock, and disappeared.
Source:   Philip Imbrogno & Marianne Horrigan Celtic Mysteries in New England
---
Date:  Spring 1992
Location:  Northern New Mexico
Time:   late night
Summary:  The uncle of a local police chief claimed to have been driving into town late at night, when he saw a woman dressed in red walking along the road. He stopped to offer her a ride into town. She climbed into the front seat of his pickup truck, and as he turned to ask her why she was walking in a deserted road, so late at night, he noticed that she had "hairy goat legs and hoofs." She then instantly de-materialized from the front seat of his truck.
Source:  Christopher O'Brien
---
Date:  March 1992
Location:  
Time:  
Summary:  
Source:  
Location. El Cayul Sierra Bermeja, Puerto Rico
Date: March 1992
Time: afternoon
A man out testing a new video camera in an isolated wooded area suddenly caught sight of a flash of light overhead. He hid behind some bushes as he saw a small silvery disc-shaped object land in a clearing on three leg-like supports. A section of the object resembling an elevator was lowered to the ground and a door opened. Two short 4-foot tall beings then emerged from inside the object. The beings had gray skin and had large heads and large black eyes. They wore gray colored one-piece suits. They looked around for a few moments then re-entered the object only to emerge a few minutes later this time accompanied by a tall human, very pale and thin. He had short platinum-blond hair and wore a pair of dark sunglasses. He also wore a new black suit and pants with a white shirt and a red tie. The tall human looked around and walked towards a nearby path there he was met by two soldiers in a military jeep. He sat in the jeep and it then drove away disappearing into the woods. The two short humanoids then entered the disc-shaped object, which then shot, away into the sky at high speed.
Source: Jorge Martin, Evidencia OVNI # 1, Diego Segarra
---
Date:  March 1992
Location:  
Time:  
Summary:  
Source:  
Location. El Dorado County, California
Date: March 1992
Time: night
The witness saw two car-size transparent bubble-shaped objects hovering close to the ground. One object had a figure inside the other two figures. The objects were completely illuminated. The two figures sat side-by-side, one had his hands hanging down and the other had his hands on his legs. In the second object the being sat straight up with hands on his legs. No other descriptions.
Source: Virgil C Staff, Mufon Journal # 296
---
Date:  March 1992
Location:  
Time:  
Summary:  
Source:  
Location. Nyirabrany, Hungary
Date: March 1992
Time: night
A week after being followed by a bright crescent-shaped object and a blue sphere that hovered above his house, the main witness suddenly awoke to his dogs barking and a heavy weight on his chest. Soon he found himself on a table in a white room. A short hairless, earless creature stood near the witness. He then woke up the next morning and found blue marks on his ankle.
Source: Unicus Vol. 3 # 2
---
Date:  March 1992
Location:  
Time:  
Summary:  
Source:  
Location. Spissky Hrusov, Slovakia
Date: March 1992
Time: 2345
The witness was driving on his way to the Ukraine when he noticed an orange ball of light, which was floating above the road and emitted a white-blue glow. Suddenly the witness felt that there was an invisible presence accompanying him in the car. He felt the presence but saw no one. The invisible presence whispered to him, "Don't be afraid" and he calmed down. Then he heard, "please drop us off." He stopped near a graveyard and there he noticed two people, a young man, and a young pretty woman. They smiled at him and said "Thank you" and vanished. The orange ball of light also vanished.
Source: Dr Milos Jesensky
---
Date:  March 1992
Location:  
Time:  
Summary:  
Source:  
Location. Near Ozark, Arkansas
Date: March 1992
Time: night
Samantha Allias and her boyfriend were driving on deserted State Road 219 when they spotted a strange creature standing on the side of the road. They described it as about 4-1/2 ft tall, its body completely covered in long black hair, and glowing red eyes. They kept driving and did not stop.
Source: Jorge Martin, Conspiracion Chupacabras
---
Date:  March 1992
Location:  
Time:  
Summary:  
Source:  
Location. Perth Western Australia
Date: March 4 1992
Time: 0230A
The same witness of a previous case was suddenly jolted from sleep by an intense blue light. Through the glare, a figure appeared, it stood about 4-feet, and was apparently guiding the witness son down the passageway. He then noted that he was paralyzed and could not move. When the figure disappeared from sight he was able to move again and went to grab his son. The figure then vanished in a flash of white light. He then found his son in bed looking pale and very shaky but apparently not harmed.
Source: UFO Research Australia Issue # 35
---
Date:  March 5 1992
Location:  Palhano, Brazil
Time:  1830
Summary:  Military police officer Luis Ribeiro de Oliveira and his friend Pedro Rodrigues da Silva had gone hunting for wild duck in an isolated area when in the Rio Palhano area both men observed what appeared to be a "star" descending at high speed towards the earth. Suddenly a bright light enveloped both men and Pedro ran and hid behind some nearby bushes. Luis ran towards town with the light chasing him close behind. He could see that the light now resembled a luminous wheel-shaped object the size of a bus. Soon he felt as he was being sucked up into the object. At the same time Pedro watched in terror as he saw Luis being taken up into the light. Pedro saw Luis enter the round light and it suddenly vanished in plain sight. Terrified, Pedro armed himself with a shotgun and searched the area but was unable to find Luis. Pedro then ran towards town and entered a local bar telling everyone present what had just happened. But later on Luis suddenly appeared in town and related to Pedro a weird story. He remembers running and his legs suddenly becoming numb. He then came to hearing strange foreign sounding voices, looking up he saw five strange beings standing in front of him. Frightened he asked the beings what was going on, he received the following answer, "Don't be afraid, we wont harm you, we are Catadorians from Catandorius Decnius. Our civilization originated from another higher civilization that lived on the earth 353,000 years ago." They pointed to a small pyramid shaped object and told Luis that it was a model of their "temple." The aliens told Luis that they were here on Earth looking for remnants and descendants of that lost civilization that they claimed lived in underground caves and tunnels worldwide. Luis was then placed inside what appeared to be a gas-filled sphere in the center of the room. He saw in front of him a panel with multicolored lights and heard what appeared to be radio transmissions. Around him stood five humanoids about 1.50 meters in height that spoke in a strange language. However their apparent leader communicated with the witness telepathically in perfect Portuguese. Soon the leader returned to speak with the other aliens and Luis lost consciousness. When he woke up he found himself in the same place where the UFO had originally picked him up. Feeling a little dizzy he searched for Pedro and his shotgun and then walked back to town. Luis described the humanoids as short with gray skin, with black eyes lacking any pupils or eyelashes, large heads, wide shoulders, wearing tight fitting clothing with boots and gloves. Their heads and bodies were completely hairless. Their speech was measured and their breathing was heavy and labored. Every time their leader spoke to the others Luis felt a sharp pain in the head. All the humanoids were identical to each other; he could not find any difference among them.
Source:  UBPDV 1992, Painel Ovni
---
Date:  March 1992
Location:  
Time:  
Summary:  
Source:  
Location. Thompson Manitoba, Canada
Date: March 6 1992
Time: late evening
Some children were playing near a park when they noticed some bright lights moving near some nearby snow banks. When they went to investigate they were confronted by a tall hairy humanoid with red glowing eyes. The children ran home in hysterics.
Source: Chris Rutkowski, Unnatural History, True Manitoba Mysteries
---
Date:  March 1992
Location:  
Time:  
Summary:  
Source:  
Location. Hamar Norway
Date: March 9 1992
Time: 2200
Two women were walking home when they began hearing a low frequency sound that seemed to surround them, it resembled a cross between a train and a car engine on idle. Suddenly a very bright light appeared, blinding them and hurting their eyes. They then saw an object 15 meters away and hovering 2 meters above the ground. The craft had a triangular bottom, with a transparent dome on top and a light at each apex of the triangular section. The light suddenly went off and now they could see two moving figures within the dome. One of the women walked towards the object and saw that one of the figures inside the object was holding something resembling a steering wheel, he seemed to have long hair and large black slanted eyes, with black pupils, that had a cold penetrating evil look. The object suddenly disappeared without the witnesses noticing how. Later back in the house they heard a loud similar sound and it felt like an earthquake was going through their house and bodies. They both experienced nosebleeds and ear numbness after the incident.
Source: Ole Jonny Braene, UFO Norge
---
Date:  March 1992
Location:  
Time:  
Summary:  
Source:  
Location. Arau, Perlis, Malaysia
Date: March 10 1992
Time: 0300A
Mohd Jowhar Meeran, a student at ITM Arau was awakened early in the morning by the movements of something in his room. He was then shocked to see three small beings, ½ meter in height standing beside the bed. He described them as human-like but the skin was very white like the color of the moon. He was not sure whether he fell asleep after that or the beings put him to sleep. Several days later, his friend told him that he had a dream whereby he saw some small beings in their room. Only then did he realize that all three of them (roommates) had seen the strange beings and it had not been a dream.
Source: Ahmad Jamaluddin
---
Date:  March 1992
Location:  
Time:  
Summary:  
Source:  
Location. Bellomonte, Guaynabo, Puerto Rico
Date: March 11 1992
Time: 1830
The witness who had previously experienced a vision and telepathic communication with unknown entities, was sitting alone on her rocking chair in the rear patio area of her home, when suddenly she felt a strong presence near her, she looked and nearby stood two very tall muscular light skinned men wearing black tight-fitting outfits that covered everything except their faces. They told the witness via telepathy to remain calm; these two men were accompanied by two shorter humanoids with large egg-shaped heads, yellowish skin, wide lipless mouths, and eyes resembling two large dark slits. These wore brown loose-fitting outfits. The two short beings appeared to be in charge of the situation and were intent in inspecting terrain and plants, constantly murmuring between them, in a strange language. The tall human-like beings communicated to the witness that the shorter humanoids wanted her to plant different types of trees and flowers in her garden. The witness said that she had felt more comfortable dealing with the human-like beings than with the short creatures. But there appeared to be a definite cooperation between the two types of beings.
Source: Jorge Martin, Enigma 52/53
---
Date:  March 1992
Location:  
Time:  
Summary:  
Source:  
Location. Jacanas, Puerto Rico
Date: March 13 1992
Time: night
Several witnesses watched numerous lights maneuvering over a nearby hilltop, then a huge round-lighted craft, and the size of a cruise liner appeared and seemed to descend behind the hill. Two women got into their car and drove towards the location where the object had apparently landed. As they neared the area, they noticed a grayish luminous light hovering over the hill, and a column shaped beam of light emanating from the object that seemed to attract the two women, one of them suddenly went into a trance-like state and was not reacting. The other decided to drive away back to her house. Once at the house they picked up additional witnesses and drove back to the area where the light hovered. As they arrived to the site, all of the witnesses except for the driver noticed a short 5-foot tall figure standing on the side of the road, no more than 10 feet from their vehicle. The being was a thin humanoid with a large head and large dark almond shaped eyes, his skin was gray color and appeared to have a slight glow to it. It had long thin arms, and stood motionless looking at the witness. Behind the being a shaft of grayish light could be seen, apparently coming from a source above. At that point the witnesses panicked and drove quickly away from the area.
Source: Jorge Martin, Evidencia OVNI # 5
---
Date: March 21 1992
Location: Teotihuacan, Mexico
Time: unknown
Summary: Reporter Marco Antonio Villasana took several photos of the area, when the photographs were exposed one of them clearly showed a winged man-like figure flying over the archeological site. At the time that the pictures were taken no one saw anything unusual.
Source:Antonio Villasana
---
Date:  March 28 1992
Location:  Brunchillii, Australia
Time:  Day
Summary:  Photo Above
Source:  
---
Date:  March 1992
Location:  
Time:  
Summary:  
Source:  
Related articles