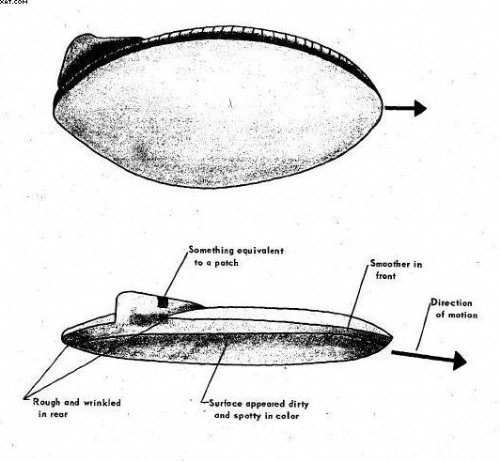 Date:  February 1949
Location: 
Time: 
Summary: 
Source:
---
Date: Feb. 1949
Location: Pucusana (Peru)
Time: 1630
Summary: C. A. V. an oil company employee, 30, was driving to Lima when he saw a shiny disk at ground level. He walked toward it for 10 min. Three figures came out as he was 20 m away. They looked like mummies, had joined legs and one large foot. They "slid" along the ground. They were covered with a strange "towely" skin, asked the witness where they were, had a lengthy discussion with him, and took him for a trip in their craft. (Lor. III 122)
Source: Magonia 68
---
Date:  February 1, 1949
Location: Terre Haute, Indiana
Time: 
Summary: Nocturnal lights were reported
Source: Eberhart, George M. A Geo-Bibliography of Anomalies Greenwood Press, Westport, 1980 ISBN:0-313-21337-2
---
Date: Feb. 10, 1949
Location: North of Dayton, Ohio
Time: At 2032 local time
Summary: Capt. Roger J. Groseclose, USAF Pilot, and 1st Lt. Ray W. Adams, USAF Student Pilot, observed from the air at 7,900 feet a white object with a blue glow in a straight gradual descent to approximately 9,000 feet then it broke into two parts and disintegrated. The object was in sight for approximately 5 seconds.[Probable meteor]
Source: Dan Wilson, BB files
---
Date: Feb. 14, 1949
Location: Canado, New Mexico
Time: 6:40 p.m.
Summary: Two observers reported a stationary white/slightly green light that fell in slight curve to the west. At 18:40 p.m. two people driving near East Ganado Mission, Arizona saw a greenish white fireball hover, then arc downward toward the west.
Source: AFOSI 22
---
Date: February 17, 1949
Location: France 
Time: 23:00
Summary: An author of sensationalistic UFO books reported in 1958 without indication of his sources than one French peasant Alain Berard, in France at an unknown place, on February 17, 1949 at night, saw a "large object" landing not far from his farm "with a flash of green fire illuminating the whole sky". Berard, who was at his bedroom window, did not wake his wife but took his rifle and descended into the courtyard, moved toward the "thing" fallen in the middle of his property. He is said to have claimed "later" that when the object passed over the few trees in the bottom of the courtyard he saw a large, dark mass from which three figures moved toward him. It is said he claimed that he got very amazed because those beings, though moving upon short and stocky legs, had no head. While he tried to keep his cool, he pointed his rifle and shot three times at them, and the "horrible figures" remained still for a moment, then disappeared, "mingling into the darkness of that giant black object", which a moment later took off, disappearing with another blinding green flame. The story was picked up by ufologist Jacques Vallée and nothing more is known about it.
Source: Oltre it Cielo, Missili e Razzi, vol I, p. 445.
---
Date: Feb. 17, 1949    BBU    OSI Case 24.
Location: Grants [Sandia Base, Albuquerque?], New Mexico
Time: 6 ? p.m.
Summary: [Mitchell ? and others] saw oval white light moving S in vertical climb then leveled off, then a gradual ascent.
Source: FOIA; FUFOR Index
---
Date: Feb. 17, 1949            BBU
Location: Albuquerque, New Mexico
Time: 6:00 p.m.
Summary: Apparently the same object viewed at different or overlapping times on its trajectory. Case 23 is truck driver Herman Wilcox at about 6 PM (actually 5:57) from near Grants, NM, and Case 24 is UNM Prof. Marvin May at 5:57 PM from Albuquerque (who with his training in meteorite tracking with LaPaz has the more accurate time than the truck driver). There were also about 100 guards at Sandia Base including the Officer of the Guard, sighting it at 5:59-6:06 PM evidently.
Source: AFOSI Cases 23 and 24
---
Date: February 20, 1949
Location: El Maitén, Chubut, Argentina
Time: 
Summary: According to an article in the national newspaper La Razon, in Argentina, El Maitén, Chubut, on February 20, 1949, a very excited salesman came to a police officer at his military station. This officer, retired when the La Razon article was published, told that the salesman claimed that about 20 kilometers from the town, he had met a UFO. Three human figures dressed with strange suits emerged, they had something flashing in their headgear and were connected to the UFO by something like cords. They signaled the witness to stop his car.
Source: La Razón, Buenos Aires, Argentina, March 13, 1970.
---
Date:  February 23, 1949
Location: Chilean Base, Antarctica
Time: Pre-dawn
Summary: Objects were observed and videotaped. Animal reactions to the objects were reported. Several discs were observed on the ice (Orrego). Motion picture film unavailable (classified by Chilean Military)
Source: Keyhoe, Donald E. Flying Saucers Are Real Fawcett 107, New York, 1950
---
Date: Feb. 27, 1949    BBU
Location: Los Alamos, New Mexico
Time: 7:05 p.m.
Summary: Green-white fireball seen in horizontal flight from W to E. () 2 secs
Source: FOIA
---
Date: Feb. 28 (not 23rd), 1949     BBU
Location: Sandberg Pass 40 miles S of Bakersfield, Calif
Time: 10:30 p.m.
Summary: USAF pilot of T-11 with 703rd Air Reserve Division saw a sausage shaped object circle the plane in 360° and 180° turns.
Source: Project 1947
---
Date:   February 1949
Location:  
Time:  
Summary:  
Source:  
Related articles