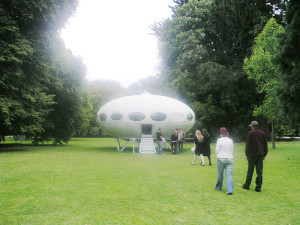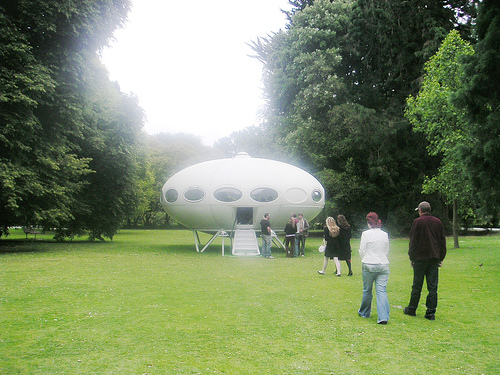 (Last Updated On: January 18, 2017)
Date: Summer 1973
Location: Newton New Jersey
Time: unknown
Summary: Several locals reported seeing a giant alligator man-like humanoid in a nearby swampy area that apparently was bipedal. No other information.
Source:Mark Opsasnick, Mark Chorvinsky Strange Magazine # 3
---
Date: Summer 1973
Location: New Brunswick, Canada (rural area)
Time: unknown
Summary: During a boat ride through a swampy area the witnesses followed a deep stream and entered a swampier area. There they saw a bizarre creature, which could be seen just under the water, it wasn't fish like, but had two short legs and a stubby upper body, with "crust like" flesh, partly covered in what appeared to be black fur. They followed the odd creature as it passed near the side of the boat. It was near the surface of the murky water. The feet could be seen and were described as looking like those of a chimp.
Source: GCBRO
---
Date: Summer 1973
Location: College Park Maryland
Time: night
Summary: Several witnesses, including Butch Dory, watched a large figure emerge from a nearby lake, it had a large round head, the startled witnesses fired several shots at the creature apparently without any effect.
Source: Mark Chorvinsky, Mark Opsasnick Strange Magazine # 5
---
Date: Summer 1973
Location:  Near Norwalk Connecticut
Time:  night
Summary:  The witness was out driving her car when the radio was suddenly filled with static. She heard a man's voice inside her head and suddenly found herself inside a huge "spacecraft." Standing before her was a tall human like entity with fair hair and dressed in a silvery one-piece suit. He communicated with her by using telepathy. The being gave the witness a tour of the object that had apparently at least 200 crewmembers. The aliens also predicted floods that would occur in the future.
Source: Peter Brookesmith, UFOs, Where do they come from?
---
Date: Summer 1973
Location:  Near El Yunque, Puerto Rico
Time: night
Summary: A young boy had gone out into the woods at night to follow a well-known "Contactee" that had invited him and is family to spend some time at his home. He lost his way in the woods and had stopped to look around, he suddenly heard some footsteps behind him and turned around, standing almost next to him was a seven-foot tall man with blond shoulder length hair, his skin was white and he was wearing a silvery wet suit type outfit and dark brown pants. The witness attempted to run, but felt numb with a tingly feeling in his legs and fell to the ground. The man then approached and pointed the palm o his hands at the witness. At that point the witness felt that he could move again and ran in a blind panic through the woods finally reaching the house. He was not believed by those present and the "Contactee" was upset at him for following him.
Source:Jorge Martin, 52/53
---
Date: Late Summer 1973
Location:  St Ives UK
Time:  6:00/7:00 P.M.
Summary:  In 1973, my father was in the U.S. Air force, stationed at RAF Alconbury. We lived in St Ives, on California Street, in Anglo-American housing. In those days, there was a wheat/corn field behind the house. I was five at the time. Which is why I don't recall the specifics of time or date. One evening, after dark, I looked out of the upstairs window at the field. There, sitting in the corn, was what I thought was a merry go round. Which was strange, to say the least. I called to my mother and asked her if I could go down and "ride the merry go round." She asked me what I was talking about. So I pointed it out to her. She became visibly frightened and angrily told me to go to bed. Which, of course, I did. Next morning, I went out to find and area of the corn pressed down flat. As an aside, we lived directly under the flight path of the runway of RAF Wyton. Vulcans on final would clear our roof by twenty feet. Years later, I learned that there had been UFO sightings in the are at that time. I still wonder about that "merry go round."
Source: www.uk-ufo.co.uk
---
Date: Summer 1973
Location:  Little York, IN
Time:  9:30 p.m. 
Summary:  Four people in a car were driving near Weston Lake when a bright floodlight-type light was pointed at them. The object was behind the witnesses and off to the right. They stopped their car and watched the object, described as a "flat-bottomed catfish-shaped" object, as it passed overhead and off to the right at 65-70 mph and about 100′ up. An airflow-like whistle could be heard as it passed low overhead and headed SE. Duration: 10 mins. 
Source: FI-4 /Palmiter/ MUFON Indiana
---
Date: Summer 1973
Location:  
Time:  
Summary:  
Source: 
Location. Manchester Lancashire, England
Date: Summer 1973
Time: late night
The witness was awakened by a peculiar noise, and found herself paralyzed; this time, there appeared before her the face of a young man with blond hair; this image remained for a few seconds then vanished by moving "up and away," like the disappearing image on a TV screen when is turned off. There were other unusual incidents that involved other members of the family.
Source: Peter Rogerson, John Rimmer, MUFOB
---
Date: Summer 1973
Location: Juana Diaz, Puerto Rico
Time:  late night
Summary: Earlier that night several family members had seen a large yellow light hovering over the area, later that night two of the girls watched a bright small ball of light enter their room then becoming a bright blinding light. In another room a woman was approached by a short figure with long thin fingers that grabbed her by the arm, she then lost consciousness. A circular burned area was found on a field behind the house.
Source: Jorge Martin, Enigma # 37
---
Date:  early June 1973
Location: Sykesville Maryland
Time: night
Summary: A witness reported shooting at a huge hair covered bipedal creature at a distance of less than 20 feet that suddenly disappeared in front of his eyes. No other information.
Source: Mark Opsasnick, The Bigfoot Digest
---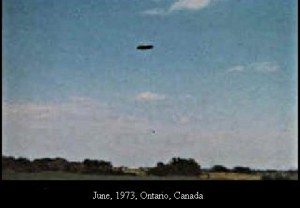 Date: June 1973
Location: Ontario, Canada
Time:
Summary: Two individuals were standing in the backyard of a home in Ontario. They were watching what they thought was an airplane approaching. As it moved closer, they noticed it was totally silent and moving very low to the ground. One of the men ran for the camera, and took 7 pictures.
Source:
---
Date: June 1973
Location:  
Time:  
Summary:  
Source: 
Location. Arecibo Puerto Rico
Date: early June 1973
Time: 0400A
Having unloaded some merchandise from his truck, truck driver Crisanto Marvel Perez and a companion were napping in the truck when Perez was awakened by a noise; he dozed off again and was again awakened and, through a rearview mirror on the outside of the truck he observed three whitish figures approaching. His companion was still asleep. Through the opposite mirror he saw the three figures peer in the window behind his head; he remained still, as though asleep, but was able to see that they examined the inside of the truck with curiosity. They were generally normal in appearance except for a "parrot-like" nose, and either their skin was scaly or they wore clothes that had a scaly appearance. On their heads was a kind of helmet divided across the top from front to back by a crest. They spoke among themselves in an incomprehensible language that had a sound similar to that made by bats. After they had examined the inside of the truck, the beings moved off, and Perez woke up his companion to tell him what happened; the man was incredulous. Perez drove home and was "very excited," going right to bed. He experienced a "strong fever and headache." Earlier that night, en route to Arecibo, he had observed a star-like object that seemed to be pacing his car. He saw it again on a subsequent night, but did not see the beings again.
Source: Nelson Rigau, Awareness Summer 1974
---
Date: June 1973
Location:  
Time:  
Summary:  
Source: 
Location. San Benito Texas
Date: June 1973
Time: 0200A
Guadalupe Cantu, 19, glanced through the kitchen window and saw an orange luminous object moving 30 feet above nearby rooftops. As it drew closer, he could see that it was a transparent disc shaped object, in which stood a hairy, ape like being without clothing; the entity was looking down toward him and the rest of the ground, its hand apparently resting on something. No machinery or controls could be seen. The UFO passed about a block away making no sound, and then went out of sight.
Source: Jerome Clark
---
Date: June 1973
Location: Alma, Quebec, Canada
Time: 0220A
Summary: Georges Gaudet and his wife were sleeping soundly when a bright beam of green light entered the bedroom through the open window, awakening the wife. The green light seemed to transform itself into a 4 ft tall humanoid wearing a silvery combination suit, and a helmet with a dark visor, the figure was totally encased in a green glow. Gaudet's wife stared at the figure and attempted to wake her husband to no avail. The figure vanished in a flash. She suffered from headaches and insomnia for a week after the incident.
Source:Christian Lemay UFO Quebec, Vol. 5 # 20
---
Date: June 1973
Location: Rupit Barcelona Spain
Time: 0600A
Summary: After taking his cows to the meadows a 60-year old rancher was walking back home in a very mountainous area near the village, when he observed at a forest clearing a large silvery bluish dome shaped craft resting on the ground on several protrusions. The craft had a shiny metallic surface. From the object emerged seven to ten human like figures wearing dark outfits, they descended to the ground via an extended ladder. On the ground some of the figures just stood and looked around, while others appeared to jump and the rest gesticulated. Everything was extremely silent. After a few moments the witness left the scene and did not see the object or its occupants depart.
Source: Ballester Olmos, Fernandez Peri, Enciclopedia De Los Encuentros Cercanos con OVNIS
---
Date: June 1973
Location:  Sydney NSW Australia
Time:  1700
Summary:  Two women reported a stationary object with bright lights. Later one saw a disc shaped object with a window on it, through which 2 forms were visible.
Source:  Keith Basterfield
---
Date: June 1973
Location:  
Time:  
Summary:  
Source: 
Location. Bentonville, Arkansas
Date: June 1973
Time: midnight
The 5-year old witness was awakened suddenly and saw what appeared to be a square shaped object with several different colored lights on the outside, hovering in his room. His next memory was being face to face with an undescribed humanoid, he remembers, "doing things" with the humanoid. His next memory was of being back in bed. He suffered from earaches after the incident. And also strange dreams.
Source: NUFORC
---
Date: June 1973
Location:  
Time:  
Summary:  
Source: 
Location. Ciudad Pemex, Mexico
Date: June 1 1973
Time: early morning
Five witnesses, Fernando Alvarado, Hector Sastre, Alejandro Vazquez, Luis Narvaez and Roberto Narvaez, 4 of them students and one the radio operator of the local airport watched a large luminous object land on the airport runway at the airport belonging to the Mexican oil firm "Petroleos Mejicanos". A 4-meter tall humanoid figure emerged from the object. The figure had a metallic appearance and walked briefly around the tarmac before disappearing into the object. The object soon took off at high speed and disappeared.
Source: Ouranos # 8, Denys Breysse Project Becassine
---
Date: June 1, 1973
Location: Dundurrabin, Australia
Time:
Summary: UFO scares horses, cat, and cattle. 
Source: (Mike Swords; Source: W.C.Chalker. Tyringham-Dundurrabin Flap [mini-monogragh or case file] ,18pp., 1973. (CUFOS files).
---
Date: June  1973
Location:  
Time:  
Summary:  
Source: 
Time:  June 2, 1973; Divernon, IL
2:15 to 2:30 a.m. The UFO had a series of bright running lights, much like one would see on any other aircraft. Suddenly, a large orange-red light was turned on beneath the UFO which lit up the entire landscape. The witness couldn't tell if  it was from one source or several lights, but; it was all from toe same craft. He stopped and turned engine off, got| out and watched about ten or fifteen minutes.  "There wasn't a sound," he said. "And there was an airplane flying high overhead, which we heard. This was much closer, perhaps a thousand feet away, some 500′ feet off the ground." The unusual item moved quickly to the north, then seemed to travel around the city of Springfield, to the east. (Courier, Jacksonville, IL, June 3)
Summary:
Source:
---
Date: June  1973
Location:  
Time:  
Summary:  
Source: 
Time: June 2, 1973; bt. Tyringham & Dundurrabin, Australia
Object spirals in sky and seems to land. Upon getting close to assumed area of landing, compass begins spinning wildly. (Mike Swords; Source: W.C.Chalker. Tyringham-Dundurrabin Flap [mini-monogragh or case file] ,18pp., 1973. (CUFOS files).
Summary:
Source:
---
Date: June  1973
Location:  
Time:  
Summary:  
Source: 
Summary: June 3, 1973; bt. Tyringham & Dundurrabin, Australia
2:00 AM. Bright light floods home. Horse froths and runs wild. (Mike Swords; Source: W.C.Chalker. Tyringham-Dundurrabin Flap [mini-monogragh or case file] ,18pp., 1973. (CUFOS files).
Source:
---
Date: June 5 1973
Location:  Port Jervis New York
Time:  late afternoon
Summary:  Two men in their late thirties were on the way home from fishing when on impulse they decided to pull over on Rio Dam and throw their lines for one last time. They were both about to cast the lines when they noticed an oval shaped craft flying low over the lake and approaching them. The craft was rusty to brownish purple in color and had a dull "matte to purple finish." The object had about five portholes that emitted a green "fluorescent light" from inside. From the front of the object two purple pinkish beams of light swept forward and down to Rio Lake. The beams appeared to have "substance" inside them, apparently sucking up water from the river. The craft reached to about 100 feet away from the witnesses then they saw an entity inside the object. The entity had a leathery, wrinkled looking face and large pointed ears. Its skin was of a light brownish color, it had a round mouth, round eyes, and its face was flattened against the rectangular porthole of the object. It also had two hands thrown up against the window near its head. It moved its mouth and appeared to be exclaiming in great surprise upon seeing that he was being watched. Immediately the object accelerated to a high speed and continued its course quickly disappearing from sight at very low altitude over the dam.
Source: John C Thompson
---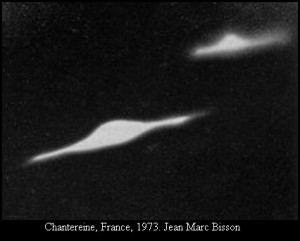 Date: June 7 1973
Location: Chantereine, France
Time: 09:30 – 10:00 PM.
Summary: Jean Marc Bisson, aged 16, took this photograph from the window of his residence in Chantereine in the Seine-et-Marne on June 7 between 09:30 – 10:00 PM. He was drawn to the window by the meowings of his she-cat, and there he saw strange gleams in the sky, coming from the Southeast and going towards the Northeast, so he decided to grab his Kodak instamatic camera. The largest of the gleams seen on this photographs had the apparent diameter equivalent to that of the Moon for its central part.
Source:
---
Date: June 7 1973
Location:  Sousas, Brazil
Time:  
Summary: Yellow "fireball" approached, stopped fifty meters away, prickling sensation felt, later intense headaches. 
Source: Flying Saucer Review Case Histories, Supplement 17; See Rodeghier, 1981, p. 57 {E} car
---
Date: June  1973
Location:  
Time:  
Summary:  
Source: 
Time: June 7, 1973; Dundurrabin, Australia
Globular lemony-colored object is extended from the bottom of a ball which is changing color, red to green cyclically. Glob is at end of an extended "tongue". Main object then slowly "sucks" it back in. (Mike Swords; Source: W.C.Chalker. Tyringham-Dundurrabin Flap [mini-monogragh or case file] ,18pp., 1973. (CUFOS files).
Summary:
Source:
---
Date: June  1973
Location:  
Time:  
Summary:  
Source: 
Time: June 14, 1973; Princeton, IL
UFOs were sighted by three young girls traveling Interstate 80, five 'miles west of Princeton at approximately 3:38 a.m. State Police District 7 in Rock Island reported. The girls, ages 18 and 19, from Albany, N.Y., and Bristolville, Ohio, told investigating troopers that they had seen a silver, gray and black flying object emitting a green mellow light. The girls said that the object made several maneuvers in a rapid manner, and, prior to disappearing, two other objects were accompanying the first one. The girls said the object was flying in a southeast to northwest direction. Another traveler at the rest area, a Milwaukee man, allegedly photographed the objects with a high powered camera, but he had left the area before troopers arrived at the scene, troopers said. (Times, Ottaw, IL, Jun 15)
Summary:
Source:
---
Date: June  1973
Location:  
Time:  
Summary:  
Source: 
Time: June 14, 1973; nr Tyringham, Australia
Domed disk making noise like aboriginal "bull-roarer" descends like "falling leaf or pendulum", and that morning a lady from Dundurrabin heard strange noises and weird "moonlight" through her window. Her clock was discovered to have stopped [though it wasn't electric]. She thought this was odd when her neighbors came to her house to inquire about the time since their clock had stopped too. (Mike Swords; Source: W.C.Chalker. Tyringham-Dundurrabin Flap [mini-monogragh or case file] ,18pp., 1973. (CUFOS files).
Summary:
Source:
---
Date: mid June 1973
Location: Near Panola Mountain Georgia
Time: 2100
Summary: 16-year old Kate Mansfield had gone out for a drive after arguing in her home and found herself driving on a lonely dark country road. She was near Panola Mountain on highway 155 when her car just suddenly stopped running. Kate then noticed a large glowing area over to her right in the woods. Frightened she attempted to start the car, to no avail. She then noticed a five-feet tall being with large head and large eyes standing in front of the car. The being opened her car door and removed Kate from the vehicle. The he escorted her to a landed craft over to where she had originally seen the glow in the woods. Outside the craft were several other beings of a similar description with metallic square boxes, apparently gathering rocks, plants, and things from the immediate area. These beings ignored Kate and continued with their work. She was then taken inside into a small rounded, gray room that had a musty odor. She then found herself undressed and on top of a table like structure. Several procedures were then performed, including a vaginal exam. After a while she was allowed to put her clothes back on and was then escorted back to the car. The being that escorted her back told her "not to remember."
Source: John C Thompson
---
Date: June  1973
Location:  
Time:  
Summary:  
Source: 
Location. Near West Bend, Wisconsin
Date: June 15 1973
Time: unknown
A man and his daughter were driving near the city when they sighted a low hovering disc shaped object with several transparent windows. Humanoid figures could be seen behind the windows. No other information.
Source: Richard Heiden, FSR Vol. 27 # 6
---
Date: June 17-19 1973
Location:  Cockatoo Creek, Australia
Time:  
Summary:  Flashes and humming noises noticed over house three nights in a row. Animals extremely agitated. The source of this was not seen, but seemed to be coming from above.
Source: Mike Swords; Source: W.C.Chalker. Tyringham-Dundurrabin Flap [mini-monograph or case file] ,18pp., 1973.; CUFOS files
---
Date: June  1973
Location:  
Time:  
Summary:  
Source: 
Time: June 19, 1973; Cape Girardeau, MO
7:12 p.m. Dull gray, bullet-shaped object observed for several seconds by Harley Rutledge of Project Identification. (Project Identification, page139)
Summary:
Source:
---
Date: June  1973
Location:  
Time:  
Summary:  
Source: 
Time: June 20, 1973; Fort Wayne, IN
10:30 p.m. One resident reported seeing a large hovering aerial object described as round or pear-shaped with four or five red lights on top and bottom and a large white light atop. It was dome shaped at top and rounded at bottom with what appeared to be a partitioned frame within the window. Another resident said she saw the object while en route to a food market. For awhile it was above her auto at a height estimated at equivalent to a block or two. After moments it suddenly took off eastward at unbelievable speed, gradually disappearing. Lights on the object dimmed gradually before its departure. (SL-70, page 10)
Summary:
Source:
---
Date:  June 23 1973
Location: Phoenix Arizona
Time: midnight
Summary: Roberta T. observed from her patio what at first appeared to be a star-like object that descended until it came to a spot just above the trees beyond her patio, at which time it appeared to be a large, illuminated spherical object. As it hovered there a square opening appeared on the side facing her, like "garage doors opening." Illuminated brightly from within, the witness observed a human like figure approach the opening from one side, cross over, and then bend down "to do something." When she uttered an exclamation to herself he abruptly looked up and out at the witness, peering directly at her by leaning out of the opening. He was visible from the knees up and seemed to be wearing a tight garment. He "dropped his head down" as he looked at her and she could see he was tall, with a large head, and with hands that appeared to be busy working on instruments. At that point she heard a humming sound and looking off to her left she saw a second, smaller object approaching in the same direction. It passed a post on the patio and abruptly disappeared; she then looked back toward the first object and found it too had vanished. She then fell asleep and when she awoke later, found herself lying in a different position. Under hypnotic regression, she described seeing the same figure appear before her on the patio. She then describes in vague uncertain ways how she was told not to be afraid, and then "taken somewhere" by being floated upwards. She recalled seeing a dog that had been constantly barking also floating in the air. She was in some dark "enclosed" place where she couldn't see and an instrument of some sort was placed on her head, which made her uncomfortable. There were others around her but she "felt" them rather than seeing them; she had the impression they were "talking" to each other in a language she could not understand. She had the impression there were two people present. When she awoke on the patio, it was some 4 or 5 hours later.
Source: Lester Seward for GSW
---
Date: June  1973
Location:  
Time:  
Summary:  
Source: 
Time: June 23, 1973: Piedmont, MO
10:30 p.m. From a cabin on the Rothwell Ranch, two men watched as a bright light that had a ring around it rose from low on the ESE horizon, moved up-down, then left-right, for a distance of 15 degrees over a 30 minute period beginning at 10:30 p.m. The object silently radiated lines of concentric circles like heat waves. At one point a small light joined the first object. (Source: MUFON database of field investigations, case file dated July 9, 1973, field investigator Dan A. Rothwell).
Summary:
Source:
---
Date: between June 24-26 1973
Location: Western Arizona
Time: unknown
Summary: A disk shaped object crashed in the desert on the mountainous area in the extreme western part of Arizona, and was retrieved by the US military. The craft was about 8.4 to 8.7 meters in diameter and about 3.5 meters high, shaped like deep inverted saucer on top, installed on top of each other, with a rim or flat plate between the two parts. On top the disk possessed a small dome. The central rim was segmented by zigzagging structures. On the bottom, there were 3 landing props (they were possibly not outside when the disk was found). A door was opened on the lower section of the disk. The most amazing fact for the retrieval team was that the disk was apparently larger inside than what it looked from outside. The disk was transported to 29 Palms Marine corps base in Southern California (to an underground bunker), where it was placed suspended in a heavy net hanging from a large crane. A photographer was called from Norton AFB, California to photograph the object. The bodies of three aliens were found inside the craft. All three were dwarfs, about 1.0 meter in height, with extremely pale white "skin" (it was later established during an autopsy at Wright Patterson AFB that the white skin was merely a protective covering like pellicle and beneath it, was the real skin, which was lizard-like, and greenish-blue-gray in color). The entities had large black round eyes, and large hairless heads. All three Dwarfin (Dwarfs) were dressed in tight-fitting blue jumpsuits and had 3 fingers both on their hands and legs, with claws and webs. The bodies were later moved to Wright Patterson AFB by aircraft from the 29 Palms base. After a preliminary examination in 29 Palms, the disk was moved to the S4 underground base in Nevada. In February 1993 the disk was removed from S4 and taken to a new underground base on the White Sands missile range, New Mexico, where it is still located at the present. The origin of the disk was established as HD 5015 Cassiopeia Star system, 60 light years from Earth.
Source: Leonard Stringfield, Anton Anfalov, Lenura Azizova
---
Date: June 25, 1973: Family observes glowing UFO with light beam
---
Date:  June 28, 1973: Glowing UFO, Physical Trace Event, Columbia, Missouri
---
Date: June 28 1973
Location:   Sandoval, II
Time:  9:00 p.m.
Summary:  Mr. & Mrs. Sanders saw a cone-shaped UFO with multicolored lights at treetop level while driving on Route 51. The UFO made two circles over the highway, then headed off toward the south making a roaring sound. Their eyes were "foggy" for two days following their close encounter.
Source: John F. Schuessler, Physiological Effects from UFOs, case investigation report dated July 22, 1973
---
Date: June 29 1973
Location:  Bayview, ID
Time:  
Summary:  Thirteen UFOs, which appeared as "steady white lights," were reported over Lake Pend Oreille by a local family. According to one of  the witnesses, the objects were in view for approximately one hour and were seen passing over the lake in all directions. They moved swiftly but emitted no apparent noise, according to the family.
Source: UFO INVESTIGATOR, September 1973, page 3
---
Date: June  1973
Location:  
Time:  
Summary:  
Source: 
Related articles