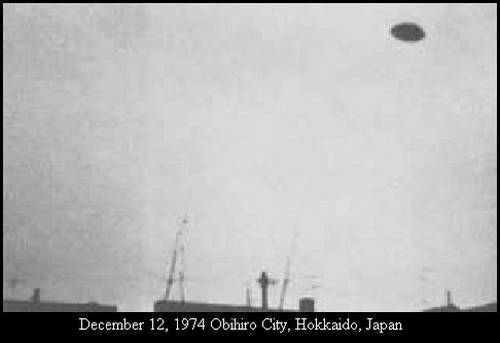 (Last Updated On: October 25, 2016)
Date:  Winter 1974
Location:  The Gardens, Tasmania
Time:  
Summary:  Unusual "interference" type noise was heard on a car radio as a large, round, white object came up over hills and approached a car. It left over the sea. The sky was very clear and the object had emitted no noise.
Source:  TUFOIC
---
Date: December 1974
Location: Cradle Hill England
Time: night
Summary: Sally pike, daughter of a retired police officer, was out on a UFO watch at Cradle Hill, near Warminster, when she saw "a tall male figure striding up the road in the moonlight." The figure was 7-foot tall, and had extremely long, limply hanging arms, and no neck, and was silvery in appearance, although nearly transparent. The locale, on Salisbury Plain has been a popular site for UFO watching, with hundreds of observations since 1964.
Source: Timothy Green Beckley
---
Date:  December 1974
Location:  Cradle Hill England
Time:  evening
Summary:  A few days after the previous encounter, the husband of Mrs Pike, Neil Pike, saw in the late twilight, 3 giant figures, whose transparent, upper torsos were the only visible portion of their bodies, he described their heads as "long and slightly pointed." Pike aimed a flashlight beam at one, which vanished and reappeared in another spot; frightened, he fled the area. 15 others were said have seen the transparent giants in that locale. No other information.
Source:  Timothy Green Beckley
---
Date:  December  1974
Location:  
Time:  
Summary:  
Source:  
---
Location. Torres, Brazil
Date: December 1974
Time: night
A witness encountered a short humanoid "doll-like" or "puppet-like" in appearance. He reportedly communicated via telepathy with the humanoid. He also saw a small disc-shaped object and a larger "mother-ship" type craft. No other information.
Source: Revista Brasileira Ovni
---
Location. Orland Park, Illinois
Date: December 1974
Time: night
The main witness, his 2-year old daughter and his ex-wife were at the Ford City Mall watching a school group singing songs for the holidays. The mall had several rows of chairs set up for the shoppers to enjoy the show. He noticed his daughter not looking at the show, but she was staring at a little girl sitting about 5 (empty) chairs away. She seemed to be "locked" in a stare with the other girl. He looked at the girl and she was staring at his daughter in the same "locked" way. He then noticed the other girl's eyes; they were not round but oval, like a cat or a reptile. He then looked at her father. He turned his head slowly and looked at the witness and his eyes were just like the little girl. Shocked, he turned away for a few seconds. When he looked back, both were gone. They were both dressed like everyone there, nothing to make them stand out. He looked around the area to try to find them, with no luck.
Source: Weird Science
---
Date:  December  1974
Location:  
Time:  
Summary:  
Source:  
---
Date:  December  1974
Location:  
Time:  
Summary:  
Source:  
---
Location. Near Middlebury, Vermont
Date: December 1974
Time: night
A farmer and his wife suspected a bunch of kids were up to some mischief on their land. They crossed a cornfield to investigate there they came across a landed disc-shaped object. A woman stood in the doorway of the ship signaling for the couple to come on board. Instead, they ran home, and then tried to find someone to confirm what they had seen. When they returned to the field, the ship was gone.
Source: Joseph A Citro, Green Mountain Ghosts, Ghouls & Unsolved Mysteries & William Chapleau MUFON
Location. Near Moose Jaw Saskatchewan Canada
---
Date: December 1 1974
Time: 2300
Three persons in a parked car, observed bright lights appearing to be at the edge of a large object. The object hovered at low altitude and moved up & down. On several occasions a light approached their vehicle at high speed and stopped 20 feet away. These lights were quite bright but dimmed upon stopping, then disappeared. The occupants of the vehicle felt quite cold as the lights approached. One of the witnesses saw two man-like figures wearing silvery outfits, with facial covering & helmets with a single antenna, walking outside the car. As the object left the witnesses felt a strong rush of air and something strike their vehicle, at the same time they felt extreme heat.
Source: Mufon Canada, quoting Canadian Military
---
Date:  December  1974
Location:  
Time:  
Summary:  
Source:  
---
Date:  December 2 1974
Location:  Croydon London England
Time:  0300A
Summary:  Stephen Jenkins woke up to hear clearly audible footsteps on the stairs. Two beings then appeared on the landing. Their body texture was "something like closely compressed pulpy leaves." Their faces were reddish, with yellow eyes with hard black pupils. Around them was a translucent, faintly luminous "box like structure." In a moment they were gone.
Source:  Stephen Jenkins, The Undiscovered Country
---
Date:   December 2, 1974: Occupant Case In Wisconsin (William Bosak Encounter)
---
Date:  December 15 1974
Location:  Beaumont Texas
Time:  0200A
Summary:  A police officer out on stake out duty watched a brilliant star like object in the horizon. He took his eyes off of it and resumed surveillance. A few minutes later he saw the light descend in a slight arch. He called another officer to his location and both watched as the object neared and actually came close enough to see a pilot in a lighted cockpit and instrument lights reflecting off his helmet and visor. The craft had a huge light on the front, (about 20 ft in diameter) but, there was no light emitted from it. The object was described as diamond shape. The pilot was described as humanoid and when he noticed the witnesses looking at him, the craft shot away in an instant without any sound at all
Source:  NUFORC
---
Location. Zion Illinois
Date: December 16 1974
Time: 0230A
Nancy Handyside was awakened by the barking of dogs, and heard a moaning sound. She got up to see if the children were all right. As she was about to turn on the hall light she heard a scurrying sound, as rats might make. She saw nothing; the children were sleep and she returned to her bed, turned out the light and lay there listening to the strange sound. After about ten minutes, feeling her dog press against her on the bed, she felt reassured and reached out to pet him. What she saw was not her dog but a grotesque little man leaning against the edge of the bed. She shoved violently with her leg and lost sight of him as he rolled over on the floor. She described him as gray skinned with shiny eyes, large with no pupil. His mouth was a slit and he had a pointed chin. He was no more than three feet high. Her dog had been asleep throughout the entire experience. She sat up and turned on the light, but could see no trace of him.
Source: Ralph Vaughn
---
Date:  December  1974
Location:  
Time:  
Summary:  
Source:  
---
Date:  December  1974
Location:  
Time:  
Summary:  
Source:  
---
Location. Vietnam, just north of the DMZ
Date: December 17 1974
Time: 0130A
A group of heavily armed soldiers had gone out in a search and destroy mission and had gone along a river bank by a heavily wooded area and had reached a clearing, when they began spreading out, their leader sensed something peculiar about the area. There was a strange eerie silence all around with the normal animals sounds totally absent. A scout went ahead and reported finding no tracks of any kind around. The silence continued. Strange fecal deposits were located, then sounds from the nearby brush were heard, several huge figures then came into view just ahead of the soldiers. The figures were almost eight-foot tall and bright yellow in color, as they came closer, large three digit hands with what appeared to be long claws could bee seen on the creatures. They had large eyes, nose slits and flat faces. The figures passed near the men apparently without noticing them. The men then decide to turn back, as they walked into the bushes they began hearing loud crashing noises and realized that the creatures were running behind them. The men all ran towards the river where their boat was located with the creatures in hot pursuit. Several times the men fired their high caliber weapons at the creatures without any apparent effect. At one point one of the men fired several armor piercing rounds at one of the creature's chest area, this also without any apparent effect. The men finally reached their boat and left the area, before leaving they saw a strong powerful glow on the riverbank as if dozens of the creatures had gathered to watch them leave.
Source: Martin S Caidin, Natural, or Supernatural?
---
Date:  December 19 1974
Location:  Louisville
Time:  
Summary:  CE1, no details.
Source:  CUFOS
---
Date:  December  1974
Location:  
Time:  
Summary:  
Source:  
Location: Dec. 21, 1974; Darmstadt, IL
11:30 p.m. Three Illinois youths report UFO descended into woods. While driving, at a point approximately four miles west of Darmstadt, they were suddenly aware of a bright light illuminating the area around them. The brightly lit disk-shaped object was descending at an angle, with the leading edge lower than the trailing edge and the descent was such so they were seeing the top of the object; probably twenty or thirty feet in diameter. It had rotating lights around the lower edge of the rim that were red and yellow, red and yellow in that sequence all the way around. There appeared to be portholes around the object. It had something resembling antennas that were coming out each side of the dome and coming up as if they were going to meet at a point up above the dome of the object itself. The color of the "antennas" appeared to be blue. The object continued its descent and appeared to be in the process of landing in a wooded area about a thousand feet from the road. (MUFON Skylook 90,12)
---
Location. Fairfield Ohio
Date: December 22 1974
Time: 2200
Noticing a light shining in her bedroom, 82-year-old Mrs P looked outside and saw a "boat shaped" or oblong object hovering over a neighboring house. The UFO, 50-60 feet wide, had green and white lights around the lower part, and seemed to be rotating. It gently rose and fell above the house for about 20 minutes and then moved to a new position above a nearby church. A white light shone from 3 to 4 square windows around the upper portion; atop was a brightly lit area, in which two small dark, humanoid figures could be seen moving and forth in "cramped positions," continually gesticulating with their arms. The beings, which ignored the witness, were visible only form the waist up. The object remained over the church nearly a half an hour, rising and falling gently, and then it moved horizontally a short distance and shot upwards at a high speed.
Source: Geri Wilhelm & Leonard Stringfield
---
Date:  December  1974
Location:  
Time:  
Summary:  
Source:  
---
Date:  December 23 1974
Location:  Colonia Tovar, Venezuela
Time:  0425A
Summary:  On a pre-arranged meeting Enrique Castillo traveled to an isolated location by taxi. Soon a craft a craft appeared a few meters above ground level on a ravine "swinging from side to side and projecting a tenuous light downwards." Around six to seven meters in diameter, it landed about 40 meters away. A tripod slid down, then a ladder and a man stepped to the ground. It was a Cyril; an extraterrestrial Castillo had met before. Castillo was apparently to an underground base in the high Andes. He was also taken to a base manned entirely by human like beings. There he met over a dozen other human Contactees from nineteen different countries.
Source:  Timothy Good, Unearthly Disclosure
---
Date:  December 25 1974
Location:  Andes Mountains
Time:  unknown
Summary:  Enrique Castillo and others supposedly were taken to meet a "master of wisdom" who apparently resided some distance away from the extraterrestrial base in the Andes. As they came out of a tunnel, four shiny craft, about for meters in diameter, could be seen, "suspended" some eight to ten meters above the ground. In due course a man looking like the Jesus as fancifully imagined, dressed in a simple, short sleeve robe and, of course, sandals, appeared out of the tunnel. Smiling, he addressed the assembled gathering. "I am not who you believe I am," he declaimed. "My name is a thousand names." The master of wisdom went on to deliver a flowery speech.
Source:  Timothy Good, Unearthly Disclosure
---
Date:  December 29 1974
Location:  Lumberton North Carolina
Time:  2200
Summary:  Multiple reports of a UFO with bright colored lights came about the same time a family of 4 persons called the County Sheriff's dispatcher to report seeing a humanoid figure wearing "a silver and black suit with some sort of helmet" in the Forest Acres area; when observed, the figure would jump into bushes and disappear. The callers sounded sober, according to dispatcher Fred Barnes. Four deputies checked the woods around Forest Road and Barker Ten Mile Road but found nothing.
Source:  Lee Spiegel, quoting Newspaper
---
Related articles