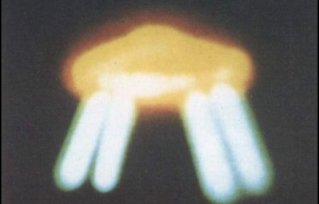 (Last Updated On: January 19, 2017)
Date: Spring 1974
Location: Lexington Massachusetts
Time: morning
Summary: Jane Frances T Woodruff and a friend were walking to their high school when they both happened to glance to their left at a small patch of weeds where a figure about 10 inches tall was sitting with his knees drawn up to his chin and showing them his right profile. Both yelled out in surprised at the same time. The figure disappeared. They both described the little man as wearing green clothes, with a long thin curved golden pipe between his lips and a flopped over conical cap
Source: Janet Bord, Faeries, Real Encounters with The Little People
---
Date: Spring 1974
Location:  Edwards Air Force Base, California
Time:  night
Summary:  Security police officer, Sgt. Michael House, was on patrol on the outskirts of the powerful communications site known as MARS station, which maintains radio contact with other military installations around the globe. A nearby microwave tower, looming like a lonely sentinel in the darkness stood surrounded by a wooded fence posted with signs advising that explosive devices, electrically operated or magnetically charged, would detonate within a certain radius. Sgt. House was patrolling the area of the abandoned sled track, when he saw something at 200-300 to his left. He saw two large blue eyes, larger than anything he had ever seen before. Their diameter had to be about 4 inches apart and seven feet off the ground. He stopped the truck and sat there watching them, it was too dark to see anybody or shape to the thing. The blue glows then proceeded toward his truck at a right angle, for about 100 yards then stopped. The hair in the back of House's neck bristle as the "eyes" began circling and again moving closer to the vehicle. A rank smell like something rotten permeated the air. The thing moved closer again, now coming within 50 yards of the truck, but still its shape could not be discerned through the brush in the desert. At that moment the truck radio advised Sgt. House that he should precede directly back to the main base and he quickly left the area. He returned 3 hours later but there was no trace of the "blue eyes." Rain washed out the possibility of locating any tracks the following day. House recalled that the eyes movement was extremely fast and that they didn't bob up and down.
Source:  Bobbie Ann Slate
---
Date: Spring 1974
Location:  
Time:  
Summary:  
Source:  
---
Date: March  1974
Location:  
Time:  
Summary:  
Source:  
Location. Kingfield district Woking Surrey, England
Date: March 1974
Time: 0245A
The 4-year old witness and his mother awoke to hear an intense clicking sound. They could see a UFO hovering above the lawn, but were paralyzed. The grandmother, who also saw the UFO, was not paralyzed; she got up & started to go downstairs, where she saw several faceless entities wandering about the living room. They were like those described by the boy in his previous encounter, except that one was dressed in white clothes. They carried little black boxes that emitted flashes of light. They suddenly vanished. Meanwhile, the boy and his mother had seen the UFO "fade away" while a car passed, then rematerialize before finally vanishing.
Source: C C Warren for Contact UK
---
Date: March 1974
Location: Near Nogaro France
Time: 0300A
Summary: The anonymous witness, about 22 years old, was returning home after seeing his fiancée, when his car stopped of its own accord. Then he saw a humanoid being, perhaps 3 ft tall, with very large feet and "arms so long that I could not tell whether he had hands." Green in color, which pointed ears on top of his head, the being had its back turned to him. It went over to the ditch and stepped into it. Then it looked with "very black eyes," at the witness, who "felt something like a wave inside my head," and, in fear, looked away. Shortly afterwards the car's motor started up again. The witness went to a doctor for a neurological examination, which found him to be normal.
Source: Depeche Du Midi
---
Date: March  1974
Location:  
Time:  
Summary:  
Source:  
Location. Marechal Mallet, Parana, Brazil
Date: March 1974
Time: night
Farmer Romeo Nelson Ramaniv was walking alone in a rural area when he suddenly felt a heavy weight fall on his shoulders, at the same time he heard strange voices that seemed to come from a radio. Two short humanoids wearing dark coveralls then appeared one on each side of him; these had round shiny red-yellowish eyes. Seconds later they disappeared into the brush. Minutes later Romeo saw something that resembled a white sheet slowly approaching him on a nearby path. He suddenly lost consciousness and woke up later at the same location.
Source: Antonio Faleiro, Brazil
---
Location. Vesta Community Virginia
Date: March 1 1974
Time: 2000
Three observers saw a nearby hillside lit up by a bright yellow light; a red luminous object was seen ascending from the site. The object, about the size of a Volkswagen, hovered at approximately 300 feet above the hill and went through a series of right angle turns, then headed south toward Stuart. Billy Wayne Plasters and Richard N Clifton drove to the landing site by truck and observed the silhouette of a "big, tall, heavy set man" approach from a lighted area. They called out and got no answer; frightened, they jumped in their truck and fled. The light on the hillside disappeared a few minutes later. Next day, patches of charred vegetation were found at the site, covering a large area. Others in the vicinity reported seeing strange lights on the same night, and hearing unexplained noises.
Source: Nancy Lindsay, The Stuart Enterprise
Date: March  1974
Location:  
Time:  
Summary:  
Source:  
---
Date: March  1974
Location:  
Time:  
Summary:  
Source:  
Location. Near Millington, Tennessee
Date: March 1 1974
Time: afternoon
A woman and her invalid husband were sitting on their front porch enjoying the spring weather. Then some things in the sky caught their attention. They were five saucer-shaped objects about two feet in diameter moving slowly and low in the sky. They leisurely floated in over a field across the road from the couple's house and settled down in the midst of a herd of cows about five hundred yards away. Only one of the cows paid any attention to the small discs. It seemed to be offended by the intrusion and kept turning and walking toward one of the mini UFOs. Each time it did, the object would simply rise up, pass over the cow and settle down on the other side. The woman's husband became upset. He got his rifle and started hobbling toward the field. The woman saw one of the objects fly very close to her husband's head and then joined the others as they flew away. By that time her husband had reached the fence and was standing still. His hands were down at his sides, the rifle clutched in one of them. When she got to him, he was icy cold and shivering. All he could say was that one of the objects had "flashed" him with a bright light. She helped him back up to the house and he went inside and lay down on a daybed. He stayed there the rest of the day and said nothing more. The next morning the woman looked out and saw the cow lying dead next to a pond. Two weeks later her husband died. The doctor said it had been a heart attack.
Source: Bob Pratt
---
Date: March 2 1974
Location: Sassari, Sardinia Italy
Time: 2110
Summary: Four young men were in the area watching the sky when Antonello F noticed near the woods, about 300 meters away at a small clearing some lights. One was white and large while 4 or 5 others were rectangular in shape, and arranged in a horizontal position. First they thought it was an automobile, but then the lights dimmed and they were able to see a strange humanoid figure moving in front of the light, in hurried movements. Only his back was seen. Later, on his way home one of the witnesses, Salavatore, saw an object that emitted a bright white light flying low over the road.
Source: ATU Sardinia, Italy
---
Date: March 4 1974
Location: Montmorency, France
Time: 0540A
Summary: Investigating noises coming from a parking lot, six police officers were confronted by a massive dark humanoid figure or silhouette standing at the edge of the parking lot. When the officers approached, the figure disappeared quickly into a nearby acacia grove. No traces were found.
Source: Denys Breysse, Project Becassine
---
Date: March  1974
Location:  
Time:  
Summary:  
Source:  
Time: March 9, 1974; Milan, Italy
Luminous saucer-shaped object with colored rings ahead of plane confirmed by Milan radar, chased by pilot (Reference 1, Sections III, VII).
Summary:
Source:
---
Date: March 12 1974
Location: Grayslake Illinois
Time: 0100A
Summary: Keith McDonald and his family were watching at least 3 UFOs from their window in the living room when everyone but Keith became extremely tired and went off to bed. Keith experienced a time lapse of several hours. Under hypnosis he remembered the entrance into the house of three small entities, with large eyes, long arms, & pointed ears that were making mumbling sounds. No other information.
Source: Douwe Bosga, Jerry Clark, Mimi Hynek & Ron Owen
---
Date: March  1974
Location:  
Time:  
Summary:  
Source:  
Time: March 13, 1974; En route San Juan, Puerto Rico, to Cordoba, Argentina
Argentine Airlines plane flanked by two glowing objects that paced it for several minutes, then sped away (Reference 1, Section III).
Summary:
Source:
---
Date: March  1974
Location:  
Time:  
Summary:  
Source:  
Location. Gerena Sevilla Spain
Date: March 14 1974
Time: 2330
Antonia Diez Ramos and her husband, Manuel Valderas Fuentes, both anglers, saw in the yard of their house an ovoid object two meters long by one meter wide. Its edges emitted a strong red color, and the center was transparent. Two forms were distinguished inside. After a while, the object began to maneuver, rising up and disappearing.
Source: Capt. Jose Tomas Ramirez y Barbero
---
Location. Erblunga Corsica France
Date: March 15 1974
Time: 0145A
The witness and his fiancée were in a parked car on a sunken road when he looked up and saw on the bank, only 10 ft from the car, the silhouettes of 3 persons with long arms, bending forward. They appeared "smooth;" no clothing was seen. The witness at once backed up and got out of the road; then his fiancée called his attention to a triangular luminous object which was just taking off from a place about 400 ft from the sunken road. It had a brilliant yellow base area separated by a black band from an orange point area; the point was directed diagonally downwards. Once it was in the air, it suddenly disappeared. The car's radio went out as the object took off. A search the next day found no traces.
Source: Gilles Morel, LDLN # 157
---
Date: March  1974
Location:  
Time:  
Summary:  
Source:  
---
Date: March  1974
Location:  
Time:  
Summary:  
Source:  
Location. Metairie, Louisiana
Date: March 15 1974
Time: 0600A
The witness was sleeping in a van after visiting a friend when he suddenly woke up to see a silver disc-shaped object hovering above a house across the street. It made no noise at all. His next memory was of getting out of the van. Later he had vague memories of sitting on some type of cold silver chair and several "people" standing around him. He remembered that the aliens told him not to be afraid that someday they would be back. He could not recall anything else.
Source: NUFORC
---
Date: March  1974
Location:  
Time:  
Summary:  
Source:  
Time: March 17, 1974; Taiwan
TWA airliner crew observed shiny oval or cigar-shaped object, five smaller spherical-appearing satellite objects (Reference 1, Section X).
Summary:
Source:
---
Date: March 17 1974
Location:  Burra, South Australia
Time:  0030
Summary:  While travelling in a Ford Falcon sedan two young men observed a big round, yellow/green light stationary near the top of a hill. They stopped the car to watch. After a minute or so it seemed to come towards them so they tried to start the car, but it would not respond. Again they tried the ignition system. The ignition light came on but the engine still wouldn't start. Finally after holding the key on for thirty seconds the engine started. They left the area but stated that the light seemed to follow them all the way into Burra. They woke a policeman who looked at the object and declared it was just a star. Investigation suggests the object was an astronomical source
Source:  UFORSA
---
Date: March  1974
Location:  
Time:  
Summary:  
Source:  
---
Date: March 17 1974
Location:  Near Sanlucar de Barrameda Spain
Time:  0330A
Summary:  Cristobal Munoz Romero, a driver for the President of the Cadiz City Council, was driving through a foggy area 5 km, from the Rota Naval Airbase when he saw a metallic white light above and to the right of his car; it advanced to within 10 meters of the road when, seconds later, he saw the silhouette of a human like being more than 2 meters tall next to the road. The being appeared to wear a diving suit from which projected a bright, cylindrical, solid like beam of light from the front part of the collar. The light could lengthen and shrink. As the car passed by the entity, the engine began to fail and the automobile was "shaking like a leaf" in a very strong wind. The witness sped up and, in fear, quickly left the site.
Source:  J V Ballester Olmos
---
Date:   March 20, 1974: Huge ship and three smaller craft seen by salesman
---
Date: March 20, 1974
Location: Lewisburg Tennessee
Time: 1500
Summary: Becky Ingram, 14, heard "voices" in her head several times since March 9. On the above date, instead of taking the school bus home, she compulsively walked out onto the center of the school football field and suddenly found herself inside a brightly lit room—she had seen nothing on the field—as a ramp/door closed behind her. She was confronted by two small humanoid entities, shorter in height than she was. They had blond, short cropped hair and were later identified as Alton & Tombo. Becky was instructed to lie on a hospital like bed where she was examined by a glove like implement that was passed over her. She was taken for an hour's trip "to Australia," and then returned, feeling weak and sleepy. For several weeks after this incident she was extremely fatigued and suffered headaches and other physical symptoms. She had two more experiences in the next four months.
Source: Stanley Ingram & Don Worley
---
Date: March  1974
Location:  
Time:  
Summary:  
Source:  
Location. Near Valdehijaderos Spain
Date: March 21 1974
Time: 0215A
Truck driver Maximiliano Iglesias Sanchez, 21, was driving to Algunilla when he encountered a blinding white light on the road; at 200 meters distance, his lights and diesel engine went out. The UFO, now only faintly luminous, was wider than the road, metallic, without visible openings, and standing on three half-meter legs. Another object, non-luminous and to the right, hovered about 16 meters above the ground. Two beings appeared in front of the landed object gesturing with their arms; one went around the side of the object and returned, and then both figures vanished to the right and the object ascended with a humming sound. The figures were human like, 6 feet tall, wearing close fitting coverall type garments of metallic hue and they walked and moved normally. The witness was unable to see any facial features. After he passed the site he looked back and saw that one object had re-landed on the road.
Source: Pere Redon, Joan Crexells & Vicente Rico Gil et al.
---
Date: March 21 1974
Location:  Valdehijaderos-Horcajo Spain
Time:  2330
Summary:  Mr. Sanchez had a second encounter less than 24 hours later near the same site. Driving the same truck, he found 3 "ships" on the ground, and again his motor and lights malfunctioned. As before there were no openings in the UFO but he saw four "men" approaching him on the road. He got out and ran, and the figures pursued him; after running nearly 2 km., he threw himself into an irrigation ditch and hid as the 4 men searched the area, but they did not see him. After awhile he returned to his truck; the 3 objects were still there, but his engine would not start. When he closed the cab door the figures re-appeared, gesturing to each other; they went around the object and disappeared and it rose slowly with a humming or whistling sound. The truck then started normally. After passing the site, the witness saw that the 3rd object had again landed and he stopped and returned on foot; hidden about 9 meters distance, he saw the figures digging at the roadside with a T-shaped implement and a large horseshoe shaped tool. He could still make out no facial features. After 3 minutes he left. A few days later UFO investigators found radioactive traces and 3 12 meters circles of crushed down grass in the area. Civil guard officers also found traces.
Source:  Pere Redon, Joan Crexells & Vicente Rico Gil, et al.
---
---
Date: March 23 1974
Location:  Lindholmen Sweden
Time:  0020A
Summary:  A middle-aged man named Vallentuna was on his way home when, at a crossroads, he was compelled to take an alternate route. Suddenly a brilliant light blinded him. He threw himself into the snow but something lifted him up to a height of 30-45 feet. He then found himself at home with no recollection of how he got there. Under hypnosis he recalled seeing 4 "transparent" beings that grabbed him; he was apparently studied by these beings inside a UFO, and suffered severe shock after the incident. There may have been a second similar abduction to another middle-aged man about the same time, although information does not make clear whether they are one and the same case.
Source:  Carl Axen Jonzon & Joe Brill
---
Date: March  1974
Location:  
Time:  
Summary:  
Source:  
Location. Gustavslund, Stockholm, Sweden
Date: March 23 1974
Time: night
A young man, known as "Anders" was walking along a dark path when he heard a voice in his head instructing him to cross the road. At the same time a blinding light knocked him to the ground, where he lay unconscious, coming to on his own doorsteps. His baffled wife, disturbed by his condition and a mysterious burn on the side of his face, sent him to the local Danderyds Hospital where hypnotic therapist Dr Ture Arvidsson put him into a hypnotic trance and regressed him to the time of the incident. He discovered how a beam of light had floated him up into the air, while tall hooded figures touched his head with an unknown device, saying that they would meet again in the future
Source: Lynn Picknett, The Mammoth Book of UFOs
---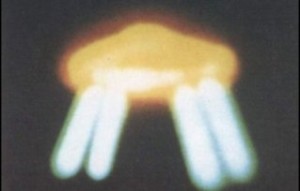 Date: March 23 1974
Location: Albiosco, France
Time: night
Summary: A classic French UFO picture. Photographed by an anonymous French medical doctor.  Taken on March 23, 1974 in Tavernes in the department in Var, during a major UFO flap over France.Skeptics doubted the picture on the grounds that "luminous rays cannot end like this."
Source:
---
Date: March 28 1974
Location:  Benavente Zamora Spain
Time:  1700
Summary:  Guillermo Rodriguez Riesco, 47-year-old restaurant owner, was fishing in the Esla River near Moreruela Monastery when his two hunting dogs warned him that something strange was going on. He turned and saw, about 150-200 meters to the east, a dull white, plastic, hump-backed robot 2 meters tall with a round head, a neck and no arms, sliding or rolling along silently, the lower portion of the body hidden by the grass. When he sicked his dogs on it, the robot glided away up a hill. The sighting lasted 5 to 10 minutes. The witness got his cousin, a high ranking military man, who was fishing nearby, and when they inspected the site found possible traces, consisting of a set of tracks 4-5 cm wide running through the thicket a distance of 100 to 150 meters. They ended abruptly. It was estimated a body of some 80-100 kg in weight made them. The witness was dazed for 5 days afterward.
Source:  Jose Torrez Ramirez & Vicente Juan Ballester Olmos
---
Date:  March 29, 1974: Object hovers and immobilizes witnesses in Togo, Africa
---
Date: March 30 1974
Location:  Hombreiro, Lugo, Spain
Time:  
Summary:  Blinding light from hovering object, car engine quit, lights went out. Object flew away with whistling sound, car then functioned normally 
Source:  Reference 1, Section XII
---
Date: March 31 1974
Location: Valensole Basses Alpes France
Time: 2000
Summary: The principal witness, his wife, his son, and a lady of 80 all saw a sort of little "car" with wide windows strongly lit by a blue-green light, within which indefinite forms could be seen moving. Above the "car" was 7 vertical red lights. The object seemed to be on the ground. From the house of his wife's parents, at 2030, he saw it again, and was able in his car, then on foot, to come within 500-800 yards of it.
Source: C Lavigne, LDLN # 153
---
Date: March  1974
Location:  
Time:  
Summary:  
Source: