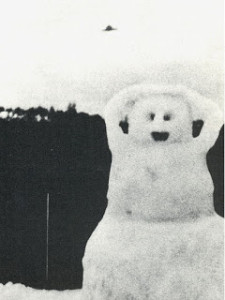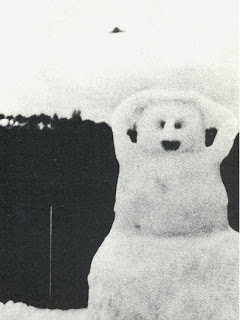 (Last Updated On: January 25, 2017)
Date: February  1975
Location:  Deception Bay near Brisbane Australia
Time:  unknown
Summary:  One man reported seeing an unknown type object land close to him and a figure wearing a silver suit emerge from the craft. On March 5 two men out fishing saw a similar craft flying low over the area.
Source:  Keith Basterfield
---
Date: February  1975
Location:  Tallinn, Estonia
Time:  night
Summary:  A man and his daughter staying at a summer villa by the water observed a large yellow sphere that appeared to be balancing itself above the waters. Most surprising was the fact that the witnesses could see what appeared to be the outline of a human face shining within the sphere, which illuminated the surface of the sea. After about 2 hours (!) the sphere disappeared beyond the horizon.
Source:   UFOZONE Russia
---
Date: February  1975
Location:  
Time:  
Summary:  
Source:  
---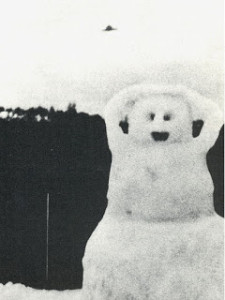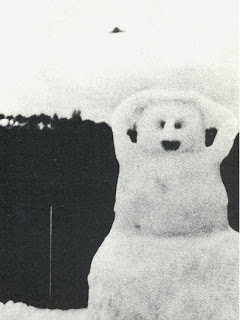 Date: February 1975
Location: Nanaimo, British Columbia, Canada
Time:
Summary: This photograph in 1975 by Lance Willet of Nanaimo, BC, Canada, is one of a number in which a UFO was caught by accident while the photographer was concentrating on an everyday subject.
Source:
---
Date: February 1975
Location: Portland, Oregon
Time:  late night
Summary: Jeanette Hall and a friend spotted a disc-shaped object flying low over the area in November of 1974. In February 75, Hall was awakened by a tall being with a perfect shape wearing a black wetsuit. She did not think it was a pleasant experience. No other information.
Source: I was abducted.com
---
Date: February 9 1975
Location:  Carmi, IL
Time:  7:20 p.m. 
Summary:  Witness reported he and his wife saw a blue object with either beams of light coming down or lighted legs or struts. Conventional aircraft seen simultaneously N & S of object at same relative altitude. On return trip (9:30 p.m.), the lights on their car went on and off at random. A little later, when a truck was approaching them, their lights came on steady. Witness called the UFO Filter Center at 10:45 p.m. and reported the sighting and said the power in his house just went out. Auto (ignition) was a 1974 Ford Thunderbird.
Source:  UFOFC, Ridge files
---
Date: February  1975
Location:  
Time:  
Summary:  
Source:  
Time: Feb. 10, 1975; Annandale, NY
7:00 p.m. Two 15-year-old teenagers saw a low-level, 20-meter diameter disc for ten minutes, then watched it shrink away to nothing. At the site there were snapped tree branches and scorched earth. (Sources: CUFOS files, report dated February 27, 1975; NICAP UFO Investigator, April 1975; Skylook, December 1975, p. 16; Margaret Sachs, Celestial Passengers, p. 108).
Summary:
Source:
---
Date: February  1975
Location:  
Time:  
Summary:  
Source:  
---
Location. Maisons-Alfort, near Paris, France
Date: February 12 1975
Time: midnight
The 49-year old woman woke up to see something white and the shape of a head on the bedroom wall. She closed her eyes and then opened them again to see a white man like figure staring at her. The figure had a round face, no nose, lipless mouth, large teeth, straight sparse hair, black oval shaped eyes, white legs, and long arms. He wore something resembling a skirt (?) and shoes. The figure remain immobile on the wall, somewhat resembling a projection looking at her. The witness covers her head and looks outside the window looking for a projector but sees none. She looks at the figure again, which now appears to be more colorful, with red hair, red face, green skirt. The figure seems to be standing on the bed and then suddenly disappears progressively from the bottom up. During this stage a shadow like needle like object appears to move gently into the figure. Finally the needle disappears in a sparkling explosion. After the experience the witness feels peaceful and is inspired to write a book directed by the supposed aliens. After this incident she experiences several UFO sightings including seeing a hovering sphere that illuminated her with a bright beam of light.
Source: Thierry Rocher, Phenomena 9-10-1992
---
Date: February  1975
Location:  
Time:  
Summary:  
Source:  
---
Location. Petite Ile Reunion Island
Date: February 14 1975
Time: 1205
Antoine Severin, 21, a butcher's employee in the island of Reunion, heard for 2 days a "beep-beep-beep" sound. When he left his work place at noon, he followed the sound into a cornfield & discovered that it came from a domed saucer, 12 ft wide & 6.5 ft high, hovering 18″ above the ground. As he saw this, he felt intense heat & was paralyzed. A ladder at 45 degree angle appeared under the craft, and 3 little men in spacesuits disembarked, the first carrying a sort of rod with which he scratched the soil, the second a bag. A fourth occupant could be seen inside the dome. When the ufonauts became aware of the witness, the saucer emitted a flash of brilliant light that knocked him to the ground; they reentered, and the UFO departed with a loud whistling sound. The little men were about 1 meter tall, & were wearing brilliantly shiny suits made of horizontal "rolls," like the Michelin "tire man." The witness got home, but then lost power of sight & speech, & lay in an agitated semi coma for 5 days before he could tell his story. When he tried to take police to the site, he repeatedly fell unconscious, & had to give up the attempt.
Source: Charles Garreau
---
Date: February 15 1975
Location:  Livorno Italy
Time:  0015A
Summary: Anna Romani & her mother noticed a strange light coming from the nearby Terraza Mascagni. Thinking that it was anglers they grabbed a pair of binoculars and were able to see two tall figures, wearing luminous white colored coveralls and square shaped helmets with black rectangular shaped visors around the area of the eyes. They also wore thick-soled boots. They seemed to be moving around in quick small jumps "like the astronauts on the moon" and appeared to be collecting samples from the ground. The witnesses did not hear any noises. After 20 minutes, both figures walked behind the steps of a nearby school and disappeared from sight.
Source:CUN
---
Date: February 16 1975
Location:  Caribbean
Time:  
Summary:  R.M.S. Carmania (UK) observes bright white circular light appear and rise to 20 degrees, leaving comet-like trail, circle and disappear. Repeated four more times at exact hourly intervals. (Soviet scalar EM weapons tests.  May have been a ship borne device.)
Source:  Clear Intent
---
Date: February 17 1975
Location: Avigliana, Torino, Italy
Time:  0230A
Summary: 25-year old watchman, Carmelo Colipari is making his rounds when he sees a strange reddish luminosity coming from a nearby building. Curious, he approaches. He soon sees a large cupola hovering above the trees, about 20 meters from him, and about 20 meters in altitude, it appears to be about 4 meters in diameter, is completely still. In moments the dome becomes transparent and the witness can see the landscape through it. He points his headlights towards the object and sees two "eyes" at ground level below the object. The eyes are about 20 meters away and seemed to have suddenly come out of the darkness, they stare at the witness, he fires at the eyes twice but they remain staring at him, afraid he flees. Soon after a local baker sees a reddish light flying towards the railroad tracks. On the soil under where the object hovered small circular imprints, like those of stud-shoes were located.
Source:  ITACAT, Giornale dei Misteri Vol. 6 # 64
---
Date: February  1975
Location:  
Time:  
Summary:  
Source:  
Time: Feb. 17, 1975; Harlowton, MT
Sheriff, county and state officials observed bright, round object hovering near missile base. Object made rapid darting movements, bobbed up and down (NICAP UFO Evidence II, Section I).
Summary:
Source:
---
Date: February  1975
Location:  
Time:  
Summary:  
Source:  
Time: Feb. 18, 1975; S. of Harlowton, MT
2:00 a.m. Several Air Policemen from the K-1 missile base [Kilo Flight Launch Control Facility] north of Harlowton reported they had spotted an object hovering over K-10 which is located 7 miles north of the Harlowton airport…(Harlowton Times newspaper)
Summary:
Source:
---
Date: February 18 1975
Location: Akin, Illinois
Time:  2300
Summary: The witness awoke to see red, blue and white bubble shaped lights on the ceiling of the bedroom. He went outside expecting to see emergency vehicles but instead observed a very large triangular shaped craft with pulsating red, blue and white lights that were flashing simultaneously, hovering just above the tree line. The trees were moving but there was absolutely no sound. And then he saw what appeared to be a window like openings with these "angel like" iridescent beings with large eyes looking out of them. Two hours later he found himself sitting on the floor of the living room and the craft was gone and everything appeared to be back to normal. A two-hour period of missing time is noted here.
Source:NUFORC
---
Date: February 19 1975
Location:   Orbak, Denmark
Time:  
Summary:  Large circular object descended over car, heat, prickly sensation felt.
Source:  MUFON UFO Journal, Aug. 1976, p. 15; Jylland Posten, Feb. 25, 1975 [E,L] car
---
Date: February 23 1975: Fanged Humanoids of Kofu: (Japan)
---
Date: February 24 1975
Location:  Enfield, CT
Time:  9:50 p.m.
Summary:  Two young men witnessed a 60-foot wide disc-shaped UFO hovering over a nearby field. The UFO effected their TV reception, and their dogs howled in the presence of the object.
Source:  E. Jahn, field investigator, CUFOS case file report dated March 11, 1975; NICAP UFO Investigator, August 1975, p. 1
---
Date: February 25 1975
Location: York Plains Tasmania Australia
Time: 0700A
Summary: A motorist reported a low flying disc shaped object with a rim around it. The craft glided past at close range. Three five-foot tall figures were seen standing on the rim. These wore one-piece garments with tight fitting hoods on their heads.
Source: Keith Roberts, Tufoic
---
Date:   February 26, 1975: UFO illuminates lake
---
Date: February 26 1975
Location:  Lake Sorell, Tasmania
Time:  
Summary:  Intensely bright domed disc, orange glow, emitted conical light beam down on lake, illuminated terrain, sped away at "colossal speed"
Source: NICAP UFO Evidence II, Section VI 
---
Date: February 26 1975
Location:  San Carlos Reservoir, AZ
Time:   2 a.m.
Summary:  Witness saw an oddly structured craft and noticed fish jumping out of the water. At 2 a.m. on February 26, 1975, Mr. G, 45, a cement mason from Phoenix Arizona, was asleep on top of a camper which was parked on the bank of the San Carlos Reservoir, which is located on the Indian reservation of the same name in Southeastern Arizona.  Mr. G's two companions were asleep inside of the camper and he was bedded down with sleeping bag and electric blanket on top of the camper because there was an alcohol-burning heater in the camper which aggravated his respiratory trouble.  The temperature was approximately 26 degrees, the sky was clear and there was a full moon. For no apparent reason, at 2 a.m., Mr. G. woke up.  He immediately saw a strange structured object (see his sketch accompanying this article) hovering about 10 feet away from the camper, four feet off the ground.  It consisted of a number of uprights and cross members from 4 to 6 inches in width and the whole thing covered an area of about 50 feet wide and possibly 35 feet high.  The further edge of the thing was at about the edge of the reservoir and the whole thing was moving away toward the north at about one mile per hour.  Mr. G. reached for and put on his glasses for a better look. The object was still moving but had begun moving in an easterly direction. The object made no noise but Mr. G. has a 35% loss of hearing in both high and low frequencies so there may have been sound which he was unable to detect.  Mr. G. banged on the top of the camper to alert his companions, who took some time in getting out.  The object continued moving, but headed north again instead of east and was out over the reservoir and headed toward a marshy area where another camper was parked about ¾ mile away.  It was almost at the location of the camper when the other men came out but they didn't see it, probably because their eyes had not adjusted, whereas Mr. G. had had it in sight continually.  Also, the object, which was black, did not reflect the moon's light and was not very visible by [to] them. During the presence of the object, Mr. G noted that some fiberglass fishing poles were tapping against their fishing boat which was beached a short distance from the camper.  Also, fish were jumping out of the water in an area 100 feet north and 100 feet south of their location, and within 50 feet of the shore.  The men checked the lines on the poles but there were no fish on them and they could not account for the vibration which caused the tapping.  Mr. G. later theorized that it may have been a combination of the sound made by the jumping fish and the vibrating poles which woke him initially.
finally went back to sleep.The episode had lasted approximately 15 minutes.  He woke up again at 3:05 with a bright light full on his face, shining through the blanket which he had pulled up over his face to block out the moonlight and keep him warm.  He grabbed his watch, put on his glasses, and checked the time.  He felt a prickly, tingly feeling and was shocked at first.  Uncovering his head, he located the source of the light–  off to his right "at about 2 o'clock" was an object approximately 40-50 feet in diameter and tilted at a 20-30 degree angle.  It had a curved upper structure and the light was coming from a top portion.  The light source was a sort of slit which closed, then opened, became dim, and then went out.  The object itself was dark and plainly seen against the night sky.  At this time, G. was rapping on the camper again to wake his companions.  The object began moving, and when directly overhead he could see a number of holes with lighted circumferences arranged around the outer edge.  He didn't count them, and kept beating on the camper to awake the others.  Before the others gained access to the outside, the object had disappeared in the distance.  However, the fish had been jumping and the poles vibrating all during this sighting, also.
     Mr. G., when interviewed by APRO Director Mr. Lorenzen, was determined to go back with photographic equipment hoping to get confirmation of what he had seen.  At this writing, we have heard no further news from him and assume that his vigil was unrewarded. 
Source:  Joan Woodward
---
Date: February 27 1975
Location: Zirndorf West Germany
Time: 06:25
Summary: Bright ball of light traveling straight up over Zirndorf, (West) Germany The date is approximate, but was in February or March, 1975. I was 20 years old and serving in the Army. I was stationed at Pinder Barracks, Zirndorf, (West) Germany. Zirndorf is a suburb of Nuremburg. We had just finished our morning daily dozen and were running in formation when I noticed a very bright ball of light no more than 300 feet in front of me and about 500 feet up. It was so bright it took several seconds for my eyes to readjust to the ambient light after it disappeared from sight. I could not determine size or shape but estimate it to be about 50 feet in diameter. It just appeared to be a ball of light as bright as the sun with no distinguishable shape. When I first saw it, it was already moving straight up at a high rate of speed and disappeared in about 2 to 3 seconds. I shouted, "Look!" and pointed toward it, only to be reprimanded by the sergeant in charge for talking in ranks. I asked a few people, but if anyone else saw it, they did not say anything to me.
Source: National UFO Reporting Center
---
Date: February 27 1975
Location: Malesherbes, France
Time: 1800
Summary: Mrs. G looks out the window to see a "shade" of human form approaching the house, and then a large "bird without a head" also is seen approaching the house. The human form disappears leaving a strange "impression" behind. Poltergeist like phenomena followed this encounter. Objects disappear to appear again in different locations. An undulating light is seen over the bed as the bed vibrates, a pencil is seen moving by itself. One day an investigator suggests that two African masks on the wall of the house are removed. After this is done, inexplicably the phenomenon ends. (What kind of phenomena are we talking about?).
Source:  Figuet, J L Ruchon
---
Date: February  1975
Location:  
Time:  
Summary:  
Source:  
Related articles