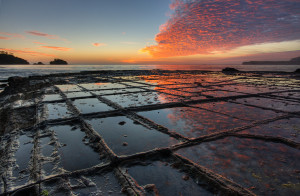 (Last Updated On: May 2, 2016)
Date: February 1976: Landing of UFO witnessed in Kettering, Tasmania
---
Date:   February  1976
Location:  Woodlawn, OH
Time:  
Summary:  Humanoid report.
Source:  SR,89
---
Date: February 1976
Location:  Wiseman's Ferry, NSW, Australia
Time: 0300A
Summary: A car with six men had stopped by the roadside when they reported seeing a humanoid figure emerge from the bush. It was described as having white/gray skin, very thin, no hair and movements like those of an insect. It had large red eyes. The body appeared to glow. It came running at the six men, who got in the car and left at high speed.
Source:Australasian Ufologist Vol. 9 # 1 2005
---
Date:   February  1976
Location:  Between Athens & Thessaloniki Greece
Time:  1420
Summary:  H K, then a student at Panteion Athens University was returning home, after his exams. Being a keen UFO enthusiast, he was reading Morris Jessup's "The case for the UFO." He was sitting near the door of the train coupe when suddenly a very tall man stood outside the door and stared at him. The witness did not pay any attention at first, but the man was casting a shadow and disturbing his reading. He looked at the man, and described him as about 1.90 meters in height with a very large mouth with no lips and very white teeth. His face was scarlet, "like that of a farmer." He wore black trousers and short sleeved checkered shirt. He opened the window of the hall and stared at the witness grinning. After 15 minutes, during which the "man" was continuously staring at the witness, he made a gesture showing the book and another one like he was asking, "it is good, isn't?" The witness was terrified. There were another seven people in the coupe but seemed like they did not notice presence of the other one outside. After 2-3 minutes, the "man" took a position where nobody in the coupe could see him except the witness. He continued to grin. After a while, the witness decided to get outside and talk to him. But outside there was nobody. He searched all the train but there was no sign of the mysterious stranger.
Source:   Thanassis Vembos
---
Date:   February  1976
Location:  
Time:  
Summary:  
Source:  
Location. Pinnacle California
Date: February 1976
Time: about 1600
Diana Maria Bordenone, 16, found herself at her living room window, not knowing how she got there. Outside, larger in apparent size than the full moon, was hovering a silvery metallic object shaped like a flattened hexagon, making a buzzing sound. In its lower half she could see a door or hatch, and at both ends of it were transparent view-ports, in one of which she could see human like figures.
Source: Cufos reports
---
Date: February 1976
Location: St Christophe et le Lavis, Drome, France
Time: late afternoon
Summary:  19-year old Raymond Diel was in a wooded area when he encounters a large black disc-shaped object on the ground. Two tall blond humanoids about 1.90 wearing silvery coveralls that covered their feet and blue belts are moving around the object. The two humanoids move slowly and speak among themselves in an unknown language. They approach Diel and speak to him in French. They ask him questions about terrestrial life and tell him "Adieu" and "if we have to meet again it will be on June 19" (this apparently does not happen)
Source: UFO Information # 17 # 20, Denys Breysse Catalog
---
Date: February 1976
Location: Orford Tasmania Australia
Time: 2030
Summary: The witness was laying in bed when she sees a dark one-meter tall, child like figure at the foot of the bed. She wakes up her husband and the figure then changes into a small intense white light that shoots out of the room, across the hallway and out of a bedroom window.
Source: Keith Roberts, Tufoic Tasmania
---
Date:   February  1976
Location:  
Time:  
Summary:  
Source:  
Location. Watrane, Hobart Tasmania Australia
Date: February 1976
Time: 2300
A man was in bed, just about to go to sleep, when he noticed the doorway appeared to get "darker". He saw three figures walk through the closed door and come to his bed. The figures were 61/2 to 8 ft tall, a dull black in color and had vague facial features. One figure placed a hand on the witness's leg making him go numb to the waist while another figure tried to enclose the witness's leg in a silver, glowing "sugar bag". When the man called out, a figure made his mouth and right arm also go numb. The percipient managed to throw his cigarettes, lighter and an ash try towards his wife who stirred and started to put on the room light. Meanwhile the entities let go of the man, pulled off the bag, and one by one stepped over the wife's bed and out the window, which had burst open in an orange glow. Over a period of time, family members reported various other apparitions. On several occasions, a ping-pong sized ball of light has been observed moving around the same room.
Source: Keith Basterfield, Vladimir Godic & Pony Godic IUR Vol. 14 # 4 and Mark Moravec
---
Date:   February  1976
Location:  
Time:  
Summary:  
Source:  
Location. Keighley West Yorkshire England
Date: February 1976
Time: night
A prominent official reported being visited in his bedroom by two beings that floated him off his bed and into the underside of a glowing golden bathtub shaped UFO. The beings were 6.5-7 ft tall and wore one piece white suits with a high collar and belts around the middle; their faces were long and ashen gray, with long noses, thin lips, and narrow eyes with slit pupils like a cat's. The beings mentally showed the witness a picture of a piece of U-shaped tubing. Judging that something had gone wrong with their craft he asked to see it, believing he could help fix it. He was told to lie flat on his bed and with his arms folded across his chest and his toes pointing upwards. He felt a numbness come over his body and then found himself floating upwards out of his body. Inside the UFO, the witness was placed on a table and examined by a huge purple red eye-like device; he felt anesthetized. He asked questions, but was rebuffed. The entities told him: "A being as insignificant as a worm should not ask questions." Finally he was returned to his bed, and the aliens disappeared.
Source: West Yorkshire UFO Research
---
Date: February 4 1976
Location: Tucson Arizona
Time: late night
Summary: The witness again woke up to find herself on a now familiar examining table. The room was silvery colored and hazy, illuminated by a white light. The table was in the center of the room, which hat two flat walls and one curved wall. One of the walls was completely covered with control consoles and instruments. There were also recessed three-dimensional viewing screens. The beings with her were described as short grays, with large heads and huge black eyes.
Source:Wendelle C Stevens
---
Date: February 5 1976
Location: Bouches Du Rhone region France
Time: 0045A
Summary: The second floor bedroom window of a married couple, living in a small-unnamed village, faces a little courtyard beyond, which lies a large orchard. The wife was lying awake when she noticed a rose-violet light coming from the left side of the window, which rapidly increased in intensity as its source came closer. There then arrived at the window an object the size of a large car, which hovered motionless only 4-7 ft away from it. It was a dark body, lenticular with obliquely truncated ends, with a number of blinking lights, alternately red and white, around its circumference, and with a large cupola of transparent material, nearly rectangular in profile, from which emanated the rose and violet luminosity. Inside this transparent cupola could be seen—hardly 15 ft, from the observer—the upper half of two human silhouettes, whose backs were turned, and whose heads gave the impression of being covered with tight fitting hoods. She awakened her husband. When he saw the UFO (which had begun to recede very slowly), he wanted to go down into the courtyard, but his wife would not let him. The object continued to move away slowly without gaining altitude, and eventually (at about 800 ft. distance) was lost to view over the orchard.
Source: Joel Mesnard and Jean Marie Bigorne
---
Date:   February  1976
Location:  
Time:  
Summary:  
Source:  
Summary: Feb. 5, 1976; Fort Shaw, MT
9:48 p.m. UFO landed near ranch house, 300′ long. (UFO 57 NIDS) A report of a UFO landing came in from the Simms area February 5, 1976, and for the first time in their long and frustrating investigation, officers arrived on the scene in time to see the object for themselves. But they were thwarted in their attempts to get a closer look. The call came in from a woman who was caring for some neighbor children while their parents were on a trip. She said she and her own two daughters were returning home from Simms when they saw a bright light behind the house and up on top of the hill. The woman stopped the car and they watched the light, which was very intense and pulsated when it was moving. It appeared to change color from a dull glow to a bright reddish orange. She described the object as about 300 feet long with rows of continuous lights along the top and bottom. She said the bottom lights pulsated alternately from left to right. One of the girls she was caring for, a 16-year-old, saw the glow from a second floor window of her home. After moving back and forth, the object left in a southwesterly direction, disappearing behind some buttes. Shortly after officers arrived on the scene, they received a radio message from Sheriff Pete Howard, saying the lights were visible in the Sunny Slope area near Fairfield, not far from where the rancher and his two sons had watched the UFOs. They were able to see the light, but, because of the hilly terrain, could not get closer to it. After two hours of trying to get closer, they lost sight of it entirely. (Reference: MYSTERY STALKS THE PRAIRIE by Roberta Donovan and Keith Wolverton, pages 48-49)
Source:
---
Date:   February  1976
Location:  
Time:  
Summary:  
Source:  
Location. Lake Como (Wayne) Pennsylvania
Date: February 6 1976
Time: 2330
Mrs. M.J. and her cousin C.W. were returning home by the lake road when they stopped to watch some "shooting stars." When they reached home, they were missing about 3 hours of time. The next morning M.J. had a sore stomach and a very inflamed navel, and C.W. had a small puncture mark on her spine with 4 little marks around it. Under hypnosis M.J. remembered that 4 short figures in black "snowmobile suits" with helmets over their heads had approached the car, while hovering over a field was a helmet shaped object 30-40 ft in diameter, with a big white light in the middle and little lights recessed around it. She found herself outside the car, and the Ufonauts came up and pulled at her arm; then she remembered sitting on a cot inside a room with a rounded door, where there was a chrome cylinder. A "nurse" wearing a facemask, with big black eyes, accompanied by a "doctor", brought up a needle; M.J jumped off the cot, but was caught and fastened to it, and the needle was inserted into her stomach. Then a number of people with chalk white, cat like faces, wearing cream-colored robes, appeared; they had scaly skin and long fingernails, small noses and no visible mouths. She noticed also "a whole mess" of controls and gauges, up to the ceiling. The UFO was in flight at this time. She could see a man (of normal type) bending over C.W. She also observed a "pedestal" chair, and a box with lines going across it, on which, as on a TV, she saw "a baby crying, a war, people in the jungle with knives" and other scenes, for about 10 minutes. Then she remembered leaving the UFO and returning, with C.W., to the car.
Source: Douglas Dains for Cufos and Dr. Gary Truce
---
Date:   February  1976
Location:  
Time:  
Summary:  
Source:  
Location. Little Talbot Island (Duval) Florida
Date: February 7 1976
Time: 2200
Lydia Stalnaker had been told by an entity named "Antron", her "control", to go to Little Talbot Island (off Jacksonville) that night and to wait on a pier there. She went with a male friend. Within 10 minutes, a cloud of white mist came up to the pier; her companion had fallen asleep. Then she remembered nothing more nothing more until she came to herself some hours later, on the pier, with a hot pain in her side. They sat in the car until 0300A, when something unseen began to hit and shake the car; they then drove away. The next day her side hurt worse, and she had a fever. A small red welt was visible at the site of the pain, which went away after 2 more days. Under hypnosis she remembered that both of them had been taken aboard a UFO, but that her friend had been asleep. She fond herself sitting in a chair facing a wall covered with "view screen type of things" with an operator seated at it, back to her. A man came down the hall and took her to a "council room" with a U-shaped table, at which sat 7 humanoids of different types. She was made to sit inside the U, and a black box was rolled in and set next to her. This machine started "telling everything about her" (not vocally) and displayed pictures of her on a screen. The leader then told her that she was "coming along real well" and that they were going to do one more thing to her before releasing her. Another black box was brought in, and she was laid on a table. She could see on a screen an X-ray view of her body. A small object like a buckshot was then inserted in her side, without pain; she was told that this "implant" was intended to create "better communications and power", and would be "activated" in 3 or 4 weeks. Then the man was brought in, and she was put to sleep.
Source: Dr. Evelyn Brunson
---
Date:   February  1976
Location:  
Time:  
Summary:  
Source:  
Time: Feb. 7, 1976; 1 mi. N of Mt. Vernon at Farmersville, Indiana
5:15 a.m. A middle-aged couple in a mobile home were awakened by their dog barking. The man looked out the window and then went out on the porch. The sky was clear. He had gone out mediately to check on this and some equipment, a backhoe, dump truck, 4-wheel drive, etc., and "saw the glow from the object. The whole area was lit up "like a dusk to dawn light that wasn't supposed to be there."  He was at the back of the trailer looking south at the object, which was less than 200′ off the ground and 500-600 yards distant at first. It was stationary in the beginning, then moved slowly east, climbing gradually. The object headed further east toward a point south of his son's trailer, which was about 500-600 yards from his trailer, across the field and a gulley. The object was actually long, somewhat rectangular-shaped with blunt ends and flat on the bottom, with a strong yellow-greenish beam of light that they could actually see moving very slowly across field. "I could see the ground out there, the grass, the weeds…clear as a bird…good'n daylight (like)."….a little later just south of his son's trailer was a round object. It was a darker green than the rectangular thing and looked like it was right in the fence-row. This one looked like it might have been 8 or 10 feet in diameter and on, or very near, the ground. It changed color from pale green to bright blue and back to to pale green. When the larger rectangular object got over in the area of the trailer and a little south, the smaller sphere moved up to the bottom of the big object and "went out like a light." The single remaining object departed slowly to the East.  The big one was moving very slow. Duration: 20 mins. No sound. (Investigated by Fran Ridge & Greg Ward)
Summary:
Source:
---
Date:   February  1976
Location:  
Time:  
Summary:  
Source:  
Time: Feb. 8, 1976; Manchester, MT
5:30 p.m. Two domed objects, white and blue. (UFO 70 NIDS)
Summary:
Source:
---
Date:   February  1976
Location:  
Time:  
Summary:  
Source:  
Time: Feb. 8, 1976; Kissimmee, FL
At 10:30 p.m. a silvery white disc-shaped object flew over at less than 300 meters altitude, making a whistling noise. (Source: NICAP UFO Investigator, May 1976).
Summary:
Source:
---
Date: February 10 1976
Location: Hamden New Haven Connecticut
Time: 1800
Summary: Two young teenagers were climbing a hill when they heard something crashing around in an adjacent junkyard. When one boy yelled, "Who's there?" the noises were replaced by sounds of crashing through underbrush. One of the boys saw a light green light go on for a few seconds in an adjoining field. At the hilltop the other witness saw 2 pairs of very short legs shuffling rapidly across the road, 25 ft away. What was visible of the beings seemed to be dressed in a smooth purplish glowing one-piece suit; the waists were 20-22" above the ground. As the boys approached, a very bright white lemon shaped ball of light blinked on at the side of the road, 15 ft away. It rose up slightly and took off diagonally across the road, under power lines; when it reached housetop level it stopped, changed to 2 red flashing lights, and flew off.
Source:James B Barrett
---
Date: February 10 1976
Location: Lake City Florida
Time: 2300
Summary: A UFO flashing blue, green, red and white lights was sighted and chased by sheriff's deputies and 5 or 6 Florida highway patrol officers. It hovered at 500-600 ft; at least two gray silhouettes or figures were seen through a glass dome on top.
Source: UPI News Story
---
Date:   February 13 1976
Location:  Ringwood Passaic New Jersey
Time:  2300
Summary:  The witness, hearing neighborhood dogs barking and howling, looked out her picture window and saw nothing unusual, but the hair stood up on the back of her neck. Looking to the left, she saw by the full moon's light, 100 ft away, a small figure, about the size of a 10-year old child, dressed in a close fitting one-piece snowsuit of silvery color. The suit had a hood over the head, with lumps at the ears, a dark belt at the waist, and dark boots. The witness felt convinced that the being was feminine. The face was visible and seemed not to be abnormal, as well as could be told at that distance. The witness felt paralyzed, and could not call for her daughter to come and see. She had a mental impression of the words "No fear" repeated 3 times. After perhaps 25 minutes, the figure turned on it heel and walked off into the woods. The witness returned to the house about 10 minutes later, and she told her husband to go out and look for footprints in the freshly fallen snow. He found a set of small footprints leading away from the spot into the woods, but none leading up to it.
Source:   Ted Bloecher for Mufon
---
Date:   February  1976
Location:  
Time:  
Summary:  
Source:  
Time: Feb. 13, 1976; between Tarraleah and Berridale, Tasmania
4:00 a.m. A truck driver driving saw a bright object ahead and to his left.. It was low to the ground. The light had maintained its position relative to his truck for some time, so the driver woke up his companion. The driver estimated the object was about one kilometer away and 300 meters in altitude. The two men tried a transistor radio, but it emitted only static until the end of the sighting. They estimated the object to be 10 meters in diameter with a dome on top. After being paced for 60 kilometers, they stopped to change drivers. When they did this the UFO dropped down to within 300 meters of their truck, then hovered nearby. As they started driving again, the UFO moved across the road and paced them again at varying distances until sunrise. A small orange light accompanied the main object during the latter half of the sighting. (Source: Mark Rodeghier, UFO Reports Involving Vehicle Interference, case 392, citing ACOS Bulletin, June 1976)
Summary:
Source:
---
Date:   February  1976
Location:  
Time:  
Summary:  
Source:  
Time: Feb. 14, 1976; Fort Benton, MT
7:20 p.m. Black Horse Lake. UFO, 500′ high, landed near lake. (UFO 59 NIDS)
Summary:
Source:
---
Date:   February  1976
Location:  
Time:  
Summary:  
Source:  
Location. Agen, Haut Garonne, France
Date: middle of February 1976
Time: 0500A
Police officer Pierre Leon was patrolling an area in the outskirts of town when he saw standing on the side of the road at about 2 meters away a strange luminous figure. The figure was humanoid about 1.70 meters in height and completely luminous in nature. As the witness stared the figure suddenly dematerialized in plain sight.
Source: LDLN # 198, Project Becassine
---
Date:   February 17 1976
Location:  Lyell Highway, Tasmania
Time:  0030
Summary:  Two truck drivers travelling in the same truck were paced for three hours by a sixteen metre yellow/white light in the shape of a dome. It kept an estimated 600 metres away, shifting position if the men stopped the truck. They tried to use the radio but got a lot of static. Finally the object climbed and disappeared.
Source:  TUFOIC
---
Date:   February  1976
Location:  
Time:  
Summary:  
Source:  
Time: Feb. 18, 1976; Rancho Cordova, CA
6:45 p.m. PST 8-10 discs were sighted flying in a V formation over Rancho Cordova, California. The objects were 3 to 6 meters in diameter, gray in color, and made no sound. Afterwards the witness saw ten aircraft circling that portion of the sky. (Source: CUFOS investigation file, report dated March 1, 1976).
Summary:
Source:
---
Date:   February  1976
Location:  
Time:  
Summary:  
Source:  
Time: Feb. 18, 1976; Near Okatchee, AL
8:00 p.m. EST. Two women driving in a rural area reported that lights high in the sky paced their car for 13-14 miles from Chatchee to Lincoln, Alabama. Near Okatchee, Alabama they saw a large orange object in the woods near the ground to their left. Their CB radio stopped working, making no static, no sound at all. Two objects then followed them until they reached Lincoln, Alabama, where the UFOs approached to within 300-400 feet. The women saw five objects at this point. After passing through Lincoln, the objects stopped pacing the car and the CB radio suddenly started working. The two objects that had paced the car were egg-shaped and glowing with a fluorescent light. (Sources: CUFOS investigation file, report dated May 17, 1976; Mark Rodeghier, UFO Reports Involving Vehicle Interference, case 392, citing CUFOS).
Summary:
Source:
---
Date: February 19 1976
Location: North Bergen Hudson New Jersey
Time: 0200A
Summary: The witness noticed a human figure with a light on his head, which was bent over, apparently picking some things off the ground and putting them into a little bag. The witness thought he was wearing a one-piece uniform, and apparently dragging his feet. He continued in this activity for 20 minutes.
Source:Bloecher, Stoehrer and Hopkins
---
Date:   February  1976
Location:  
Time:  
Summary:  
Source:  
Time: Feb. 19, 1976; Chesapeake Bay, MD
About 8:10 p.m. "…went on deck for another check and saw two balls of light moving very rapidly toward the eastern shore …, altitude approximately 2000 feet heading due east. The starboard one went straight ahead, the one to port was bouncing around like a ball, moving directly up and down and to either side, estimated speed above Mach 1. It did not make turns but moved directly. Within seconds there were several military jets after them. [Apparently, he suggests, from Patuxent River Naval Air Station]. I followed them through binoculars until they were out of sight over the Choptank River. I was lying off Point No Point, the seeing was perfect. (Letter to CUFOS from Warren Ballard, Mar. 4, 1981, from ship's log. )
Summary:
Source:
---
Date:   February  1976
Location:  
Time:  
Summary:  
Source:  
Time: Feb. 19, 1976; Marysville, CA
7:00 p.m. Sutter County sheriff's office received a call reporting a UFO being observed by two witnesses. Deputy Gerald Teplansky was dispatched to the scene and was able to observe the objects for about five minutes. The deputy stated he saw three red-orange glowing objects hovering in a triangular formation. He soon saw another object streak northward across the sky before all four objects disappeared.
(Reference: UFO INVESTIGATOR, July 1976, page 3)
Summary:
Source:
---
Date:   February  1976
Location:  
Time:  
Summary:  
Source:  
Time: Feb. 19, 1976; Lake Hiawatha area, NJ
9:15 p.m. Numerous witnesses reported a strange object to the Parsipany Police Department. The object was a large rectangular shaped object seen hovering in the vicinity of Jersey City Reservoir. The object was estimated to be about 50 feet long with a small turret or dome-like top and a bright diamond shaped light on the bottom. Two very bright lights were seen at each end of the object and in its center. All the witnesses reported two separate similar objects. The first moved at a rapid rate of speed from west to the east. The second object followed the first but moved more slowly. It hovered over the reservoir for approximately four minutes before moving out of sight at a high rate of speed. The hovering UFO made a sound described as a low fluctuating hum. Mr. Walter Kahl observed the UFO with the aid of binoculars and could not observe any recognizable markings on the object. (Reference: UFO INVESTIGATOR, April 1976, page 1)
Summary:
Source:
---
Date:   February  1976
Location:  
Time:  
Summary:  
Source:  
Time: Feb. 20, 1976; Essex County, MA
7:00 p.m. A young man and woman saw some odd red lights in the sky in Essex County, Massachusetts. Then two flattened disc-shaped objects with three triangular lights descended close to their car and maneuvered nearby for about 10 minutes. The car's radio had heavy static during a portion of the sighting. The two objects finally flew out of view. (Source: Mark Rodeghier, UFO Reports Involving Vehicle Interference, case 394, citing MUFON case file).
Summary:
Source:
---
Date: February 20 1976
Location:  North Bergen Hudson New Jersey
Time: 0200A
Summary: Teofilo Rodriguez saw a human figure with a light on his head, wearing something like an Army uniform, which was searching the ground and apparently picking something up. He wore boots, and seemed to have trouble walking; he was not seen to bend his knees. He was seen in the area for 3 hours. (The same or similar figure was again seen on 2-21-76 for several hours.)
Source: Bloecher, Stoehrer & Hopkins
---
Date:   February  1976
Location:  
Time:  
Summary:  
Source:  
Location. Ulm, Montana
Date: February 21 1976
Time: before noon
Two boys, ages 12 and 13 were south of the Ulm Bridge over the Missouri River just before noon when one saw a hair covered arm extending through some brush. The other boy who was ahead saw a very tall creature covered with blackish brown hair and eyes that glowed whitish yellow. Reported to the local sheriff's department, both boys passed a polygraph test.
Source: Tim Church, JG BC Archives
---
Date:   February  1976
Location:  
Time:  
Summary:  
Source:  
Location. Near Great Falls Montana
Date: February 22 1976
Time: 1000A
Leonard Hegele, a 29-year old student, spotted a 7-foot tall humanoid with 3-foot wide shoulders walking about ¼ mile form the highway. It was walking in a non-human manner. The witness stopped his car and ran toward the being. When he got to within 700-800 feet, the creature turned about to face him; Hegele ran back to his car. While he was chasing the creature, Hegele also saw a gray, oval shaped object hovering in the air about ½ mile from the highway. It hovered at only 10 ft from the ground, but periodically rose and dropped another 15 ft.
Source: Jerome Clark
---
Date:   February  1976
Location:  
Time:  
Summary:  
Source:  
Location. San Antonio Texas
Date: February 24 1976
Time: 1500
Three schoolteachers were traveling north on Old Pleasanton Road in separate cars when they saw two large winged creatures in flight. They all pulled to the side of the road, and they all got out to obtain a better view of the creatures. One of the creatures landed in a nearby field, and the other kept flying southward, and then it turned and started coming back. Suddenly the one on the ground flapped its wings a couple of times and they both flew south. Their wingspan was estimated to have been 15 to 17 feet. They were mostly black and brown in color. One of the witnesses said the "birds" resembled prehistoric flying creatures, notable the pteranodon. One of the witnesses stated that the creatures glided and did not really fly and their wings were bony and leathery.
Source: Annie Rosenbloom & John Michael, The Ohio Skywatcher August 1976
---
Date:   February  1976
Location:  
Time:  
Summary:  
Source:  
Time: Feb. 24, 1976; Stratham, NH
9:27 p.m. A six meter in diameter domed disc hovered over a road. There were four legs on the bottom of the craft, and it was silent. (Source: Raymond E. Fowler, Skylook, May 1976, p. 3).
Summary:
Source:
---
Date: February 25 1976
Location: Manuera Navarra Spain
Time: 1600
Summary: A group of five school children from Manuera were playing on a hill when they saw a UFO descend and land in a nearby field. The object was surmounted by a transparent cupola and appeared metallic, and 8 to 10 meters wide. Then an entity emerged from the object; he was tall, more than two meters, and wore a black coverall that covered him from head to foot. His head appeared small in proportion to its body. He took a few steps into the barley field and then returned to the object, walking normally but as if his feet were especially heavy. As one child tried to get closer, a bright light flashed from the object, frightening him. The object departed, leaving traces at the landing site; very large footprints were also found at the site, being more than 40 cm in length.
Source:FSR Vol. 22 # 6
---
Date: February 25 1976
Location: Nashville Washington Illinois
Time: 1930
Summary: The witness was driving down a country road near Nashville when she glimpsed something tan out of the corner of her eye. Ahead, standing by a telephone pole, was a second tan colored being, over 8-foot tall, with big head and no neck, and something dark looming behind him. As she came abreast of the figure, a bright blue light shone on her. She sped away.
Source: Kretsch & DeSario and Grunwald for Cufos
---
Date: Feb. 25, 1976
Location: Kettering, Tasmania 
Time:  1:00 a.m
Summary: A glowing, domed object landed on the beach at 1:00 a.m., making a humming noise. Beings were seen through the windows in the craft. The domed disc made a louder noise as it took off, and flew away toward the east.
Source:
---
Date: Feb. 25, 1976
Location: Location unknown, MT
Time: 8:30 p.m.
Summary: UFO photos, daylight sighting.
Source:UFO 66 NIDS
---
Date:   February 26 1976
Location:   Long Island, NY
Time:  6:15 P.M.
Summary:  Mrs. Audrey Manny observed a large dome shaped object hovering to the south of her home. After about three minutes it started moving toward her at a rapid rate of speed. As it passed overhead, Mrs. Manny saw patterned lights underneath the object. There were four white lights in front and four red lights in the rear, each arranged in a diamond shaped pattern. There seemed to be 6 to 9 windows on the side of the object. A brilliant white light was coming from these windows. Then altitude was estimated to be between 1000 and 1600 feet. The craft was described as being very large. The object traveled north before shooting straight up and disappearing. 
Source:  UFO INVESTIGATOR, April 1976, page 3
---
Date:   February 29 1976
Location:  Settlers Park Oakdale Pennsylvania
Time:  night
Summary:  During a brief power outage in the area and around the same time a lighted object was seen cruising low overhead, several witnesses spotted a seven to eight foot tall dark hair covered figure. The figure had long dangling arms, bumps for ears, wrinkled skin on it face and claws-like hands. It was apparently seen at a wooded area.
Source:  Janet & Colin Bord, FSR Vol. 25 # 3
---
Date:   February  1976
Location:  
Time:  
Summary:  
Source:  
Related articles