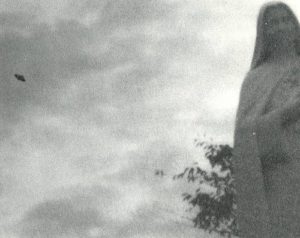 (Last Updated On: January 29, 2017)
Date: September 1976
Location:  Childs Arizona
Time:  unknown
Summary:  Two witnesses watched a huge cigar shaped object with gleaming lights inside descend slowly over the river. A hatch opened and a small disc shaped object emerged and landed by the river. Several figures were seen to emerge from the object and began to collect rocks and other items from the river. They moved like androids or robots. 
Source:   National Enquirer UFO Report
---
Date: September 1976
Location:  Tyuntyugur Region, near Kustanai, Kazakhstan
Time:  unknown
Summary:  Reliable witnesses, including an x-KGB and a Soviet Air Force man confirmed the crash of an 11-13 in diameter disc-shaped craft. The craft was apparently damaged from inside with the outer hull almost intact except for the broken transparent dome on top. 3 heavily mutilated and burned bodies were taken from inside the object. Three chairs were reportedly inside; the rest was heavily damaged due to fire and explosion.
Source:   Anton Anfalov, Ukraine
---
Date: September 1976
Location:  
Time:  
Summary:  
Source:  
Location. Milwaukee Wisconsin
Date: September 1976
Time: 0300A
Michael J. Bailen, 58, awoke from sleeping on his living room couch and found himself levitated off the couch and floated into the kitchen. As he passed the kitchen light switch he flipped it, but the light did not go on. He floated into the hallway, and there at the bottom of the steps stood a man dressed in black clothing, holding a 5-6" "gadget" which he was pointing at the witness. In his left hand he held another gadget, which he slipped onto the one in his right hand. He was short of stature, with sharp pointed features, dark olive skin, and black eyes. His eyes didn't move like humans, but around. The witness floated past him and out the door, then lost consciousness. When he came to, he was standing in the driveway watching the man back his car out of the driveway. The man hollered out to him "Don't dare follow me!" Then the witness noticed, standing to his left a dwarf "with a larger head than ours." He lost consciousness again and came to standing on a hillside; "instead of the moon shining like ours, the light was coming from the sides." Then he found himself on his couch. Unlike a dream, the experience remained vivid in his memory.
Source: Richard Heiden
---
Date: September 1976
Location:  
Time:  
Summary:  
Source:  
Location. Near Upton Scudamore England
Date: September 1976
Time: 0300A
Willy Gehlen was driving home late at night decided to stop and sleep next to a farm gate. He locked all doors and fell asleep. Later he suddenly woke up shivering and found the rear hatch door opened, he closed it again, but the same thing happened later. Feeling uneasy he stayed awake. Almost an hour later he heard a strange humming sound and noticed a seven-foot tall figure standing behind the farm gate nearby. He shouted at the figure thinking that it was a farmer but got no reply. The figure shone a dark orange beam of light at the witness from a square shaped object on its chest. A minute later the figure disappeared. The witness then heard the humming sound again and saw a large object lift off the ground emitting a pink pulsating glow from underneath. It shot away at high speed.
Source: Boar and Blundell, The World's Strangest Mysteries
---
Date: September 1976
Location:  
Time:  
Summary:  
Source:  
Location. Near Latazar Dam Madrid Spain
Date: September 1976
Time: 0400A
Following a message received via automatic writing a group of witnesses drove to an isolated area to await a promised contact. One of the men then saw two huge, very tall human looking beings standing near the car. Both wore dark tight fitting coverall uniforms that covered their heads leaving only their faces exposed. The other witnesses were apparently in a trace like state and did not see the beings. No other information.
Source: Antonio Huneeus, UFO's Alien Encounters # 1, 1994
---
Date: September 1976
Location:  
Time:  
Summary:  
Source:  
Location. Near Fayetteville Arkansas
Date: September 1976
Time: daytime
One day while the witness was picking apples some distance from her home, she fell from her ladder seriously injuring one of her legs. As she lay there, too weak to move or call for help, she saw two figures approaching. One was tall and thin, the other was much shorter. As they neared, the witness saw that while they were humanoid in appearance, they were not humans. They had an unknown device with which they began to treat the witness's badly bleeding leg. In 15 minutes all bleeding and pain subsided, leaving no trace of a scar. The beings then presented the witness with a metal plaque with some carvings or drawings on it. She thanked them and asked if they would like to go to her house for something to eat. One being replied that they did not eat, but consumed only "juice." When she offered fruit juice, they said they did not drink the same kind of juice that humans drank. They were arresting in appearance and, according to the witness, when they spoke, their voice seemed to emanate from their midsections. The taller one had the voice of a mature woman; the shorter one, that of a child. The beings walked away and the witness returned home, with the plaque in her possession. The images on the plaque included pyramids and 6-pointed stars.
Source: Tom Adams, Stigmata # 4, summer 1978
---
Date: September 1976
Location:  
Time:  
Summary:  
Source:  
Location. Louisiana, exact location not given
Date: September 1976
Time: daytime
A family of three including a three-year old child was living in a large wooded tract of land bordered by a bayou when one day they saw a circular metallic object land on a nearby clearing. Several beings described as three to three ½ foot tall with spindly fingers and wrinkled skin emerged from the object. The three-year old ran towards the beings wanting to play with them, his parents stopped him. The beings then communicated with the parents telling them that they wanted to take the child because he was smart. The parents refused and the beings left.
Source: Kenneth Ring, PhD, The Omega Project
---
Date: September 1976
Location:  
Time:  
Summary:  
Source:  
Location. Near Lexington Indiana
Date: September 1976
Time: afternoon
The 14-year old witness, who is mentally challenged, reportedly was walking in a wooded area when he heard a loud buzzing sound over him that got louder and louder. Suddenly he was hit by a beam of light and felt himself rising up into the sky. He then found himself lying on a table surrounded by five to six humanoid figures, one apparently a female. The beings were described as about five-foot seven inches tall, with large heads, large blue eyes, and thin necks. They wore silvery outfits with silver boots and a belt with a star like emblem on the buckle area. The beings apparently communicated by using telepathy and among other things gave the witness some shots and showed him a "star map." Suddenly he found himself back in his house. The witness reported negative health related after effects.
Source: Don Worley, UFO Intelligence Newsletter March 1995
---
Date: September 1976
Location:  Cook Inlet, Alaska
Time:  evening
Summary:  13-year old David E Caywood walked out into a semi-solid bog and saw two ships hovering low over the area. Suddenly, a blue beam of light flashes form the underside of one of the ships and a man with a back walks out of the beam. Somehow Caywood realizes that the man is himself as an adult (!). The older Caywood, smiling approaches the young Caywood and stands face to face with him. He tells him not to be afraid, that very soon he "will be involved in the greatest adventure of his life." That he would someday help many, many people. He was told that one day when the time is right he will "wake up" and see all things clearly as if for the first time. He tells him to remember that he is loved. With that he turns and goes back into the beam and disappears. The ships leave, the winds pick up and the witness memory of the event ends at this point.
Source:   David E Caywood, Alien Alley
---
Date: September 1976
Location:  
Time:  
Summary:  
Source:  
Location. Jimani, Dominican Republic
Date: September 1976
Time: night
Oscar Nepuete was walking along a road outside of the village when he saw what appeared to be a fog suddenly materializes across from him. A man-like figure wearing dark clothing is seen emerging from the fog. The figure approaches the stunned Nepuete and communicates in Spanish with him. The stranger tells the witness that he was from "another world" and wanted him to pass on a message for humanity. Terrified, the witness flees the scene.
Source: Apro Bulletin # 30, Denys Breysse Project Becassine
---
Date: September 1976
Location:  
Time:  
Summary:  
Source:  
Location. DePere, Brown County, Wisconsin
Date: September 1976
Time: 2230
On his way to work one evening the witness spotted a light next to a deserted barn where he hadn't seen one previously. There also seemed to be figures or "animals" or something on the ground under the light. After riding past this barn on his motorcycle, a low flying object suddenly flew overhead and disappeared behind a grove of trees. By the time he cleared the trees the object was nowhere to be seen. He looked back over his shoulder toward the barn and the light was no longer there, and he had never seen a light or "animals" at this location since.
Source: Wisconsin UFO
---
Date: September 1976
Location:  
Time:  
Summary:  
Source:  
Location. Almusafes Valencia Spain
Date: September 1 1976
Time: 0400A
The witness had gone to feed some sheep that he kept in a small shed in his property, when he saw a bright white light moving slowly and low over some nearby trees. The light suddenly reversed direction and descended on a field near some orange bushes and next to the city cemetery. The white light was extinguished only leaving a red blinking light on an apparent round dark object. The witness then became frightened when he saw a very tall, heavy set human like figure appear, and it was wearing a shiny black helmet and a silvery outfit. It took several steps with difficulty as if balancing itself. After ten minutes the figure vanished and the object became fiery orange in color shooting up at fantastic speed. Ground traces and animal reactions were reported.
Source: Ballester Olmos & Fernandez Peri, Enciclopedia de Los Encuentros Cercanos con Ovnis
---
Date: September 1976
Location:  
Time:  
Summary:  
Source:  
Time: Sept. 1, 1976; Missile M-1, MT
12:38 a.m. UFO described as two red lights on top, silver bottom. (UFO 105 NIDS)
---
Date: September 1976
Location:  
Time:  
Summary:  
Source:  
Location. Ravenna Italy
Date: September 3 1976
Time: unknown
The witness was alone at home when she heard a noise outside; looking out she could see an oval shaped object on the ground between two houses. Nearby were four or five small spheres. Standing in front of the object was a tall being dressed in what appeared to be body armor; it also wore a helmet with a protuberance in the center. She lost sight of the being momentarily and then was able to see the object take off at high speed.
Source: Bufora Journal Vol. 8 # 3, quoting Maurizio Verga
---
Date: September 1976
Location:  
Time:  
Summary:  
Source:  
Location. Bethel, Alaska
Date: September 3 1976
Time: early morning
The witness heard a very high-pitched whine, and looked out onto the tundra where a small (2-1/2-3 inches in diameter) white beach ball seemed to be moving in the air, close to the ground. After a while it tilted so that she could see that it was a disk with a rotating platinum-shiny area in the middle. The object arced upwards, then back down, and seemed to just disappear into the ground. As soon as it entered the ground, the sound stopped. On inspection, she found no ground marks or evidence where it had disappeared. Following this incident by about a month, the same witness and a little dog were on her porch facing the area of the sighting. She went inside for a couple of minutes and the dog wandered off. She immediately began to search for her, following tracks in the fresh snow, but she couldn't find her. As she said, "It was snowing. And her little tracks went out there and she just disappeared. she weighed maybe five pounds max. So possibly some owl or something could have gotten her. But there wasn't you know any other disturbance in the snow." Since these events the witness feels that she has had a few very unusual light-projecting experiences, which result in vivid dreams or out of body experiences. The content of the experiences is difficult to describe. She has the feeling of movement, and there were these enormously huge objects that were like suspended in space, that were all around her. And they were very bright shining. They were all different kinds of geometrical shapes and forms. But these were immense. She also had the feeling like being on an invisible corridor that she was moving down.
Source: Michael D Swords, "Unusual Experiences From the Timmerman Files", IUR Summer 2002
---
Date: September 1976
Location:  
Time:  
Summary:  
Source:  
Location. Near Serra Do Mouro Santa Catarina Brazil
Date: September 3 1976
Time: 1900
The witness was returning home after visiting his mother when he suddenly observed an approaching disc shaped object from the south. The object had a rotating lower half and a bright light on top which seemed to change colors. The object flew over the witness then came to a halt just ahead of him. The object projected from its base an intense beam of red light. Within this beam three small beings descended slowly to the ground. The three small humanoids took position across the road blocking the witness path. The object then glided over to a clump of nearby trees. As the witness continued to walk, the three small beings spread out their arms across the road in an obvious attempt to block him, at the same time speaking in an unknown language. The witness threw a knife at the beings but it seems to strike an invisible wall. The being in the middle then pointed a rod like device at the witness from which a beam of bluish white light emerged. The witness apparently blacked out and was found later on the ground by his neighbors. The beings were described as heavy set and man like, wearing tight gray coveralls and a globular helmet that covered their heads.
Source: Dr. Walter Buhler, FSR Vol. 28 # 1
---
Date: September 1976
Location:  
Time:  
Summary:  
Source:  
Location. Fencehouses, Durham England
Date: September 3 1976
Time: 2100
A 63-year old woman and an 18-year old friend were walking past a waste area when they saw a strange object on a mound of earth. Roughly oval in shape with a large glass like compartment in the center and a bright orange dome on top, it rested on metallic sledge like runners. It was 5 ft long and 3.5 ft high. As the witnesses approached it, they noted that the wind and the traffic on a nearby road both seemed to stop; they later found that their watches had stopped. One of the witnesses ran her and over the object; it was very smooth and felt warm. Suddenly two entities "the size of dolls" appeared beside it; they were humanoid with long white hair parted down from the middle, large eyes, and claw like fingers. Apparently frightened by the witnesses, they put both hands up to their faces. The witnesses are not sure what happened next; the next thing she remembers is that the object took off at great speed with a humming sound.
Source: John Rouse for Contact & NUFON
---
Date: September 5 1976
Location: La Spezia Italy
Time: daytime
Summary: 15 Ufologists of the GORU group saw a strange dwarf at the former army fortress building near Mt. Parodi. He appeared in the door of a basement room and walked for about 30 ft "in a strange, clumsy way, as if sliding on the ground," then disappeared in thin air. No footprints were found. The being was 4-foot tall and of a "weak constitution," he wore a black close fitting coverall. In the part covering the head were two oblique eye slits. No skin was visible. They had him in sight for about 20 seconds. The local police chief called the witnesses "serious and reliable people."
Source: Franco Carassi
---
Date:
Location:
Time: Sept. 5, 1976; Cape Girardeau, MO
10:30 a.m. A fast-moving disc with dome was observed, vertical ascent. One witness. (Rutledge, PID,200)
Summary:
Source:
---
 Date: September 5 1976
Location:  Vargon Grande Minas Gerais Brazil
Time:   late night
Summary:  Mr. Da Silva, a village shopkeeper in his late 30s, was walking home late at night when he saw a light several hundred meters away. The light went out and in a few seconds went on again, now right over him. It was a hemispherical UFO about 5 meters in diameter, yellowish luminescent with a violet or bluish band around the base, and with a hole at the center. The witness took refuge in the back door of his shop, and cried out to his wife and brother in law in the house some 40 meters away. The light of the UFO became so brilliant that he had to cover his eyes. As he began to run toward the house, he felt a blow and fell; looking up, he saw that 4 hooked rods now projected downwards from the central hole of the UFO. Down one of these hooks to the ground slid a humanoid being wearing a dark metallic coverall uniform and an opaque helmet; this humanoid, keeping his arms bent like a boxer, ran to the witness and bumped against him, pushing him towards the hooks. The witness grabbed the entity, which was small, and lifted him off the ground, but the UFO then caught him with its hooks. The humanoid freed himself, and climbed up the hooks back into the UFO. Da Silva, yelling, was pulled upwards until, by kicking at the UFOs edge, he was able to free himself. He fell down into a thicket of thorny plants. His brother in law came to the window of the house just in time to see the witness fall. He helped him to his feet, and both ran inside; the UFO continued to hover over the house for a while. The humanoid left one small footprint, which was soon obliterated by rain.
Source:  Alberto F Do Carmo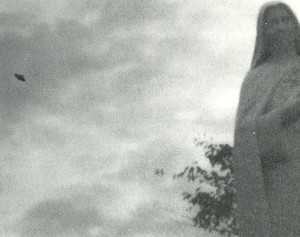 ---
Date: September 6, 1976
Location: Sapporo City, Hokkaido, Japan
Time:
Summary:
Source:
---
Date: September 6, 1976
Location: Port Austin, MI
Time: 
Summary: G,V, AF radar & 5 UFOs.
Source:
---
Date: September 1976
Location:  
Time:  
Summary:  
Source:  
Location. Accopampa Peru
Date: September 6 1976
Time: 2000
Leoncio Jara Torres and his wife Elena were driving in a truck near Carabaya when a UFO descended and landed about 100 feet away. It was 60 ft wide and 10 ft high, had 2 windows on the sides, and emitted a blinding luminosity. The truck's motor stalled as the object came down. From it emerged two men 5'5" in height, who wore shiny clothing and walked with very short steps; both carried lamps of blinding intensity. These men walked up to the truck and slapped the witnesses on the shoulders with their hands. The hands were felt to be burning hot—"the heat went to our very bones"—but the witnesses remained as if hypnotized. After about a minute, the men walked back to their craft, which rose vertically. The witness and his wife were medically treated for an "intense nervousness," but later found that the arthritis from which they both suffered was alleviated after the encounter. Traces were found at the landing site.
Source: Gray Barker, Saga UFO Report June 1977
---
Date:
Location:
Time: Sept. 8, 1976; India 3 and India site, MT
10:03 p.m. White, triangular object with red lights. (UFO 107 NIDS)
Summary:
Source:
---
Date: September 1976
Location:  
Time:  
Summary:  
Source:  
Location. Cabot, Arkansas
Date: September 10 1976
Time: 1500
The witness was parked at a local high school in his pick up truck when he saw a disc-shaped craft approaching his position. The craft was surrounded by mist, and had a rotating blade underneath and a row of 6 lights. The witness felt paralyzed and heard a voice that said, "Not be harmed, going on journey" Awoke the next day with a headache.
Source: Dave Webb in UFOCAT
---
Date:
Location:
Time: Sept. 10, 1976; Colusa, CA
Low-hovering disc with dome, rotating rim and bright lights, power failure. Object moved away, shone beams of light down (Ref. 1, Section I).
Summary:
Source:
---
Date: September 1976
Location:  
Time:  
Summary:  
Source:  
Location. Near Millsite Park North Dakota
Date: September 11 1976
Time: evening
A farmhand fishing alone on the Cheyenne River saw a "person" in white, with a hood kind of puffed up by his ears. The figure stood erect, staring at the witness. It stood perfectly still never once moving. The witness screamed and ran 100 feet to his house. When he and his parents looked out the figure was gone.
---
Date: September 1976
Location:  
Time:  
Summary:  
Source:  
Location. Old Orchard Maine
Date: September 11 1976
Time: 2000
A man who said he was the vice president of the "New Jersey UFO Research Organization" and that he would like to talk to him about the Stephens case called Dr. Herbert Hopkins, the physician who conducted the hypnotic sessions with David Stephens, on the phone. Dr. Hopkins told him to come right up, and went to the back door to turn on the porch light. A man dressed in black was already coming up the porch steps; no one could have got to the house that quickly from any telephone, but this did not occur to the witness at the time. The man wore a derby hat, a black tie, a white shirt, and black clothing. This looked immaculate, as if just put on. He came in and sat down; when he removed his hat, Dr Hopkins could see that he was completely bald and had no eyebrows or eyelashes. His nose and ears were small and low-set; his head and face were of a dead white color, his lips vivid red. His mouth was a perfectly straight slit, which he hardly opened. He asked Dr Hopkins about the Stephens case, speaking in an expressionless monotone and not grouping his words into sentences or phrases. While Dr Hopkins was telling about the case, he put the back of a gray-gloved hand against his lips. The red color came off on the glove; he was wearing lipstick. This man did not at any time move his head with respect to his body. He then told Dr. Hopkins that he had two coins in his left pocket, which was true. He told him to take one of the coins and hold it in the palm of his hand; Dr Hopkins took a penny. This proceeded to turn silver in color, then light blue; then it became blurred, became round, and then faded away. Dr Hopkins asked him to make the coin return, but he replied; "Neither you nor anyone else on this plane will ever see that coin again." He then told the witness, that Barney Hill died because he knew too much, and that he died "because he had no heart, just a you no longer have a coin." He told him that he had tape recordings of the Stephens's case and correspondence relating to the case, which the witness admitted was true. The man then ordered him to destroy the tapes and all other UFO information, or he would suffer the same fate as Barney Hill. He said he would know when this had been done. The witness noticed that his speech was slowing down. Slowly, and somewhat unsteadily, he got to his feet and said, very slowly, "My energy is running low—must go now—good bye." He descended the porch steps one at a time and very slowly and unsteadily walked to the corner of the building. He was walking toward a hedge. A bright bluish light, from the driveway, was shining as he left. Dr Hopkins then out to watch the driveway, but the light was gone, and the man never came out. Later he and his eldest son found in the middle of the driveway "a series of marks that looked like a small caterpillar tractor tread", 4" x 18." The witness was so shaken by this visit that he burned the tapes and everything on UFOs he had.
Source: Berthold Schwarz, FSR Vol. 23 # 4
---
Date: September 1976
Location:  
Time:  
Summary:  
Source:  
Location. San Antonio Texas
Date: September 13 1976
Time: night
A woman was lying in her bed when the room became illuminated and she felt paralyzed by an overpowering force. She then saw a hairy hand, apparently unattached to a body. The hand fondled her pelvic area and then vanished instantly. Others in the same neighborhood saw a giant ape like creature prowling around.
Source: Don Worley in UFO Annual 1982 Tri-County UFO Study Group
---
Date: September 1976
Location:  
Time:  
Summary:  
Source:  
Location. Los Teques, Venezuela
Date: September 15 1976
Time: night
A man ran to a textile plant gate where he worked in a state of shock and terror, he collapsed and was sent to the hospital. He later claimed he had seen a disc-shaped object land and had a confrontation with several undescribed occupants of the object. For 2 months there were nightly UFO sightings in the area.
Source: FSR November 1976 in UFOCAT
---
Date: September 1976
Location:  
Time:  
Summary:  
Source:  
Location. New London Missouri
Date: September 15 1976
Time: after midnight
Dorothy Yarbrough, 41, who had gone to bed in her trailer home, awoke to find herself sitting on the couch, with bright lights coming in the window. She took her shotgun and 3 shells and went to the back door. When she opened it, she saw the sky so fiery red that she thought the world must have been ending. Without conscious volition, she went back in, put the gun away, and walked out the front door, barefoot, with her head hanging down, and walked to an excavation site about 20 ft away. There she saw 2 "forms" standing beyond the excavation, and 7 or 8 more "forms" farther away, lined up by a fence who seemed to be "in confusion;" they were "jibber jabbering" to each other. These forms were very small (less than 4 ft0, with big heads and "swollen" cheeks. Above her head she could hear a sound like a helicopter, which was shedding a bright bluish white light, but she could not raise her head to look at it. She walked up, still without her own volition, toward the nearest "form", which was surrounded by a mist. The last thing she remembered was seeing a white hand near her—a hand with something "wrong" about it. When she woke up in the morning in her bed, she found dirt on her feet, whose soles felt burned. For a week afterwards she felt weak and had a sore stomach, as well as a persistent headache that took nearly 2 weeks to wear off. But she found that she that she was no longer a "worrier," as she had been before. She also had a better appetite, and temporarily gained about 60 pounds. Under hypnosis she remembered that the nearest "form" had big eyes, was dressed in dark form fitting clothing, and carried a shiny metal rod; his hand had 2 thumbs. He told her telepathically that they meant her no harm. She was led up a kind of rope ladder into a "round room", laid on a table, and given a physical examination. Another person—a man, perhaps her husband—was wheeled into the room after this, while she was taken into a dome with blue lights revolving around it, then back down the ladder. The leader of the humanoids told her that she would begin to "see" things since then; she has made and recorded a number of predictions.
Source: Joseph Brill & Dwight Connelly for Mufon & Richard Wright
---
Date: September 1976
Location:  
Time:  
Summary:  
Source:  
Location. Ahar Iran
Date: September 16 1976
Time: late night
Dr. Simon Taylor and an Iranian friend, Reza, had gone for a hike in the mountains. When it began to get dark they decided to stay in one of the many climber's cabins that were abundant in the area. The cabin was near a local shrine. That night only two other men had stayed in the cabin, a father, and son. Late that night Taylor and his friend both woke up gasping for air, as if there was no oxygen in the room. It was very hot and there was no sign of the father and son pair. Outside they could hear movements. Suddenly the cabin was rocked by a series of heavy, pounding thumps. Within seconds they both ran outside terror stricken. A few feet away stood three men. They were completely dressed in black and each carried a lantern like instrument. They all had large dark slanted eyes very lustrous. The men then began communicating with the two witnesses seemingly by using telepathy. It now became apparent that their mouths and noses were both covered. They told them not to be afraid, to pack their things and follow them. The witnesses collected their belongings and dressed, all the while the three dark clad men stood by the doorway looking at them. Taylor and Reza then followed the three men down a twisting path in the woods. After walking for a few hundred feet, they suddenly realized that they were no longer on the path but in some sort of room. Under their feet was a thick Persian rug. The room was oval shaped and was bathed in a soft light. The two witnesses were invited to sit cross-legged on the floor. A transparent "screen" took up the whole of one long wall. Both men could see branches of trees and past them, the distant lights of the city. The room began to shake and shudder and they were told not to be afraid. Both men gripped the carpet below them, as the room was swaying like a cable car going up a mountain. Both also felt tremendous pressure in their ears, one of the men attempted to reassure Taylor. They saw many places and distant locations, apparently going to different countries. Afterwards they were abruptly asked to leave. The witnesses then walked out of the room and were suddenly back in the wooded path. They then realized that they had been gone for five hours. (Three days later, occurred the classic UFO encounters above Tehran with an Imperial Iranian F-4 Phantom jet and a UFO. During the same time there were also reports of "aliens" landing in the holy city of Qum and of abductions in Mashhad.)
Source: Peter Hough & Moyshe Kalman The Truth About Alien Abductions
---
Date: September 17 1976
Location:  Wingen, NSW
Time:  0330
Summary:  A thirty two year old motor mechanic was directed to repair a vehicle which had broken down and was on the way to the scene in his own vehicle. Suddenly his car started to slow down and the lights went out. He pulled the car up and tried to restart the engine. No ignition, dash or headlights were operating. He noted the speedometer varying from zero to forty km/h even though the vehicle was stationary. He checked under the bonnet but found nothing amiss. He grabbed his torch, but it wouldn't work. It also wouldn't stick to the car even though it was magnetic. He fitted new batteries but it still didn't work.He then noticed a bright light on his left heading his way. It became brighter and after two minutes it was seen clearly as a roundish object only some four metres off the ground. It passed directly over his car and gave out a slight amount of heat. No sound or any distinguishing features were noted. Its speed was forty km/h and it passed off into the distance. As he touched the fan belt the engine started itself. It just as quickly stopped. Then the headlights and radio came on by themselves. Finally he drove off with all systems operating
Source:  UFO Research NSW
---
Date: September 17 1976
Location:  Near Richfield, Utah
Time:  late night
Summary:  Don Rogers was driving along a deserted road with an unusual feeling of fear and of that of being watched. He drove into town and there was not a person to be seen in sight. He went to a nearby Mormon church but it was completely empty. As he left Richfield he heard a peculiar man's voice in his head that said: "How would you like to go on AM? The last word was one that he had never heard of before. He understood the word to mean a spaceship or flying saucer. He replied in the positive. Then he looked up through the sunroof to see if he could see a ship. He thought about stopping but was terrified and continued on. He became disoriented and could only recall seeing darkness around him. He noticed that he was only going at 40 mph and shifted to third gear traveling on a road that he had no idea where it went. After driving for what seemed like hours, he finally arrived at Cary then continued on until he reached the next town, Arco. There he realized that he had somehow lost several hours of time. Soon at home he began to experience lucid dreams of somehow having being "kidnapped." Soon he was able to recall that he had been lying on a small bed that was recessed into the wall. He was in a small room that was brightly lit from the ceiling, which was all white. There was a counter on the right end of the room and a door with no handles at the end. The room was completely bare. Suddenly the door slides open and a man appears, he is about six feet tall with reddish hair. Although no words were spoken, Rogers understood that he was to go with him on a tour. They went down a narrow hallway and turned right. The hallway was very dimly lit. However he did see another man who was a little shorter standing further down the hallway. This man gave Rogers a very disdainful look; he then walked down the hall and disappeared. He walked through some kind of control room, which was dark and was hard to see what was in there. It was shaped like a half circle approximately 20 feet across. There was a console that ran around most of the way of the room. There was a smaller curved console that was in the middle of the room. Both consoles had colored lights on them that seemed to be the only source of light. The height of the consoles seemed very short for normal people. The one image that affected Roger's life more than any other from the experience was the energy source. It seems that the ship's energy was stored in a metal sphere, a little larger than a yard in diameter. It was located on the edge of the "saucer" with two windows in it. They were shaped like rounded triangles. He looked through the windows and saw what appeared to be a sphere inside that was spinning at an incredible speed. It also appeared to be fluid and seemed to change shape slightly as he watched. He could only describe it as looking at spinning mercury. His next recollection was of being strapped in a reclined chair with his legs arms and head restrained. He hears a small whirr like a small motor and feels a needle poke him at the base of his skull. He understood that they wanted a small "sample". The needle goes deeper into his skull and he experiences pain. His next recollection was of waking up at home screaming.
Source:   Alien Dave, UFOs in Utah
---
Date: September 18 1976
Location:  Near Lake Tabriz Iran
Time:  
Summary:  Ahmad Bani Ahmad, 56, a researcher on Iranian history, and his wife were visiting Lake Tabriz when they saw a round glistening object 9-12 ft in diameter land 100 yards from their car. 2 beings similar in shape to Egyptian mummies stepped out. Mr. Ahmad was taken inside the object.
Source:   Tehran Iran Journal
---
Date: September 18 – 19, 1976: F-4 Jet Chase over Iran 
---
Date: September 20 1976
Location:  Digne Basses-Alpes France
Time:  2200
Summary:  The witness was taking the air on his terrace when he noticed an internally illuminated "cabin" about 12 ft square and 6 ft high, stationary in the air about 600 ft away and at 300 ft altitude. Its light was of the color of incandescent lamp light. He watched it for about 7 minutes, during which executed a very slow trajectory, finally shooting away at great speed. It made no sound. He could see no structure around the "cabin." Shadows moved within this "cabin," seeming to be very busy.
Source:  ADEPS
---
Date: September 1976
Location:  
Time:  
Summary:  
Source:  
Location. Regal (Kandiyohi) Minnesota
Date: September 22 1976
Time: 2230
Rodney Hedtke, 10, was going to bed in his second floor bedroom when he heard a tapping in the window, looking out, he saw a green colored being 3-3.5 ft tall crouching on the roof and tapping at the window. This humanoid had a huge baldhead with immense red eyes that seemed to rotate, no nose, a small lipless mouth, and long arms with small hands. It was apparently unclothed. The boy looked at this creature for nearly a minute; then it turned away, walked to the edge of the roof, and floated down to the ground. Looking back at Rodney, it went to a square gray object about 12 x 12 ft in size and 7 ft high, with red to orange pulsating lights on the corners and a yellow light inside. The being entered this craft by a ramp that rolled down from a hatch, it then began to glow red, and took off vertically without any sound. Rodney was "scared to death." When his mother returned home 2 hours later, she found that the lights in the house were dim, and the TV did not work properly; she found that fuses had blown.
Source: Sheriff John Barry, Thomas Erson & Dennis Sigafoos
---
Date: September 1976
Location:  
Time:  
Summary:  
Source:  
Location. Old Orchard, Maine
Date: September 24 1976
Time: night
Only a few days after Dr Herbert Hopkins terrifying visit from an MIB—his daughter in law Maureen received a telephone call from a man who claimed to know her husband John, and who asked if he and a companion could come and visit them. John met the man at a local fast-food restaurant, and brought him home with his companion, a woman. Both appeared to be in their mid-thirties, and wore curiously old-fashioned clothes. The woman looked particularly odd; when she stood up, it seemed that there was something wrong with the way that her legs joined her hips. Both strangers walked with very short steps, leaning forward as though frightened of falling. They sat awkwardly on a sofa while the man asked a number of detailed personal questions. Did John and Maureen watch television much? What did they read? And what did they talk about? All the while, the man was pawing and fondling his female companion, asking John if this wall all right and whether he was doing it correctly. John left the room for a moment, and the man tried to persuade Maureen to sit next to him. He also asked her "how she was made", and whether she had any nude photographs. Shortly afterwards, the woman stood up announced that she wanted to leave. The man also stood, but made no move to go. He was between the woman and the door, and it seemed that the only way she could get to the door was by walking in a straight line, directly through him. Finally the woman turned to John and asked: "Please move him; I can't move him myself." Then, suddenly, the man left, followed by the woman, both walking in straight lines. They did not even say goodbye.
Source: Dr. Berthold Schwarz
---
Date: September 26 1976
Location:  Manchester, Massachusetts
Time:  2208
Summary:  A globular object emitting red-orange light—the point vehicle—the first visually acquired of three—was sitting geometrically/equidistantly at perfect center amidst the four stars of the pan of the Big Dipper and the pan was sitting notably flat just above the northern horizon. The pan sitting flat or parallel to the horizon occurs within a two minute window thus making it easy to note exact time using astronomical software. The main witness, Jeffrey Morgan Foss then sent a telepathic message that said, "Approach, I am not afraid." The object immediately began a descent along a sloping downward trajectory straight for Foss. As the object approached, Phil Oxford and his friend, Bruce, were coming up behind Foss from the beach. They saw him holding up his arms in welcome and stood on each side of him in awe—Phil to his left and Bruce to his right. The object closed within 50 feet just across the road, was 30feet in the air and was as big as a two story house—or in size perspective, a basketball at one foot. It then stopped and immediately changed from glowing red to brilliant white. Suddenly there was an effect as if time had slowed. Then, after some time had a transpired, a Manchester Police officer emerged onto the beach, turned on his blues and bolted out of there in a hurry. At first, Foss didn't think the officer did not see what was happening on either side of him in plain view but instead had caught sight of drunks further up the beach. But he drove past them and left the beach completely. Then the object receded backward along its original approach trajectory heading, stopped at a halfway point, elevated vertically to 4,000 ft, made a right angle turn and headed straight over their heads, aligned perfectly in between two other globes and the three objects moved away in an "I" formation toward the eastern sky and out of sight. He didn't know it at the time, but there was some serious time missing that night which was later verified using astronomical software and hypnotic regression with investigator Joe Nyman. Foss remembers standing looking out through a curved window or screen at a star field. Though he tried visually to acquire land or ocean below, there was none. He had also been given a sleek and small unmarked silver canister of nitrox (?) as a worry stone which didn't include a hose and mask. He remembers seeing himself looking down at it as well as through the eyes of the Gray that was off to his right and a little behind him. This memory was jarred loose thanks to the benefits of regression. At the close of the event there was an intense meteor shower which lasted for an hour and the baby at Kettle Cove was full of long silver fish jumping high out of the water by the thousands. According the Foss he reported the main part of the event to the police department.
Source:   Jeffrey Morgan Foss liastar@usermail.com
---
Date: September 1976
Location:  
Time:  
Summary:  
Source:  
Related articles