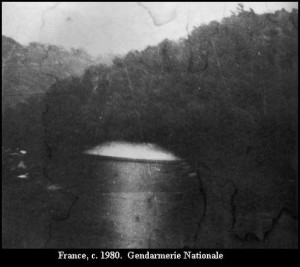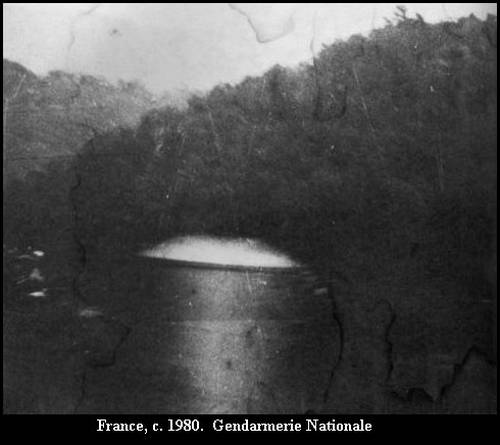 (Last Updated On: March 8, 2017)
Date: February  1980
Location:  Sao Paulo Brazil
Time:  night
Summary:  The witness who for the past two to three months had been followed by three strange men wearing black suits, was standing in front of his house one night when a car drove up and the door opened. The witness apparently lost his will and was compelled to enter the vehicle; inside the same three men he had been trying to hide from met him. They drove around for a while until they reached a wooded area outside the city. They stopped the car near a large hovering object that was encircled by a luminous ring. The witness and the three men then walked underneath the object and were hit by a beam of light. He suddenly found himself inside the object, sitting on a chair. Suddenly handles appeared on the chair that secured his wrists and an iron bar pressed his forehead backwards while another gadget held his neck. The three men then appeared and suddenly seemed to shed their skin or bodies and transformed themselves into green scaly reptilian like creatures with heart shaped heads. The beings interrogated the witness and spoke of upcoming global events. At one point a door in the room was opened and he was able to see human corpses hanging by their feet from hooks on the walls. Everything went blank after that and his next conscious memory was of standing next to a theater near his home.
Source:   Antonio Huneeus, UFO Universe Summer 1994
---
Date: February  1980
Location:  Tres Coroas Brazil
Time:  night
Summary:  Two men, including a local police commander were attracted to a luminous glow coming from the backyard of one of their houses. Upon investigating they encountered a luminous humanoid figure of average height that had his hands extended upwards. No physical features could be discerned and a low humming noise was heard coming from the entity. One of the men touched the being and he fell back as if shocked. The being then disappeared.
Source:   Boar & Blundell, The World's Strangest Mysteries
---
Date: February  1980
Location:   Milwaukee, Wisconsin
Time:  night
Summary:  The witness (a local attorney who wishes the remain anonymous) had gone to bed in the upstairs bedroom with his wife. Sometime in the middle of the night or very early morning, a very bright light illuminating the whole outside of his house and yard awakened him; he got up to see what was causing the bright light. It was outside all right, and above, but too high to see the source. He went downstairs and out the French Doors onto the patio in back, and there he saw a beautiful disc-shaped craft hovering in the air a few score meters from where he stood. He walked out toward it, and suddenly found himself inside it in his bedroom clothes. The occupants looked entirely human to him. They told him they came from a planet in what we call the Pleiades star system, and showed him the inside of his house on a viewing screen. They took him someplace away from there for a short time while they spoke to him, and then they returned. He had asked them something about this ridiculous idea of changing time, and now to his great surprise he saw that his house was gone, and the property looked like it did before any construction had begun on the site. This terrified him for a moment, as they showed him more of the surrounding area in a different time. Then they withdrew and returned him to his house in present time. Suddenly he was out of the spacecraft and he watched it withdraw and disappear. He turned and walked back to the French Doors, which were now closed and locked from the inside. Next day, about mid-morning, his wife received a call from their grown daughter who lived separately and who worked at night. She happened to casually mention that she had come by the night before on her way home from work and finding everyone asleep, went to the refrigerator for a glass of milk and noticed one of the French Doors standing wide open, so she closed and locked it.
Source:   Lt Col Wendelle C Stevens (Ret.), UFO contact from the Pleiades, A supplementary Investigation Report
---
Date: February  1980
Location:  
Time:  
Summary:  
Source:  
Location: Araguari Brazil
Date: February 2 1980
Time: unknown
Two aliens briefly paralyzed a female witness. The beings were a little bit over 1 meter in height with large heads. They used a small object that emitted a luminous beam. No other information.
Source: Revista Brasileira de Ufologia
---
Date: February  1980
Location:  
Time:  
Summary:  
Source:  
Location: Montargil Portugal
Date: February 6 1980
Time: 1100A
A 55-year old farmer, Mr. Pavao, had left his farm taking his sheep to the fields. At about 1100A he heard a noise, at the same time his dog panicked and he felt something happening behind him. He turned and was surprised to see two 8-feet tall humanoids standing close to him and staring at him. The humanoids were described as very strong looking, and dressed in gray suits. Their faces resembled humans except that the eyes and skin were different. Their hands were hairy and very big. The beings approached the witness and with friendly gestures touched his left shoulder and several other parts of his body. At the same time they spoke in a strange language with a modulation like a human's voice. One of the beings then pointed to the sheep, and Mr. Pavao told him the type of animal it was. Meanwhile the two beings kept talking and laughing. The witness then gave an order to his dog to fetch one of the sheep. When he looked back at the beings he saw an intense flash of light, which blinded him for a few seconds. After that the beings had disappeared.
Source: Victor Laurenco, Portucat
---
Date: February  1980
Location:  
Time:  
Summary:  
Source:  
Location: Witkowice, near Czestochowa, Poland
Date: February 8 1980
Time: 0040A
The witness, Mr. Stanislaw T, was sitting in the kitchen feeling a little hung-over after an afternoon with friends. As he sat on the kitchen table listening to Radio Free Europe he suddenly heard a strange voice coming from behind him. He looked back and noticed four little men standing nearby. They were about 70cm tall human-like and looked to be about 35 years old. All four were identical to each other. Unable to freely move the witness began to talk to the intruders. He first asked them what were they doing there, but received no answer. He then asked the little men if they had come in a UFO. Surprisingly he received an affirmative answer to this question. The witness expressed surprised as to how they had entered the house since everything was locked. He was told that they were there all the time, but cannot always be seen. The witness could not understand how that could be possible, and was told that they were in a very high state of evolution and were able to do things like that. The witness then asked if they were from an "American film" about invaders from space. The little men reply that they were indeed real enough and not part of any movie. The witness then asked the strangers if they were so intelligent and powerful why didn't help the earth in preventing humanity to destroy everybody in a nuclear holocaust. He received no answer. He then asked them if he could wake his wife and daughter, but again received no reply and saw no reaction. His last question was if they were returning someday in the future, again no answer. Stanislaw then briefly put his head on the table, looked up and to his surprised the entities had vanished. He immediately woke up his wife and daughter and told them about the incident, they did not believe him. The next day he went to the police station and reported the incident.
Source: Prof. Bronislaw Rzepecki, Krzysztof Piechota "UFO nad Polska" (UFOS above Poland) 1996
---
Date: February 11 1980
Location:  Council Bluffs, IA 
Time:  
Summary:  Brilliant orange light in field, memory loss, physiological effects. 
Source:  MUFON UFO Journal, February 1990, pp. 20-21; Omaha, Nebr., Morning World-Herald, Feb. 14, 1980(E,R,L) car
---
Date: February  1980
Location:  
Time:  
Summary:  
Source:  
Location: Bisuschio, Varese, Italy
Date: February 11 1980
Time: 1600
A woman going out to hang some linen looks at a nearby hill and sees a strange dwarf about 30-40 cm in height on a tree about 50 meters away. The dwarf was wearing black clothing. The witness goes back inside and looks out the window at the same time calling for her son. She also calls her mother in-law on the phone. The boy looks at the tree with a pair of binoculars but is unable to distinguish any additional details. The being seems to be moving from branch to branch and then stands on a very thin branch, which appears incapable of supporting his weight. The humanoid appears to try to conceal his face with his hand. He soon disappears from sight.
Source: Denys Breysse, Project Becassine
---
Date: February  1980
Location:  
Time:  
Summary:  
Source:  
Location: Botafuegos, Spain
Date: February 11 1980
Time: late night
Five witnesses, including Rafael Tobajas, spotted a low flying luminous white-orange object that seemed to be lifting up from some nearby wooded hills. Minutes later the object divided itself in three different luminous sections, then it united again into one luminous point. Soon using a pair of binoculars they saw the lights descend in a falling leaf like motion. Near the ground two huge man like silhouettes appear in front of the lights. These figures were over 3 meters in height and gray in color. The beings appeared to move using huge leaps and strides over the ground. Jumping easily over various obstacles, they seemed to move in slow motion and appeared to move in front of the luminous orbs of lights. According to Tobajas the humanoids stopped briefly by a small creek and seemed to look around and bend down several times. The humanoids suddenly began running towards the witnesses, who terrified, drove frantically away from the area. The tall gray humanoids chased the witness vehicle for several minutes. The main witness apparently encountered similar humanoids a year later at night.
Source: Dr Jimenez del Oso, & J J Benitez
---
Date: February  1980
Location:  
Time:  
Summary:  
Source:  
Location: Near Ingeniero Huergo, Rio Negro, Argentina
Date: February 11 1980
Time: 2200
22-year old Carlos Vommaro was returning from dinner at his girlfriend's house and was traveling west bound on Route 22 in his 73 Ford Falcon, as he drove by an irrigation system, common in this farming region, Vommaro noticed a strong glow on the left side of the truck over a field. As he drove on the glow seemed to get stronger, illuminating the surrounding area like daytime. Soon Vommaro noticed an object he described as shaped like an "L" separated by a luminous rectangular form resembling a bright TV screen, the object was now traveling over the road in the same direction that Vommaro was heading. The edge of the luminous "L" seemed to be covered in a diffused vapor that seemed to reflect the light, the diffused glow also surrounded the rectangular shaped screen. Vommaro estimated that the luminous "L" was about 2 meters in height and about 1.75m in width while the luminous rectangle was about 40-50 cm in diameter. Perplexed, Vommaro watched the object as it came paralleled to him about 200 meters away. Vommaro then decided to speed up to about 60mph when suddenly everything around him became dark and he apparently blacked out. When Vommaro woke up he found himself leaning against the steering wheel. The light was now on top of the vehicle, and suddenly from the area of the luminous rectangular TV screen a beam of light shot out, which seemed to spread out in width the further away it got from the screen. The beam of light covers the vehicle, but not its interior; it seems to be stronger at the point of origin. Terrified, Vommaro runs out of the car looking for help but the street is completely deserted. 3 minutes later he sees a car approaching from the direction of General Roca, frantically he signals for the car to stop. The car slows down briefly, but then speeds away again; apparently the driver had seen the hovering luminous object above the road. After coming to his senses Vommaro now realizes he is outside of the town of Cervantes, located more than 15km from his original position and encounter. He checks the car, which appears to be in good condition and drives to the nearby Cervantes police station. He looks back to see the strange luminous object still hovering above the road. Later when Vommaro returned home his dogs strangely did not recognized him and attempted to attack him. The next day he suffered from lack of appetite, weakness, and with lumbar pain.
Source: Alejandro Chionetti, UFO Press # 12, April 83
---
Date: February 12 1980
Location:  Los Barrios, Spain
Time:  late night
Summary:  A night watchman a local junkyard was sleeping in one of the junked cars because of the cold temperatures when he was suddenly awakened by someone tapping on the passenger door of the car, looking out he was stunned to see the figure of a woman with large slanted eyes, and greenish tinted skin standing outside the passenger door. Terrified the guard grabs a club, which he usually carried with him and jumps out of the car in order to confront the stranger visitor. Once outside the car and ready to strike at the stranger the stunned watchman watches the strange woman simply dematerialize in front of him. He reportedly quit his job that same morning.
Source:   Iker Jimenez, Ovnis en Andalusia
---
Date: February 16 1980
Location:  Tranent Scotland
Time:  unknown
Summary:  A man encountered a hovering metallic oval shaped craft very close to the ground. Several small beings wearing silvery suits emerged. One of the beings was heard to say in a "demonic" tone of voice, "This was our planet once and if you do not change your ways only the chosen will be saved." A strong smell of sulfur accompanied the object and beings.
Source:   Jenny Randles, UFOS, and how we see Them
---
Date: February  1980
Location:  
Time:  
Summary:  
Source:  
Related articles