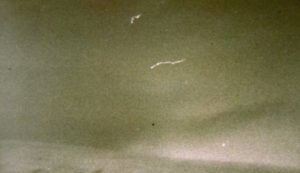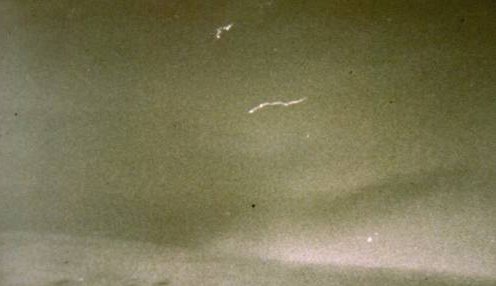 (Last Updated On: April 2, 2017)
Date: January  1984
Location:  Navalmoral De La Mata Spain
Time:  night
Summary:  A truck driver approaching the village saw a tall transparent woman suddenly standing on the roadway ahead of him, apparently he was unable to stop the truck, and it ran right through the figure without causing any apparent damage. The figure was still standing there as the witness drove away.
Source:   J J Benitez, LA Quinta Columna 
---
Date: January  1984
Location:  Buenos Aires Province Argentina
Time:  2200
Summary:  A man returning home after doing some shopping was walking near the house on a field when he noticed a round luminous object approaching his position slowly. As the craft approached he noticed that it was transparent and inside there were several short green skin beings with large oval shaped and huge eyes. One of the beings raised its arms and yelled "Peace'! The craft then glided slowly away above some nearby house and disappeared. (The witness reported a six-hour time discrepancy.)
Source:  Dr. A Dardanelli, Ovnis, Secuestros y Acupuntura 
---
Date: January  1984
Location:  Hessdalen Valley, Nr Roros, Norway
Time:  
Summary: An object was tracked by radar and sighted visually. An unidentified object was tracked by radar and sighted visually.
Source:  Hall, Richard H. The UFO Evidence, Volume II: A Thirty-Year Report Scarecrow Press, Lanham, 2000 
---
Date: January  1984
Location:  Pilanesberg, South Africa
Time:  00:10 
Summary:  200m long cigar hovers for three minutes 150m distance. Turns rapidly to the south, leaves extremely fast. A hovering object was observed. One cigar-shaped object, about 600 feet across, was observed by three witnesses on a road for over three minutes.
Source:  Hind, Cynthia UFO Afri News
---
Date: January  1984
Location:  Glasgow, 7Th Floor Office Bldg, UK 
Time:  Daytime 
Summary: – Private Pilot incident.  Pinkish silver cigar-shaped object shot across sky from left moving rapidly to the right, disappeared to rapidly to the west toward Dumbarton. Altitude 1500-2000′, speed 45,000mph.
Source:  Halliday, Ron UFO Scotland: The Secret History of Scotland's UFO Phenomenon BW Publishing, Edinburgh, 1998 
---
Date: January 1 1984
Location:  Montpelier, Vermont
Time:  00:50 
Summary:  Pulsating orb watched for 10 seconds by young couple, eerie green color, moved toward heavily wooded area.
Source:  APRO
---
Date: January 3 1984
Location:  Lake Michigan, Port Washington, Wisconsin
Time:  4:14 AM.
Summary:  An ovoid UFO flew low over Lake Michigan and was sighted by three women in Port Washington, Wisconsin. The UFO had three portholes.  One oval object was observed by three female witnesses, typical age 30, at a lake for over 60 minutes. No sound was heard.
Source:  Donald R. Schmitt, International UFO Reporter, March-April 1984, p. 3
---
Date: January 4 1984
Location:  Fessenden Hwy 52, North Dakota
Time:  Around 2000
Summary:  Two white lights near canal, took off to the east, followed by two men, flashing red light, one man detected a "rushing" sound.
Source:  APRO
---
Date: January  1984
Location:  
Time:  
Summary:  
Source:  
Location. Framingham Massachusetts
Date: January 4 1984 Time: late night
The witness recalls lying fully awake with his eyes closed feeling a strange irritation in his left eye; he tried to rub his eye but found that he could not move. When he finally opened his eyes he saw what appeared to be a mirror on the ceiling reflecting a green pencil thin beam of light that was shooting directly into his right eye. He also saw a figure of a small being holding what appeared to be a hair dryer. He felt that his mind was being read. He struggled and finally was able to move, he then rushed to the window and looked out just in time to see an object shaped like a barrel with a set of tripod legs rising from the ground. It also had bright orange lights shining from inside of it.
Source: Joe Nyman, UFONS # 204 
---
Date: January 4 1984
Location:  Crescent, Iowa
Time:   22:40 
Summary: Meteor stops on a dime, makes 90 degree turns, fast vertical climb. An object was observed. It departed by rapidly flying straight up until lost to sight. One fiery ball was observed by one witness on a farm for over one minute.
Source:  MUFON
---
Date: January 5 1984
Location:  Grand-Gallargues, Languedoc-Roussillon, France 
Time:  
Summary:  
Source:  http://www.cnes-geipan.fr/geipan/index.html
---
Date: January 7 1984
Location:  Edenton, North Carolina
Time:  05:50
Summary:   "Meteor" looped, made instant 90 degree turns up and down. High and fast for 50 minutes. Clear sky.
Source:  MUFON
---
Date: January 8 1984
Location:  Framingham, Massachusetts
Time:  3:00 AM. EST.
Summary:  In the witness's bedroom a short humanoid pointed a beam at the witness in bed. The witness felt that the being could telepathically read her mind. When the being had left a three-foot long by 18″ cylinder shot straight up into the sky outside. 
Source:  MUFON UFO Journal, August 1991
---
Date: January 8 1984
Location:  outside Cozad, Nebraska
Time:  3:15 AM. CST.
Summary: On Interstate 80 three people driving in a van outside Cozad saw a 100-foot diameter disc hover 80 feet over the highway. It was blazingly brilliant and had more than 15 colored circular lights around the rim. They heard an intermittent beeping on the van's CB radio. 
Source:   International UFO Reporter, March 1984, p. 10
---
Date: January 8 1984
Location:  St George, Utah
Time:  22:00 
Summary: Eight lights all different colors traveling across the sky in a uneven V formation with small vapor trails. Eight lights all different colors traveling across the sky in a uneven V formation with small vapor trails. I never really thought about reporting what we had seen, we were just kids. People don't believe adults, never mind kids. We were walking down the sidewalk looking for a place to eat. We were staying at a motel in a small town somewhere in southwestern Utah. As we were walking down walked we noticed something on the ground flopping around like a fish. When we got closer we noticed it was a bat fighting a bug. As the bat flew away our eyes followed it toward the sky. Upon looking up we observed about eight lights in the sky. They traveled from left to right. Each was a different color and they were flying in a v formation. One side of the formation was one light longer than the other side. I believe the right side was longer than the left. As they crossed the sky, they left a small vapor like trail behind them. They were far away it seemed and moved in the same direction across the sky for the duration of the sighting. They made no sound but again they were also far away. When all of a sudden they seemed to head in a more upward direction. Then in a split second they were gone and now left a longer trail behind. Each trail was they same color as each light that left it. They seemed to go up at an angle and did not cross the sky. The trails slowly dissipated and nothing more was seen of the objects. I have never heard of another sighting like ours. I have told the story to a few close friends only, due to the fact people look at you like your crazy. I have no opinion of what is was. I only know I can't explain it and have seen nothing since that can.
Source:  NUFORC 
---
Date: January 9 1984
Location:  Capron, IN
Time:  6:30 AM. 
Summary:  While driving his truck down a country road, the witness observed a large meteor-like object in a high speed vertical descent to the left of his vehicle. He lost sight of the object for a few seconds at tree level. Suddenly, an object covered with white lights appeared at treetop level on the left side of his vehicle, maneuvered around behind the truck, then passed the truck on the right side and moved down the highway and out of sight. The driver described the object as looking like a football turned up on end, metallic-grey in color, about 150 feet tall and moving about 50 feet off the ground and about 100 feet from his vehicle. He could detect no sound and observed the object for about one minute. 
Source:  MUJ-190
---
Date: January 9 1984
Location:  Pearsonville, California
Time:  7:30 PM. 
Summary:  A metallic object described as blimp like with red lights buzzed two cars on US Highway 395 south of Pearsonville, near the China Lake Weapons Center in Kern County on a clear night. 
Source:  APRO Bulletin, November 1984, p. 1; Larry Hatch, U computer database, case # 14071
---
Date: January 9 1984
Location:  10 miles west of Torrington, Connecticut
Time:  9:30 PM. 
Summary:  Mr. & Mrs. Sprinster had a close encounter with a multi-colored triangular shaped UFO 10 miles west of Torrington on Route 4. The object moved very slowly, and dropped in altitude to pace their car. Its underside was crisscrossed with tubes and grill work. A red light in the center of the object detached, circled the object three times, then returned back to its original position. It left by making a sharp turn to the south. The encounter lasted 10 minutes. 
Source:   Philip J. Imbrogno, Contact of the 5th Kind, p. 9
---
Date: January 9 1984
Location:   North of Hawthorne, New Jersey
Time:  9:33 PM. 
Summary: Two witnesses in a car driving north of Hawthorne saw two silent 75-foot in diameter parabolic discs 200 feet above SR 208. The objects seemed to be avoiding being seen by passing cars. 
Source:  Robert Gribble, MUFON UFO Journal, December 1983, p. 5
---
Date: January 9 1984
Location:   North of Mojave, Kern County, CA
Time:  10:30 PM.
Summary:  Several independent witnesses reported seeing a huge silent cigar shaped object over the highway on SR 14 15 miles north of Mojave, Kern County, California. It was only 100 feet over the road and had red lights on the bottom; it flew off to the north. 
Source:  Robert Gribble, MUFON UFO Journal, December 1984, p. 5
---
Date: January 12 1984
Location:  Vladimir, Ukraine
Time:  
Summary:  Several luminous spheres fly over in V-formation. Several luminous formations of objects were observed by numerous witnesses in a city for two minutes.
Source:  FSR
---
Date: January 14 1984
Location:  Surrey, UK
Time:  
Summary:  Speeding red light, shape of triangle and large than aircraft, hovered, disappeared, returned two minutes later. A hovering triangular object was observed. One red triangle was observed by several witnesses for two minutes.
Source:  APRO
---
Date: January 16 1984
Location:  Surrey, UK
Time:  
Summary:  Speeding red light, shape of triangle and large than aircraft, hovered, disappeared, returned two minutes later. A hovering triangular object was observed. One red triangle was observed by several witnesses for two minutes.
Source:  APRO
---
Date: January 19 1984
Location:  Swansea, Kilvey Hill, UK
Time:  17:45
Summary:   Sphere of flashing lights flew from Kilvey Hill, over Baglan Bay, toward Skewen. Seen over Killay, flashing lights front and back, bigger than a jumbo jet in size.
Source:  APRO
---
Date: January 20 1984
Location:  Midland Western Australia
Time:  0030A
Summary:  A young boy sleeping in a tent in his backyard claims that several "ugly" little men wearing gray tight fitting outfits that attempted to grab him and drag him out of the tent awakened him. He somehow got away from them. Later that same night a witness reported seeing a conical shaped light low over the area that apparently affected his portable radio reception.
Source:  TUFOIC 
---
Date: January 21 1984
Location:  Clinton, Presbyterian College, South Carolina
Time:  00:05 
Summary:  Light 18″-24″ diameter lands in a field on college campus, takes off again, 5 students, four police witnesses. An object was sighted that had an appearance and performance beyond the capability of known earthly aircraft. One white ball, about 2 feet across, was observed by nine witnesses at a college.
Source:  APRO
---
Date: January 21 1984
Location:  Hessdalen Valley, Norway
Time:  17:50 
Summary:  Project Hessdalen started operation. Radar visual Nocturnal light shoots by Hessdalen Project team
Source:  APRO
---
Date: January 21 1984
Location:  Near Jasper, New York
Time:  9:30 PM.
Summary:   While driving home to Edison, a mother and two children watched in amazement as an enormous gold, oval-shaped object appeared to pace their car. As they watched, the object appeared to land on a nearby ridge and after a few seconds it ascended into the sky. The mother said the object repeated this maneuver several times and when she increased and decreased the speed of the car, the object did the same. At one time the object moved across the sky, then returned to the area near her car. 
Source:  Bob Gribble
---
Date: January 22 1984
Location:  30 miles East of Toledo, Ohio
Time:  7:25 AM.
Summary:   The cabin crew of United Airlines flight 729, flying westbound at 43,000 feet, observed a blurry bright red object about the size of a DC-9 airliner move from northeast to southwest. The object, which was in view for only a few seconds, left a contrail which the airliner passed through.
Source:  
---
Date: January 22 1984
Location:  Huntington, West Virginia
Time:  07:09
Summary:  Orange ball of light hovered silently for one minute, suddenly moved west high rate of speed. No sound
Source:  MUFON
---
Date: January 22 1984
Location:  Nr. Way Cross. Georgia
Time: 7:00 PM.  
Summary:  While parked in a wooded area, a young couple spotted a large object approaching their car at treetop level. The object crossed the logging road near their car, went across an open area to a stand of trees, then turned end-for-end. At this point the driver put the car in gear and started down the road at a high rate of speed. Then the object made its way back toward the road and took a position directly over the car at a very low altitude. The object had an L-shaped light pattern on the underside with two brilliant red lights and one green light. The glow from the red lights lit up the inside of the car and both occupants became hysterical. When the car reached the county road, the driver turned left and the object turned right. Then the object swung around and moved in behind the car and followed the fleeing vehicle for about 75 feet, turned left, and moved away at a high rate of speed. The sheriffs office received several calls about a strange lighted object in the area that night. 
Source:  Bob Gribble
---
Date: January 22 1984
Location:  Arnold, Missouri
Time:  7:00 PM. 
Summary:  Two occupants of a car observed a circular object with three brilliant white lights and a corona of white light covering its entire surface. As the object approached the car the driver made a 180 degree evasive turn only to have the object pull alongside and pace his vehicle. After about three minutes the object pulled away and left the area. The driver estimated that the object got to within 150 feet of the car, maintained an altitude of about 150 feet and was at least 25 feet in diameter. A vertical shaft of white light was also observed coming from the top of the object. After arriving home two witnesses observed three helicopters moving about in the area where the object was seen.
Source:  CUFOS
---
Date: January 22 1984
Location:  Huntington, WV
Time:  7:09 PM.
Summary:   On the way outdoors to start his car the witness observed a large brilliant ball of orange light in a stationary position about 900 feet above the neighbors house. The glow from the ball illuminated the entire ground area. After watching the object for about a minute it suddenly moved to the west at a high rate of speed. He detected no sound coming from the object. 
Source:  Bob Gribble
---
Date: January 25 1984
Location:  Gimeaux, France
Time:  02:30
Summary:  Two silent yellow orbs hover at 1m altitude, shot up rapidly and northwest to clouds. Hovering objects were observed. They departed by rapidly flying straight up until lost to sight. Two yellow balls were observed in cloudy weather by one witness in a residential area for two minutes. No sound was heard.
Source:  FSR
---
Date: January 25 1984
Location:  Aspaskjolen, Hessdalen Valley, Norway
Time:  17:30
Summary:   Large object flew south rapidly to the north. Radar showed two echoes. Nocturnal light light, brightness of Venus, vanished when photograph attempted. An object was tracked by radar and sighted visually. One light was observed by a group of witnesses at a mountain for 140 minutes.
Source:  Hatch, Larry *U* computer database Author, Redwood City, 2002
---
Date: January 27 1984
Location:   ­Valley Center, California
Time:  5:40 AM.
Summary:   Four witnesses observed five large, brilliant, stationary white lights in the northern sky. Four of the lights were in a diamond formation with the fifth light in the center of the formation. After watching the display for several minutes they noticed smaller white lights maneuvering around the large lights. The small lights increased in number to a total of about 100 within a few minutes. Suddenly the formation moved away to the northwest and was accompanied by the small lights. As the formation started to move, the witnesses detected a soft humming sound. When first sighted the lights were estimated to be two miles distant. The observation lasted for about eight minutes. 
Source:  Bob Gribble
---
Date: January 27 1984
Location:  King Of Prussia, Pennsylvania
Time:  6:15 AM. 
Summary:  Two young boys delivering papers observed a big circular object with lights around the edge hovering over houses about two blocks distant. They watched the object for several seconds, then it ascended into the sky at about a 45 degree angle. The boys did not detect any sound. 
Source:  Bob Gribble
---
Date: January 27 1984
Location:  Seven Points, Texas
Time:  20:15
Summary:   Flashing red lights above force car to complete stop from 55 mph, mother and 7-year-old son lose track of time when lights enter car. Next memory speeding down highway 70 mph, stopped for speeding. Electromagnetic and gravity effects were noted. Witness reported that a period of time could not be accounted for. One red light was observed by two witnesses at a lake for over 75 minutes (Greene).
Source:  MUFON
---
Date: January 28 1984
Location:   Flemington, New Jersey
Time:  6:30 PM. 
Summary:  A young couple sighted an orange ball descending through the cloud layer and appeared to land on a ridge behind the tree line. Twenty minutes later the husband observed a big, bright object ascending vertically from the same ridge, pause in mid-air, then move horizontally and disappear in the distance. The object that descended appeared to be as big as a hot air balloon. (The Center received  55 calls from a 15 county area describing the descent of a glowing object over New Jersey.)  An orange sphere was seen to land on a ridge. Two witnesses saw the UFO descend and land, while many others saw a bigger object rise from the same spot 20 minutes later. 
Source:  International UFO Reporter, March 1984, p. 7
---
Date: January 30 1984
Location:   40 miles west of Miami, Florida
Time:  9:00 PM.
Summary:  Jan. 30, 1984;
Mine men working on an oil platform observed a bright orange object descending from the sky at a high rate of speed. When at an estimated altitude of 10,000 feet and about five miles distant, the object came to an instant stop. The bright orange glow faded and the crew observed an object with a bright chrome dome-shaped top and dozens of flashing lights on the underside. All witnesses agreed that the object was huge: no less than 200 feet in diameter. After remaining stationary for about ten seconds the object turned a bright orange and instantly moved away to the east at a high rate of speed. The total observation time was about one minute. (A witness at Jensen Beach, about 100 miles northeast of the oil platform, observed the object dropping from the sky in a high speed vertical descent. Two witnesses in the Miami area also saw the object; one while the object was stationary west of Miami and the other while the object was moving to the east.)
Source:  Bob Gribble
---
Date: January 31 1984
Location:  Pottsville, Pennsylvania
Time:   18:00
Summary:  Silent Nocturnal light overhead at treetop level, hovers, 15 rnin then shoots moving rapidly to the west. A hovering object was observed. One light was observed by one witness in a residential area for over 15 minutes. No sound was heard.
Source:  MUFON
---
Date: January  1984
Location:  
Time:  
Summary:  
Source:  
Related articles