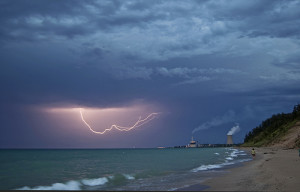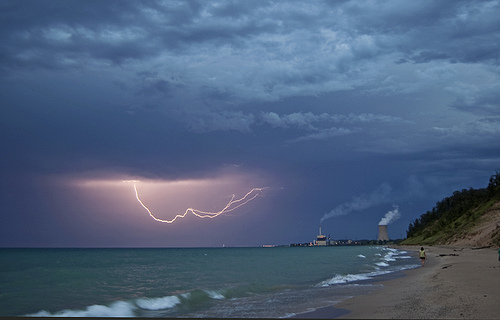 (Last Updated On: July 4, 2016)
Date: January 1987
Location: Palms California
Time: 0300A
Summary: The witness suddenly woke up to see two short gray skin humanoids with large heads and huge black oval shaped eyes standing in her room. Both wore dark suits and wide belts. They paid no attention to her and instead were apparently examining her books, furniture and specially her pet snake. The witness screamed causing her parents to come running into her room. The parents briefly saw the short humanoids as they both touched the center of their belts and disappeared in a flash of light.
Source: Barry Taff, UFO Vol. 4 # 1
---
Date:  January 1987
Location:  Manhattan New York
Time:  evening
Summary:  William & Morrow editor Bruce Lee & his wife ventured into Womrath's bookstore on Lexington Avenue. There the two noticed a very short couple bundled up in winter clothes, looking over a copy of Strieber's book "Communion" and complaining how he had interpreted things wrong—they spoke rapidly in what sounded like educated "upper East Side Jewish accents." When Lee introduced himself as a William & Morrow employee and asked politely what they did not like about the book, the man ignored him, but the woman communicated such "complete loathing & hatred" that the Lees retreated in shock. They noticed that the strange couple was wearing large tinted glasses that did not entirely hide large "dark almond shaped eyes."
Source:  Ed Conroy
---
Date:  January 1987
Location:   Toronto, Ontario, Canada
Time:  night
Summary:  A 4-year old boy reported being visited in his bedroom by "phantoms" he described as having large almond shaped eyes and large smooth heads. When he started to bleed from his nose, one of the humanoids inserted a liquid into the nostril that it drew from a silver plated pot. When the child became scared, the humanoid changed appearance to resemble the boy's best friend, a girl wearing a pink dress.
Source:  John Picton, Toronto Star January 31 1987
---
Date:  January 1987
Location:  
Time:  
Summary:  
Source:  
Location. Jacare, Brazil
Date: January 4 1987
Time: night
Oscar Rosas was chased by three humanoids along a field, two small and one tall and all wearing tight-fitting white coveralls. The humanoids had large heads and eyes. Apparently there were two other witnesses to the incident. No other information.
Source: Antonio Faleiro, Brazil
---
Date:  January 1987
Location:  
Time:  
Summary:  
Source:  
Location. Lake Dulverton, Tasmania, Australia
Date: January 1987
Time: 0200A
After suffering a flat tire vacationer Bill Johnstone and his friend Stella Donohue set up a tent for the night near the lake. They were awakened around 0200A by a screeching noise. Donohue unzipped the tent and went outside to see a huge creature towering in the water. It had a tiny head, too small for it's body. Its fur was shining brilliantly silver in the moonlight and it was staring straight at him. She screamed for Bill and he raced out with a flashlight. At this time the creature was racing towards them. They grabbed the keys and ran to the car and then took off. They reported the incident to the police. A local taxi driver reported that two boats had vanished on the lake and the wreckage was never found.
Source: AYR Australia (Australian Yowie Research)
---
Date:  January 1987
Location:  
Time:  
Summary:  
Source:  
Location. Near Jozsa Hungary
Date: January 9 1987
Time: 0230A
A member of a road maintenance crew was out on a routine check when he saw an object with brightly lit windows on a nearby field, which he felt was a farm building. He stopped the car to get a better look. Now he could see that it was a disc shaped craft rounded off at the rim, with a row of circular windows on its center. Under the windows a door like opening could be seen. Two figures stood by the opening, these wore dark coveralls and appeared heavyset. At the top of the object some yellow flashes could be seen.
Source: Karoly Hargitai, IUR # 14-2
---
Date:  January 25 1987
Location:  Near Yalta Crimea Ukraine
Time:  2300
Summary:  The witness was alone in her apartment and had just gone to bed when seven to nine human like figures suddenly appeared in the bedroom, standing in front of her closed French windows. The entities were of medium height. Some were male while the others were female. The men were bearded and the woman had straight hair down to their shoulders. All had beautiful faces with clear, clever penetrating eyes. The witness attempted to move but could not; she then received a telepathic message telling her to remain still. She felt no fear, but felt overwhelming joy. The beings gathered around her bed and bent over her. She noticed one of the women placing a device on her nearby piano and bending over it. At one point she saw a light-colored disk and was told that it was her ovum. Later the entities informed her that it was their time to leave and they gradually faded away. The witness apparently suffered from gynecological problems as a result of the encounter and has never been able to become pregnant.
Source:  Vladimir Rubtsov, PhD, Mufon Symposium Proceedings 1994
---
Date:  January 29 1987
Location:  Chimanimani Zimbabwe
Time:  0543A
Summary:  Several Mozambican laborers reported seeing a large brightly lit balloon shaped object passing over the area. The witnesses were able to see two men inside the craft; one dressed in blue the other in white. The witnesses interpreted the object as "witch doctors" traveling from South Africa.
Source:  Cynthia Hind, Mufon Symposium Proceedings 1987
---
Date:  January 1987
Location:  
Time:  
Summary:  
Source:  
Related articles