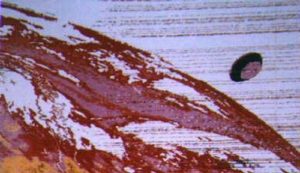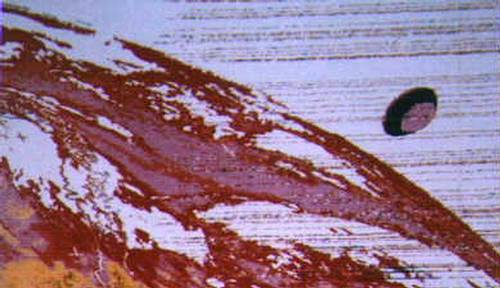 (Last Updated On: July 13, 2016)
Date: July  1992
Location:  Middletown, New York
Time:  afternoon
Summary:  Whitley Strieber was walking about half a mile behind the cabin when he noticed what looked like about a twelve-year-old sitting against a big tree. He had something between his fingers, and Strieber assumed it was a local kid out sneaking a smoke. The woods were very quiet and he strolled over and said: "Better be sure you put that out when you're finished." Then he realized that the "boy" was wearing a tan jumpsuit. His eyes were deep set, and his skin was old. And it wasn't a cigarette he was holding; it was a little silver wand. At this point Strieber felt scared. He opened his mouth slightly. Still looking straight ahead, he growled. Terrified Strieber ran away from the area and did not see the humanoid depart.
Source:  Whitley Strieber, Breakthrough, The Next Step
---
Date: July  1992
Location:  Springfield, Missouri
Time:  evening
Summary:  A Springfield woman reported two robed creatures in a vacant field near her home. The creatures had glowing amber eyes and appeared to be carrying a computer-like apparatus, which one was operating. The creatures glided over the ground without apparent effort.
Source:  UFO Intelligence Newsletter
---
Date: July  1992
Location:  
Time:  
Summary:  
Source:  
Location. Houston, Texas
Date: July 1992
Time: 0300A
Sally Crestman awakened in the middle of the night to find a tall man standing by her bed. She described the man as Egyptian-looking, with long, black hair and very pale skin. Although the room was dark, the being seemed to glow, and Sally could clearly make out his facial features. The man just stood there staring at the witness. She was unable to move as her husband slept next to her. He was snoring very loudly. The stranger continued to look at the witness; his eyes were very dark; a red area glowed in the middle of his pupils. He then raised his finger, pointed to the ceiling, and just vanished. Scared, she pulled the covers over her head and heard a voice inside her head say, "You will now travel far beyond any place you have ever been before." She then felt as if she was falling into a hole and sinking, and then she blacked out. The next day she woke up very tired.
Source: Philip J Imbrogno & Marianne Horrigan Contact of the 5th Kind
---
Date: July  1992
Location:  
Time:  
Summary:  
Source:  
Location. Bukovec, Slovakia
Date: July 1992
Time: 1600
A young boy witnessed the landing of a Saturn shaped object near the village. He also noticed 5-6 little humanoids milling around it. He called his mother and grandmother and attempted to take 4 photographs, but this did not come out. The little humanoids went back into the object, which then took off at tremendous speed.
Source: Dr Milos Jesensky
---
Date: July  1992
Location:  
Time:  
Summary:  
Source:  
Location. Paltanavichus, Lithuania
Date: July 1992
Time: 2300
Rimas, a 50-year old Lithuania rural priest was at home when he heard the sounds of motors and foreign voices outside in the courtyard. He looked out the window and saw a large disc-shaped object descending quickly into the yard, as it approached the ground a door opened and a rope-type ladder was lowered to the ground. Around the center of the object the witness could see a dozen round-lighted windows. Curious the witness stepped out into the courtyard and climbed up the rope ladder, as he entered the hatch he was greeted by two silvery clad human-like figures complete with helmets and antennas on top. Inside the saw numerous panel with buttons and estimated that the disc was about 50 meters in diameter. Soon he heard a sound resembling that of a dynamo and the disc rocked and climbed up. Looking out a window he saw what appeared to be the earth moving slowly away, he did not see any stars only a dark blue firmament. Soon they landed presumably on the alien's planet where he saw low one story dwellings with windows. He also saw trees; grass, which possessed striking colors. The aliens or inhabitants of the "planet" were human like about 1.60 meters in height all youthful in appearance. They wore simply flaxen clothing and the women had their hair picked up in a bun, they wore no cosmetics. The planet was very warm. He was given a juice that tasted like mango to drink. They aliens spoke neither English nor German but the witness somehow understood everything that was being said to him, he thought that maybe they communicated telepathically. He did not see any forms of electricity of lighting. He then asked the aliens if they believed in God or in a God, he was told that yes that they worshipped just as the earthlings did. He was taken to a building, which he was told was a place of worship, which, in no way resembled a church. Inside he hardly saw any images except for that of a man with a belt and beard, which he was told was their superior "being". He was told that there were other planets in their system populated by tall dark skinned aliens or 3 meters in height. He described the aliens as having beautiful gray eyes and light colored hair. Most wore light colored coveralls and the women multicolored dress. He remembered seeing beautiful flowered fields and flat topped hills and mountains. He did not see any clouds but noticed that the sun was very hot. After awhile he was taken back to the disc shaped object and climbed again up the rope ladder. He was eventually brought back to his home. The aliens did not promise the witness that they would return.
Source: Sergey Shpakovskiy, quoting Lithuania Television channel Tele-3 1992
---
Date: July  1992
Location:  
Time:  
Summary:  
Source:  
Location. Sedona, Arizona
Date: July 1992
Time: late night
The witness, a well-known local psychic, professional artist, and channel was suddenly awakened by voices talking in her bedroom. Looking up she saw several beautiful man-like figures wearing white sparkling uniforms standing at the foot of her bed. The figures had blue upside-down triangle insignias on the breast area of their uniforms. Another figure with flowing blond hair and wearing a two-piece uniform with gold braided epaulets and a large gold triangular emblem on his chest appeared to be the leader. A sort of spotlight shone on him and he smiled at the witness. He reassured her and a peaceful feeling came over her. The next day she was also visited by numerous entities including a blond young woman wearing a shiny white uniform with a golden upside-down triangular insignia on her breast area.
Source: Helga Morrow, The Missing Link # 125
---
Date: July  1992
Location:  
Time:  
Summary:  
Source:  
Location. Jersey City, New Jersey
Date: July 3 1992
Time: 2218
The witness was riding his bicycle on Bergen Avenue on his way home from work when he saw what he thought was a meteor coming straight down at lighting speed. It looked like an orange fireball, which stopped suddenly 200 feet from the ground. It was then a flying disc that was flying down on its edge. When it stopped it slowly began to turn right side up and that's when the witness noticed that it was dark gray on top. Then it slowly turned on its edge and the witness saw five pentagon shaped lights on the bottom, which covered the whole underside. These were emerald in color and were arranged with one in the middle and the rest around it. There was no sound. The witness stood motionless with tears flowing down his face, he felt no fear only love and admiration. He also noticed that he was suddenly holding his bicycle on Belmont Avenue. A few distance away from where he was originally. He suffered from a memory lapse and paralysis during the event and sleep disorder thereafter. No hypnotic regression has apparently been attempted.
Source: John Schuessler, MUFON, Filer's Files # 9 2003
---
Date: July 17 1992
Location:  (GOES-8 Satellite) Infrared picture, Earth Orbit, Space.
Time:  Photo Above
Summary:  
Source:  
---
Date: July  1992
Location:  
Time:  
Summary:  
Source:  
Location. Duarte, California
Date: July 18 1992
Time: 0500A
In a "dream-like" state, a husband and wife reported being abducted from their beds as part of a "massive" airlift of people being taken from their beds that night. Both were raised off their beds, traveled through the house feet first to the back door, out the door and then gradually into the air. They moved at a slow pace through the air. They met many others in the sky. All were floating through the air feet first dressed in pajamas. They landed at the Angeles Forest in the foothills of the San Gabriel Valley near a landed disc-shaped object. A female alien approached the pair and removed her helmet. She looked like an Oriental human. She gave both shots in the arms. At this point they suddenly found themselves back in bed. In the morning both had sore arms where the shots were administered and had red marks. The experienced seemed to have lasted for about 20 to 30 minutes.
Source: NUFORC
---
Date: July 19 1992
Location:  
Time:  
Summary:  
Source:  
Source: Location. West Vancouver British Columbia Canada Date: July 19 1992
Time: midnight A 16-year old boy sees a dark cone-shaped craft overhead; it apparently descended making zigzagging movements. The boy hid in the house but several humanoids entered the house through a closed bedroom window. He then suffered a period of missing time.
Source: LDLN # 318
---
Date: July 23 1992
Location:  
Time:  
Summary:  
Source:  
Location. Sydney, Australia
Date: July 23 1992
Time: 0730A
Peter Khoury was in bed as a result of a recent injury and was on pain medication. Suddenly he bolted winded awake and sat up in bed. There were two humanoid females sitting on the bed, both entirely naked. The two women looked very human in nearly every way. They had well-proportioned adult bodies. One looked Asian, with straight dark shoulder length hair and dark eyes. The other looked perhaps Scandinavian, with light colored, possibly bluish eyes and long blond hair that fell half way down her back. To Khoury, the hair looked very exotic. Their faces were somewhat odd-not unattractive, but too chiseled, with high cheekbones and eyes that were two or three times larger than normal. Khoury specially noticed the blonde-haired person. Her face was long, very long. The blonde-haired person, who was sitting in a kneeling position on the bed, seemed to be in charge. Khoury thought that she was communicating telepathically with the dark haired woman, who was sitting with her legs partly folded under her. Their facial expressions were almost blank. Stunned, the witness was unable to react as the blonde-haired woman suddenly reached out with both her hands and cupped the back of his head, drawing his face toward her chest. He resisted. Apparently very strong, she pulled harder. She pulled him over and his mouth was basically on her nipple, and he bit it. A piece of her nipple came loose in his teeth, but the blonde woman did not cry out. She seemed shocked or confused and looked at the Asian woman, then back at the witness. Involuntarily, Khoury, swallowed the small fragment in his mouth, and it caught in his throat. He went into a coughing fit. Suddenly the two women simply disappeared. Feeling an urge to go to the bathroom, he realized his penis felt very painful. Pulling back the foreskin he found two thin blond strands of hair wrapped tightly around. He kept the hair samples for future testing.
Source: Bill Chalker
---
Date: July 24 1992
Location:  
Time:  
Summary:  
Source:  
Location. Tuttlingen, Germany
Date: July 24 1992
Time: late night
At 2230 that night Rolf Fuller had seen a maneuvering pyramid of light flying over the area, it changed colors from white to red then white again and seemed to grow in size. Later that night as he lay sleeping he suddenly woke up and found himself in unfamiliar surroundings. He was in a room weakly illuminated by a reddish light. A short figure in a blue suit with a black belt stood in front of him. The figure wore a dark blue peaked cap. It had long arms and fingers. It also had large slanted dark eyes, a small mouth and a small nose, no ears and stubble of hair. On a sleeve he had the following markings in yellow "L / and a pyramid." The witness panicked and grabbed the small figure. At the same time two shorter gray figures grabbed the witness arms. The witness struggled with the beings that were somewhat weak. He confronts the blue-garbed leader and kicks him then another figures jumps on his back presses it hands on the witness mouth and the witness faints. He later wakes up in his bed still surrounded by the entities. Theses suddenly vanished in plain sight.
Source: Ihlobrand von Ludwiger, Mufon 93 Symposium Proceedings
---
Date: July 25 1992
Location:  Cabo Rojo, Puerto Rico
Time:  unknown
Summary:  The witness, who had been previously abducted was visited in his home by a strange being described as humanoid in appearance but Hindu-like, the being communicated with the witness. This being told the witness that the small gray humanoids were androids and only lived for a few days before being recycled into new ones.
Source:  Terry Ecker, The Ufologist Vol. 2 # 1
---
Date: July 25 1992
Location:   Tarasovka, Kiev, Ukraine
Time:  0300A
Summary:  Three men, including the main witness, 17-year old Alexander Metlov had gone out into some fields to race their motorcycles. Two of them, not the main witness, had been drinking and were somewhat inebriated. In a field near a bridge they saw a luminous sphere slowly descend to the ground. It hovered closed to the ground while three leg-like protrusions emerged and touched the ground. For about 10 minutes Alexander shone the headlight of his motorbike at the sphere while the other two men stared. Soon an opening became visible on the upper section of the sphere and something resembling stairs descended towards the ground. A human-like figure then became visible; Metlov then shone the headlight at the figure, which immediately became still. The being was described as about 5'5″ tall, human like, wearing a white coverall and an opaque helmet, he also had a rectangular shaped panel on his chest. After a few moments, ignoring the witness, the figure walked towards the nearby river, it moved in a peculiar manner as if getting accustomed to walking on the ground, it eventually disappeared over the riverbank. After about 1o minutes the being returned, this time walking normally. Alexander then rushed towards the being with his motorbike, it suddenly disappeared and appeared standing next to the other tow men that were now apparently sleeping on the ground. At this point an opening became visible on the being's helmet, and an oval shaped head became visible. It appeared human but seemed to have some "make up" on it. Moments later it walked back to the sphere, the sphere lit up, and the being re-entered the object. The sphere began glowing and changing colors then shot up vertically into the sky and disappeared. The next day Alexander and another witness reported seeing a metallic disc with a glowing green light land on a garden, remain there for about 5 minutes then take off at high speed and vanished.
Source:   Yuri Selenok, ISUR
---
Date: July  1992
Location:  
Time:  
Summary:  
Source: 
Related articles