(Last Updated On: January 8, 2017)
Date: early April 1997
Location: Roldan, Argentina
Time: evening
Summary: Two sisters were walking near route AO 12 facing a silo factory, when they were startled by the appearance of a diminutive creature, entirely covered in hair and with shiny eyes. The younger of the sisters felt compelled to go towards the entity as if something were overcoming her will. Her older sister shouted at her and seized her arm to keep her from going any closer. The two sisters said that the creature made no hostile gestures upon seeing them, aside from the strange power of attracting one of them. At a given moment the creature made a surprising jump and landed on the other side of the road (over 12 meters), losing itself in the soybean fields. The younger sister suffered a nervous breakdown and was sent to a local hospital. Days later another witness, was in her country home late at night when she felt a strange compulsion to open the door and go outside. She then saw a strange creature; she would later refer to as "a bear" staring fixedly at her at a distance of 20 meters. The witness reported feeling "mesmerized" by the entity and only emerged from the trance when her husband called her insistently from within the home. According to the witness the being resembled a dog walking on all fours, standing on its rear extremities during the encounter. The face resembled that of a "small bear."
Source:  Guillermo Aldunati
---
Date:  April 1997
Location: Oakville, Washington
Time: various
Summary: Three years after a powerful rainstorm hit the area leaving behind a mysterious gelatinous substance on the ground, and at least one witness, Sunny Barcliff, saw several unmarked black helicopters flying low over the area, these helicopters were being followed by a large triangular shaped craft, that was completely silent and glowed all around its periphery, four strangers, dressed in dark suits visited the town and asked about the "gel shower" incident. A local police officer, Jon Lubben, ran the license plate of their vehicles. They belonged to someone living in Fort Hood, Texas, possibly belonging to an Army intelligence unit.
Source: Erickson Paranormal Project:
---
Date: April 1997
Location: Near Trevo do Atuva Brazil
Time: 0130A
Summary: Carlos Freitas was driving his tow truck near this city when he spotted a strange humanoid that appeared to be eating the carcass of a dog on the side of the road. He described the creature as about 1.20meters in height, covered in black hair, a large head, and large reddish eyes. It had long dangling arms ending in three claws. When the creature noticed the vehicle's headlights in ran into the thick brush and vanished.
Source: Carlos Alberto Machado, Ojos de Dragon
---
Date: April 1997
Location: Deer Island, Oregon
Time: afternoon
Summary: A witness saw a bizarre creature that ran in front of his car on the road. The 8-foot creature had a dome shaped head, and the eyes reflected in the headlights of the car. It appeared to be an albino; white fur and pink skin. It was very hairy, and they could see a flat nose and the eyes were close together.
Source: The Western Bigfoot Society Newsletter # 67
---
Date:  April 1997
Location: New York City, New York
Time: night
Summary: Model Christie Moller was on her way home walking along Park Avenue accompanied by a bodyguard and a private detective when from out of the shadows a short troll like little man, with greenish hair, hurled himself at her grabbing her. Terrified she began screaming, before her bodyguard and the detective could react, the little man had disappeared into a darkened alley. According to Moller this is not the first time she had seen such entity.
Source:  Paranigma Chile
---
Date: April 1997
Location: Not given
Time: night
Summary: The witness was with her 14-year old son in the kitchen when they saw a flash of white light that entered the house through a large bay window and flooded the entire area. It was suddenly gone. Another beam of light was now seen entering through the living room window. Her terrified son pleaded with her not to go outside. There was apparently a memory loss. Later after finding a scar on her arm, she was able to recall being strapped into a bucket seat with her son sitting to her right. Her son was thrashing about screaming, while a tall gray hooded figure was drawing fluid from her arm. The figure was at least 7-feet tall, very thin, with long thin arms and fingers, two of them and one thumb. It had large black eyes void of emotion. He had no hair and his head widen at the top with crevices running long ways from top to bottom. He had no nose, just two holes, and a slit for a mouth that never once opened. She could not recall anything else. But possibly involved in other incidents.
Source: CAUS
---
Date:  April 1997
Location: Praia de Leste, Parana, Brazil
Time: night
Summary: The main witness was in a field with some family members playing cards when an object shaped like a bus appeared overhead. The craft was silent and well lit. Soon the witness and her family heard a very strong buzzing sound from an indirect source. The main witness felt compelled to follow the object to an unknown empty field nearby. The object then landed in front of her. Three strange beings exited the craft. These were described as having large red deep-set eyes, heads disproportionately large for their bodies. Their skin appeared to be wrinkled and greenish in color. One of the humanoids communicated telepathically with her telling her: "You are not happy here, leave this place. We will take you with us!" In a panic she attempted to fight off the humanoids and lost consciousness. The next morning she was found wandering the fields, disoriented and confused. Five strange bruises were found next to her right eye.
Source:Jackson Camargo, GEPUC
---
Date:  April 3 1997
Location: Melbourne VIC, Australia
Time: 20:45
Summary: At approx. 20.45 I noticed 2 light emitting pinkish egg shaped objects n/w of my position. They were approx 50 miles away travelling extremely fast thru a 90 degree arc in approx 10 sec. One turned sharply right then sharply left back to its original course. The other followed seemingly to the millimeter. Finally at about s/w they turned right & disappeared into the distance. I rang the Victorian UFO Society who had received reports of UFO's in the areas we viewed 40 to 50 miles away. My son also witnessed them. Too fast & cornered too sharp to be anything we Know. Just prior to closing shop I had been informing the boys about comet Hale Bopp which should be visible at the end of the month; this conversation naturally induced me to look at the sky once exiting the factory. The first thing which I believe caught the corner of my eye from the N/W was the speed of the two objects then the color. I stared at them trying to define what they were. My curiosity turned to astonishment when one object turned hard right. ( I then yelled to my son " check out the pink lights" which he sighted directly without assistance) the object then banked hard left to its original course. To further my astonishment was the second object which followed the first through its flight path seemingly to the millimeter as if they were playing follow the leader. The objects continued on their course until they were approx s/w where they turned right and rapidly disappeared into the distance.1/ Due to comprehending(as best my mind can) distance to the nearest star 4.2 LY which may support planets I have never really believed in UFO's. Now not so sure.2/I am an amateur astronomer & therefore familiar with the night sky; I know the difference between stars,planets, satellites, lights & reflections,planes, balloons, distance etc. These objects were definitely none of the above.3/I would estimate these objects to be approx 50 miles away.4/Today I received notification of one sighting in Werribee & 2 sightings in Melton verifying our sighting and placing the objects at the same time and flight path. 5/They traveled thru an arc of about 90 degrees in about 10 secs approx 50 miles away. Too fast for anything known to me.6/They were at approx 40 deg altitude.7/ They cornered to sharply for anything known to me. Very direct 45 deg right/45 deg left- no arc.8/Referring to a map with the information available it is possible they did a Zig-Zag turn to avoid flying directly over Melton or another small town in that proximity.9/It was possible to see they were solid egg shaped objects emitting a pinkish glow.10/ They were to far away for sound if they making any.11/Both I (age 40) & my son (age 20) believe what we saw to be controlled flight, flying solid objects without obvious propulsion outside the limitations of anything we know.
Source: National UFO Reporting Center
---
Date: April 4 1997
Location: Vernonia, Oregon
Time: 2300
Summary: In the morning a farmer found one of his animal's dead, and another missing. The dead cow had been mutilated by Satanists, he thought, as the eyes were cut out, there were fang marks on the neck, and it was drained of blood. There were no footprints visible in the damp ground. That same night he went looking for his missing cow. The vehicle had two powerful search lights that illuminated a creature only 25-30 ft away…it turned and hissed at him, and he noticed that it had reptilian looking eyes, like a snake, only they didn't reflect the light, like humans. Badly shaken, he said the small gargoyle like green creature was only about four feet high, and had wings on its back, which it didn't unfurl. After about 15 seconds or so, it ran rapidly into the trees
Source: The Western Bigfoot Society Newsletter # 67
---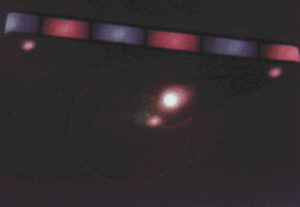 Date: April 8 1997
Location:  Burmash United Kingdom
Time:  
Summary:  
Source:  
---
Date: April 1997
Location:  
Time:  
Summary:  
Source:  
Location. Not given
Date: April 11 1997
Time: 0545A
The witness had been sitting at the table getting ready to go to work when suddenly in a vision like trance he found himself standing next to a mountain, in a desert type surrounding. He then saw what appeared to be white bubbles floating toward him. He then heard a noise behind him and saw other people standing with him. As the globes approached he could see what looked like humans inside of them. The globes were almost transparent, and glowed with a white light. There were eight of them, but only seven had people in them, the eighth was empty but much larger. As the globes came to the ground, they disappeared and the beings that were in them were suddenly standing in front of the group. There were 3 women and 4 men; they glowed with light all around them. The witness and some of the others kneeled down and asked the beings who they were. He received the answer "We are Messengers of God." A lengthily conversation about religion and dire future events for the human race ensued.
Source: Starfriends
---
Date: April 13 1997
Location:  Arizona 
Time:  
Summary:  
Source:  
---
Date: April 15 1997
Location: Punta Arenas Chile
Time: 11:33
Summary: UFO watched over Punta Arenas, Chile on April 15th. 1997. This is a report made by Mario Briones Vidal about a UFO seen over the city of Punta Arenas, Chile; where they could see a very big ship with balls of lights through the fuselage. They assure to have an excellent video about this UFO recorded by the members of the "Agrupación Oniologica de Chile (AION)", I thing that would be very interesting to have that video.
Source: National UFO Reporting Center
---
Date:
Location:
Time:
Summary:
Source:
Location. Bridgeton, New Jersey
Date: April 15 1997
Time: night
The main witness reported seeing red and white lights flashing outside her home. She remembers seeing a hundred white lights moving in unison like a swarm of bees each carrying its own light in formation. She then experienced three hours of missing time. She remembered seeing a man inside a plastic like column filled with liquid and blue electricity flowing through it. She woke up violently ill with a scar on her face. At the same time her next-door neighbor woke up with terrible facial burns. He had no recollection of anything.
Source: New Jersey Mufon
---
Location. Western Montana, exact location not given
Date: middle of April 1997
Time: night
A witness was driving through a heavily wooded area at night when all of a sudden, the car started rocking, and from the top of the car, an ugly gray face peered down and looked in the front window…it was pressing so hard against the windshield that it cracked it. Trying to get in, it rammed the car repeatedly with its shoulder and did some $500 worth of damage. It left heavy scratches as it tried to get in as the car careened along at 80 mph. Suddenly; it flew straight up, keeping up with its wings. It had red glowing eyes, was four feet tall, and was brown and gray. It glided along rather than pump the 5-foot long wings like a bird.
Source: The Western Bigfoot Society Newsletter # 68
Date:
Location:
Time:
Summary:
Source:
---
Date:
Location:
Time:
Summary:
Source:
Location. Near Sydney, Australia
Date: mid April 1997
Time: daylight
A bizarre green colored chupacabra type creature was seen to run down a kangaroo that had been hopping furiously. It broke the kangaroo's neck and sucked its blood. The sighting was during daylight hours.
Source: The Western Bigfoot Society Newsletter
---
Date:
Location:
Time:
Summary:
Source:
Location. Avila, Spain
Date: April 17 1997
Time: late night
In a rural area, farmer, Emilia Carballaz had gone out into a field in order to satisfy a physiological need. At the field she suddenly heard noises coming from behind her. Turning around she was terrified to see a beast-like form, resembling a bipedal animal, dark and hairy. It somewhat resembled a large two legged dog, with huge kangaroo-like hind legs. It had hairy human-like facial features and emitted loud grunting sounds. The bizarre humanoid advanced towards her and tore off her clothes using extremely sharp claws. The witness was paralyzed with fear and could only scream in terror. The creature apparently, sexually assaulted her. She apparently passed out during the assault and soon woke up to see the creature standing over her. It suddenly ran away using great leaps and bounds and disappeared from sight. Soon after that she saw a luminous object take off from a nearby field and disappear into the sky. It was reported that Mrs. Carballaz became pregnant as a result of the assault.
Source: Testigo Ovni # 2, August 1998
---
Location. Toronto, Ontario, Canada
Date: April 19 1997
Time: 2309
Michael Chrostowski was alone in his apartment when he heard a loud noise coming from outside and his apartment started shaking. Looking out he saw a "humongous," hovering craft. Through a lighted aperture he could see a short humanoid with large oriental looking eyes looking down at him. No other information.
Source: UFO Sightings in New Mexico & the World
Date:
Location:
Time:
Summary:
Source:
---
Date:
Location:
Time:
Summary:
Source:
Location. Carlinville, Illinois
Date: April 20 1997
Time: 0200A
The 4-year old witness (was able to recall?) remembers something waking him up in the middle of the night, a strange feeling, which he didn't like. He then noticed a light outside, and first assumed it was aircraft. But then he looked outside and saw a very large light, larger than the moon. Its colors constantly shifted, changing hues every second. Surrounding it were dozens of smaller lights. Through the window he was able to see a strange, "grotesque shape"—the large light was the center of the craft and along with the other lights were a few that were smaller than the large one but bigger than the smaller ones, that outlined the craft. The craft itself seemed teardrop-shaped, yet sprouting from random parts of the craft were long tentacle-like protrusions and they seemed to be coming dangerously close to the ground. The craft had a pointed end. Squinting to see better the witness was able to see miniscule humanoids inside the craft, but before he could see more details, a flash of light broke the calm, and it was the last thing he remembers. He came back to on his bed nearly an hour later, but did not recall falling asleep. A week later, however, stranger markings began appearing on him. They resembled needle marks—only much bigger and much redder. His IQ nearly doubled after the incident, perplexing his doctors. (The witness has experienced other UFO sightings).
Source: NUFORC
---
Date:  April 23 1997
Location: Bezhetsk, Tver region, Russia
Time: evening
Summary: A local resident named Igor Utkin was in his apartment when he saw a column of blue light penetrating from somewhere in the ceiling and stretching down to the floor like a stalactite. Soon the beam reached the floor and seemed to become solid. A male humanoid and two female humanoids then descended out of the beam of light. One of the women was apparently the leader of the group. She approached the witness to within a couple of feet and began telepathic communication with him. The witness reported that she was about 1.7meters in height, with an elongated face, medium sized round dark eyes, and eyebrows that were outlined by narrow arcs, her head was hairless. She wore a tall hat on her head shaped like those wore by Catholic Bishops. Here skin was dense green in color, not shiny. The dress of the alien woman reminded the witness of those old style dresses wore by women, long light-green in color, with a red cloak and a tall light red collar. The claret-colored hat had a yellow "feather" on the front section. Within the feather he saw something crystal-like resembling a diamond. The alien woman was holding a stick shaped like a scepter with a double tip in her right hand. The alien female telepathically informed Igor that her name was Zuri, and that she was from the planet Galeya. She then invited the witness to leave the earth with them in order to decrease his "sufferings". Igor declined, saying that his relatives would suffer without him. The woman then said that they could cause this to happen in a way that no one would notice and will not even suspect, because they had the ability to incarnate another soul into his body that would replace his departing soul the existence of his body on earth will continue as a bio-robot. Utkin still refused. The contact lasted for about 5 minutes and then the humanoids re-entered the blue beam or energy channel and quickly zoomed up. After that the beam of light vanished. The alien woman reportedly appeared to the witness again the next day (April 24 1997, evening), but quickly vanished.
Source:  Pavel Hiylov and Anton A. Anfalov
---
Date: April 25 1997
Location: Portland, Oregon
Time: night
Summary: John and Marcia spotted a Chupacabra near the intersection of Skyline Road and Cornelius Pass Road. The three foot green creature ran across the road, it had a triangle shaped head with multi-faceted eyes. Long spines were coming from its back.
Source:  The Western Bigfoot Society Newsletter, # 68
---
Date:
Location:
Time:
Summary:
Source:
Location. Itupeva, Brazil
Date: April 26 1997
Time: night
A bright disc shaped craft was seen landing on a field. Four short humanoid figures exited the craft and walked around the craft briefly, then re-entered the craft, which took off at high speed. A round circular burned area was found on the ground.
Source: GEPUC Brazil
---
Date:
Location:
Time:
Summary:
Source:
Location. Sao Paulo, Brazil
Date: April 27 1997
Time: 2350
Manicurist Maria Vega was returning home from her sister's house. As she crossed an empty field to reach her house, she ran into a "horrible monster" described as an enormous, swift moving ape that went on all fours and had large red eyes. Despite of its simian appearance, Maria likened it to a colossal dog that reeked of carrion. It towered over the woman when it stood before her on two legs. Apparent confirmation to Maria's sighting came from Irene Rodrigues do Mata, who would also describe the entity as a giant dog. A local night watchman, Luis Carlos, claimed having seen the aberration five times during the same night. He claimed that the creature had killed two cows. Dead dogs had also been found in the area.
Source: Carlos Machado, CIPEX
---
Date: April 28 1997
Location: Near Longview Texas
Time: 2200
Summary: The witness was traveling on a business trip when he had a flat tire. A truck driver stopped to assist when they became aware of an object about 100 yards away. There appeared to be figures in white clothing moving inside the craft. The object was circular and emitted an occasional flash of light. The truck driver walked over to the object in order to obtain a closer look when he suddenly ran back in fear yelling that they had to leave the location fast. Both got into the truck and began speeding away. The object silently passed over the truck and quickly flew out of sight.
Source: Mark Harman in, UFO Times # 1
---
Date: April 28 1997
Location: Codroipo, Italy
Time:  0100A
Summary: Mr. Pietro Quartararo was on his way to a friend's house after some physical therapy when he saw a bright red cone shaped light hovering over the road ahead. The witness remembers apparently being struck by a beam of light and feeling lightheaded and of floating in the air. Seconds later the witness woke up in an oval-shaped room with two windows and several doors. Everything in the room was dark and shadowy. Suddenly three giant humanoid figures approached the witness. He was then carried by them and placed on a large table. There he was covered in a strange gooey, smelly substance and examined several times by the humanoids. The humanoids were over 3 meters in height and moved in quick burst of speed, their skin appeared to be green-brown in color. Their teeth were sharp and fang-like and their hands had only three digits. The feet were long and ended in spur-like protrusions. Soon he found himself in his friend's house feeling extremely cold. He reported the experience to the police.
Source: CUN
---
Date: April 29 1997
Location: Sumare, Sao Paolo, Brazil
Time: 0500A
Summary: A Mr. Alirio was headed for work when he encountered a bizarre creature described as looking like a very large dog with a slender body. It also had glowing red eyes. No other information.
Source:  Carlos Machado, CIPEX
---
Date:
Location:
Time:
Summary:
Source:
Related articles