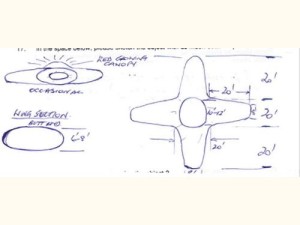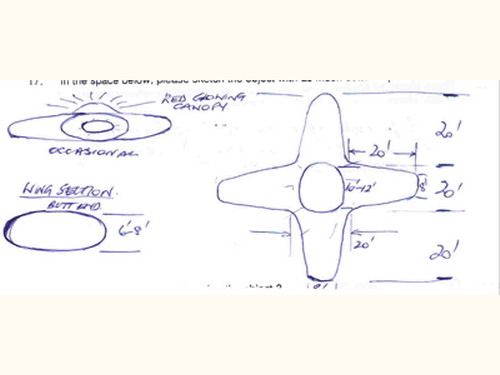 (Last Updated On: July 20, 2016)
Date: February 1998
Location: Belas Knap, Cotswolds, England
Time: afternoon
Summary: Paula Copestake, her husband Phillip, and 8-year-old son Edward were visiting the Neolithic site in a crisp clear afternoon. While Mr. Copestake was busying himself taking photographs of the forecourt area, Paula Copestake climbed to the top of the mound in order to take in the panoramic view and to enjoy the solitude. She was therefore disappointed to see a group of people moving towards the site from the northwest, across and adjacent field. At first sight there seemed to be about five people, one smaller in front and the others in two pairs, walking quickly towards Belas Knap along the field boundary which forms part of the Cotswold Way. They faced forward and were all dressed alike in dark, grayish black clothes with pale, oval, translucent faces beneath pointed hoods. They were only a few hundred yards away. Her son briefly distracted her, and when she looked back again she was startled by the emergence of more figures in the group. She told her husband that "hundreds" of people were coming and she impatiently told him to hurry because there seemed to be at least a dozen of them walking purposefully towards their location. They seemed to emerge from the dark shadows of the overhanging evergreen trees and bushes along the boundary between the two nearby fields. Every figure was hooded and they still followed the smaller figure at the front. She assumed that the lead figure must have been a child of about 12 because he was half the height of the others. She could not see any part of their bodies below knee level so she thought they must have been walking through long pale dead grass that obscured their lower limbs. They walked closely along the hedge line in silence, never turning to their companions but all walking at a vigorous pace, so she was surprised to see that they appeared to be in the same position as before in the field. They did not appear to have made any progress in reaching the long barrow, despite their fairly rapid pace. They appeared to walk down a slope and up again as if going down into a ditch and up the other side. Annoyed at the intrusion the witness took one final look at them and then deliberately turned her back and walked to the other end of the mound. Disturbingly, they had seemed to be even further away than ever although still moving as purposefully toward them. She then joined her son and husband who had finished his activities as he climbed up to mound to look he was surprised to see no one at all.
Source: Paul Deveraux, Haunted Land
---
Date:  February 1998
Location:   Mount Blanca, Colorado
Time:   evening
Summary:   A recent attack by covert forces with a deadly Saran-like nerve gas on an "alien" spaceport under the Mount Blanca mastiff ended in disaster when the gas overcame the attacking forces and a quarter of the personnel involved had to be medically evacuated. Around 30 people from the CSETI group saw several flying objects nearby at the same time Greer and Sheri Adamiak, went up the trail alone, and remote viewed several entities inside the mountain. When they came back down the trail to get the rest of the group they all saw Greer disappear in a "gold light" which seemed to be coming from above them. Then a semi-circle of a dozen alien elders all different size, surrounded Greer who seemed to then disappear. The aliens then communicated with Greer. They told him that they were under attack in the mountain by covert military forces. The experience lasted for about 20 minutes.
Source:   Dr. Steven Green, CSETI
---
Date:  February 1998
Location:   
Time:   
Summary:   
Source:   
Location. Marche Region Italy
Date: February 1998
Time: night
An anonymous man claimed he heard a strong explosion near his house and after a few minutes he saw some strange creatures walking around in his garden. One was a "typical" gray alien, the 2nd a smaller beige colored version and the third an even smaller hybrid type alien. He took his camera and went out to see what was going on. The man thought the creatures were some type of strange animals and took several photos. He then noticed that one of the entities was on the ground and had a huge cut on the upper part of his head and appeared to be in distress, a second humanoid was helping it. After taking some photos the witness ran home because he was scared. During the next day he saw many black helicopters flying around the zone, he then decided to go see what had happened. Deep in the forest he saw a strange object crashed on the ground and a lot of people surrounding it. Some of the people were wearing strange military uniforms. According to the witness when the people saw the witness they fired guns against him, fortunately he was able to make a quick escape.
Source: Fabrizio Monaco, CISETI
---
Date:  February 1998
Location:   
Time:   
Summary:   
Source:   
Location. Sorocaba, Brazil
Date: February 1998
Time: night
Celio Lima Batista was on his way home late one night and was walking along a desolate field, when he noticed some lights and figures behind him. Thinking he was going to be robbed he turned around to face his followers and was confronted by a huge, 2-meter tall figure, with large fiery eyes, a huge head, and pincer like hands. He lunged at the creature and took several swings at it, but they all seemed to miss. Tired he stepped back stunned. Suddenly the huge creature lunged at him, beating him senseless. He was later found unconscious and was taken to a nearby hospital where several large bruises were found on his back and was treated for a wound on one of his fingers.
Source: Marco Antonio Reynoso, Fundacion COSMOS
---
Date:  February 1998
Location:   
Time:   
Summary:   
Source:   
Location. Near Sioux City, Iowa
Date: February 1998
Time: night
Frank, (involved in other encounters) woke up late at night to see a blond female in a "zippered blue" gown-like item of apparel standing in the doorway of his bedroom, with a light behind her. Wondering if he was awake, he deliberately looked around his bedroom to see if everything was in its place. It was. And then he blacked out. The next morning when he awoke, he was tired, exhausted, and physically drained.
Source: Beverly Trout, Mufon UFO Journal # 364
---
Date:  February 1998
Location:   
Time:   
Summary:   
Source:   
Location. Dallas, Texas
Date: February 1998
Time: 2300
After attempting a late business meeting, Beverly Bailey found herself alone in a downtown office building in a huge parking garage eight stories up. As she spotted her car about 40 ft away she noticed "something" that ran extremely fast and disappeared behind some cars near her vehicle. She described the "something" as a bizarre creature somewhat resembling "Uncle Fester" (!) in the television show, The Addams Family. It was wearing all black as it scurried away on all fours. As it scurried by it gave a creepy laugh of some sort. She watched it run down the aisle behind the cars for about five seconds then she turned and ran back towards the doors and into the lobby. She did not hear any other sound from the creature and did not see it again
Source: Strange Magazine # 22
---
Date:  February 1998
Location:   
Time:   
Summary:   
Source:   
Location. Fremantle, Western Australia
Date: February 1 1998
Time: 0230A
Rowena Judd was asleep when she suddenly woke up to see a humanoid figure standing at the bedroom door. The figure seemed to be dark in color and had a shining light around it. But no facial features could be seen. It apparently disappeared. Two weeks later a beam of light came out of the sky after a loud zipping noise and illuminated the Judd house.
Source: UFO Roundup Vol. 3 # 9
---
Date:  February 1998
Location:   
Time:   
Summary:   
Source:   
Location. Near San Francisco, California
Date: February 6 1998
Time: late night
A family of 3 remembered hearing noises during the night and waking up thinking somebody was in the house. Later they remembered seeing lights. In the morning they all woke up with bloody noses. Their young son remembered seeing a tall, over 6-foot, green colored being in his bedroom, which apparently communicated with him. No other information.
Source: UFO Network
---
Date:  February 1998
Location:   
Time:   
Summary:   
Source:   
Location. La Platina, Pelequen, Colchagua, Chile
Date: February 7 1998
Time: evening
As more than a dozen men worked at a local vineyard located at the edge of the road they suddenly noticed a strange object approaching in their direction from a northern-south trajectory. The craft flew at a low altitude, witnesses described the object as resembling a large beach ball which changed colors, and most witnesses described the object as shaped like a globe. One of the witnesses 22-year old Rosita Nuñez described the object as being gray and globe shaped as it flew silently over the witness's heads. It flew over a small eucalyptus grove and landed on the side of a mountain, at about 800 meters from the astounded witnesses. The object landed in front of at least 20 witnesses. After the object landed the witnesses saw that it appeared to be somewhat hexagonal in shape as a door opened on the craft. As the door on the object opened heavy smoke seemed to come out from it and at the same time a figure dressed in all black jumped out of the craft. The humanoid was described as human-like dressed in all black wearing a tight-fitting black helmet. The creature raised its arms and remained standing next to the smoking object. Two minutes later there was an explosion without any sound, and the witnesses saw multicolored lights and a bright flame rose up into the air, which suddenly turned off. The explosion apparently emanated extreme heat as the surrounding vegetation, including trees and brush immediately caught fire. The flames achieved a very strong and high level and the fate of the humanoid and the object remained unknown as no trace of either one was found at the site.
Source: Juan Humberto Benitez & Rosa Abarca in: Revelacion Año 3 # 27
---
Date: February 7 1998
Location: Paraparaumu Kapiti Island New Zealand
Time: 22:23
Summary: 4 cylinder shaped green and pinkish flashing objects appeared from behind Kapiti Island, seemed to stay static for a short while before disappearing behind the Island again. We were four people having a meeting at my beach front property at Paraparaumu Beach. When we went outside on the balcony to have a smoke, we noticed a beam of light behind Kapiti Island. This is not necessarily unusual as sometimes Sea and Rescue Searches with Helicopters produce similar visual effects. However, standing there arguing why S&R was called out again, we noticed that the colour of the light changed from the usual bright white to an alteration at low frequency of a dull, surrealistic green and pink. Slowly, the source of the greenish light appeared to rise from behind Kapiti Island. At this stage, we could not make out the body of the object emitting the light nor could we hear any sounds. The objects movement appeared to be relatively slow. When the light changed to pink, we briefly noticed that the source of the pink light was positioned behind the source of the green light making a huge squashed cylindrical object in front of it visible for a couple of seconds. Unfortunately, the pink beam of light and the object in front of it synchronously set slowly behind Kapiti Island. The whole spectacle appeared to last a long time, but judging by the length of the cigarettes we smoked, it would have had been lasting for less than one minute.
Source: National UFO Reporting Center
---
Date:  February 1998
Location:   
Time:   
Summary:   
Source:   
Location. Yukon, Canadian County, Oklahoma
Date: February 13 1998
Time: 2025
The two witnesses were walking along a wooded area on a dead end street when they heard the crunching of twigs and dried leaves. Looking in the direction of the noise both were stunned to see something that at first they thought was a Great Dane, although the head was shaped like a horse head, more like a camel. It was at first on all fours, but it suddenly stood up and walked perfectly on hind legs. The witnesses then noticed what appeared to be small wings on its back. Frightened the witnesses left the area. When one of the witnesses was shown a picture of the Jersey Devil he agreed it looked like what he had seen
Source: GCBRO (Gulf coast bigfoot research organization)
---
Date:  February 1998
Location:   
Time:   
Summary:   
Source:   
Location. Drenthe The Netherlands
Date: February 14 1998
Time: 0145A
The two witnesses had parked in an open field, when suddenly there was a flashing blue light over a field and they both saw an object resembling a "stealth fighter" with more rounded wings, hovering above a nearby road. The craft descended vertically and landed. Several figures came out of the object. These had long arms and small "heads." They looked around briefly then went back inside the object. The object then rose straight up and in a few seconds it was gone. Others in the area reported seeing a bright light over the area around the same time.
Source: UFO Sightings in New Mexico & the World
---
Date:  February 1998
Location:   
Time:   
Summary:   
Source:   
Location. Los Cerrillos, Maipu, Chile
Date: February 14 1998
Time: daytime
Numerous local witnesses watched seven bizarre human-like figures that glided over the area at an undetermined altitude, all gliding towards the same location and at the same time, separated only by a very short distance. They resembled parachutists and seemed to be operating some unseen apparatus above them. The 7 human-like figures quickly disappeared from sight in the distance. A resident of the area supposedly took a video of the group. Apparently no one ever saw them land.
Source: Revista TOC, Chile
---
Date: February 15 1998
Location: Newborough VIC, Australia
Time: 20:00
Summary: a large triangle with orange lights on each of the three corners
Source: National UFO Reporting Center
---
Date: February 16 1998
Location: Garfield, VIC, Australia
Time: 18:18
Summary: Seen due south of Garfield, lite by sunlight . came direct in vertically. Assumed by us to be debrie, silver or metal to reflex light
Source: National UFO Reporting Center
---
Date: February 20 1998
Location: Brewers Bay, Tortola British Virgin Islands
Time: 23:00
Summary: A CIRCLE OF SMOKE, FROM WHICH ROSE A 'SNAKE' SHAPE OF WHITE LIGHT OR SMOKE? I WAS NOT A WITNESS. REPORTED BY TWO PEOPLE. I LEARNED THIRD HAND & AM REPORTING IN CASE IT SUBSTANTIATES OTHER SITINGS. I LEARNED THROUGH ((Name and telephone number deleted)), WHO LEARNED IT THROUGH TWO SEPARATE WITNESSES.
Source: National UFO Reporting Center
---
Date: February 21 1998
Location: North America, Bermuda
Time: 18:00
Summary: On 21 Feb 98, approximately 18:00 hrs. (GMT) several objects were recorded, via satellite imagery, flying over the atlantic ocean. 3-4 of these objects first appeared out of the NE. 3-4 others appearing from the SW flying over the gulf of Mexico and over Fla. there are approximately 5 frames to this satellite image, on the second to last frame, there is a formation of three of these objects in the shape of a triangle, over the Island Of bermuda. This is a serious report, and anonymity will remain for security purposes. The images were edited only to remove identification information on the marginal area, none of the actual photo has been touched.(information regarding company.) The reason I am sending this is myself, nor co-workers have seen anything like this ever. They are definitely not airplanes, they are too small to be recorded. The satellite is used to record Weather information, and common aircraft materials do not report. I sincerely hope I have done the right thing by sending this to NUFORC in hopes that a proper recognition of these objects are reported, and an investigation by a worthy source.
Source: National UFO Reporting Center
---
Date:  February 27 1998
Location:   West Carrollton, Ohio
Time:   late night
Summary:   The witness was walking through her trailer park with her dogs when she saw a bright light hovering above the park; within the light she saw the face and eyes of a being. Frightened she ran to her trailer and called nearby Wright Patterson Air Force Base. She was given a number of a local Ufologist.
Source:   Kenny Young
---
Date:  end of February 1998
Location:   Near Bataysk, Rostov region, North Caucasus, Russia
Time:   about 2200
Summary:   A local woman and member of the town's administration, N.G., was walking her dog and while walking near a strip of forest, she let her dog loose so he could run in the trees and the fresh snow. Suddenly N. G. felt the presence of someone behind her back and some force compelled to turn around. She then saw at about 150-200m away a large foggy globe, white in color, about 8-9 meters in diameter. The globe was moving at an altitude of about 40-50 meters from the ground. Inside the globe the witness could see saw several smaller sized globes. A feeling of fear and discomfort seemed to increase with each passing second, for a long time she stood in a sort of stupor watching the object, she could not remember how long. And her dog who before had been frolicking in the snow and trees, was now hiding between her legs and whining loudly, the barking of other dogs could be heard from afar. Apparently this sound alarmed the apparent alien guests since the globe began to slowly rise upwards and then vanished. Several seconds after the UFO had vanished another very interesting event took place. N.G. briefly glanced at a nearby snowy field and saw a large black "car". The "car" was very beautiful, long, with a sleek streamlined aerodynamic shape, similar to a foreign limousine. It was dark but the woman distinctly saw two passengers inside the "car". They were dressed in black, and not in suits, but in something that reminded her of "spacesuits". At that moment N.G. felt a very strong fear and for a few seconds she covered her eyes with her hands. When she opened her eyes again, she saw a bright flash of light and the strange modern looking "foreign car" had vanished without a trace. Despite the distance N.G. ran home very quickly and terribly scared. She could not sleep and had to take a sleeping pill. In the morning she told her neighbor and together they went to the location of the event. There they found the distinct tracks of automobile tires imprinted in the snow, but there were not traces which indicated how the car had arrived or left the location, as if the car had simply zoomed up into the air and flew away. There were no other traces. Since the incident N.G. has had the feeling of being watched, she also saw "things" connected to UFOs on several occasions. (No more specifics on that).
Source:   "ENIO" Investigation group in "Cross of Centaurs" newspaper Rostov-on-Don # 4, 2000 
---
Date:  February 1998
Location:   
Time:   
Summary:   
Source:   
Related articles