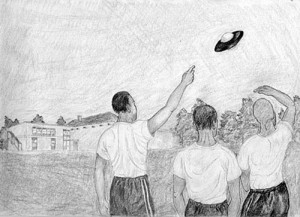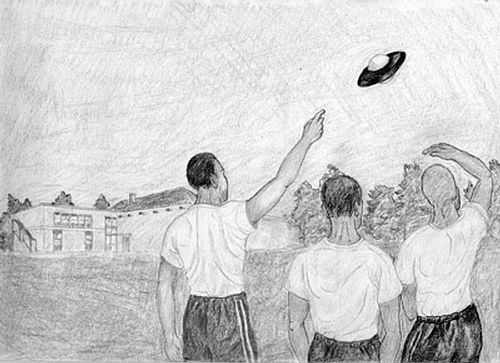 (Last Updated On: July 27, 2016)
Date: April 2000
Location: Calama, Chile
Time: night
Summary: A witness riding his bicycle was passing by the local Lion's Club building, when he heard a groan and stopped to see what had happened. On the side of the building, he saw a dead dog in the grass, and next to it, a pair of large shining eyes. The eyes were so shiny that the witness could not make out any detail of the creature's body. Suddenly the creature lifted the dead dog with its hands, and in the wink of an eye was only 10 meters away from the witness, after being 50 meters away a second before. Shocked the witness quickly pedaled away stunned as to the manner that the creature moved.
Source: Calama UFO Center
---
Date:  April 2000
Location: Near Naunton, England
Time: night
Summary: A security guard was driving to work in an isolated stretch of road when a figure all in white appeared in front of the car out of nowhere. According to the witness it looked like a monk and was six feet tall. Unable to brake, the man drove right through the figure. When he stopped and went to look, there was nothing to be seen. He reported the incident to the police.
Source: . Paul Deveraux, Haunted Land
---
Date: April 2000
Location: Ohio, exact location not given
Time: night
Summary: A man claimed he was abducted by beings different than those described by other investigators. He said they conducted anal probes and described the aliens as 6 to seven feet tall, with small eyes and pointed heads. He reported a distinctive odor and that these aliens spoke a language. They made a sound like "Meekmok" hence that is the name he gave them. He was much traumatized from his experiences. Currently he wears an especially design helmet that somehow helps prevent abductions (!).
Source:  Stop Abductions.com, Stories
---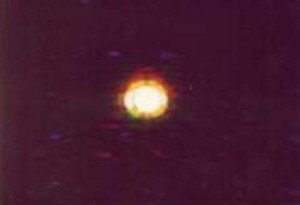 Date:  April  2000
Location:  Tabio, Columbia
Time:  
Summary:  
Source:  
---
Date:  April 2 2000
Location: Fremont, Iowa
Time: 0200A
Summary: The witness woke up to find his now ex-wife very quiet in her sleep. She was a very heavy breather due to her past smoking habit. He reached over to shake her to see if she would start breathing and suddenly a gargoyle-type creature arose out of her body and stood up beside the bed. It looked at the witness and then proceeded to walk through the wall.
Source: NUFORC
---
Date:  April  2000
Location:  
Time:  
Summary:  
Source:  
Location. Near Lahore, Pakistan
Date: April 4 2000
Time: 1510
12-year old Hamza Khan was out in a field trip with friends and teachers photographing local sites and nature. Apparently he became separated from the rest of the group and then heard a voice and immediately saw a large brown-colored saucer-shaped craft descend towards the ground. In rapid succession an opening became visible and a white figure or creature came out. He attempted to photograph the event but then ran to his teachers and told them what he had seen, returning to the site with the adults and others the object and the white creature were already gone. Is unknown if anything was visible on the photos.
Source: http://www.etcontact.net/newsite
---
Date:  April  2000
Location:  
Time:  
Summary:  
Source:  
Location. Hot Springs, Arkansas
Date: April 9 2000
Time: 0430A
A motorist saw an enormous, pinkish metallic cigar-shaped UFO 100 feet above the road. It stopped in front of the car. He blacked out. When he came to he smelled an odor of something burning. He recalls a high pitched buzzing sound, and has recollections of an examination table. His back was bruised.
Source: UFO Magazine (USA) July 2000
---
Date:  April  2000
Location:  
Time:  
Summary:  
Source:  
Location. Cairo Egypt
Date: April 14 2000
Time: 0300A
The 14-year old witness was at home awake when he suddenly felt very heavy and could not move. Apparently he soon found himself onboard a bizarre object that did not appeared to be metallic or any type of material he had ever seen. Inside he encountered a strange humanoid that appeared to be amphibian since it had what seemed to be gills covered with transparent sacs, inside these there seemed to be some sort of liquid circulating. The creature did not appear to have any eyes but it could easily find his way around. It was also apparently telepathic in nature. The witness soon found himself back home. He reported that his nails glowed in the dark for five hours after the apparent abduction.
Source: UFO Abduction Raw Data Page, UFO Watch
---
Date:  April  2000
Location:  
Time:  
Summary:  
Source:  
Location. Blackwater, County Wexford, Ireland
Date: mid April 2000
Type: 1900
Noel Duggan accompanied by his girlfriend and a fried, Martin Egan, were enjoying a drink in his mobile home, when they were suddenly joined by an odd looking little man with strange pointy ears. It sat on the mattress had appeared out of nowhere and argued with Duggan and Egan about nonsensical matters. It was described as having curly hair with an aged face. After a short time the strange visitor put his hands over the girlfriend's head in a peculiar way and said, "It's not her fault" and vanished in plain sight.
Source: UFO Roundup Vol. 5 # 23
---
Date:  April  2000
Location:  
Time:  
Summary:  
Source:  
Location. Ballwin, Missouri
Date: April 15 2000
Time: 0130A
Alan S. was sleeping when all of the sudden he woke up and looked to his right. There standing close to his bed was a very strange creature. It was lime green, glowing and it looked like it had a light green aura around the body. It had two arms and two legs. It had bright red glowing eyes and the skin looked scaly like a reptile. It was about 5-feet tall. The witness remained motionless in bed until the entity vanished. There was no attempt of communication.
Source: UFO Roundup Vol. 5 # 16
---
Date:  April  2000
Location:  
Time:  
Summary:  
Source:  
Location. Frias Argentina
Date: April 17 2000
Time: night
A police officer traveling home along the Plazoleta Alfonso de la Vega noticed a short humanoid figure that he mistook for a child. As he approached the figure reprimanding it at the same time, he received a menacing look from fiery red eyes. The shocked police officer realized that it was something other than a child and gripped with fear quickly walked away from the area. Other local residents reported seeing the same or similar being.
Source: Fabio Picasso, Argentina
---
Date: April 18 2000
Location: Randfontein, Gauteng, South Africa
Time: 1800
Summary: The witness mother and himself were driving to the local pharmacy when suddenly he saw a very bright light right next to the car; he tapped his mother on the shoulder to get her attention. The light was disc-shaped and stayed with the car for a few minutes until they decided to stop underneath a streetlight to look at it. The light suddenly shot away at incredible speed, one moment it was there the next it was gone. Around the same time two teenage boys had been walking in the street, possibly the previous night, when they spotted a strange "creature" (not described) following them. It seemed to walk on four legs and it moved very fast. Both boys ran with the creature closely behind them, they noticed that it seemed to shy away from the streetlights. Once they noticed this they stood still under a streetlight while the creature waited in the dark for a while, it then disappeared. When the boys got home they told the parent what happened. The next morning one of the teenagers was reported missing from his home, a search was conducted but to this date his whereabouts remain unknown.
Source: NUFORC
---
Date: April 22, 2000: Disc Seen Over Cloverdale Elementary School
---
Date:  April  24 2000
Location:  Prat de Calama, Chile
Time:  0300A
Summary:  Eight young locals looking for the reputed blood predator in the local hills saw a strange short creature apparently covered with hair make a prodigious leap then run into a nearby cave, near the River Loa.
Source:  Rodrigo Cuadra Salazar
---
Date:  April  26 2000
Location:  Tocopilla, Chile
Time:  0200A
Summary:  Several locals living on the slopes of a hill saw a strange entity quickly climbing up the side of the hill at incredible speed. It moved up on practical vertical cliffs using reptilian like movements, it seemed to expand as if possessing dark wing-like membranes on its back that apparently propelled it up the cliffs. Once it reached the summit, the witnesses began hearing strange growling and screeching sounds coming from the area.
Source:   Paranigma Chile
---
Date:  April  29 2000
Location:   Near Tucapel Chile
Time:  2000
Summary:  Farm worker Jose Ismael Pino was looking for a loose wild bull when he came upon a four-foot tall creature, simian in appearance, with long clawed arms, enormous fangs protruding from its mouth, as well as a pair of wings. Scared he ran to fetch some dogs that attacked the creature. One of the dogs came back with a bloodstained neck.
Source:  UFO Roundup Vol. 5 # 19
---
Date:  April  2000
Location:  
Time:  
Summary:  
Source: 
Related articles