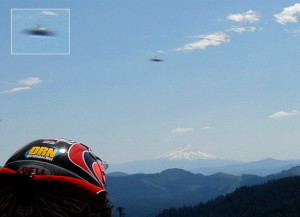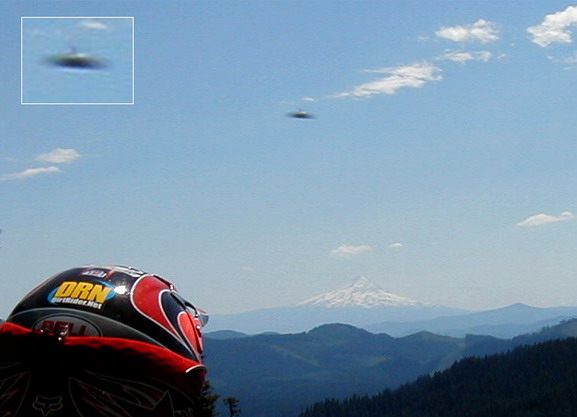 (Last Updated On: July 31, 2016)
Date: August 2003
Location: Near Seward, Alaska
Time: night
Summary: Several youngsters were out in the area trying to snag salmon in the tidal pools late one night (it was very light out, just like twilight) when they saw on a field what they could only describe as "stick people" about three feet high, with large heads and eyes that reflected greenish light when the youngster shone their flashlights on them. The terrified youngsters felt that they were being stalked as they saw 15 pairs coming towards them. At this point the kids made a mad run for the main road. Upon arriving there, they confronted at least 15 to 20 more "stick people" hiding in the tall grass. Thankfully, the humanoids then ran towards the heavy brushy area and disappeared from sight. Another adult witness reported experiencing unexplained loud "ringing" in his ears as he visited the area.
Source: Alternative Realities Chronicles, Vol. # 1 # 4
---
Date:   August 2003
Location:  Yonkers, New York
Time:  0139A
Summary:  The witness was watching television facing away from the window when the blinds from the window began to bounce around; he ignored it, thinking it was just the wind. After 20 minutes the witness got up to close to window and was startled to see a bizarre powerfully built creature about 3-1/2 ft tall that stared at the witness with huge red glowing eyes. It was what had been bouncing the blinds. Terrified the witness ran to his room and hid and did not see the creature again.
Source:   Your True Tales, September 2003 Paranormal about.com
---
Date:   August 2003
Location:  Boise, Idaho
Time:  night
Summary:  H Snow was in his bedroom when a small white ball of light zigzagged into his room above his head. He then closed his eyes and could see a rectangular window with geometric patterns of different colors, swirling vortexes of different sizes and colors. It was as if he was looking into another dimension of pure beauty. He could see a panel of different color lights on each side of the window. The room seemed to get bigger and he felt as he was inside the light, he could now see a being of light sitting at a control desk with the same kind of panel and lights with his hands over some of the lights. There was no sound or communication from the being. The room then got even bigger and the being now looked like some type of robot with beautiful pulsating colors inside of it. The head looked like strips of leather with short black tentacles. They seemed to be moving as the being floated towards the witness. As it got closer he could see the tentacles right next to his eyes. However he felt no fear as he opened his eyes. The witness feels that he received curative powers as a result of the bizarre encounter.
Source:  UFO Watch, Abduction Reports
---
Date:   August 2003
Location:  
Time:  
Summary:  
Source:  
Location. Near Diamantina, Minas Gerais, Brazil
Date: August 2003
Time: night
Andre Villa and his girlfriend had camped out on a hill overlooking a valley and had started a small bonfire when they noticed a bright bluish light descend over the area, within the light they could see a large disc-shaped craft. The illuminated craft approached their position at very high speed and landed on a nearby field. Terrified both witnesses ran and hid behind some bushes, the whole time keeping their eyes on the object. They could see that the craft was really hovering at about 3 meters from the ground, illuminating its surroundings like daytime. The craft did not have windows, doors or openings; it was completely smooth and was encased in a bright bluish glow. Despite his girlfriend's loud objections Andres approached to within 200 meters of the craft and hid behind a pile of rocks near the bonfire in order to obtain a better look at the strange craft. After about 20 minutes an opening became visible on the craft that still floated close to the ground, from the opening a small ladder-like protrusion dropped to the ground. Two short humanoid creatures then climbed down to the ground from inside the object, these had child-like bodies, very pale features, huge heads, but the witnesses could not see their facial features due to the glaring blue light around the craft. The two humanoids looked around and seemed to talk among themselves, soon 3 more similar creatures emerged from the craft. The group walked around the area near the object as if looking for something. Moments later the witness watched another bright light descending from the sky. The light hovered briefly changing colors from red to orange tones. Suddenly the short humanoids that had been milling around the bluish disc-shaped craft appeared to become agitated and began running towards their craft, while the other craft, a sphere shaped object dotted with bright beams of light quickly descended over the scene. The sphere descended to within 50 meters of the disc and landed. The witnesses then heard a loud roaring noise and a bright flash from the sphere temporarily blinded and seemed to incapacitate several of the short humanoids, since a couple dropped to the ground. The glare now gone the witnesses saw three figures come out of the sphere. These were described as taller, human-like, wearing transparent glass-like helmets, and very tight-fitting black jumpsuits. These aliens ran in the direction of the shorter humanoids, which were still stunned and appeared confused. Three of the short humanoids managed to enter their craft, but two were unable to and remained behind to confront the other three apparently threatening aliens. The stunned witnesses watched as a brief but violent struggle ensued. To their horror they watched as the two short humanoids were apparently struck down by the taller aliens, while their bluish disc-shaped craft pulled up the ladder, closed the opening and shot away at incredible speed, living behind their two fallen comrades. The three tall aliens then proceeded to pick up the limp bodies of the short humanoids and dragged them inside their sphere-shaped craft. The witnesses could not tell if the humanoids were dead or still alive. The aliens quickly entered the sphere, which then rose up into the sky and vanished in plain sight. Terrified the two witnesses left the area, promising never to return to the area.
Source: www.sobrenatural.org
---
Date: August 1 2003
Location: Mendoza San Rafael Argentina
Time: 02:10
Summary: — Translated from Argentinian Spanish and edited for grammar by Nick Arnold, amateur UFO investigator, arnold.583@osu.edu: "on 8/7/03. — I live in the small town of Mendoza San Rafael in Argentina. On 8/1/03 at approximately 2:10 am something happened that I, nor any of my family or friends that were there, had ever seen in our lives. I don't usually believe in things such as UFOs, but what I saw was definitely out of the norm. We heard a very loud sound that was unlike anything I can describe. When we went outside we saw something that was round and emitted colors that changed between very strong white, yellow and red. Something like this I had no idea what it was and I first assumed it was a meteor due to its size, but it went across the very, very fast and all we could do is stand there paralysed with wonder as to what this object could be. It continued across the sky and I believe that it impacted the earth some distance away as we felt a tremor and my home shook as though a plane had crashed nearby or something similar. The local news reported it and gave commentary from people of the village who experienced it, but the Civil Defense service explained it as a meteor impact, although a search by the Civil Defense forces with use of airplanes, aerial photos, helicopters, men on horseback and trucks have not been able to produce any evidence of a meteor fall. Scientists will be coming this Saturday (8/7/03) to investigate the area, even though to date no evidence of any type of impact as been seen. I work in the municipality of San Rafael and I have been informed of all the activity related to this event due to my contacts within the Civil Defense Forces and the Municipality of San Rafael. —- *Editors note, this is not a word for word translation, as Argentina speaks a Spanish dialect and it was necessary to change some sentences to retain English grammar and understandability. However, this did not affect any important statement as to the events that occured or any facts therein. Original Argentinian text is below. Any UFO reports that a translation is necessary on may be sent to the email above. I always encourage multiple translations to prevent tainting of the report by a single person's biases, but I was asked by the author of this report to translate it and report it.
Source: National UFO Reporting Center
---
Date: August 4 2003
Location: Banbury (near) England
Time: 14:30
Summary: I am a glider pilot in the UK, and the following, which may be of interest to you, is a slightly amended and expanded form of a posting I made on a glider pilots' online discussion group yesterday: On Sunday 3rd August at about 1430 I was standing at the launch point at Shenington Airfield (near Banbury, Oxfordshire, England) when I noticed a small object passing overhead, downwind, directly above and in line with our E-W runway. At first I thought it was a tiny feather drifting with the wind a few feet above my head, but on looking again I realised it was much higher, moving in a straight line and at a steady speed. Not knowing the actual size of the object it was difficult to gauge its altitude against a clear blue sky; I would hazard a guess at somewhere between 3000 and 4000 feet, but that could be way out. The object was white, but with a slightly wispy, almost transluscent appearance which gave it a somewhat indistinct outline, hence my initial reaction that it was a feather. I could however just make out a definite structure, the best description I can offer being that it was basically rectangular in overall planform, and consisted of what might have been a lattice of booms, which gave it an appearance rather reminiscent of an old-fashioned TV aerial. Seen from a long distance this would explain why it looked rather vague and wispy. It was moving assymetrically, ie set at a slight angle in relation to its direction of travel, which was from west to east. It had every appearance of steady and purposeful foward motion, and remained observable as a white speck receding into the distance for a short time after it had passed overhead. There may well be a perfectly simple and reasonable explanation for what this object was, but at the moment my only choice is to regard it as a UFO, by which I imply nothing more than an object, apparently flying, which I was unable to identify. After I filed my first report on our glider pilots' discussion group, another glider pilot, who that afternoon had landed in a field some 30 miles to the east of my position, reported that he and his retrieve crew had also seen the same object. They too were unable to identify it.
((FOLLOW-UP COMMUNICATION WITH WITNESS))
I will certainly email the guy who corroborated my sighting and suggest that he and his crew each file a report. As for the wind, at ground level it was very light, averaging about 5kts I would say, and was blowing down the E-W runway with a little right-to-left crosswind component, so I would say somewhere around 280-285 degrees. The object I observed was coming pretty well directly parallel to the runway, and almost overhead of it – I had to crane my neck quite a bit to watch it when it was abreast of me. Unfortunately I don't know what the wind at altitude was; I was down to be launchpoint controller that day and had to resign myself to spending most of the day on the ground, so only had time for one very quick local thermalling flight to1800 feet, then it was out with the brakes and back down again. I suppose it's possible that the object I saw was drifting with the upper wind, but with allowance for wind deflection I would have thought its course would have diverged more markedly from that of the surface wind if that had been so. Furthermore, its smooth and deliberate progress across the sky was highly suggestive of something that was being propelled and/or under intelligent control – directly or remotely. Given what appeared on the face of it to be (as far as I could make it out), a somewhat un aerodynamic structure, I would have also expected it to have shown at least some signs of instability if simply being blown by the wind. I might also mention that in the past couple of weeks there have been other reports of UFO sightings in this part of England. Very near to where the other pilot landed his glider there have been reports in the local press of people having seen strange objects in the sky, see www.daventryonline.co.uk/ViewArticle2.aspx?SectionID=696&Ar ticleID=568425 I live some 50 miles to the SE from Shenington, and our local paper also carried a report of some people in the next town to me having seen some strange lights hovering in the sky. I hope this helps. Warm regards ((name deleted))
((FOLLOW-UP #2))
Perhaps I should just clarify something regarding the wind direction though – I had described the runway as 'E-W' in my reply, because as the runway in use this was the direction of take off and landing. The object I observed was travelling pretty well directly W-E, ie downwind on a heading of approximately 90 degrees true, and only with a small divergence from the *surface* wind blowing from 280-285 degrees. Given the effects of wind deflection I would have expected it to have been a bit more divergent from this if it was travelling with the wind at altitude. I have suggested to the other pilot that observed this object that he and his companions also file reports to you. Best wishes ((name deleted))
((FOLLOW-UP #3))
Peter I understand there is now an explanation for the strange object I saw last week. I was told there was a news report about it. I've been trying to trace further information from the BBC website but have not come up with anything yet. You may well have sources you know that you can plug into to find out more particulars. If I find out anything I will let you know, hope you can do the same and we'll see who gets there first!
Source: National UFO Reporting Center
---
Date: August 11 2003
Location: Szcecinek, Poland
Time: 0500A
Summary: Mr. Lech Hacinski was returning home from work when he noticed three figures, about 1.60m in height, apparently standing under a nearby railroad overpass, they appeared to be inspecting something on the ground, and immediately noticed as the witness's vehicle approached their location. One of the "men" then left the others and walked to the middle of the road with one of its hands raised up. For some unexplained reason the witness was forced to stop the car as the human-like figure approached him. At this point the witness noticed that the three men wore round helmets and had large round black eyes, he could not see any other facial features. On top of the helmet there was what Hacinski took to be a communications device. They also wore dark blue astronaut-like suits with black backpacks of some type. One of them approached even closer and pointed an object at the witness, which flashed multi-colored lights. This humanoid then proceeded to contact the witness by using telepathy and asked him several questions about his car and his manner of dress (apparently the witness had by now stepped out of the vehicle). They asked him about the car's propulsion system and engine. The witness opened the hood of the car and attempted to explain to the humanoids how the engine operated. Before leaving the humanoids warned the witness that humans must to preserve the earth's most precious resources, which they said it was the water and the air, if not extinction was surely to follow. Before leaving the witness asked the humanoids where was their home planet located. Their answer was sort of vague but the witness understood something about "the eighth galaxy". The aliens also told the witness that he was the first earthling they had made contact with. The aliens then floated to a nearby field where a huge dark round object rested on the ground, the bottom of the craft appeared to be surrounded by fog. The aliens disappeared into the craft, which then rose up and disappeared towards the west at high speed. On the field where the craft had landed a 50 meters width circle of flattened wheat was found.
Source: Robert Lezniakiewicz, UFO Raport Poland
---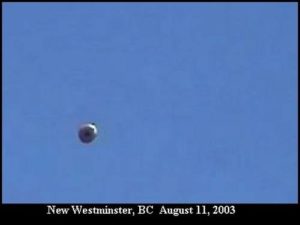 Date:   August 11 2003
Location:  New Westminster British Columbia, Canada
Time:  
Summary:  
Source:  
---
Date:   August 15 2003
Location:  Tolapa, Nicaragua
Time:  various
Summary:  Villagers in this Northwestern Nicaraguan village reported the sudden death of their sheep; apparently attacked by an unknown creature they dubbed the "Chupacabra". 12 female sheep were found dead, all had strange round wounds in the area of the neck according to farmer Alicia Icabalceta. Another farmer Albertina Brenes reporting losing 5 sheep to the mysterious creature. One of her nephews reported hearing noises at the same time that the sheep displayed nervous behavior. Other farmers reported seeing a strange creature described as a mixture of a dog and a kangaroo with very long and strong hind legs and very shiny eyes roaming the countryside.
Source:  El Dia Newspaper August 2003
---
Date:   Mid August  2003
Location:  Highland. CA
Time:  
Summary:  One, square with rounded corners, flat grey-black with a glowing ember center, resembling a charcoal briquet, but appeared two-dimensional as if on a movie screen. No other visible features. No sound, moving like baloon but fast. Size unknown. Distance of UFO(s) in sky: Just above the trees about 150 -200 feet. It hovered above us then ascended until not visible. Direction of Travel for UFO(s): Came from southeast direction where Norton AFB is, moving northwest. Hovered and went straight upwards. 
Source:  MUFON
---
Date:   August  2003
Location:  
Time:  
Summary:  
Source:  
Location. Managua, Nicaragua
Date: August 16 2003
Time: 0130A
The witness was vacationing in the area and had gone to bed in his hotel room after about 3 hours he had to get up to use the bathroom. He opened the door and heard an odd slurping sound coming from the toilet. He leapt up in surprise at the two dim red eyes that were staring at him. They had no pupils. He switched on the light and stared in horror at a small bipedal reptilian-like creature that glared back at him. It was green in color and had a frog-like body and a large round head. It had what appeared to be spines running from the top of the head to the end of its back. Two small fangs protruded from its mouth. They were each about an inch long. It wore a cute and curious but menacing expression. The creature was about 1 meter in height and as soon as it saw the witness it jumped to the shower curtain, scrambled up on it using amazing agility and perched on the horizontal bar that held it up. Immediately the bar snapped of the wall bringing the creature down into the bathtub. As it struggled to regain its feet, the witness picked up the pole and struck the creature twice on the rump. The creature hopped out of the bathtub, it ran under the witness legs, out of the bathroom and into the witness sleeping quarters. The witness grabbed a flashlight and followed into the third floor hallway. The witness entered the hallway in time to see it turn a corner eight doors down. The witness then went back into his sleeping quarters and stayed awake all night.
Source: Mystical Universe
---
Date:   August  2003
Location:  
Time:  
Summary:  
Source:  
---
Date: August 23 2003
Location: Sanford Australia
Time: 01:30
Summary: It was the early hours of the morning when my wife and myself were coming home from a fishing trip. we were traveling along sandford Road when suddenly our cars head lights began to flicker we then noticed that there were black lines appearing on the road in front of our sedan. it took a split second to realize that the black lines where being projected on the road by a light coming from high behind our car . i quickly hit the breaks in fear and pulled over, when i got out there above me where to blueish colored lights hovering some 20 meters above me, in fear i screamed out at the lights and they suddenly shot up into the night sky and out of my site….my wife and i are still scared to go out at night. we have talked to each other about it a few times but only to one another,,,we came up with the fact that the black lines on the road where shadows of trees that were projected on the road by these to scary but fantastic lights… my wife never seen the lights like i did cause she stayed in the car. I was never a believer of ufos before but know am amazed at them, this is the first time i've ever told anyone else about this incident.
Source: National UFO Reporting Center
---
Date: August 23 2003
Location: Poland Maine
Time: 0100A
Summary: The witness was driving back to his hotel in Auburn Maine when suddenly he was enveloped by a blinding light coming from all directions, his truck engine stalled and he just drifted off the road onto a sandy shoulder abutting the field. The truck then levitated 6 ft off the ground and was deposited about 90 ft off the road in the middle of a field. Terrified, he scrambled out of the car and while in the field a basketball sized orb of light suddenly flew toward him and stopped inches in front of his face. The orb began to spin. It was multicolored (like carnival glass). The witness remembers becoming very calm and then he lost consciousness. When he awoke he was naked and lying on a surface about the size of a twin bed, except the surface appeared to be translucent and unsupported. It seemed to be floating in mid-air. The chamber he was in seemed to be made of the same shimmering material as the orb. As he sat there very calmly, at least six beings came into the chamber through a portal that seemed to just open in the wall, like a mouth. Their skin was the color of ripe plums (dark purple), their "hands" were cone shaped and seemed to have eight opposable digits of the same length webbed together with no break in the webbing. Their two eyes were almond shaped with pale blue/silver irises against a black pupil. Their eyes had no whites and one seemed slightly larger than the other. Some of the aliens had a larger right eye, some a larger left. Their heads and mouths were like a turtle's. They seemed to have small indentations on either side of their heads, but no openings. They were bent forward and moved like "birds" except their legs seemed to be heavier. They were of varying heights, between 5 ft and 6'6″. The witness thinks they were of the two sexes. The "females" appeared to have a small trench-like depression in the small of their back between where their legs joined. The "males" seemed to have a small protuberance high on their torso with a valve like opening in its center, the protuberance was not phallic, but more like a 4″ long vertical mound. There also seemed to be some kind of eliminatory opening between their legs. The witness could not see their feet. He felt strangely calm as the aliens examined him. They waved "wands" over his body, which turned different colors. They took blood through a clear suction type device, which did not pierce the skin but seemed to draw the blood through the surface. The aliens made vibrating and purring sounds to each other during the exam. They also extracted some semen through a device similar to the blood taking suction cup. The chamber was extremely warm. When they finished their exam, the orb appeared over his face again and he lost consciousness again. He awoke naked in a fetal position next to his truck in the field. His clothes were in a pile nearby. Still feeling very calm he drove back to the hotel. The witness examined himself on a mirror and noticed a round suction mark on his torso, which faded the next morning.
Source: I Was abducted.com
---
Date:   August  2003
Location:  
Time:  
Summary:  
Source:  
Location. Cerro Termal, Rosario de la Frontera, Argentina
Date: late August 2003
Time: early morning
A "Gaucho" surnamed Posadas in charge of a farm owned by a local rancher, Oscar Frez was crossing the sector, located high in a densely forested area when he ran into a strange being standing over two meters tall, covered in hair from head to foot, long arms ending in sharp claws, an oval shaped head and an enormous mouth filled with menacing fangs. Posadas impressed by the sight got off his mount and reached for the shotgun on the saddle, but the hominid had vanished by the time he looked up again.
Source: Scott Corrales, Journal of Hispanic Ufology 9-4-03
---
Date:   late August  2003
Location:  Cerro Termal, Rosario de la Frontera, Argentina
Time:  1700
Summary:  Biathlete Humberto Sosa, 52 was training with Susana Romano, 32 and upon reaching a curve they felt the crushing of branches from the hill. They stopped to see what it could be and amid the foliage they saw briefly, a large creature, resembling an ape, moving with great agility. They both remained very still, their eyes riveted to the area in the trees. They tried to listen, but everything remained silent. Suddenly all of the birds flew away, as though fleeing from something. And again they saw the creature jump up. It resembled a giant ape, and afraid both witnesses ran as quickly as possible out of the forested area. However the "thing" seemed to follow them, running parallel to them some 10 meters down the slope, through the wilderness, which is impossible for a human to do given the thickness of the vegetation. Through the leaves and branches they could see its enormous silhouette and every so often could hear how timber was violently shattered, which led them to believe that the creature's weight was tremendous.
Source:  Scott Corrales, IHU, Gloria Coluchi
---
Date: late August 2003
Location: St. Laurent, Manitoba, Canada
Time: night
Summary: In the last week of August four youths were driving south of St. Laurent towards the golf course road (as many locals call it) when they saw flashing lights over and above one of the buildings on the course. The lights seemed to be sitting stationary in one spot and low over the sheds. The witnesses assumed, after seeing a car pulled to the side of the road and the lights flashing, that someone might have been breaking into the sheds. Two of the young men decided to sneak in to see if they might catch someone causing damage, the other two went back home to get their parents and have them come down to the area where all this was taking place. As the two youths were approximately half way into the course and as they approached a small road, which passed by one of the dugouts, they heard a very loud, piercing scream. As they kept walking for approximate another 100 feet, all of the sudden this "thing" was right in front of them screaming out a loud screeching noise. It was a three-foot tall creature that ran in front of them only about 25 ft away. Both witnesses were taken totally by surprise and were very frightened. Both ran back towards the road where they had been dropped off but seeing that they did not have a vehicle they cowered in the ditch, which ran along side of the road hoping that whatever it was would not find them. A few minutes later the two other youths arrived along with their parents who searched the area but found nothing. But, apparently unusual holes have been found in the ground throughout the area.
Source: Brian Vike for CANUFO
---
Related articles