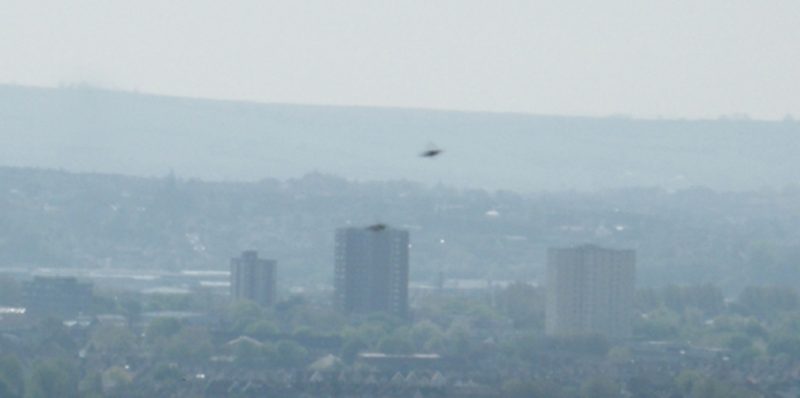 (Last Updated On: January 17, 2018)
Date: July 2010   
Location:  England, exact location not given
Time: evening
Summary: The witness was sitting in his room typing on his computer when he noticed a black object outside. He didn't think anything of it because he thought it was a bird, then he looked past his screen and there it was again. Since he had be talking about UFOs earlier that day he thought to get his camera and he waited for the object and it passed by the window again but because it was going at a good speed he couldn't get his camera focused on the object. It came around one more time and by this time he had opened his window to see if he could get a better look and then it flew off. He noted that there was no sound coming from the object. Later that night he kept wondering what the object was and as he was laying in bed he suddenly got a 'transmission-like' vision of these four unknown beings standing over him, he couldn't see any facial expressions but he looked over to his arm and they had a long silver-like needle scratching into the skin. He couldn't move or feel anything. He looked back and above him was a huge round light.  He has never been able to forget it and had never told anyone.  The witness added that after the black object had circled the house several times, it then shot off. He did take a photograph but it was not very good. It was that same night, as he lay in bed unable to sleep, that he first got the image of a light and then saw the beings. He couldn't see their faces but they were tall. He compared them to doctors and it was as if they were taking a blood test; they had a long very thin thing like a needle that touched his vein. Then the beings just disappeared. Throughout the experience he found he couldn't move; it was as if he were paralyzed. In the morning he noticed a narrow red line where they had scratched the skin. He has a feeling that they will come again, which scares him.
Source: Yorkshire UFO Society, http://ufophenomenon.weebly.com/black-ufo-alien- bedroom-visitors.html
---
Date:  July  2010  
Location:  Doornpoort, Pretoria, South Africa
Time:  00:00
Summary:  Doornpoort is on the Northern outskirts of Pretoria. My house was less than a mile from Wonderboom Airport. To the north of the suburb is open fields with farms and Platinum mines. I had not seen my brother in a while and him and his wife came to visit me and my wife. As July is in the heart of the winter in South Africa, we spent most of the time inside. As we both smoke and we don't smoke in our house my brother and I went outside every time we wanted to smoke. At about 00:00 we decided to go for a last smoke before going to bed. It was a clear cloudless night and there was sufficient moonlight so the sky was bright. As we were sitting outside, something in the sky caught my attention. I looked up and saw a creature slowly flying overhead. The thing that mostly caught me off guard was how white it was. It was so white it almost looked luminescent. It definitely had bat-wings and it flapped them very slowly. It was about 70ft above ground level and it had a wing span of at least 10ft, but I would say it was more between 12 and 14ft. My brother also saw it. After it flew slowly overhead in a southerly direction my brother and I just looked at each other, extinguished our cigarettes and went inside. At first I thought it was some kind of fruit bat, but the only species I could find that was somewhat on the light colored side that is found in the area was the straw-colored fruit bat, but it is much smaller than the creature I saw and I looked at a lot of videos of them flying since and their wing beats are much faster then the beats of the creature we saw. Over time I have researched all manner of bats and I cannot find anything that matches what I saw in color and size. It has been over 7 years but I can still clearly recall what I saw and the fear I felt because of the sheer size of this thing. Regards, DH
Source:  
---
Date:  July 2010 
Location: Minocqua, Wisconsin
Time: late night
Summary: The witness and her husband purchased a small lake home located about 50 feet from a gorgeous lake. The day of the move, she led first with one of the rental trucks loaded, her husband and children would be following the next day with the last of their items.
She pulled into their new home around 22:00 that night; she was too tired to start unloading anything. She went in and dropped her purse on the floor and curled up in one chair that was in the entire home. She distinctly remembers leaving on a kitchen light above the sink and turning off all the other lights in the house. The house had been vacant for almost two years and was completely empty except for her and her chair. She fell asleep quickly and the next thing she recalls was waking abruptly and she was in complete blackness. She sat for a second getting her bearings. She wondered why the lights were off, when night falls here you cannot see a foot in front of your face. There are no street lights or neighbors to shed light of any source. That's when she saw a soft white glow—it was about five feet in front of her and about three feet off the floor. She remembers feeling no fear, but confusion, wondering what it was. It started to move vertically across the room, it turned slightly and that's when she saw what she described as a left shoulder and arm. It looked like an X-ray image. The arm was bent at the elbow and it was moving with the white glow. That's when things started to click in her head; she realized that it must have been some kind of apparition. She just rolled off the side of the chair and flew to the kitchen and flicked on the light. Once the light went on it was gone. She knew she had left the kitchen light on; why it was off, she doesn't know. There was no blow fuse or burned out bulb. After that night she started seeing out of the corner of her eye movement coming down the hall the way to the family room. This was happening several times a week. No other family member was seeing this. One night she was watching television and saw the movement again. This time she saw looking straight at it, this tiny marble sized ball of light float down the hall. The light was only a few inches off the floor. It vanished as it entered the family room. She has also photographed large floating orbs of light.
Source: Your True Tales—May 2011   
---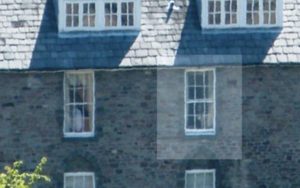 Date:  July  2010  
Location:  Purdown, Lockleaze, Bristol, England
Time:  
Summary:  PHOTO ONE AT TOP – The following photographs were taken on a hot sunny day in July 2010. The location was Purdown, Lockleaze, Bristol, from which you can see most of the City. The photographer and his partner were not the only ones present -so was I! The photographer (DMH) shouted "I can't believe what I just saw -I think I got it on the camera!" He then pointed out where the objects had come from and took a photograph. I had been distracted at the time but I can make it clear that absolutely NO FAKERY was involved. I waited to see whether the images showed anything and soon received this one: And then I got an excited call about a figure in the window of the building the objects had shot from.  Look at the second window where you can see what appears to be a "Grey" type entity. I can swear on any number of Bibles that these are NOT faked.  They show exactly what was seen at the time and the witness CAN be trusted. Had I not been distracted with my own suddenly malfunctioning camera (a few hundred yards away) I might have seen or photographed the same things. I tried to get in touch with  former official contacts about this but was informed that none were now at the Ministry of Defence and when I asked whether I should forward a report and copies of the images was told:"No need. We are no longer interested in UFOs. You could try a civilian UFO group."
Source:  
---
Date:  July 2010  
Location: Near East Liverpool, Ohio
Time: 03:00 a.m.
Summary: The main witness was on his way home from Chester West Virginia with his girlfriend. They were on RT 68 between East Liverpool Ohio and Midland Pennsylvania along the Ohio River.
The time was around 3 am and a thing that looked like a black angel flew in front of his truck, it was about 6 ft tall and was so close that they both ducked. Whatever it was it came from the river side of the road. The witness wanted to report the event to the police but his girlfriend refused, pointing out that "they will think we are crazy".
Source: Phantoms and Monsters May 22 2011      
---
Date: July 2010 
Location:  Near Brisbane, Queensland, Australia
Time: evening
Summary: The witness was visiting his friend at her summer house and as her parents went out shopping and she napped in the bedroom he was playing 'Play station' when all of a sudden he caught movement out of the hook of his eyes through the big window, right next to the television. He was stunned to see a pale-white, medium size creature that ran by into the bushes. He then decided to go outside to check. The first few minutes, there was nothing, by 'nothing' he meant no ambient noise like birds whistling, etc. He 'regrettably' moved towards the bushes, where he began hearing a sound, like a growling of some sort. He was a good ten feet away from the bushes when he saw the most hideous thing jump out of the bushes. A pale, bald, naked man, with pitch-black eyes stood right in front of him. He was in shock and couldn't move at all. The creature had pointy ears and teeth. It did not have a nose, but two holes in the center of its face (similar to Voldemort from Harry Potter). It was growling, almost like a dog. Then it disappeared into thin air. Then the witness thinks that he passed out, he next heard the sound of his friend's parent's car. He got up and went inside. He didn't tell them what had occurred.
Source:  http://paranormal.about.com/od/demonsandexorcism/a/tales_11_06_09t.htm
---
Date: July 1 2010 
Location: Lichfield England
Time: between 11:40 PM and 11:50 PM
Summary: 2 bright silent lights seen over Lichfield in England It was a bright light flying north west to south east, the light was more powerful than an airliner, it was completely silent and it had no beacon lights, it was also too low for it to be a satellite. There was also a smaller light in front of the object moving in the same direction. Duration: 5 minutes
Source: National UFO Reporting Center
---
Date: July 1 2010 
Location: Yokohama Japan
Time: 18:15
Summary: A strange shaped object was floating in the air for 5 min in Yokohama City, very low then disappeared in the cloudy sky. I just reported an UFO flying up and down in a gravitating way, going upward and downward very quietly, birds were flying around it but the birds were being pushed away, causing the bird to fly downward.  First sight I thought it was a helium balloon, but too big for a helium balloon, so I ask my girlfriend for binoculars, but couldn't position the UFO insight. Then I thought it was plastic but not plastic, UFO was floating as if it was looking for something. The color was like aluminum foil but more of a plastic look. It changed color shape so couldn't tell the shaped of the UFO. I have seen many aircrafts, balloons, gliders but this wasn't neither. But as the birds were taunting the UFO it flew higher into the sky and disappeared. I really believe now so shocking. It was like it was hiding…
Source: National UFO Reporting Center
---
Date: July 2 2010 
Location: South Kilkenny Ireland
Time: 01:05
Summary: As I closed a window at 1am I noticed a strange light moving in the sky from the west travelling east. I exited the building to further investigate the light; the light was brighter than any other feature in the sky apart from the moon which was directly to the east of my location. As I watched the light I noticed the familiar flashing lights of a plane also travelling toward me from the west but not directly, the plane quickly closed the distance as the light passed my position and now moved eastwards to the south of my location. The light quickly grew dimmer until I could not see it, as I was looking south at the light I noticed the familiar flashing of a planes lights in the horizon travelling from south to north. I looked up and waited for the plane to pass over and as I watched I noticed another light, this light was no brighter than any of the stars in the sky and was also travelling from south to north. I followed the second dimmer light and it passed directly over my position and then continued to travel northwards, as I turned my head back to look at the plane I noticed a shooting star fall somewhere behind the plane to the southwest of my position. It was not a usually shooting star and appeared like magnesium burning, or bits of it dripped of the main object until it completely disappeared.
Source: National UFO Reporting Center
---
Date: July 2 2010 
Location: Wigan England
Time: 22:50
Summary: Orange glowing sphere moving from west to east at a fairly swift pace, fading out after about 30 seconds
Source: National UFO Reporting Center
---
Date: July 2 2010 
Location:  Manchester England
Time:  22:40
Summary: Bright orange ball of light similar to an object on fire flying through the night sky seen through some branches of a tree. As it flew further across the orange light was still visible but not as bright as before then suddenly it disappeared out of sight. Duration: 3 minutes Shape: Fireball
Source: Your True Tales—August 2011  
---
Date: July 2 2010 
Location: Edge of the Universe Ridge, Fullerton, California
Time: 23:00
Summary: Three friends had decided to take a walk up the area known as the 'Fullerton Trails' and "medicate" (they were all medical cannabis patients) at the top of the ridge, as the view is spectacular. There is another higher ridge known as the End of the World, located not too far away, but it was late at night and it was hard to see, so they decided against walking up it. The layout of the ridge consists of a trail the entrance of which is located in the middle of a residential street, nestled between two houses. There is a short walk with a trail surrounded by trees on one side and a fence on the other. They got to the top of the ridge with little trouble, but noticed an extremely foul smell, like something had died and was rotting. They figured it was some animal, but they never came across a corpse. Anyhow they got to their destination and began to 'medicate'. As they admired the view and discussed how cool the ambience of the night and the desert scenery below them was they heard something rustling in the bushes behind them. They figured it was an animal and continued their business. They kept hearing noises coming from the bushes, and they grew steadily more unnerved until they decided to leave. The way back was a little bit harder than they way up. The main witness kept urging his friends to hurry as he was in the back and had a strange feeling of unease. They got back to the entrance and hurried back to the car. They began joking around that something was coming for them, when suddenly the witness in the back seat said, 'Start the car—now!' The tone of his voice made them look back and they saw what he was looking at. About 15 feet away, standing next to the trash cans at the entrance they had just come from, was a tall hooded figure. They couldn't see its face; it seemed shrouded. The driver took off in a hurry. Apparently the witness in the backseat had seen the figure slink out of the darkness. It stared at them as they left.
Source: Your True Tales—August 2011  
---
Date: July 3, 2010
Location: Glasgow Scotland
Time: 19:45
Summary: We live in a top floor flat in Glasgow, Scotland, U.K., a flat that stands approx 60 to 70 ft. in height from ground level. The curtains were opened wide on the living-room window as usual, a humid Saturday night, clear blue skies and virtually no wind or breeze whatsoever. I was lying on the sofa watching television, when suddenly something caught my eye outside the window. It was approx 1945 hrs. I looked up and was amazed to see a " Circular shaped object, deep red or brown in colour with a fiery yellow and orange glow at its base." I immediately called in my fiancee to view the object also, which she did. It was travelling at speed from a Southerly to a Northerly direction and seconds later, it was over the building. We then both ran to the back bedroom window, and noticed that it had already passed the building, zipping through the sky at speed, leaving no trails behind whatsoever. We also noticed that it was unusually low, standing out from what was a clear blue sky. We observed the object darting speedily through the sky, stop dead in its tracks, hover, and then seem to fall straight down a few feet, stop suddenly once more, then shoot away, fading to a small pin-prick size, eventually disappearing altogether from sight. All this happened in the space of around 1 to 1 1/2 mins approx. It came as a big surprise to us that no news of the sighting was neither on the television nor in the newspapers the very next day, as we were sure it would be. This object is definately the most curious and unusual thing either of us has ever seen. Absolutely AMAZING !  Duration: approx 1 1/2 mins
Source: National UFO Reporting Center
---
Date: July 3, 2010
Location: Farallon (Panama
Time: 19:35
Summary: I was watching the planet Mars when suddenly I saw this white bright large oval object coming out of a cloud, at an incredible speed, falling on a side and then taking an immediate turn to the right towards the ocean, when it disappeared. Duration: 2 seconds
Source: National UFO Reporting Center
---
Date: July 3, 2010
Location: Caroline Canada, AB
Time: 23:32
Summary: not sure what it was? Two lights. One light followed by the other. The leading light was the larger light about 5mm in diameter and the following light about 1mm. Lights were six inches apart. Lights were not flashing and could not here a sound. Duration: 5 min
Source: National UFO Reporting Center
---
Date: July 3, 2010
Location: Cochrane Canada, AB
Time: 23:15
Summary: Two UFO lights, one large, one small fly over Cochrane, Alberta, Canada (07/03/2010) Was walking a friend to his car when noticed a light coming from the west about the same height as a small aircraft would fly. Then to my amazement I noticed this large bright light had a dimmer/smaller companion light trailing behind and slightly below it. The larger light was similar to the brightness of Venus on a clear night. The smaller light more consistent to the brightness of a typical satellite. I ran inside to get other witnesses,upon returning we all watched them fly completely silent and in a perfect straight line almost directly over our home. I took note that the stars where visible between the two lights as it flew giving the impression of being two objects, although these two lights stayed in perfect unison until roughly 3 minutes into the sighting roughly (1 mile past our home) when the trailing-smaller light slowly moved and to the lower right of the bigger light. It's very possible if the two were connected-the object could have been tilting to give this effect. The object made no sound whatsoever. Nobody felt paranoia only excitement and extreme wonderment. We watched it until, at about a quarter at arms length from the horizon, it suddenly (not instantly) both blinked out out.If these two lights were connected it would have been absolutely massive, football stadium sized would be an understatement. Duration: 5 minutes
Source:  National UFO Reporting Center
---
Date: July 3, 2010
Location: Caroline Canada, AB
Time: 23:30
Summary: bright diamond shaped light chased by tiny light witnessed a very huge diamond shaped very bright light being followed by a tiny light. it looked like the tiny light was giving chase and slowly catching up and then falling behind and catching up again Duration: 4 minutes
Source: National UFO Reporting Center
---
Date: July 4, 2010
Location: Paris France
Time: 14:20
Summary: I was taking photographs from our hotel window, three in a 4-5 second timeframe, when I downloaded them from the camera the second photograph has an object in the sky, a perfect sphere. When I took the photo I do not remember seeing it in through the lense. The sky at the time was clear blue with no clouds whatsoever. The camera is a digital Nikon. Duration: 2 seconds
Source: National UFO Reporting Center
---
Date: July 6, 2010
Location: Ho Chi Minh City Vietnam
Time: 21:30
Summary: UFO sighting in Vietnam Very strange bright light seen in the sky. 1000x brighter than any star. Looked like a worm hole Duration: 3 hours
Source: National UFO Reporting Center
---
Date: July 7, 2010
Location: Heiden, Netherlands
Time: 22:00
Summary: The witness, a young man named Soufian (involved in other encounters) had gone to sleep as usual and during the middle of the night Soufian began to experience a strange 'dream'. In this dream he saw himself lying down in bed. There was a tall and slender female humanoid figure standing alongside the bed, about 1 meter away. The lady was wearing light colored robes; she had pale gray colored skin and long pale blond/white hair which hung down to her shoulders. She looked very healthy, with smooth skin. For some reason Soufian does not remember her facial features. Her arms and lower legs were exposed, and other than the skin tone looked human. Soufian stared at this scene for a couple of seconds. Then without warning the figure was closer and appeared to have her hands down inside of his lower chest. He immediately felt excruciating pain, like the lady was moving his lower ribs back and forth and crushing down on them. From his current viewpoint he could not see whether or not his chest was actually opened up, but he feels that it wasn't and that the hands of this being had somehow entered his skin. He watched himself struggling against what was taking place, but he felt that he was paralyzed and trapped. The intense pain continued. He tried shouting out but could not scream, there was just complete silence. The procedure seemed to go on for a very long time, possibly a couple of hours, although Soufian says that it could have been less but felt so long due to the pain. Then all of the sudden it was over. The lady vanished and he awoke with a shock. However despite the traumatic experience he had just undergone, Soufian soon drifted back off the sleep. In the morning he lay in bed remembering what had taken place. He could feel that his lower ribs were aching. At first he was frightened to check, but after about half an hour he looked over his body for any markings or cuts. There was nothing. He got up and went into work like normal. The aching pain in his ribs continued for several hours before finally dispersing. However his ribs continued to feel sensitive for at least another day.
Source:  Rosales, Albert 
---
Date: July 7, 2010
Location: Wellingborough, England
Time:  00:30
Summary: Bright orange, silent, large upright triangle object Really bright orange glow, REALLY bright. no sound flew over head, shape clearly visible, not a laying down triangle but standing up triangle shape. Came flying over head fast then lights dimmed, and then just sat there in the sky for 30 seconds then disappeared. THIS HAPPENS ON A REGULAR BASIS HERE IN WELLINGBOROUGH, ENGLAND AND NOT THE 1ST TIME WE HAVE SEEN IT. but the 1st time we reported it
Source:  National UFO Reporting Center
---
Date: July 9, 2010
Location: Sibiu Romania
Time:   23:37 
Summary: A weird light traveling in two different directions at an 1 hour interval. Me and a couple of my friends, 6 to be exact, were just resting in the city center and when i looked at the sky i saw a light traveling at enormous speed from West to East. To get an idea of the speed, it was going 3-4 times faster than a normal jet airliner at normal cruising altitude. We watched the craft until our view was obscured by buildings. The same craft then apeared exactly one hour later going from East to West. After going behind a cloud the craft just simply dissapeared. We waited for about 20 minutes for the craft to appear again but it didn't. Duration: ~1 minutes
Source: National UFO Reporting Center
---
Date: July 9, 2010
Location: La Ceiba Honduras
Time:  23:00
Summary: shooting star like, white Intermittent light zigzagging, seemed to be travelling at the same speed as a shooting star We were four guys including me just talking in front of my friend's house around 23:00 hours. We were experiencing a blackout, so after 30 minutes, I was gazing up at the sky and I saw what I thought was a shooting star, and I yelled to the other three guys so they could see it too. I'm not sure but I think it was travelling from northwest to southeast and all of a sudden it changed direction to southwest and kept going at the same speed. Before any change in direction it would disappear. " It was an intermittent light. It kept zigzagging in this fashion for around one to two minutes and then it just disappeared. Duration: 1-2 minutes
Source: National UFO Reporting Center
---
Date: July 10, 2010
Location: NSA Souda Bay Greece
Time:   23:00
Summary: Light in the sky, anxiety. At approximately 23:00 while smoking on a patio a twinkling object was visible to the southwest of the airport about 45 degrees up from the horizon. I dismissed it as a star at this point. An hour later 24:00 the object had disappeared from that area completely. This is when I knew something was up. I looked across the horizon and saw that the object had positioned itself to the northwest of me still at the same altitude. This time I stayed outside and watched it for several minutes noticing that it had moved very slightly to the north. The third time I went outside it was gone from this area as well. At this point it was really late and I went to bed. Throughout this time I had felt feelings of anxiety, these feelings are unusual for me. Duration: Approx 4 Hrs
Source: National UFO Reporting Center
---
Date: July 10, 2010
Location: Nanjing China
Time:  23:00
Summary: Rectangular craft over China same as sighting in Washington State. Several years ago I made a report of a UFO that I observed in rural Washington state. The UFO I talked about seemed to appear as if it came out of a hole in the night sky about a half mile from me. I also mentioned that it seemed to be headed down at an angle that would take it to a small grouping of ground lights that looked like a small town in the distance. The craft crossed the highway in front of me and just as it came closer to the ground it disappeared as if into another hole in our air space. I pulled off the highway, took out my Road Atlas to find out what town the ground lights in the distance was. There were no towns on the map, however, the area in question was shown on the map with the words "Military Reservation". About a half mile further down the road, I came to a very long road going off to the right towards the lights. There was no sign of any kind. Until the UFO sighting reported today above the airport in China, I had never heard of a rectangular UFO being reported. 
Source: National UFO Reporting Center
---
Date: July 10, 2010
Location: Louth England
Time:  23:10
Summary: Three large bright orange craft travelling low and at speed in the night sky over lincolnshire There were three craft travelling South to North in a line about ten seconds apart. They were flying fast and low but there was no sound. They presented as cylindrical with bright orange and red colours. It was 11.10 pm and both my partner and I witnessed them. I got a photo of the last one. Duration: 5 mins
Source: National UFO Reporting Center
---
Date: July 10, 2010
Location: London England
Time: 22:55 
Summary: Fast moving orange light in sky, three burners.  A stationary sodium orange light in sky was observed in sky about 10 deg above horizon from N51.46998 W000.24589 in SW direction. Object appeared to have three burners. Object then moved fast over a period of about 20 seconds to a position about 85 – 90 deg above position. It appeared to fade out in last few seconds. Altitude of object is unknown but subjectively seemed to rise in its path from low to high altitude. Duration: 30 sec
Source: National UFO Reporting Center
---
Date: July 10, 2010
Location: Portsmouth England
Time: 22:00
Summary: I was in my bedroom and looked out of my back window and saw 4 stationary orange lights in a NE direction from me. The lights were in an askew square formation and stayed in that position for a few minutes until 3 of the lights disappeared. About 10 seconds later the remaining light started moving at speed until it too disappeared from sight. Never seen anything like it before and haven't seen any repeat since although it has been playing on my mind a lot recently. Duration: 5 minutes
Source: National UFO Reporting Center
---
Date: July 11, 2010
Location: Faaborg Denmark
Time: 15:00
Summary: a cigar shaped object flying with no wings and no exhaust and no sound. It was a silver/grey object. I could see that it was nothing like an airplane. It had no wings and there was no exhaust. I could clearly see the shape of it as there were no clouds. It was flying in a straight line, about 100-200 meters in the air. It made no sound at all. Duration: 5 minutes
Source: National UFO Reporting Center
---
Date: July 11, 2010
Location: London England
Time: 03:00
Summary: Three round silent balls of light over London, then disappear, then a strange grey oval shape. 11 July 2010, at exactly 3 am, over SE21, West Dulwich, London, England. I noticed 3 orange/red lights in the sky, brighter than standard aviation lights, glowing and at the same height of helicopters, all flying in unison and at the same rate, one behind the other. I was taken aback at first, because I know that most helicopters in the area flash and blink lights and more importantly, make a noise. No planes fly in and out of the area at that hour of the morning. The objects were travelling at a constant rate toward my home. As they neared, the lights of each three went out one by one. I have never seen or experienced aviation aircraft to suddenly turn off any of their lights to the point of complete darkness. I followed the path of the lights of where I thought they would have been should the lights have stayed on, and in the darkness I saw a faint grey shape, that became slightly larger in size, with no light, no flashing, that you would expect from any aviation aircraft, especially over populated London areas. Again, these orange/red glowing 'orbs' and the shape were at the height of helicopters, and completely silent. It was the silence and the shape that has completely got me baffled. At about 3:10am, several helicopters came into the area and circled for some time. Duration: 2 Minutes
Source: National UFO Reporting Center
---
Date: July 11, 2010
Location:
Time: 
Summary: 
Source: National UFO Reporting Center
---
Date: July 11, 2010
Location: Doncaster England
Time: 00:30
Summary: Red/Orange craft or creature over UK yorkshire. NOT CHINESE LANTERN OR FIREWORK! a oval craft or creature, no features, changed from RED to ORANGE rapidly. larger than a jet engine and wobbled like jelly but always went back to oval shape when stop moving. was so close to rooftops of houses that anyone stood on roof could touch or climb it.gave NO sound. lasted over 1 min and then disappeared/faded away, but could not see thought it. Duration: 1 min
Source: National UFO Reporting Center
---
Date: July 11, 2010
Location: London England
Time: 23:45
Summary: my brother ran in to me and my mum and said there are weird things in the sky we ran to look and it was at least 20 or more circular orange objects. There was a number of orange objects coming off the ground from the distance and slowly rising one by one in formation sort of and they got higher and higher there must of been around 20 or more even more then i tried capturing a picture but it wouldn't pic the object up and tried video it but it made the sound go funny and after that they vanished. Duration: 3 mins
Source: National UFO Reporting Center
---
Date: July 12, 2010
Location: Lichfield England
Time: 11:40
Summary: bright circular lights moving east to west two sharp bright lights one smaller than the other the largest bright light seemed to be chasing the smaller one there was no noise coming from both of them they were quite low in the atmosphere there was no other lights on the u.f.o . ie like airplane lights this happened on two nights in a row the second night i have managed to capture a video of this sighting the second night the object was lower than previous and brighter but still no sound at all nor aircraft lights.
Source: National UFO Reporting Center
---
Date: July 17, 2010
Location: Sydney Australia
Time: 18:36
Summary: Slow, hovering triangle with bright white and red lights. I was in the car with my mother, driving home from the shops. I had been staring at the sky for some time until I realized that there was unrecognisible air craft hovering very close to the ground. I estimate about 200 meters from the ground at slow speeds. It flew near our car, which gave us a good view of it. A triangle, with three bright lights on the points of it and one red flashing light. Its still in view of me right now, from my house. It seems to be going around in circles every 5 minutes or so, comes into sight. Duration: 30 minutes
Source: National UFO Reporting Center
---
Date: July 19, 2010
Location: Ankara Turkey
Time: 22:45
Summary: Duration: 20-25 min
Source: National UFO Reporting Center
---
Date: July 20, 2010
Location: Mexico DF Mexico
Time: 15:30
Summary: I was with a colleague in a car on Insurgentes Sur avenue in México DF going to visit a customer. My colleague was driving. She told me that in Mexico DF it was normal to see OVNIs and that even the local news sometimes showed them on TV; warning me for what I was about to see. Then she told me to look over a tree pointing me in that direction, and then in the sky pretty far away, maybe thousands of meters away, was a silver object absolutely static in the sky. It looked pretty small from where I was, but I know it was made from some kind of metal because the sun shined and kind of reflected on a spot of the object. It looked as if it was rotating, because its edges where somehow dimed; and this happens when something is rotating at a high speed. The object then moved at a VERY high speed away from the site and disappeared. I'm not aware if other drivers saw it, we were on a heavy traffic avenue. This is the first time in my life that I see something like this, and I am very happy that I did. Duration: 5 minutes Shape: Chevron
Source:  National UFO Reporting Center
---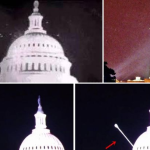 Date: July 20, 2010
Location: Washington, DC
Time: 3:18:07 AM
Summary: On July 20, 2010, in NW Washington, DC exactly at 3:18:07 AM, Mr. Allen imagined a slow moving Extraterrestrial, hyperdimensional spacecraft hovering in the sky. It occurred one mile southeast of the White House. Mr. Allen claimed to have seen a mysterious directed energy beam or strange ray of light within the White House's vicinity. As a former White House/Air Force Engineer and professional photographer, Will Allen claimed to have gathered photographs of extraterrestrial spacecraft coming in to land on the White House beneath the Potomac River. Mr. Allen grew up within the U.S military bases, and currently residing in Washington, DC. He recalled that at the age of five, there were about four to five grey extraterrestrials in silver spacesuits being implanted with a device. Throughout the years of his White House and military service, the implanted device went undetected. At the present, he is instructed to take photographs of the alien vessel, and the staff that enters P-56A restricted Capitol Hill through the hyperdimensional Star gates at high speeds, by giving him the signals to visit the locations in Washington, DC. As a competent photographer, he believes that the photos are forensic in quality. Furthermore, it documents same intelligent hyperdimensional civilization behind July 16, 1952, and July 16, 2002, flyovers. On July 16, 2014, a live camera stream registered a beam of light directed to the building. Unfortunately, President Obama officially denies the proof. The public proximity and utter transparency of flying machine in the White House is a prima facie evidence of an "ET Disclosure" movement directed by the U.S. clandestine services and Rockefeller interests.
Source: Latest UFO sightings, videos and news.
---
Date: July 24 2010 
Location: Dirksland Netherlands
Time: 02:50
Summary: I am a 20 your old guy from the Netherlands. I'm a Mensa member since a few months. I don't drink nor use drugs. I know quite some things about astronomy but I'm nothing close to an expert or anything like that. Since a few weeks I've seen an extremely bright "star" in the sky at night time. The first time it seemed like the light of an airplain, yet it missed the blinking white and red light of the wings and it was so much brighter. And it moved much faster but dissipated before it was out of view. It didn't have a tail or anything else a normal meteor has. Tonight I saw it again but it was completely stationary. It didn't move at all. Not even when I compaired it with the stars. When I first looked at it my eyes almost hurt of the brightness it almost looked as if it was a tiny sun of it's own but the light did not difuse. Then I noticed that the light seemed to get a little dimmer but when I looked closer it was as if it's aura (at night the moon has a circle of light around it sometimes when there's a thin layer of clouds) was shifting it made me think of the head light of a car in the mist yet it was very short-ranged and I couldn't really make out if it was really like a moving "head light". But then around the object itselve. Even though it was far away and due to the light not really clear I did have the idea it was a bit triangle shaped but it could just be rays of light. Now about half an hour later, 3:12 AM, it's gone. I've kind of a light head ache of looking at the bright light but I only watched it for some 5 minutes and that was almost 30 minutes ago. I also felt some sort of pressure on/in my head even when I closed my eyes, when I watched it. And I'm one of those rare, blessed persons who doesn't have head aches, ever! But I could be a side affect of my light sensitivity, but still, sunlight never has an effect on anything like this. I also tried to take a picture of it but my camera wasn't able to capture it due to the extreme light contrasts between the black sky and the bright "star". I made a picture but its really vague if you still wanted to view this picture let me know. But at the moment I don't have the needed cable to put it on my computer, with me. Duration: atleast 30 minutes
Source: National UFO Reporting Center
---
Date: July 24 2010 
Location: Calgary, AB
Time: 00:00
Summary: One light trailing another much slower than satellites at high altitude overhead. Ok. I am a very good observer. My mind isn't easily fooled. Me and my equally conscious buddy saw an aerial phenom at about 0600 UT to 0700 UT July 23 or 24 that was not easily explainable. We are in western canada on MT. So it was about 11 pm or 12 midnight local. My buddy alerted me to this and this what we saw…. 2 apparently stationary lights, one about 1.5 or 2 magnitudes brighter than the other that was "in front" of the less bright one and separated by maybe 1- 2 degrees. I realized right away they weren't stars because the position near Lyra almost overhead, wasn't correct. ..anyway, these apparently stationary two lights "began" to move together in formation…one trailing the other SW to NE and certainly too slow to be satellites because a real N-S polar satellite passed by…SO the crazy thing is the brighter light in front of the trailing one faded to the same brightness as the other..then they both just faded away. I estimate we saw this for a good minute..maybe 2. It wasn't an Iridium Sat because they are in polar orbits only. I checked the ISS sightings for this area too and there weren't any scheduled for Friday or Saturday. I like to think we saw a real UFO ..or rather 2 !
Source:
---
Date:  July 25 2010 
Location: Regensburg, Germany
Time: 15:04
Summary: Took picture of a large circular/disc with a black haze around it while it hovered over Regensburg, Ge on 25 July 08. The pictures that I took were in Regensburg, Germany, 25 July 2008. I was taking pictures of the St. Peter's Cathedral steeples in downtown Regensburg. I took the pictures with a Kodak Digital Camera (360). I did not know or notice the object at the time I took the pictures. This is another explation.I did notice the object when I downloaded the pictures while in Germany. It was only a few days ago (5 Aug 10) that a co-worker and myself were browsing pictures of Germany from 2008. We looked at this picture and magnified it to 800x to get a better look at it. It is our belief that the object is not an airplane, helicopter or any type of aviation device known to humans. There are no wings, tail, nose or rotary blades. There is a black haze/mist around the object. We also noticed that the object had an indention close to the top of the object that might appear to be windows or some type of design that's indented on the object. The indentation goes aroun! d the object also. I have two pictures that were taken back to back. One of the pictures does not have the object in it. The pictures were taken about 1 to 2 seconds apart. I wish that I had noticed and investigated this back in 2008.  I have never seen anything like this before. I was also of sound mind when taking the pictures. I did not hear anything while taking the pictures. I was looking at a direction of South/Southeast (approximately 2700 – 2800 mills). When taking the two pictures, there were trees in the background, a river in front of me (Danube River) two church steeples and a walking path below me. The Cathedral in downtown Regensburg was approximately 1 to 1 1/2 miles away in a direct line. The sky that day was pretty clear with some clouds. It was not raining anywhere around the area.
Source:
---
Date: July 25 2010 
Location: Windsor Great Park (Berkshire) England
Time: 00:05
Summary: As we were driving through Windsor Great Park in the county of Berkshire, United Kingdom, both myself and my girlfriend witnessed from the car window 8 smallish red and yellow balls of light. They appeared to be hovering and not moving and in a cluster type formation, although not in any distinctive shape formation i.e. square/diamond. The balls of light appeared to be glowing. They were approximately 300 feet in the sky and therefore too low to be stars and were certainly not planes. We attempted to turn the car around 1/2 mile up. We managed to head back towards where we first witnessed the incident and kept visual contact with them for approximately 1-2 minutes. Turning back round and losing sight of them for two minutes we headed back to the exact same place within about 3-4 minutes but there was absolutely no trace of any of them to be seen. Duration: 1 minute
Source: National UFO Reporting Center
---
Date:  July 25 2010  
Location:  June Lake, California
Time:  Night
Summary:  I was camped by grant lake in the town of june lake, ca, with my brother. we were on a road trip and had just returned to the area after visiting family in socal. we were sleeping in a jeep cherokee 2 door,1987 model. i awoke suddenly because of a bright light. i am very sensitive to light, and my brother is not. i sat straight up, staring at a bright white light above me, about 15 feet above my head. my first reaction was that it was a cop. no other vehicles were around. it was not a cop. i immediately glanced at my brother who was sleeping, relieved that he was there. the light came from directly above the jeep. it was shining through my metal roof. the roof did not have a window/moon roof/ sun roof. the light appeared to function differently than most lights because it was shining through the metal jeep roof yet was not painful on my eyes. the light was coming from an object, about 20 feet long and rectangular and hovering directly overhead. it was definitely purposely hovering over my jeep. i looked around and nothing was missing, first looking at my brother, then at my belongings such as an iching book and a bundle of sage in a conch shell. everything was where it was when i fell asleep. i thought about waking my brother but decided not to. i noticed my hair was moving from a wind coming from the object above me. it made no sound whatsoever. just a light, and wind. i could feel the wind on my face, though it was not blowing very hard. i felt sort of stunned but not actually afraid. it felt like i was being scanned. i sat there staring straight up at the object above me for about 5 minutes. then it flew away so quickly i could not see where it went, but it seemed to ascend and practically disappear all in a second. it left very quickly and noiselessly. afterwards, i was still stunned. it took me a long time to fall back asleep. i told my brother about it in the morning, asking him if he saw it but he said he was sound asleep. i have never forgotten this incident and have told a few people about it but felt compelled to report it now that i can without feeling stigmatized due to recent news disclosures.


Source:  MUFON
---
Date: July 26 (or 27) 2010 
Location: St Petersburg, Florida
Time:  around midnight
Summary: The witness had gone to bed around midnight, his wife and young cousin were sleeping in separate rooms on this particular night. He arose (not sure of time) and went outside to smoke a cigarette. When he went outside he at once noticed a bright triangular shaped object of pyramid shape with 3 lights running down the side hovering right above him. He said that the object was bigger than the house. He then noticed a bright flash. The next thing he recalls was being in a bright room with a light shining in his eyes. He could see four shadowy figures, but couldn't make out any features. He noticed a tube in his navel and in his penis. He was covered in some sort of "goo" and he had a type of gas mask on. He kept hearing a voice saying "he is coming to." The next thing that he recalls is waking up in his bed at 3:03 a.m. He said that he knew that he got up because the door was unlocked and partially open. He locked the door
before he went to bed. Therefore he was emphatic that he did not have a lucid dream. He had a real experience. He said that upon awakening at 3:03 a.m. he went to the bathroom to check for marks on his body, he noticed none. However, the next day he experienced severe diarrhea and urinary track abnormalities. The story gets better as the next day he was talking to a friend. The friend was out driving at around 4 am (a little later than his encounter) and noticed a bright object that looked like "a burrito" in the direction where the witness lived. His friend snapped a photo of the object with his cell phone. Another person riding a motorcycle also saw the object.
Source:  http://www.ufosnw.com/sighting reports/2010  
---
Date:  July 30 2010 
Location: Scotland
Time: 23:05
Summary: two lights in sky that looked like stars travelling together at very high speed, one split off at right angle to the other both carried on at high speed till out of sight. Duration: 3 mins
Source: National UFO Reporting Center
---
Date:  July 31 2010 
Location: Coventry England
Time: 21:45
Summary: I live on the birmingham flight path and air traffic is rarely west to south, it's normally north to south or east to west, but further south on east to west traffic. the lights were bright during the whole visual – from sighting to loss of sighting far east.the light was an orange light not bright as normal aircraft. The four objects wee heading in the same direction. seemed the same altitude and the same speed, again seeming quite fast. There was no sound form the objects. Duration: 2 minutes
Source: National UFO Reporting Center
---
Date:  July 31 2010 
Location: Stanmore, Winchester England
Time: 23:05
Summary: At 23:05 hours on the evening of August 31st, 2010, I happened to look towards the southeast from the upper floor of my home and noticed a fast moving brilliant and steady orange colored spherical light source. The source was moving wards the north-northeast in a smooth steady motion, which I estimated given its relative distance of roughly one quarter mile from my position to be traveling at between fifty and seventy mph. As it flew, the source appeared to make a small, very smooth deviation from the straight course it had been following when I initially noted it, and in a long lazy arc came to a complete stop in the sky approximately at an angle of sixty degrees above the horizon, wherein it seemed to perform a complete stop and then in a matter of seconds faded away to nothingness (this effect may have been achieved by the source moving away from me on an easterly course, gradually being lost from view, or by some other means). I was able at the time to motion capture approximately fifty-nine seconds of the source objects flight using a Kodak EasyShare C813 8.0 MP camera, which when played back seemed to indicate that it was spinning, and was not entirely orange in color. Instead, brilliant instances of white and a very brilliant and distinct blue hue were also in evidence. Sadly, due to my initial attempts at sighting the camera on a moving object set against a black sky and under less than ideal circumstances, the initial footage is shaky, but still clear enough for it to be clear enough for analysis. At the time of the incident, the sky was heavily overcast with broken slow moving clouds. There was a full moon, and the source appeared to be moving along some distance below the cloud base. I wish to point out that the route on which the object was seen is part of the regular flight path for aircraft coming into Southampton Airport, yet it was moving counter to the established route and was seen to be carrying lights ((which were not)) consistent with known aircraft.
((ADDENDUM FROM WITNESS))
Peter, My apologies, that was an obvious and somewhat unfortunate mistake on my part. The date should read, July 31st 2010, not August as you so rightly pointed out. Also, be advised that a small typo should be amended, it is "yet it was moving counter to the established route and was seen to be carrying lights consistent with known aircraft," which should read: "…yet it was moving counter to the established route and was seen to be carrying lights which were not consistent with known aircraft." Thank you.  I have an additional comment to add. I have only just learned from my father who lives at the nearby village of Fair Oak, Hampshire, some seven and one half miles from me that on the night of August 25th, approximately 22:50 hours, he observed two independently operating orange spherical light sources. In the course of the observation, the objects travelled an undisclosed distance, probably no more than one quarter miles knowing the viewpoint that he had, and from south to northeast. The sighting was terminated when one of the objects stopped abruptly in mid-flight and shot straight up at considerable speed, followed five seconds later by the second, both subsequently vanishing from sight. I can attempt to obtain additional details, but this is certainly curious given the nature of the object that I personally observed and managed to capture in motion. Thanks.
((END ADDENDUM))  Duration: Two minutes
Source: National UFO Reporting Center
---
Date:  July  2010  
Location:  
Time:  
Summary:  
Source:  
Related articles