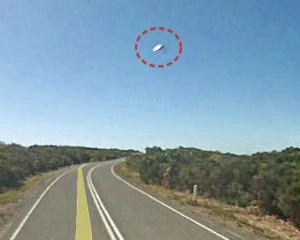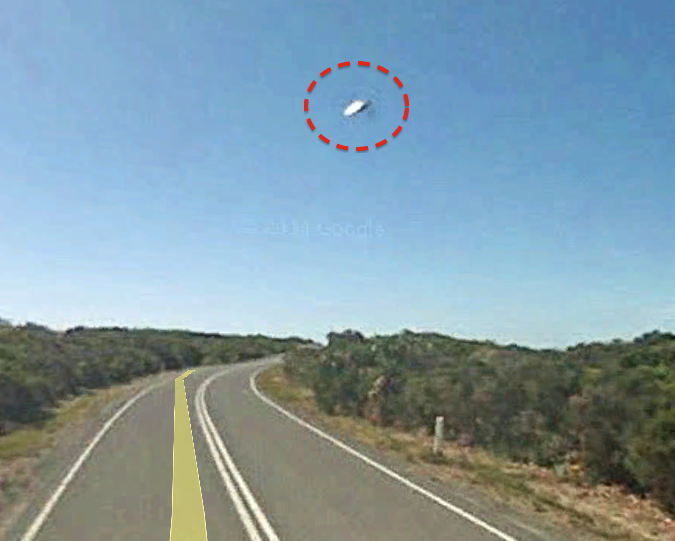 (Last Updated On: May 3, 2017)
Date: November 2014
Location: Calgary, Canada
Time:
Summary: This is my second UFO sighting in the past two months. It was around 7:30pm in se Calgary ab. I looked out my sons bedroom window and a minute later saw a bright set of lights shooting very quickly across the sky. It moved extremely fast and made no noise of any kind. After it flew by i witnessed a singular light hovering a little ways off before it completely disappeared as if it had been turned off. We tend to get a lot of airplanes in our area and this was NOTHING like that.
Source:
---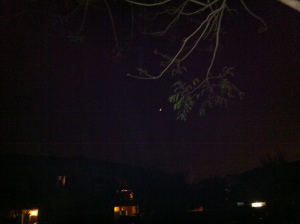 Date: November 2014
Location: Unknown location
Time:
Summary: I saw four objects moving south east as a came out of mi house. they flying objects were moving quite fast in one formation, when i got to take a picture, i only could take a picture of the last one. I picture was taken with an Iphone. see what you can make out of this two pictures
Source:
---
Date: November  2014
Location:  Launceston Cornwall
Time:   around 21:30
Summary:   This was a while ago but intrigue is still strong. I was standing at the rear of the house I was living in outside the french doors. the light was on in the room behind me. facing me was large open fields surrounded by trees with no artificial light. it was a very clear and dark night….I was smoking a cigarette and was just enjoying the peace and quiet. I noticed a black object and as in black this was the blackest thing I have ever seen, it stood out in the dark sky very visible to the naked eye. it was coming towards me in a slow manner. there was no lights to it just vivid black. must admit I did panic at first and got goose bumps. I started shouting frantically to raise alert with others in the house. My wife shouted at me to keep the noise down. I did manage to get a witness my 15 year old niece who saw the object straight away. We watched as this drew closer and closer. It was huge nothing man made so black and moving so slow. It came closer and closer and then just gently drifted from right to left slowly passing and disappearing from view. I have tried to find information on this but have not seen any passings closer than 300 000 feet listed as described items with a black surface. this was so much closer than that figure I actually thought it may continue on the heading and make contact somewhere before it changed direction. I know this is a while ago but its been bugging from time to time so thought I would share….only wished I had a decent camera to try and capture images.
Source: www.uk-ufo.co.uk Billy Dawson
---
Date: November 1 2014
Location:  Willcox, Arizona
Time:   3:30AM.
Summary:  While on a deer hunt, I woke with stomach trouble at about 3:30AM. I exited my vehicle to walk to the slit trench. As I sat (sorry), I observed a black triangle dart across the rims of the canyon we were camping in. Object made no sound. I seemed to not even care, got up and went back to my vehicle. Months later, I recalled the hunting trip and remembered the event. My actions that night were uncharacteristic, as I have looked to the skies my whole life and never witnessed a UFO before. Why then, when I finally saw something I could not explain, did I brush it off as nothing? However, I do remember not wanting to see it come back as I fell asleep that morning. The direction of flight was perpendicular to the NE-SW running canyon. I projected the speed to be about 500MPH at an altitude of 1000FT AGL. Object appeared to be between 50-75FT of equal length sides. No lights. If it had not been for city light pollution on an overcast sky, I would not have noticed the object. The object made no sound whatsoever. Incident occurred near Willcox, AZ. See details in map sketches. I am a trained Meteorological Observer from the military. I know our traditional aircraft. This was not one of them. The other people I camped with slept through the entirety of the event.
 
Source:  MUFON
---
Date: November 1, 2014
Location: New Zealand
Time:
Summary: No sound of aircraft whatsoever
Source:
---
Date: November  2014
Location:  
Time:   
Summary:   
Source:  
---
Date: November 2 2014
Location: Rochester, Minnesota
Time:
Summary:
Source:
---
Date: November 2, 2013
Location: Mexico
Time:
Summary: Diamond-shaped UFO
Source:
---
Date: November 3 2014
Location:   Cleveleys, Lancashire
Time:    8-30 9-00 pm
Summary:   Witness Statement: Further to à comment by Phil Virgo on his sighting in cleveley on 3-11-91. Myself and dozens of other people witnessed à UFO sighting along thé same coast in 2009 – 10 and thé local tv station interviewed some of these people thé following night and all of us seen thé same thing. I lived in southport at thé time which looks across to thé Fylde coastline i was walking along thé coast at southport When i noticed these lights sphères coming down from thé sky and following thé coastline to lytham st annes, there was 5 of then and they travelled at incredible speed, they didn't fly in formation at all just seemed to dance in thé sky wa one another. One of them left thé main group and came across thé bay to were i was and hovered above thé sea about half mile offshore i felt as tho it was waiting me to walk out to it, i had no phone or camera wa me and felt gutted i couldn't capture this.
Any way while watching tv next night thé local news station was interviewed these other people , great i thought but after that it just went quiet. Witness Name:Terry Savage.
Source:  www.uk-ufo.co.uk
---
Date: November 4 2014
Location:  County Durham uk
Time:   7.25am
Summary:   Seen a large object in the sky just thought it was a plane and seen another object really shiny like Chrome around the first object it was moving round it really fast and close then it disappeared then reappeared iv never seen anything like it.
Source:   www.uk-ufo.co.uk
---
Date: November 4 2014
Location:   Santa Fe, New Mexico
Time:   
Summary:   I had just poured a cup of coffee and walked to front window of my house and a bright light it my eye. I thought how funny it was that I happen to look at the same time a cop had shown his spot light down the street that intersects my street just to the left of my driveway. My coffee was still to hot to drink so I was blowing on it and test sipping it when I noticed a bright light coming toward me from the west. First thing that came to mind was the police were searching for a pedestrian in the neighborhood. Then the entire view from my window was completely eliminated and a cylinder with a white dome floating above the road stopped at the intersection to the left of my driveway and shined a light down the west side of the street and then the east. Out of the bottom of the cylinder it looked like something was molting producing a bright white and blue glow. Then the doom rotated to face the street heading east and leaned slightly forward and moved down the street. At the intersection the doom made a complete 360 degree turn and then faced north, leaned forward and moved out of sight heading north. I got one more glimpse of it heading west at the end of the block that tees into my road at the left of my driveway. After it got light I walked out to the road and it had left no residue. During the time the craft was in front of my house I had tried to move and found I couldn't lift my feet.

Source:  MUFON
---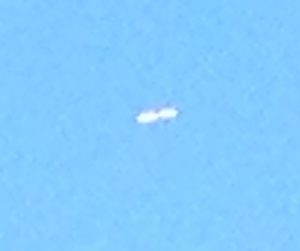 Date: November 6 2014
Location:  Canton, Georgia
Time:   1:16 a.m.
Summary:   The witness was outside on a driveway and about to walk inside on November 6, 2014, when the object was first seen. ​"I looked to my right facing southeast to see if my horses were in their stalls," the witness stated. "I then noticed something rather odd flying above the barn as the sky was clear and not cloudy and still broad daylight. The object was flying in an odd sort of way, not like any aircraft I am aware of would or could fly." ​Read complete story
Source:  MUFON Case 61365
---
Date: November 8, 2014
Location: New Jersey
Time:
Summary:
Source:
---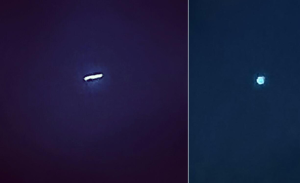 Date: November 8, 2014
Location: Dallas, Texas
Time: 12 am
Summary: Green ufo
Source:
---
Date: November 9, 2014
Location: San Antonio, Texas
Time: Daytime 
Summary:
Source:
---
Date: November 8 2014
Location:  Wigan. England
Time:   20.30
Summary:   saw triangle of lights in the sky at an angle of approx 50 degrees slightly north of east. On other occasions have seen a similar thing, but tonight it was much clearer. a definite triangle of lights with my arm at full stretch it would have covered the first joint of my them. I had the opinion there were more than three lights and they appear to be different colours. the sky had many moving clouds I showed it to my wife and my grand daughter who both agreed with my discription. we watched for over 10 minutes before it was obscured by clound. When the cloud cleared the object had vanished. Witness Name: Charles Hodge
Source:   www.uk-ufo.co.uk
---
Date: November 14 2014
Location: Paris, France
Time:
Summary:
Source:
---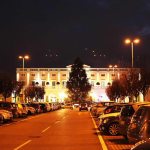 Date: November 15 2014
Location: Caserta, Italy 
Time: 5.30 pm
Summary: Caserta UFO UFO FLOTILLAS PHOTOGRAPHED AT CASERTA (ITALY) Angelo Carannante, president of C.UFO.M, communicates that, on November 15th 2014 at 5.30 pm, a young man has taken a photo of a flotillas flying in formation over a shopping centre in Caserta (Italy). There were ten very bright, silent UFOs; it was almost dark and there were thirty witnesses (including some people whose mobile phones suddenly turned off) . C.UFO.M, which has received other ufo reports and has investigated them, has made analysis, which are available on the official website www.centroufologicomediterraneo.it. On youtube channel CUFOMTV, a video of this ufo-sighting is available. It's probably one of the best ufo-sightings of the last years. The investigations go on. 
Source: The President of the Centro Ufologico Mediterraneo (CUFOM)
---
Date: November 15, 2014
Location: Kermanshah, Iran
Time:
Summary:
Source:
---
Date: November 15 2014
Location: Toronto, Ontario Canada. Kew beach
Time:
Summary: Saturday November 15, a friend and I were walking along the boardwalk in the beach neighborhood of Toronto Ontario. I spotted 2 bright orange triangular lights slowly approaching from the north east. My friend, unlike myself, is a non believer. We stood and watched as the objects came closer. She became very frightened and began quickly walking away. I stayed and watched as both objects seem to stop over top of us, just slightly over lake Ontario. I asked her to watch and she came back. The objects were silent. She said she felt as if they were watched us, I felt the same. I was too awestruck to even think about pulling my phone out and recording it. All of a sudden, one of the crafts took off and it seemed to go straight up at an unreal speed. About a minute later, the second sped off in the same manner as the first. The whole time the crafts were completely silent, even when they blasted into open space.
Source:
---
Date: November 15 2014
Location: Gainesville, Georgia
Time: 4:00 am till 4:30 am.
Summary: 'm not sure of the day and month that my sighting took place, but it was in 2014. And judging from the number of sightings that took place in or around this year and location, it could have very well been the same craft. I work 3rd shift at a local factory in Flowery Branch Ga. My lunch break, at that time, would have been 4:00 am till 4:30 am. I had walked out to a friends car that I was riding back and forth to work with to eat lunch. I always eat lunch in my vehicle and listen to the radio. (coast to coast). As I cleared the North end of the building head to the car, I seen a red light off in the near distance. About 10 miles from my location. I didn't think much of it at first thinking it was a red warning like on a near by tower. I eat my lunch, and then walked 25 yards to a designated smoking area on the corner of the parking lot. As I left the car, I noticed the red light once again, but this time I felt it was something else. There were 2 other co-workers already siting on the curb as I walked up. I made a half hearted statement saying, "I'm not taking my eye off that light till it moves!" At that very moment, the object started moving straight at us and climbing to the right at the same time. It couldn't have been more then a 1000 feet over our heads. I got a clear view of what I was looking at. It had a spread V shape wing figure to it, dark, seemed to hardly make any noise. (I do wear hearing aids) My comment to the other co-workers with me was, "it looks like a F117 stealth fighter jet!" Soon after, we all when back in to work. Not much discussion was made about it. Later the next day, it stuck in my mind that the craft was to low and seem smaller then what I would think the size of a F117 would be. So, I got on the internet and started doing a little research. What I found out was, we were looking at a X74 drone. At that time, it was still considered a top secret aircraft. "Why Gainesville", I asked myself. A few months later I was at a local shopping center (Home Depot) at the end of Mcever rd. in Gainesville, at the exact location I believed the craft was hovering at. (that's right, I said "hovering") Behind the stores is a cliff hill. At the top of the cliff are communication towers. Whether or not, that was the reason for a drone to be there is anyone's guess. It could have been no more then a training operation. But, here's my report of what I seen that night.

Source:
---
Date: November 16 2014
Location: Manitoulin Island, Canada
Time:
Summary:
Source:
---
Date: November 17 2014
Location: Tillamook Oregon (above Magnolia Dr)
Time: 6:20pm
Summary: On the night of November 17th @ 6:20pm my husband and I both witnessed a massive triangle shaped craft flying over head. I first noticed the tail end lights as I was driving south on Brickyard rd, toward our home. The Bright red lights immediately caught my attention, because of how far apart they were. There is a small landing strip near by, but I have never seen anything that large in the area before. When I exited the car, my husband was already outside, he had been waiting for me to return home from work. He had also seen the object, and he too was mesmerized. The object had to be about the length of a football field and about 50 yards in diameter. It made no sound as it flew by. Because of the clear evening we were able to observe it for about five minutes. It was flying very slow. It had a few smaller lights at the nose end. They did not blink like normal air craft markers. I am really hoping others got to experience this.
Source:
---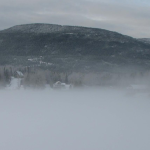 Date: November 17 2014
Location: L'Anse-Saint-Jean, Canada
Time:
Summary: The photo has been taken by my neighbor and she didn't notice the object On the upper right corner, you can see this object The sun is rising behind the photograph and we can see that the sunlight reflect on the left part …
Source:
---
Date: November 17 2014
Location:  Wroclaw, Poland
Time:   17:30 – 18:00
Summary:   A local resident by the name of Matthew (pseudonym) was walking alone one evening in an area next to a cemetery with adjoining buildings on the other side. The area is quiet and calm and he knows the area very well as he usually takes this route after work. But on this day the quite routine would be interrupted by something fantastic. The road is away from traffic and the evening was dark but visibility was very good. There was a bright moon. As he walked down the street talking on his cellphone. At one point after he finished the conversation and was in the middle of the road he began to hear a strange "buzzing or murmuring sound". At first he thought it was someone at the nearby cemetery with a vibrating cellphone. But he could not see anyone in the darkness except for the glowing candles on the tombstones. The sound intensified with every passing moment until it became extremely loud, he swore he feel the earth move under him. He then realized that the sound was coming from somewhere above him. Instinctively he looked up at the sky, thinking that it was just the passage of large ducks. But what he saw were no ducks, these were "freaks of nature". The creatures flew side by side and were huge, at least a 3-4 meter wingspan and resembled some type of prehistoric reptiles. They seemed to be turning their heads and emitting that terrifying rumbling sound. Due to the darkness he could not see many details of their appearance but could clearly see their shapes. It was not a humanoid figure, it certainly wasn't a man. It had a large head mounted on a skinny neck, torso and wings. The lower limbs, were not seen. Their heads reminded the witness of that of a pterodactyl. They had pointed beaks, and a pointed spike on the back of the heads. The wings did not look like batwings, their underside was not frayed. Both creatures were identical and were flying in the same direction, they were at a short distance from the other (one was a bit lower than the other) and were heading from north to southeast crossing the road. According to the witness they moved quite quickly roughly at a height of a 4 – 5 story building. According to Matthew they seemed to be "falling and gliding" at the same time. After they disappeared from sight he could still hear the sound but it suddenly stopped after a few seconds. The witness stood stunned not comprehending what he had seen. He felt an unexplained heaviness in his legs, as if they were "weighed down". This continued for a few minutes after the observation and then stopped. And for a moment as he followed the path of the creature's flight he felt a "tightness" in his head. However he felt no fear, "only an incomprehensible peace" almost unnatural.
Source:  Dam.Trela@gmail.com (Poland), Albert Rosales
---
Date: November 24 2014
Location: Nipomo Ca.
Time:
Summary: Bright orb in eastern sky approximately 30-40 degrees of the horizon. I went to grab my camera be hind me and it disappeared
Source:
---
Date: November 24 2014
Location: Sandbach, Cheshire England 
Time: 8:45pm
Summary: 60, to 70 orbs looking like triangle shape, very high in sky.
Source:
---
Date: November 25 2014
Location: Northern Ontario, Canada 
Time:
Summary:

Source:
---
Date: November 26, 2014
Location: near Leon Valley and San Antonio Texas
Time: 11:45 p.m.
Summary: "Me and my husband went out to the front yard by our trucks to smoke a last cigarette and my husband wanted to wait until midnight to wish me happy birthday," the reporting witness stated. "We didn't bring our phones with us because we weren't planning on taking long." "I turn around and see 'it' going through the top portion of the tree across the street and hovering about 20 feet low and it was going like 2 mph over us and into my backyard and house."  "In my opinion it had a shape like a Ouija hand piece with four ports/circles – and something in the middle of it between the ports? 'It' was made of some sort of metal material. I saw this from about 20-25 feet above me so I see the belly of this 'thing.'" "The trippy thing about this was it was cloaked or transparent to me. In my opinion 'it' had a predator's cloak/transparency, not totally invisible, like you can see some of it, but it was kind of blurry like summer's heat haze. The main color to me was dull black/gray with some bronzish-like color, not bright at all. It had four port – two on each side – that color was reddish/orangish/yellowish – very dim glow to it with a defined black trimming around ports and there was something in the middle of 'its' center in between the ports?" "'It' looked like it was made out of one sheet of metal. There were no panels, rivets, sections, windows, fumes, smell. When I first saw this I couldn't believe my eyes or brain. Me and my husband were frozen out of shock. All we could do is rotate around. I wanted to run to the middle of street to see if it sees me, but I couldn't move. Then I wanted to throw the lighter at it to see if it makes a sound or see what its reaction was, but I was afraid that it would zap me or something." "We saw it go over us and behind my house and yard. My feelings to this were scared, nervous, curious, adrenaline, denial, reality shattered. My husband did not want to be involved with this report, so he gave me his POV and his sketch."  He was asking for a lighter when he heard some leaves fall across the street. That's when he saw 'it' creep up in the top portion of the tree. It went through the tree's top. His description of 'it': Color: flat black/gray, tan, reddish/orange. My husband says he doesn't know if 'it' itself was organic. There were no smells or trails/vapors. In his opinion it had a moth-like body with wings closed upside down. To him 'its' transparency was like bee wing material I guess membrane-ish. He felt excited, nervous, shocked." "If it wasn't for him hearing the leaves fall I wonder if we would have noticed 'it.' After this happened, I had told him to just draw it – don't talk. I wanted to make sure I wasn't delusional. He drew his sketch. I drew mine. It was so eerie. I knew we had seen something." "As we were reflecting back at what happened we notice a lot of weird things. First, we live in major city, one block away from a busy street and concrete plant and in the hood – there's always some sort of sound. About 10 seconds before this happened, there was zero noise. No animal, traffic, environmental noise. The street light or house lights didn't flicker or dim when this 'thing' went over us. The street light didn't illuminate 'it.' And 'it' didn't cast a shadow. It seemed to reflect light. It kind of seemed holographic." "'It' was about 20 feet above us. Its measurements were about 5-7 feet long and 3-5 feet wide and 1-3 feet in height." "We went out the next morning to see if anything happened to the tree or street or house. Nothing happened – no broken/bent branches, nothing burnt. Not one trace of anything. Birds still gather there. We have no idea of where it went after that. We don't know if it went through my backyard's trees or the houses behind us. We just saw it go behind our house and yard." "That is so freaky. Was something in there? Was there a purpose in being so low and slow? Did 'it' see us? Both of our concepts of reality are shattered. My husband never once doubted himself of what he saw. I'm sometimes in denial, but I know what I saw. It's just hard for me to accept what happened and my mind permanently tattooed the event. How can this be? Will it come back? Now I'm constantly looking at the trees and sky. I don't know if it will return. Please anybody have any info/experience please share with me?"
Source: Mutual UFO Network Case 62530
---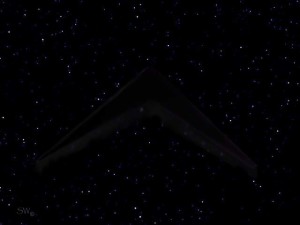 Date: November 27 2014
Location: Bluffton, IN
Time: 12:30 a.m.
Summary: Unbelievable, I was sitting in my hot tub, of all times, i was alone and I saw what I still don't believe was a large boomerang shaped object. Time was 12:30 ish, cloudy night with breaks in the clouds. It glides through the sky amazingly. I believe it was silent, couldn't tell really because the hot tub was running. I watched in amazement. My thoughts were, no way, what is that, no way. From where I was sitting, I saw either a low flying object that was gliding through the clouds. By gliding, it was so smooth and straight like it owned the air. It flew straight like a plane, it appeared to look similar to a stealth fighter. The only difference was the sight of translucency. It was primarily invisible with a translucent like Ora outlining it. The Ora was pretty much invisible with very low lighting. I saw a faint red,blue and maybe white yellowish lighting on underneath the object. It appeared to be lights centered across the boomerang looking figure. I wish I could have recorded it, I'm in awe. I saw it plan as day over the rooftop of my house until it disappeared into a white low level cloud. If the cloud was not there, I could of watched it continue to fly. I sat there denying what I saw but I know I saw which was what I think was an incredible plane. Shortly after I saw it, I turned all the water off in the tub in hopes I would hear jet engines but it was silent. I wanted to see it again. I wanted to know what it was, or wish I never saw it. Several things ran through my mind. If this thing was flying at cloud level, it had to have been huge. This thing had a wing span that was enormous. It had at least what I think we're 8 to 10 low level lights (barely visible). In the distance, about 15 minutes later, I saw another plan, it had a white flasher and it coasted off in the distance. That made everything even more believable. I saw a UFO which could have been a top secret plane. Whatever it was, it tried very hard to not be seen. Am I loosing it. I mean, I did drink some beers today, I over ate because it is thanksgiving. I was smoking a cigar, there was a lot of steam in the air from the hot tube. Was it a reflection of light off the cars from the road. If so, why was the shape so distinct? Why did it travel in a perfectly straight line. It also did not appear to be traveling extremely fast it was crazy. Something in the air felt odd the entire time I was outside and I just so happen to be looking up and bam, I saw this thing that has just blown my mind. 
Source:
---
Date: November 28 2014
Location: Marysville, MI 
Time: 6AM
Summary: Facing west and looking upward at about a 60 degree angle, at 6AM I noticed 3 bright lights, which I first mistook as stars, forming a perfect equilateral triangle.  But then I noticed that these "stars" were drifting apart and flattening out until they eventually aligned themselves into a straight line.  At that time the leftmost light headed to the southeast in a straight line away from the other two lights.  Definitely NOT typical star behavior!
Source:
---
Date: November 28 2014
Location: I-35 headed South, one mile North of Lathrop exit
Time:
Summary: Looked like a triangular object hovering at about 15,000 feet.  It was either reflecting sunlight or it had lights on it.  It hovered for a couple minutes in one spot and then just disappeared.  No jet stream, it was as if it just faded out and disappeared.
Source:
---
Date: November  2014
Location:  
Time:   
Summary:   
Source:  
---
Date: November 29, 2014
Location: La Paz, Bolivia
Time:
Summary:
Source:
---
Date: November 29, 2014
Location: Tulancingo, Mexico
Time:
Summary:
Source:
---
Date: November  2014
Location:  
Time:   
Summary:   
Source:  
---
Date: November 30 2014
Location: Scottsdale, Arizona
Time:
Summary: I saw a formation of 4-5 lights over the freeway in Scottsdale az tonight. Thought they were helicopters but then realized there were no flashing lights. One by one they went straight up into the sky and disappeared. I was driving or I would have taken a picture. I should have pulled over.
Source:
---
Date: November 30 2014
Location: South Wales in United Kingdom
Time: daytime 
Summary:
Source:
---
Date: November  2014
Location:  
Time:   
Summary:   
Source:  
Related articles