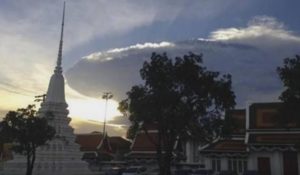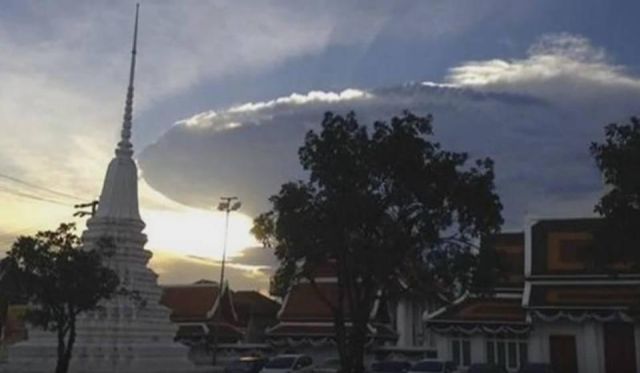 (Last Updated On: March 5, 2017)
Date:  November 1 2016
Location:  Bangkok, Thailand
Time:  17:30
Summary:  A mass cloud formation that looks like a giant alien spacecraft covers half the sky Bangkok.  Many people witnesses the incredible 'Independence Day' UFO cloud when it moved over the Capital city of Thailand on November 1, 2016 at approximately 17:30 hrs. Such a cloud formation known as anvil cloud is a cumulonimbus cloud which has reached the level of stratospheric stability and has formed the characteristic flat, anvil-top shape.  Although an anvil cloud can produce many dangerous elements; it has the capable of producing bursts of cloud to ground lightning or in severe cases, it can produce tornadoes.  Below two videos which show amazing images and a time-lapse presentation of the sky phenomenon.
Times lab เมฆระเบิด สะพานกรุงเทพ 1-11-2016

Source:  
---
Date:  November  2016
Location:  
Time:  
Summary:  
Source:  
---
Date:  November 4 2016
Location:  Cane creek road jackson Tennessee
Time:  
Summary:  Number of UFO(s), including the Color(s), Size(s) and Shape(s): At least ten seem to be white thought it was birds til it didn't move in the sky it appeared and disappeared could tell shape Distance of UFO(s) in sky: Don't know far but they can glow in the day Direction of Travel for UFO(s): They kept changing and disappeared Further Description of Sighting: Weird formation
Source:  UFO Sightings
---
Date:  November 7 2016
Location:  Ottawa, Ontario
Time:  17:55:00
Summary:  On my way to do groceries, i noticed something in sky, too big & bright to be an airplane. i parked facing the light in the sky. i thought, that's not an airplane. then i noticed a smaller one to the left, both hovering together. i began filming. while filming, it looked as though it was getting brighter and changing shape. i switched to photo and zoomed in. i said to myself "i think i'm hallucinating." and clicked a bunch of pics in a row. i don't know if it's just me, but in the video where the larger light on the right, stops hovering and steers off to the left, it looks to me like it changes from a light to, i don't know what, but it's light starts to look like the flashing lights of an airplane. the other light hung around for a few min more, but i didn't think to zoom in on it. i just clicked pics till it just "poof" was no longer there.
Source:  
---
Date:  November 8 2016
Location:  Chester, Virginia
Time:  06:50:00
Summary:  I was driving southbound on i-288 in chesterfield county, va at approximately 6:45am-7am on tuesday, november 8th, 2016. the sky was clear and the sun had just come up over the horizon. i was looking at the sky watching about 5 airplanes moving across the sky, mainly north to south and south to north, all leaving contrails. suddenly i noticed a bright silver spherical object that was stationary that seemed to be at about the same altitude as the other airplanes, maybe a few thousand feet higher. it had no contrail. about 3 seconds after i first saw it, it dimmed, then brightened, then moved slightly left, then abruptly to the right at an incredible speed for 1-2 seconds. it then stopped for 1-2 seconds, brightened again, then moved straight up at a very high rate of speed for 2-3 seconds before completely disappearing. i did not see it again after that. i have been very interested in aviation for almost my entire life, and love watching them. in my 34 years of life, i have never seen anything like what i saw that day. i never saw any object move as fast or make the abrupt turns that this object did. i was absolutely stunned and amazed at what i saw. i tend to be fairly skeptical about anything abnormal i see or experience, and i look for known explanations before anything else. this was the one time i could not explain what i saw. unfortunately, i did not get any video or photographs of the event. if needed, i could possibly sketch what i saw.

Source:  MUFON
---
Date:  November 9 2016
Location:  Silver City, New Mexico
Time:  00:00:00
Summary:  I was in bed, woke up and looked out back windows. observed an oval shaped series of white lights.The oval was on end as opposed to horizontal. the lights were stationary and unchanged until a red flare like object was ejected towards 7 o'clock. a yellow light at 1;30 o'clock then came on for a couple of seconds. the lights "zoomed" in towards the house on two occasions with a bright light in the center coming on during one of the zooms. after about 1 hour it moved horizontally from one window frame into another where it remained until gradually disappearing altogether. there was a"balloon" festival in deming, about 55 miles away in the general direction of the lights. auto dealers sometimes put up a large weather type balloon for advertising, but did not notice anything in the air when daylight came.

Source:  MUFON
---
Date:  November 9 2016
Location:  Jonesville, Michigan
Time:  18:10:00
Summary:  Walking from pole barn to house looking appeared a reflective object. going south south west. as bright as -2 magnitude. reflective. altitude unknown. speed 5x faster than commercial aircraft. i happened to object because i was walking in open yard and facing west looking up thinking very unusual so bright and not traveling in direction iss does. object went behind trees sw of near venus -4 magnitude.

Source:  MUFON
---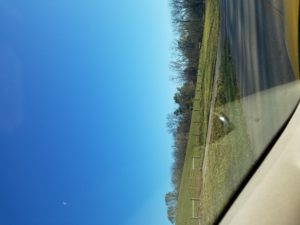 Date:  November 10 2016
Location:  Independence, Kentucky
Time:  14:05:00
Summary:  I have seen two objects around this area several times, at night they appear as orange/red colored bright lights. sometimes they come from different directions and then travel off together. they usually travel across the sky just faster than a plane travels then shoot straight up. i have not submitted any of the night pictures or videos because they are just strange lights. there are several people seeing these night lights. i just snapped a picture of two bright lights together sitting in the sky in the middle of the day but when they are enlarged two identical triangles with a triangular interior can be plainly seen.

Source:  MUFON
---
Date:  November 10 2016
Location:  Nevada 
Time:  17:15:00
Summary:  It was just after sundown with light from horizon to horizon. too bright to show any stars or planets. i live in the flight path of departing flights from a local airport. while watching a departing 737 i noticed a small point of neon white light in the northwestern sky approximately sixty degrees above the horizon. it was a steady light and appeared initially to be stationary. while observing other departing aircraft it seemed to have moved a few degrees higher, away from the setting sun. the departing aircraft passed quite close to the object from my point of view, although altitude of the object was something i could not determine. while observing this light i took numerous pictures with my iphone. a high altitude jet with contrail, moving south southwest to north north east came within the frame of the object. i took a couple of pictures with both the aircraft and object together in the same frame. also, i was able to take pictures of departing aircraft with the object within the frame. the object appears lower than the jet with contrail as the jet is fuzzier and the object clearer. while continuing to observe this object and taking a pictures occasionally, i could tell it was traversing the sky and directly above my position. finally after approximately thirty minutes, the light just disappeared. it was gone.

Source:  MUFON
---
Date:  November  2016
Location:  
Time:  
Summary:  
Source:  
---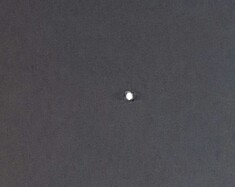 Date:  November 11 2016
Location:  Des Moines, Iowa
Time:  00:00:00
Summary:  I see these starlike objects every night, sometimes in the same place as the night before, and sometimes in different places all together. when stationary, they appear to wobble a bit and sometimes they seem to "dance" a little. they flash white, green, blue, and red. however, sometimes they only blink white. last night, my mother and i watched as one in the eastern sky, which had been stationary, started to move west.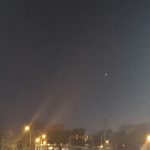 it passed over our heads and parked itself over the west side of town, where it then remained stationary. we also noticed that once it started moving, it's lights began mimicking those of planes (sequentially flashing white and red). but once it stopped, it again started blinking red, green, white, and blue.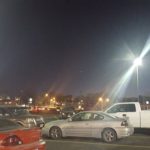 i see higher concentrations of them during meteor showers. there's no sound, although an intermittent "hum" can be heard late at night all over the metro, and it seems to be coming from everywhere at once. not sure if the sound is related,though. i've noticed that many of the most recent reports have detailed the same things all over the world. the picture i've included isn't very good (my camera is crap and i was in a parking lot), but it's a good representation of its size and brightness.

Source:  MUFON
---
Date:  November 12 2016
Location:  Richmond, Rhode Island
Time:  00:00:00
Summary:  I was heading down i-95 south when a single orange orb appeared. i thought it was a star or a plane at first but as i got closer it became apparent that it was neither. the light pulsated unlike the lights of a commercial plane. as it went out of my line of sight above the roof of my car, i turned to see it out the passenger side window become three orbs of the same size and color hovering in the shape of a triangle. because i was in the car i only saw it for a few moments before it was behind trees. once i could see the sky where it was again, it was already gone. as i kept driving i saw another bright light that was yellowish-white in the sky in the same direct the orange orb had come from, so i think it may have been a military jet or something similar because it didn't appear to be commercial. i have lived in this area all my life, so i'm pretty familiar with the planes that go to and from the local airports and nothing i saw looked familiar at all. i can honestly say that i have never seen anything like that before in my life.

Source:  MUFON
---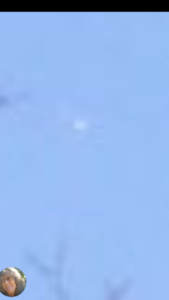 Date:  November 12 2016
Location:  Indiana 
Time:  16:14:00
Summary:  I was looking at the sky around 415 when i seen this bright orange star like over the horizon coming from the south going north i thought it was a helicopter at first but found it quite odd to have no sound being as low as it was when out of no where to the 4oclock position of that orange object was another orangish light with what appeared to be at least 3 objects coming out of that light and going back to it all had a white light moved along the horizon north until it got into my straight line of view and then the bottom object ascended above that one single obal like that one that was above had control over it. i got a couple pics and a video in the video you can see a white orb coming above the tree line at bottom right to left

Source:  MUFON
---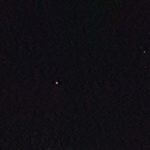 Date:  November 12 2016
Location:  Memphis, Tennessee
Time:  18:45:00
Summary:  I walked out of my office and noticed two circle-like objects hovering as i looked north toward poplar and i-40 in memphis. the two objects were not at the same height. one of them was much higher. sometimes it would appear that there were three but i am unsure if there was another.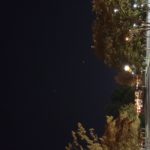 at first i thought they were balloons but they were not ascending into the air like balloons do when they are released. instead these stayed in the same general area. i then though they might be balloons attached to the ground but there are no businesses in this area such as car dealerships that would use those (near the crescent center – poplar/ridgeway intersection). plus these were too high to be one of those. i tried to record video and take pictures but the only camera i had was on my cell phone so the quality was not good. i finally walked back inside and they were still visible from my office floor. i will go back outside shortly to see if they are still visible.

Source:  MUFON
---
Date:  November 12 2016
Location:  Rochester, Michigan
Time:  18:50:00
Summary:  I was driving north on rochester road. when i was a couple hundred yards south of avon road (at around 6:50 pm) i saw something entering my field of view on the left. i did a double-take because i wasn't sure if i was seeing something or not. at first i thought it was a drifting balloon but then i saw it had straight edges so maybe it was a drone? then i noticed it was sort of white, but a really dim white (almost like a faint glow or reflection), barely visible against the night sky (fyi it was a full moon) so i sought maybe it was a small airplane without its lights on. i opened my sun roof just as it passed over me. it was triangular in shape with the left and right sides longer than the back (based on its flight path nw to se) and it seemed that at the 3 points of the triangle there were white lights that were distinguishable but not much brighter than the whitish surface of the object. i immediately rolled down all my windows at took a right in hopes of intercepting it at the next mile road. i lost it, though. there were too many trees and nowhere to get a clear view of the sky.
so it flew a straight and steady path nw to se over rochester and avon. it wasn't really fast but it wasn't slow either. also, when i looked at it from underneath it seemed to have a hazy whitish glow except for the 3 lights. i didn't have time to take a picture because i was driving.

Source:  MUFON
---
Date:  November 12 2016
Location:  Kansas City, MO 
Time:  Night
Summary:  Have been seeing UFOs since 2012. On this night me and my best friend were in a small wooded area behind my house trying to film a music video. We became obsessed with going out late night early mornings to observe the night sky and always encounter some sort of orbs or actual craft. We had been seeing them every night prior in clusters. On this night it was like every other night so it became normal for us to see them. It was as if they where spying on us. So we went down the street behind my house to a small wooded area to shoot a music video being independent musicians. As we got to the wooded area we had noticed a craft with multi color lights on the underside of the object that seemed to pulsate. We got big into studying anything to do with UFOs and or extraterrestrials and one thing we learned and actually performed was telepathically speaking to the craft. For instance we would say we see you move or come toward us and the would. Anyways this night we were just about to start filming the music video but this one craft distracted us so, we watch and did the telepathic communication saying come closer. It did and kept getting closer until it was almost over the top of us. We then heard what sound like movement in the grass. I told my friend its probably a deer but he responded it sounds like two feet moving not four, which I also heard but blew it off. The phone with the music on it stop working as well as the camera so we decided to give up. As my friend started walking out of the tree line I was fixated on the craft. Next thing I hear what sounds like something lightly landing in the grass to the left. As I turn and looked, an approximately 4 foot pale grey entity with a large head and huge black eyes was staring directly into my eyes. It then made a hissing nose that I cannot describe. I was frozen my legs would not move I could not scream or blink. I eventually fell back by using every amount of strength in my legs and was able to get up and begin running out of the wooded area to catch up with my friend. He seen me running and I was able to yell at this point in which he started running with me. We got about 200 feet away from the tree line I was shaking and crying I hand to kneel down he asked what I saw I told him. He then told me he also heard the hissing sound as well before I was able to run out of the woods. I've dealt with paranormal experiences before, negative energy and positive but the feeling I had from this encounter was the most scary, threatening feeling I have ever felt. We then made it back to my house I was still shaking and crying, I could not even talk. It has dramatically changed my life. I want answers. What did i see? Why did I see it? I don't know who to talk to. The only person that believes me is my friend that was there when the encounter happened.
Source:  MUFON
---
Date:  November 12 2016
Location:  Pylesville, Maryland 
Time:  21:11:00
Summary:  While driving south on 165 near ady rd near pylesville md a solid white with green tint ball of light seemed to materialize almost in the middle of my windshield at about 15 to 20deg deflection at approximetly 1 mile or less. to the east/southeast . it popped in then descended rapidly in a straight line behind trees that were closer to me. no trail was observed. no noise could be heard in my truck. it was a bright light not brilliant. no impact flash was observed. i did not stay in the area. it did not look like airplane light nor was it moving slow enough to be an air plane. it wasn't fireworks since it had no trails and seemed to materialize then descend down and away. if i had to liken it to anything it would be firearms tracer fire. but shot from up high angled down. but the light was far to big to be tracer fire. and it's the wrong color. i knew it fit the definition of a ufo right away.

Source:  MUFON
---
Date:  November 12 2016
Location:  Lone Tree, Colorado
Time:  19:30:00
Summary:  Just a bright red object moving slowly on the horizon them suddenly disappeared
Source:  MUFON
---
Date:  November 13 2016
Location:  Schaumburg, Illinois
Time:  00:00
Summary:  Last night i went out onto the patio to have a cigarette. i looked over to the east and noticed a bright light twinkling in the sky. i focused on it and noticed it was very high up and far away. when looking at the orb it twinkled like a star would except it was much brighter, larger and twinkled blue and white. i decided to record a video on my iphone. i took a video of the orb and then two zoomed in videos to see if i could see details. i saw in the videos the object flashed not only blue and white, but also green. i was outside watching it for about 10 minutes and it didn't move the whole time. it never disappeared as far as i know, i just went back into my house.

Source:  MUFON
---
Date:  November 13 2016
Location:  Provo, Utah
Time:  01:00:00
Summary:  After some time shopping around online for christmas gifts i went outside for a cigarette and looked towards the heavens as i always do. immediately i noticed a different pattern in the sky as i turned toward orion's belt. i often look there when troubled. after noticing one very out of place " star " i looked around a bit more and managed to see several odd lights in the sky. i rushed inside to grab my phone for video and almost suddenly something began blacking out my screen. 3 times it took to finally open up to my camcorder. when i pressed record the objects weren't visible on my screen. so in a panic i ran to wake my roommate because, well, if no one else see's it, did it really happen?! when he made it outside he instantly locked on and said "i see them." then in what seemed like half fear blamed it on the government. as we stood only one object remained bright and barely moving while others appeared to have ascended growing dim. several minutes in the cold was long enough for us so we headed back inside and got onto mufon.Com as fast as i could. i will be checking the rest of the evening and every chance i get to report any changes in activity.
Source:  MUFON
---
Date:  November 13 2016
Location:  Milford Charter Township, Michigan
Time:  06:38:00
Summary:  Watching moon set star like shot across sky from north to south about one second slight ascend bright green then disappeared

Source:  MUFON
---
Date:  November 13 2016
Location:  Wisbech, England
Time:  15:15
Summary:  I work at the location of the sighting and was with a young person traveling north by car along redmoor bank in a northerly direction. a bright white light caught my eye and i was very certain that due to the objects brightness and movement that it was not an ordinary aircraft. it grew in brightness and trailed among the clouds, changing direction perhaps 2 times and diminished in brightness gradually before moving behind cloud. the object was not seen again after the cloud had moved. no sound was heard as i slowed the car to observe and wound the window down. my feeling was one of awe and my hairs on the back of my neck stood on end, i felt like i had expected to see something like this at this time and thought that the sighting was a confirmation or acknowledgement of some kind. the other witness did notice the object visually but said that they paid no attention to it until i pointed at it. sight of the object was lost when it was seen to diminish in brightness by more than 30 times and moved behind cloud in a northerly direction instead of easy to west when it was at its most brightest. noteable areas are: raf wittering and mod n. luffenham. regular military flights take place in the area with typhoons and eurofighters and their flight patterns are predictable and markedly different. the landing lights on these aircraft are very much dimmer to the light i witnessed.
Source:  MUFON
---
Date:  November 13 2016
Location: Massachusetts  
Time:  16:22
Summary:  I saw a bright white vertical rectangle in the sky. it was waiter glowing or reflecting light. i began recording it once i realized it was actually descending towards earth. i think it may have been hovering at first, but i can't say for sure. i saw it vanish into thin air after a minute. my phone died shortly afterwards even though it was at 17%. i have never seen anything like this in my life. i keep hearing a lot of planes flying in the sky now…Im not sure if this means anything, but i believe that every little detail counts.

Source:  MUFON
---
Date:  November 13 2016
Location:  Earths moon
Time:  
Summary:  It's been known by a lot of astronomers that if the edge of the moon is observers well enough, you will see fleets of UFOs in orbit move around the moon's horizon. These objects are clearly in orbit around the moon and may be there to protect the moon from humanity.   We haven't been back to the moon since the Apollo missions, and there is no intention of going back. Many Apollo astronauts have stated that they saw UFOs near on and near the moon, so maybe these objects are a form of protection from future Apollo missions landing on the moon. It may be owned by a species that's not so friendly about sharing.  The video was recorded by Geril Vigil of Youtube

Source:  SOURCE
---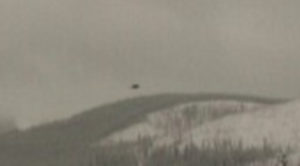 Date:  November  2016
Location:  Winter Park, Colorado ski resort
Time:  8:30 a.m.
Summary:  According to the witness, the live webcam takes frames once every three minutes. The object appeared in only a single frame at 8:30 a.m. The scene was described as follows:
"In one frame, there was nothing but the normal view. Next frame, black disk-like object appears just over mountain top. Next frame, nothing."
The witness said the object appeared too close to the mountain to be a drone or a plane, and he or she later confirmed with the ski resort that no helicopters had been in the area that morning. "Given the distance/size of object," the witness wrote, "it is unlikely that it was a bird, bug, etc." They've used this webcam for several years to monitor weather conditions, and nothing similar has appeared on it before. Scott Warring of UFO Sightings Daily also raised the possibility that the UFO may have been surfacing from an alien base hidden beneath the area, stating that Colorado's mountains are a "hotbed" of strange activity. Alien bases are, after all, said to exist throughout Earth, underwater, and perhaps even on the moon. Even the alleged phantom island Hy-Brasil is believed by some to be an alien headquarters that uses cloaking technology to become invisible. The truth, as always, is out there. Somewhere.
Source:  MUFON report #80568 
---
Date:  November 17 2016
Location:  Coldharbour Road, Gravesend, Kent
Time:  15:15
Summary:  I was travelling east on Cold Harbour Road close to the roundabout at Wrotham Road A227 it was sunny but plenty of low level clouds in a blue sky. In front of me about 2 or 300 metres away was some large clouds and then I saw a large white craft rise up out of the cloud. The craft was kind of saucer but bell shaped too. It had a kind of hooded canopy. I assume I was looking at it head on. The craft rose up and drifted slowly to the north. I lost sight of it and had to drive on as I was blocking traffic. I then went on to the A2 but then came off at the next junction and pulled over to see if I could see anything more. Alas that was it. My feeling is that it may have been man made but there was not like any aircraft I gave ever seen. It may be a secret military craft or from out of this world, who knows?
Source:  www.uk-ufo.co.uk
---
Date:  November 20 2016
Location:  Trent Vale, Stoke-on-Trent
Time:  21.45 approx
Summary:  My partner and I were standing in our back garden , it was a clear frosty night and we were star gazing when we saw a large triangular shaped object travelling across the sky at a steady speed . The object was dark but seemed slightly transparent and had 3 pale but large orange coloured lights at each corner – there was no sound . It passed from east to west over the Michelin tyre factory and seemed quite camouflaged against the black sky – it was an awesome experience and we will be looking out for it again. Witness Name: Miss R Walton Mr D Little
Source:  www.uk-ufo.co.uk
---
Date:  November 21 2016
Location:  Finedon, Northants
Time:   21.40
Summary:  I was just outside in the garden and looking up I glimpsed a very bright light. I thought it could have been a shooting star however it seemed too bright and large but did have a very short tale. It was as said a mere glance between broken cloud heading in a northerly direction. I am no expert but it was not a plane and there was no noise. I googled tonight's night sky and then 'UFO' sightings and found your site. Very strange and unnerved me. Hope I am not wasting your time. Thanks for your time. Mark
Source:  www.uk-ufo.co.uk
---
Date:  November 28 2016
Location:   Green Bay, a sub-basin of Lake Michigan, near Little Suamico in Wisconsin
Time:  2:10 in the morning
Summary:  A triangular UFO was observed surfacing from Green Bay, a sub-basin of Lake Michigan, near Little Suamico in Wisconsin before flying off. The witness estimated the unidentified flying object to be 100 to 150 feet in length, which was apparently seen at 2:10 in the morning on November 28, local time. Wisconsin MUFON investigator Susan Birttnen said the witness estimated the speed of the UFO to be about 35 knots. The object in question was so close that the witness was able to hear a muffled jet sound. As the strange aerial object emerged from the water, it turned on its side while flying towards the west and gained elevation. Birttnen closed the case as unknown based on the evidence and the provided witness' data. The unidentified witness included a detailed description of the object. According to his account, the color was dark, and it had blue flashing lights. The distance was less than a thousand feet, and the elevation was approximately five hundred feet.  The side of the triangle, according to the witness, was between a hundred and a hundred fifty feet. The witness somewhat believes that the UFO could have been a top secret craft developed through alien technology reverse engineering and run by the U.S. Air Force.

Source:  MUFON
---
Date:  November 29 2016
Location:  Surrey, UK
Time:  20:43
Summary:  Light seen in sky, similar appearance to a star but moved rapidly in all directions. Light seemed to stop still as an aeroplane crossed its path then continued to move once plane had gone by. Never seen anything like it in my life! Not the only person who saw it either. Light appeared to continue to move around the sky laterally at speed and then headed upwards vertically until it eventually faded out. Witness Name: Claire Kenward
Source:  www.uk-ufo.co.uk
---
Date:  November  2016
Location:  
Time:  
Summary:  
Source:  
Related articles