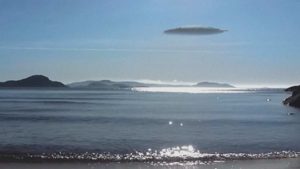 (Last Updated On: January 3, 2018)
Date:  June 1 2017
Location:  Orlando Florida
Time:  9:12 p.m.
Summary:  A Florida witness at Orlando reported watching a cylinder-shaped object silently hovering over a nearby building, according to testimony in Case 84126 from the Mutual UFO Network (MUFON) witness reporting database. The witness was driving along Conway Road in Orlando, heading north from Tradeport Avenue at 9:12 p.m. on June 1, 2017, when the incident began. ​
"This is a common area that planes are landing in, so seeing lights in the sky approaching us was very normal to see," the witness stated. "I drive down this street almost daily around the same time, so am used to seeing certain sights along the way."
Source:  MUFON Case 84126
---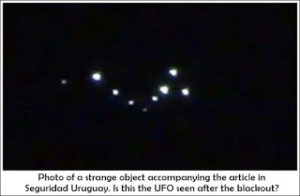 Date:  June 1 2017
Location:  a considerable part of northern Uruguay's territory, according to statements made by residents of Salto, Constitución, Belén, and part of Bella Unión as well as Paysandú. 
Time:  
Summary:  Several lights were seen in the skies over Salto during the massive blackout that affected – and affects – a considerable part of northern Uruguay's territory, according to statements made by residents of Salto, Constitución, Belén, and part of Bella Unión as well as Paysandú. Strange lights were seen forming the shape of a triangle, holding their position for far longer than a helicopter or aircraft would, adding to this the fact that the lights were considerably bright and were separated from each other by a broad distance, according to eyewitness statements. The Uruguayan Air Force was the first in Latin America to create a UFO research commission 32 years ago. Several factors must be discounted when confirming an object as a UFO. The Uruguayan Air Force (FAU) created the Comisión Receptora e Investigadora de Denuncias de Objetos Voladores No Identificados (CRIDOVNI), making it the first in Latin America to have an office devoted to investigating this phenomenon. Its creation stemmed from the number of sighting reports received during the 1970s. Currently, with new technologies, the commission receives images and reports such as the one that recently occurred in Durazno. To learn more about how an unidentified flying object report is handled in Uruguay, El Observador consulted Col. Ariel Sanchez, CRIDOVNI's president, whose agency handles tasks similar to those performed by the legendary "Area 51" in the U.S.A. in a sweeping comparison.
Source:  Planeta UFO and Seguridad Uruguay
---
Date:  June 2 2017
Location:  Bedfordshire UK
Time:  4pm
Summary:  My son was planning on the trampoline and called us as it was an unusual flashing turquoise colour light much higher than a plane. It lasted approx 15 minutes then just disappeared. My son is a plane fanatic and this was 100% not a plane.
Source:  
---
Date:  June 3 2017
Location:  On the A1 near North Witham/Kendrew Barracks just north of Stamford
Time:  About 21:30ish
Summary:  We was driving south on the A1 when I saw a bright white light high in the sky in the clouds, then the light vanished in the clouds, Next time I saw the light it was lower and started to fire out what I thought was flares, I thought it might of been a jet or helicopter firing flares, Then the white light itself divided into another white light which then divided into another white light, I saw a car ahead pulling over into a lay by, So decided to pull over myself, The gentleman in the other car got out and was trying to see the lights himself, I tried to get on my car to see if I could see anything but the treeline was too high, I went and spoke to the gentleman who had also pulled over and we both discussed what we had seen and we was both in agreement that what we had seen was very strange indeed, We confirmed to each other that we had seen the lights dividing up and we had initial though it was an aircraft but the dividing lights did not seem like an aircraft I have seen before, Traffic on the road was busy so other people must have seen this so that is why I am writing this report.
Source:  www.uk-ufo.co.uk
---
Date:  June 4 2017
Location:  Palazzo Hotel, Las Vegas, NV
Time:  
Summary:  Appearance: Him: tall, (6.5 – 7″), blonde, thin, dressed very GQ suit, perhaps charcoal. he was always looking down. i tried hard to look at him but could not focus in for some reason (as if hearing, don't be rude, don't stare). hair was to the collar, seemed to be one length as opposed to a shaved cut. Her: tall, a few inches shorter than him, and she was wearing heals. thin, with long very red hair, obviously a dyed (non-natural) red or a wig. very straight, all the way down her back. she also had bangs. i wanted to (and did) see her eyes. they were bluish, and the pigmentation was unique. she wore a long black jacket over (what i believe to be) dark blue dress. i do not remember seeing a handbag.
The interaction: After watching the first half of the NBA finals in our room, my sister and i decided to go downstairs to watch the second half of the game at the Grand Lux cafe bar, which is in the back end of the casino and it was a pretty quiet, with very few people around. we both noticed a striking tall couple about 15 feet away to our left, walking towards us. we stopped, planning on letting the two walk in front of us so we could get a good look because something just did not seem right about them. but that is not what happened. Unknowingly i must have taken a few steps forward as if to step in front of them, which was not my intent at all. (they were not even within my peripheral vision.) i felt a very odd energy brush by me and i realized it was them. i felt panic for my sis as i knew she was behind me and they must have surely have bumped right into her. i whipped around to see her in a freeze-tag-like pose. (the couple were still not within peripheral sight.) she was very startled and shaken and says out loud "how did i not run into them?". (she too had also taken unintentional steps forward.) The tall duo were still walking the same direction and were about 7 – 8 feet on the other side of us heading towards the palazzo theater. they paused, the female looked around but did not acknowledge us. at this time, i admitted to myself that they could not possibly be human and watched them walk away (or more like glide, their stride was not "normal".) i had the thought that they seemed to be communicating to each other. Odd aftermath: all we could say about the ordeal was "wasn't that weird!" it was as if we couldn't assimilate what had just happened. we went into the Grand Lux bar and ordered some beers (our first drink of the day) and did not speak of it at all. my husband joined us for a minute, and we didn't even mention it to him. after the game we walked to the casino across the street (the Wynn) and while watching the outdoor water fountain show, we finally started talking about what had happened. my sister said aloud what i had been thinking all along … "we just saw aliens". we compared our stories and they matched up, it really did happen. Is it possible there were other reported sightings of this couple in Las Vegas? since casino's have camera surveillance, perhaps MUFON has connections to obtain video tape of us "bumping into" them? (i know our exact location, date and approximate time within 10 minutes.) 
Source:  MUFON
---
Date:  June 4 2017
Location:  Silver Spring Maryland
Time:  6:30 p.m.
Summary:  A Maryland witness at Silver Spring reported watching a group of 12 silent, transparent objects forming a rectangular or cigar formation, according to testimony in Case 84242 from the Mutual UFO Network (MUFON) witness reporting database. The witness was outside at 6:30 p.m. on June 4, 2017, when the incident began. "The crafts – 12 of them – were floating very slowly forming a rectangular or cigar-shaped formation," the witness stated. "First four of them leading the other crafts, moving very slowly with two triangular-shaped, smaller crafts following the bigger cigar-shaped, rectangular formation with one craft guiding in the middle."
Source:  MUFON Case 84242
---
Date:  June 4 2017
Location:  Hauptstuhl, Rheinland-Pfalz, Germany
Time:  11:00 pm
Summary:I suffered a headache at around 11:00 pm so I decided to go to bed. I entered my bedroom and my head began to feel heavy and eyes began to hurt with a intense pain. I got into bed and almost instantly I fell asleep. What seemed like seconds later I heard the TV and the Play Station 4 turn on down stairs. Upon hearing this I thought maybe my wife was home from work. I realized that couldn't be possible because she didn't get off until later that day. Fully aware of what was going on (but obviously still tired) I tried to get out of bed but found myself unable to move at the slightest. Sleep paralysis had been common for me throughout life so at first I wasn't too worried but this was different. I began to panic and try to force myself out of this paralysis but every time I used energy I heard a voice inside of my head tell me to stop moving and sleep. I knew the voice wasn't my own because at the same time I was talking to myself in my head (almost yelling) saying "wake up now!" This battle with the other voice, that almost seemed to control me went on for about 15 minutes until I finally had enough. I said a quick prayer and promptly rolled over onto my back trying to catch my breath when suddenly I saw it! Please be aware: the incident below happened in a matter of seconds so I am trying to describe as best as possible. Directly in front of me on my window sill was a small figure. If I had to estimate it was maybe 3 feet tall. I did not see any eyes because the room was pitch black, but the silhouette of the figure was clearly visible because of the light that shown through the blinds. I believe it had its back towards me, one hand was raised and there was a bright blue almost white light that was casting through the window onto it. A quick flash was emitted and the being was gone, almost instantly that the being had left that my headache, eye pain, and fatigue also left. This experience has truly, truly changed my life. I have had other incidents in my life that now that I look back on after doing more research I believe we're other visitations and or abductions. I appreciate you taking the time to read this and if anyone could offer me help or insight, I'd be very grateful.
Source:  MUFON
---
Date:  June 4 2017
Location:  Defford, Worcestershire
Time:  11.15pm – 11.45pm
Summary:  I just caught sight of 2 unusual lights fairly low in the north sky at around 11.15pm, there was no wind and a clear sky. Looking through the binoculars, I saw 1 static round bright light and the other was an oval shape with pulsating lights, bouncing around the static light. One minute it would be next to it and then it would dart away and come back. I watched for around 30 minutes after which the 2 lights remained together. I went to text a friend, so a couple of minutes away, and both lights were gone. My husband also looked and said it must be the space station but I checked and it was over the pacific at the time!
Source:  www.uk-ufo.co.uk
---
Date:  June 7 2017
Location:  Little Thurrock, Grays, Essex
Time:  1130
Summary:  Last night whilst in the front room with my partner watching telly,there was a helicopter flying around quite low going around in circles in my back garden in Little Thurrock-Grays, Tilbury Dock area for around half an hour with a white tale light and blue light from the base, really loud noise of the propellers going for ages. So I decided to open my window to get a good look at what was going on. As I got up to look the helicopter went past-round towards Tilbury dock direction and then directly in front of me a white bright oval flying low and slow went past the next house to the right chimney tops opposite and then disappeared. It was defiantly another object other then the helicopter as the noise of the heli was raining away as it was travelling away from what I could see. As I got up to look I even said to my partner 'Look there is something else, somethings going on what's that? It made no noise as soon as it appeared it was only visible for like 3 seconds then the bright light disappeared. Me and my partner have been thinking of what it cold of been it wasn't the tale light on the helicopter as the helicopter continued for like 15 minutes before it headed off in the direction of the disappearing ball of light. We watched it after go round and it was clear and never did we see that strange thing come again. We were so shocked and could not get over what we saw!!! Very strange and cant shake the feeling we witnessed a UFO.
Source:  www.uk-ufo.co.uk
---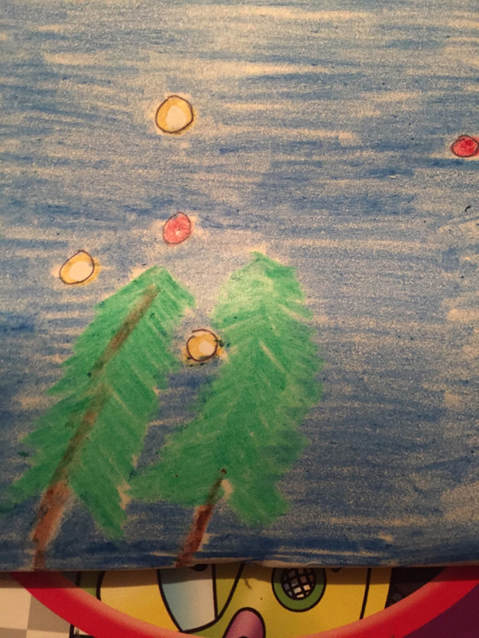 Date:  June 8 2017
Location:  Lennon Michigan 
Time:  
Summary:  The reporting witness was in a vehicle moving along Corunna Road when he had the feeling he was being watched on June 8, 2017. "As we broke the tree line, I noticed three lights in the sky from this distance I was at," the witness stated. "It looked to be no more than 70-80 feet between the three lights. As we drove by, my mother stopped the vehicle to gain a better view. I began feeling mortified and terror consumed me. The craft hovered ominously, making no sound, pulsating a flurry of colors."
Source:  MUFON Case 84251
---
Date:  June 9|10 2017
Location:  TILISARAO, SAN LUIS
Time:  
Summary:  The mutilated cow was found in the field of a neighbour on the morning of 10 June 2017.  The farm (or ranch) is located a few kilometres outside of Tilisarao. This (typical) mutilation case has a possible UFO connection. A UFO was sighted over a neighbouring farm (or ranch) on 9 June 2017, and on the night of 9 June – the electric current intensity dropped twice in the area, according to the article. http://www.visionovni.com.ar/archivos/2372
Source:  Visión OVNI, Victoria, Argentina)
---
Date:  June 10 2017
Location:  Mahoning County Ohio
Time:  10:07 p.m.
Summary:  "Went out to grab my cell phone charger out of scooter glove box and saw this object or objects hauling ass across the sky," the witness stated. "Only had a little bit of time to snap a picture and a bit of video, but appeared to be more than one before I lost sight when the line of trees got in the way."
Source:  MUFON Case
---
Date:  June 10 2017
Location:  Rothesay, NB, Canada
Time:  23:30
Summary:   – 2017-06-10: The event occurred roughly 11:30 at night. I heard some noise outside of my girlfriend's home and so I went outside to investigate it and make sure that raccoons weren't in the garbage. I walked towards the garage beside the house when I heard some twigs breaking under footfalls just inside the tree line. I turned on my flashlight and started slowly moving towards the noises and heard them stop. I walked a bit farther in, where there is a small game trail and seen what looked to be an alien "grey" crouched down poking at some bushes. It immediately turned around when I shone the flashlight on it (mostly due to my shocked shout) and it ran off. I went back inside and witnessed it walk across the back yard towards the side of the house, through the front lawn and out across the street to the next tree line. I decided to see if it was still there, and approached it again after discovering it crouched in the trees once again. I moved slowly and tried to do my best to show that I was not aggressive or armed, and it just watched me with a really spooky glare. It was roughly 3-4 feet tall, had large black eyes, skinny but muscular arms and legs, no nose or facial features and had a large head. I was also able to count it's fingers and seen it had three fingers and a thumb. it made no noise at all. I was roughly ten feet away from the alien before it got up and walked away, and I did not follow again as I was afraid it felt threatened and might attack me. 
Source:  MUFON
---
Date:  June 12 2017
Location:  London, England 
Time:  Day
Summary:  I was sitting in the garden, outside my building, when I noticed something shiny in the sky. I knew it was not type of airplane, because I live under the flight path to two airport, Gatwick to the South and Heathrow heading to the North. I always take my camera and binoculars outside day or night. I took out my camera (old TZ8) and zoomed in and started taking pictures, I managed to get several pictures before the UFO disappeared into the clouds and that was the last I saw of that one. When I looked at the pictures, I was so shocked at what I was looking at, I decided, I was not staying out side anymore. I was getting scared and since then, it's been hell.
Source:  
---
Date:  June 15 2017
Location:  Cheboygan, Michigan
Time:  Night
Summary:  I live in cheboygan michigan. me and my sister were siting on the back of the boat smoking looking up at the stars and sky. now for some reason we both saw the same thing. i was looking at a particular star (i thought) and this light appeared to be behind a cloud in the sky, nothing weird but it looked really different. then this cloud slowly started to basically suck into this light. the opposite of what a rocket booster would do. once the cloud was completely sucked in the light became just a light sharper n brighter. then it started moving slowly across the sky until faded away. it seemed slow but i've watched space station go across and this light was much faster. it traveled the length of my arm in just a few secs. i know my report is vague and not spectacular but it has me wanting to know if there is something that else then a ufo to explain this. me and my sister both saw this since it stood out in the sky and we were both looking in the same places wondering certain lights were planets and playing with our sky app. our sighting very different from anything ever heard of, do you have any answers our same sighting. it happened in june 2017, in the top of the western sky. i don't answer calls unless i know who it is. so email better or text.
Source:  MUFON
---
Date:  June 16 2017
Location:  London England
Time:  2.25pm
Summary:  Watching BBC news 2.2pm you see a disk shape silver object fly accords screen I have a 4k telly 60 inch and got friends to come and see they all agreed it's not a plane at Grenfell towers while firefighters spray hose at the building it appears from right hand side of screen. Video Here
Source:  www.uk-ufo.co.uk
---
Date:  June 2017
Location:  
Time:  
Summary:  
Source:  
---
Date:  June 17 2017
Location:  Richmond Virginia
Time:   07:00:00
Summary:  My daughter (10y/o) just came home from her summer vacation with her godmother. i was not with her, she took her cell phone and took pics of the plane taking off. this was her time on a plane, she was so excited to show me the wings of the plane and the pretty clouds. i have attached the photos at the bottom. she didn't even notice these bizarre lights…But of course, i did. these lights are very weird and there is no explanation from my based knowledge. because i was not with her, i cannot answer most of the questions you asked above, so i am hoping you could help identify what this is. they came from her cell phone. it is a cheap phone, i sent the pictures to my email, downloaded it and am sending to you now. i watch your show all the time and know that you all could figure it out.
Source:  MUFON
---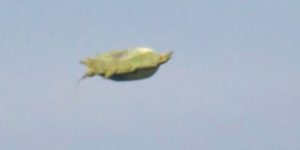 Date:  June 17 2017
Location:  Oshawa Canada
Time:  7:45 p.m.
Summary:  An Oshawa resident on Wednesday released two images of an unidentified flying object exhibiting biological features. Ken Rice said he was taking pictures of nature when he noticed the anomaly in the sky on June 17. "It was 7:45 p.m. and this thing came out of nowhere," said the wildlife photographer. "It sat there, hovered for a minute or so and then it flew away."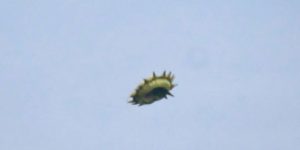 Rice, who initially believed the flying object to be a turkey vulture, said he realized he was looking at something else once he arrived home and took a good look at the pictures. The two images, exceedingly zoomed in to see more detail, show a green insect-like creature allegedly floating in the middle of the Oshawa sky, near Colonel Sam Drive. The photographs suggest the UFO was bigger than any insect known today. Photo Credit: Ken Rice, June 2017. Rice believes it couldn't have been a balloon because "it disappeared very fast" and definitely not a kite. Also, the southern Ontario man added, he looked for pictures of "weather balloon" online and wasn't able to find "anything like it". Rice posted the pictures on Facebook to see if someone could solve the mystery.
Source:  http://cryptozoologynews.com
---
Date:  June 17 2017
Location:  Richmond Virginia
Time:  10:45 p.m.
Summary:  ​​A Virginia witness at Richmond reported watching and videotaping a cylinder-shaped object hovering over a neighbor's home, according to testimony in Case 84480 from the Mutual UFO Network. The witness and her husband were sitting outside on a porch at 10:45 p.m. on June 17, 2017, when the incident began. "I noticed what looked like a meteorite shooting across the sky at three separate times a few minutes apart from one another," the witness stated. "I thought it was odd for this to happen back-to-back because I've never seen that before, but I ignored the thought and continued to talk with my husband."
Source:  MUFON Case 84480
---
Date:  June 18 2017
Location:  Moorpark, California
Time:  15:30:00
Summary:  Was in backyard assembling a bbq grill together. stood up to straitened back and noticed a whitish cylinder shaped object traveling in a sw direction, no noise emitted. grabbed my phone to take pictures. was able to take a couple pictures from just past looking almost straight up to just where camera couldn't see it no more. object was moving pretty fast for the size of it. pretty clear afternoon day, no clouds. around 3:30pm on june 18th when it took place.
Source:  
---
Date:  June 20 2017
Location:  Newquay
Time:  8:15
Summary:  After watching Ancient Aliens on TV I was walking to work and saw a small metallic disc in a clear sky. After discounting that it was a balloon or drone (I'm scientifically trained UFO buff) I watched it sail off sideways into the distance towards the airport. It was a unusual shape and slowly turned clockwise at an even rate reflecting in the morning sun. I heard a small helicopter an hour later.
Source:  www.uk-ufo.co.uk
---
Date:  June 21 2017
Location:  Essex
Time:  19.15
Summary:  Smoke from an accident in a nearby road,above smoke was a silver/white object hanging in the sky. stayed still for a minute then moved left and stopped .
was thinking it may be a big drone then it vanished. couple of minutes later it appeared again , moved left then right , then at such a speed and silent went across the sky in seconds and out of sight.
there are planes across our garden all the time and have had jets fly across but this was nothing I had seen before. also my next door neighbour saw it and we have no explanation.
only annoyed that I never took any photo's.
Source:  www.uk-ufo.co.uk
---
Date:  June 25 2017
Location:  Dallas Texas
Time:   11 p.m.
Summary:  The witness was outside walking a dog at 11 p.m. on June 25, 2017, and observed a white light that looked like a star in the sky to the east. "I realized the light was moving back and forth, east to west, very fast and appeared to be slowly moving down," the witness stated. "I went inside and got everyone to come out; then we grabbed binoculars. You could see that the light was attached or tethered to something large and shaped like a triangle. The light appeared to drag the triangle across the sky and back again, but it was descending."
Source:  MUFON Case 84627 
---
Date:  June 25 2017
Location:  Middlewich UK
Time:  21.30
Summary:  Seen a strange object in the sky that was shaped like a white ring for a couple of seconds then it shrank/morphed into a ball before flying behind the clouds. I live under a flight path for manchester and see a lot of airplanes… this was NOT a plane!
Source:  www.uk-ufo.co.uk
---
Date:  June 29 2017
Location:   it was visible from healdsburg to oakland
Time:  night
Summary:  Number of UFO(s), including the Color(s), Size(s) and Shape(s): 1 Distance of UFO(s) in sky: couldnt tell must have been many miles high Direction of Travel for UFO(s): it moved very slowly s.w. we watched it for many hours Further Description of Sighting: very huge white dark spot in the middle and lights going all around it
Source:  UFO.net
---
Date:  June 29 2017
Location:  Chicago Illinois
Time:  11:15 p.m.
Summary:  I'm going to tell you about something that happened to me on the 9th of June 29th 2017 in Chicago Illinois. I am reporting this of my own volition and I am wanting to stay anonymous due to the fact that I work for the Chicago Police Department and do not want anybody else to know that I submitted this report. I have been with the Chicago Police Department for over eight and a half years. The only people who know that I submitted this are my wife, my son who encouraged me to submit this and my partner who also was witness to this incident. I want you to know that I am of a sound mind and health and I don't want any publicity other than just reporting this incident. I also want you to know that I am not prone to fits a fantasy or hoaxing anything that I seen especially while I am on duty. On the night of June 29th 2017 at approximately 11:15 p.m. my partner and I were on routine patrol and approaching the intersection West 81st and South Throop in the Auburn Gresham neighborhood of Chicago Illinois. We were flagged down by a group of a people who were pointing up to the top of an apartment  building that was on the corner.  We pulled over and they immediately started telling us to look up at the building. Many of the people were very frightened and were very excited about seeing what they had seen. My partner and I look and see a large creature that was approximately six to six and a half feet tall and was very thin, if it had been a human it would have been emaciated. This thing was standing on top of the building and had what look like a pair of very large wings that extended out at least eight to ten feet from tip-to-tip. No discernible features, it just looked like a dark black shadow with wings. My partner and I both thought it was somebody trying to jump from the building and maybe wearing a costume of some kind. When we both shined our flashlights to try to get a better look at what we were dealing with this thing took off into the air and flew away. At this creature flew away headed in southern direction something sounding like a scream came from it and within the matter of about 5 Seconds this creature was gone into the night. The people who for initially flagged us down had said that many people in the neighborhood had seen this thing for the previous two nights and this just happened to be the only time that it was seen in a stationary place. We stood there stunned as this thing flew away and disappeared into the night.  We stood there and talked to the group of people who flagged us down,  taking information down any information regarding previous sightings from the nights before.  We initially were doubtful about filing a report because we thought we would be made fun of for seeing Little Green Men. We finally filed a report as we did not want to violate protocol. Nothing was ever said about the report being filed and as of right now it's been business as usual. We wanted to file this report because after I told my son the story he went online and showed me that this is not the only sighting of something similar being seen in the city. I showed my partner the day after the sidings and he said that he didn't want to be involved and as far as he was concerned it was nothing more than a large owl or big bird that was misidentified. My son was the one who encouraged me to file this and do it anonymously to protect my identity.
Source:  UFOclearinghouse
---
Date:  June 2017
Location:  
Time:  
Summary:  
Source:  
---
Date:  Week Ending June 30 2017
Location:  Plymouth
Time:  Afternoon
Summary:  I saw two unusual UAPs on two separate days during the week ending 30/06/17. The first UAP witnessed was heading north. It was fair sized cigar shaped object, white with a black middle. It made no sound whatsoever and there was no aviation fumes or gases coming from the back end. The object moved strangely as it made its way across the sky. The second sighting witnessed was a day later. A UAP exactly the same as the first witnessed, a fair sized cigar shaped object. This one was heading east, again no sound and no aviation fumes or gases coming from the back. This UAP also moved strangely. They did not look like planes, I can tell what a plane looks like. The two UAPs seen had something else about them. They both moved at a good speed, albeit with a slight shudder, the strange movement. I am sure there is a rational explanation to what I witnessed, at first I thought terrestrial drones, but they would have to have been very large if so. As stated, the objects were cigar shaped and a fair size and interesting to look at.
Source:  www.uk-ufo.co.uk
---
Date:  June 2017
Location:  
Time:  
Summary:  
Source:  
Related articles