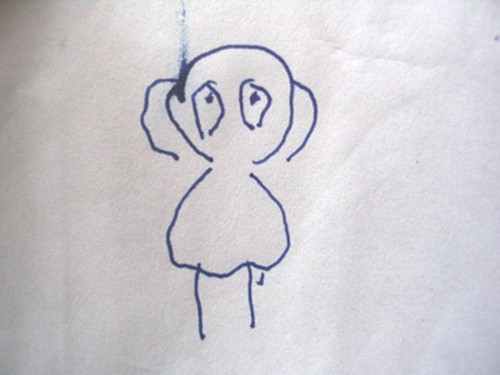 (Last Updated On: July 12, 2014)
THINK ABOUTIT HUMANOID SIGHTING
Date: Sept 1 2005
Sighting Time: 
Day/Night:
Location: Mae Chan district, Thailand.
Urban or Rural:
Hynek Classification: CE3
Duration:
No. of Object(s): 
Size of Object(s): "fluid-like"
Distance to Object(s):
Shape of Object(s):
Color of Object(s):
Number of Witnesses: Multiple Witnesses.
Source:
Summary: A floating alien sparks controversy in rural Thailand.
Full Report
If a butterfly flaps its wings in China, will it cause a hurricane in Texas? Probably not. Nevertheless, sometimes even our most innocuous actions produce consequences we could scarcely have dreamt of.
Take Tongmuan Pochailoet, for example. When he found a discarded helium-filled rubber doll trapped in the branches of a tree in August 2005, his only thought was that it might make a good scarecrow for his garden. So he took it home and tethered it outside his house in Doi Kam Village, Thailand.
The orange doll stood a metre tall and boasted an oversized head and tiny arms and legs. It kept stray ducks and chickens from invading Pochailoet's vegetable patch, and even frightened the local children away when its head nodded eerily in the breeze. Then on August 29, a storm swept through the village and blew the lurid scarecrow away.
Days later, Pochailoet heard that a diminutive orange alien had been seen romping through the rice fields of nearby Huay Nam Rak Village. And something about the little humanoid with the big bald head and tiny limbs sounded strangely familiar…
Stranger in the Field
Sawaeng Bunratchasak was the first to see the alien. As he drove through Huay Nam Rak at 8am on September 1st, he slowed down to stare at a "moving scarecrow". The scarecrow stared straight back at him and nodded its head "as if it was asking for help".
Later that morning, Sawaeng Boonyalak heard that an alien had landed in a rice field on the outskirts of the village. Naturally, he rushed to see it for himself.
"The alien is about 70 cm high and has yellow skin and a flat chest," he told reporters. "Its mouth is very tiny. It has a bald big head with big eyes and big ears."
Boonyalak described how the alien wandered around the field then drifted up into a tree. "After more villagers came to see it, it floated into the sky into the bright light," he stated.
Buakaew Intaweng said that she first thought the weird orange figure was a doll. Similarly, Somkit Kriangkraimoon thought it was a scarecrow – until it began wobbling unsteadily through the field. Buapan Lawicha said the red-eyed alien stumbled around as though it had "very little energy", while Kamma Pinsaimoon remembered it flying away "like a soaring rocket".
The news spread fast. Soon the village was overrun by pressmen, TV crews and sightseers (although Buapan Lawicha claimed that people were afraid to walk past the field after dark in case they were "kidnapped by the alien like in a movie").
The district chief, Wisit Sittisombat, arrived to investigate the rumours in person. He sceptically concluded that "there was no evidence to consider the entity seen by the villagers as an alien". Police Chief Kittisin Kongtaweepan reached the same conclusion, but nevertheless stationed extra officers in the village to control the flood of visitors.
Inflated Opinions
At the height of the media frenzy, Tongmuan Pochailoet finally came clean about his missing scarecrow. He had not spoken sooner, he claimed, for fear of offending the Huay Nam Rak villagers. He made a sketch of his inflatable doll for reporters, who in turn showed it to the witnesses.
Although many witnesses had said that they first thought the strange figure was a doll or scarecrow, by now they had convinced themselves they had seen an extraterrestrial – and it was going to take more than Pochailoet's drawing to change their minds.
The doll had arms and legs, but the alien only had legs, they protested. The doll had a mouth but no ears, whereas the alien had ears but no mouth. And after all, hadn't a brilliant shooting star passed over the village only the night before the sightings?
A rumour even spread that the alien had been captured, and the local municipal office was overwhelmed by visitors clamouring to see the unearthly prisoner.
In desperation, the Mayor asked the village chief to set up a camera in the rice field in case the entity or balloon or whatever-it-was returned. (It didn't.) He also had to send workmen to repair the road running past the field, which had been churned to mud by the sudden influx of visitors.
Still, as district chief Wisit Sittisombat remarked, "Looking on the bright side, the villagers could be making money from selling food and drinks".
Well – it worked for Roswell, didn't it?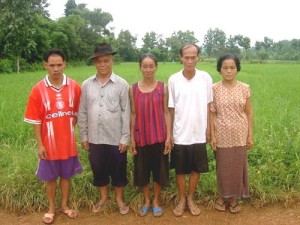 Photograph of a group of witnesss who saw the alien being. (source: Manager Online, Thailand)
"Villagers claim ET sighting"
Published on Sep 09 , 2005
Chiang Rai – Villagers claimed they today (Friday) morning witnessed an "alien" or extra-terrestrial being which appeared like a small-body man with large head and about 70 centimetres [about 2 feet] tall.
Over 10 residents of Huay Nam Rak Village in Mae Jan district's Tambon Janjawa said they saw the ET today morning in a rice field outside the village.
Sawaeng Boonyalak, 35, said he heard from friends that they saw the alien so he rushed to see it.
"The alien is about 70 cm high and has yellow skin and flat chest. Its mouth is very tiny. It has bald big head with big eyes and big ears," Sawaeng said.
He claimed that several villagers also witnessed the ET at the same time with him.
Sawaeng said the alien wandered around in the field for about an hour without caring the villagers who were looking at it.
"Suddenly, the alien floated to a tree top. After more villagers came to see it, it floated into the sky into the bright light," Sawaeng said.
He said villagers did not find any foot print of the being in the area.
Buakaew Intaweng, 59, said she initially thought the alien was a doll but it could move around.
Mae Jan district chief Wisit Sitthisombat said he interviewed over ten villagers and they consistently testified about sighting the alien.
"I asked them to draw what they have seen and the picture came out similarly," Wisit said.
—————————
(Thanks to J. Burwood for sending the above article to UFOEvidence.org. His comments: "A Thai newspaper ran this article on an alien sighting in northern Thailand. This paper is a reliable national paper, and not a rag.")
Information about The Nation newspaper:
The Nation is a publication of the Nation Group, one of the leading media companies in Thailand. The Nation is the second largest English-language daily (after Bangkok Post) in Thailand.
—————————
This story also appeared on Thai TV, according to Terry Colvin who posted a notice on the UFO Updates mailing list:
"Thai TV, today, reported on an entity seen in NW Thailand near
Chieng Mai. The entity was seen near a rice farm by four or five
people. It had a large head and a yellow body. The phantasm then
stretched into the sky and disappeared. The news anchor called
this a "jahn binh" or flying saucer." (Terry Colvin, UFO Updates Mailing List, Sept. 10, 2005)
Numerous visitors look for proof of alien as villagers insisted no story fabricated
By Manager Online September 12, 2005 10:15 am
Chiang Rai – Numbers of visitors to Mae Jan District looked for
proof of the alien at the scene. The villagers still believed
that what they witnessed was a mysterious entity or an extra-
terrestrial being. Government agencies equipped with advanced
technology were urged to investigate into the issue, as a
floating fire had been sighted to fall on the scene before the
entity was witnessed.
In response to the news on the villagers' witnessing an alien at
an area in Mae Jan District, Chiang Rai Province, our reporter visited Huay Nam Rak Village, Moo 5, Jan Jawa Subdistrict, Mae Jan District, Chiang Rai Province, to investigate the issue further. Groups of villagers were seen gathering in the village and the rice field discussing about the incident. After there were news reports through the media, the scene received significant numbers of visitors and those interested in mysteries. The rain did not seem to be their obstacle.
The scene the alien sighting was claimed was in the rice farm of
Ti Kitkangbon. It was a ridge through the paddy field. Go-ko 6
rice, which was 1 foot in height, was grown in the field along
with lemongrass. There were no sign of unusual things, and no
trace of the ground being stepped on by the entity. There were
only footprints of visitors.
Buapan Lawichai, residing at 206 Huay Nam Rak Village, Moo 5,
Jan Jawa Subdistrict, Mae Jan District, Chiang Rai Province,
said she witnessed a 1-meter tall entity which had large ears,
large eyes, and golden skin. It was standing and moving in the
middle of the rice farm for several hours in the morning of
August 31, 2005. She said now at night people tried to avoid
passing the scene, because they were afraid of being kidnapped
by the alien like a movie.
Kamma Pinsaimoon, 50, Huay Nam Rak resident, said he saw an
object that looked like a child floating into the sky being 50
meters above the ground, without any sound made and wings. At
the time of witnessing, the object turned black and disappeared
in the sky. He was definitely certain that what he saw was not a
bird, but still could not identify the object.
Somkit Kriangkraimoon, 31, Huay Nam Rak resident, said on August
31, 2005 he saw a strange object that resembled a doll. It had a
head, body, legs, but no arms. Its two eyes were red, and the
skin was yellowish red, like the color of red bricks. It stood
unsteadily in the middle of the field. He initially thought it
was a scarecrow, so he stopped paying attention. However, as
seeing that object moving slowly and unsteadily like it was
walking on water surface, he realized that he had been
witnessing some incident which he insisted was not fabricated
truth.
Kittikasem Ratanakosa, 30, an employee of a hotel in Chiang San District, said he himself did not witness the incident. After hearing about it, he visited the scene and hoped for scientific investigation, such as examining rocks or soil in the area. He said this was because he heard that a floating fire had been sighted to fall on the scene the night before the claimed incident of alien sighting. From his investigation, he did not find any evidence.
Wisit Sittisombat, Mae Jan District chief, said his visit to the scene after the incident suggested that there was no evidence to consider the entity seen by the villagers as an alien. Indeed, it was not possible right now to identify the entity. He did not comment on the fact that Huay Nam Rak Village was visited by numerous people, as there was no point in stopping people from following their personal belief. Looking on the bright side, the villagers could be making money from selling food and drinks.
Yongyut Tiyapairat, Minister of Natural Resources and Environment, who was on his business trip to Paya Mengrai District and Wiangchai District, Chiang Rai Province, said he had not yet made a journey to his hometown of Sansai
Subdistrict, Mae Jan District, so he did not know what exactly had been witnessed by the villagers.
Related articles