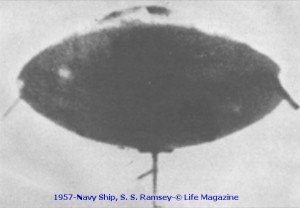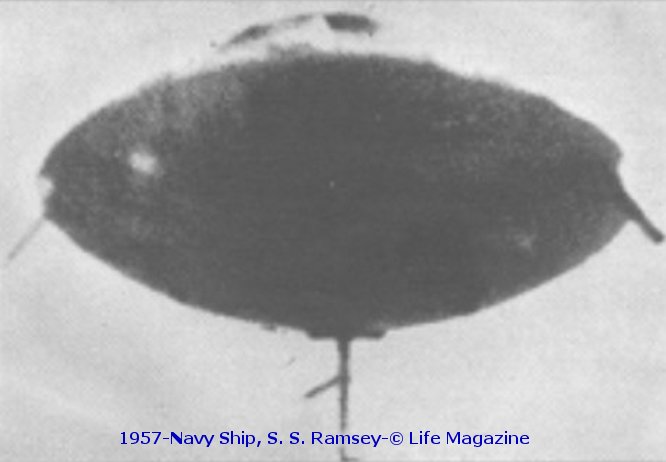 (Last Updated On: January 29, 2016)
Date: December (??), 1957
Location: Pacific, off coast of California
Time: Daytime
Summary: Photo taken of alleged disc by the radio officer (Fogl) aboard the naval ship S. S. Ramsey. Fogl grabbed his camera and took the picture before the hovering object disappeared. Landing gear supposedly shown in several other photos. Considered to be a hoax – F.Ridge
Source: UFOE, VIII, UFO Casebook
---
Date: December, 1957
Location: El Cajon, California
Time: night
Summary: Edmund Rucker was awakened by a roaring noise and saw a strange object land near his house. "Its windows were lighted, and I saw strange-looking heads there." An opening became visible and four creatures emerged. They had large heads, dome-like foreheads, and bulging eyeballs. They delivered a message to the witness in English, stating that they had philanthropic and scientific purposes.
Source: FS Jul., 58.; Magonia 447
---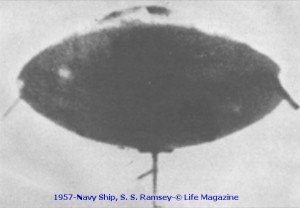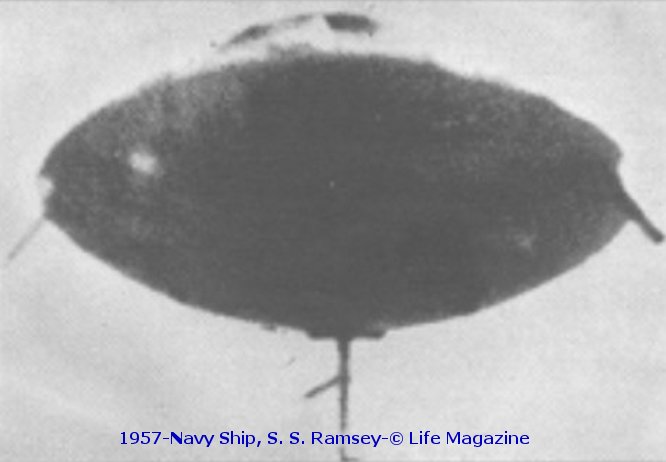 Date: December, 1957
Location: S. S. Ramsey
Time:
Summary: Taken in December 1957, by the radio officer aboard the naval ship S. S. Ramsey. It was seen on deck, hovering in the sky. The radio officer grabbed his camera and took this picture before the object disappeared. I think the picture was first published in Flying Saucer Review. I wrote to them twice in 1996, but never got a reply. photo © Life Magazine.
I received the following information from Woods M. "Here is the data inscribed on the back of the photo after he (Paul Cerny) gave it to me: 'Picture taken by a Naval Officer aboard a US. Navy ship-S. S. Ramsey-off Southern California in 1957.' (My copy of this photo is an 8″ by 10" glossy enlargement.) 'The device at the base of the UFO (landing gear?)as shown in several other photos (that Paul had, and which I saw at KGO) – had rotated around the craft.' 'Paul gave no other explanation to me about the craft, but I am certain he had the sighting and the photos under investigation.' 'Although the photo I have is a reprint and an enlargement of the original, I doubt it was ever subjected to computer analysis, because the photo was taken during the 1950s about 45 years ago (in 2002). I also strongly doubt that the photo was computer generated, since that technology, as far as I know, did not exist then.'
I was going through your fine collection of UFO photos and came across one I believe is a well known hoax that you imply in the description is legitimate. The photo in question is one labeled S.S. Ramsey photo from 1957. I recall seeing this photo written up in Flying Saucer Review magazine, probably sometime in the mid to late sixties when I was a kid. However, in the article the man who supposedly took the photo was named "T. Fogel" and he admitted the photo was a hoax. He claimed the object was made up of parts from several plastic model kits glued together and suspended by a wire (the main body being a stand for a fighter aircraft model). I would direct you to a statement made by noted UFO investigator Kevin Randle found at http://kevinrandle.blogspot.com/2007/06/ufo-photo-hoaxes.html in which he writes in June of 2007 that the Fogel admitted to the hoax.
Source:
---
Date:
Location:
Time:
Summary: Dec. 1, 1957; Los Angeles, California
Formation of oval UFOs photographed. [UFOE, VIII]
Source:
---
Date:
Location:
Time:
Summary: Dec. 3, 1957; Cobalt, Ontario, Canada
Cat. 3. Radio static as several UFOs seen over ar
Source:
---
Date:
Location:
Time:
Summary: Dec. 3, 1957; Ellensburg (near), Washington
Cat. 3. Truck motor "almost stopped", caught again, as UFO sighted. Sighting confirmed by police. 
Source:
---
Date:
Location:
Time:
Summary:
Source:
---
Date:
Location:
Time:
Summary: Dec. 8, 1957; Coulee City (near), Washington
Cat. 3. Automobiles stalled, headlights flickered and went out, as large fiery object passed overhe
Source:
---
Date: December 8 1957
Location: Woodward Oklahoma
Time: 1750
Summary: ). Between Woodward and
Seiling, 12 km from the latter, an unknown flying object allegedly took complete control of a car with three passengers. The driver, an employee of an air-craft company, had turned the heater, windshield wiper, and radio on. He was nearing a hill in this wooded area when a bright light appeared ahead. It reminded the witness of the light from a mercury lamp. As a crash seemed imminent, the car slowed down by itself and stopped, as if the entire electrical circuit had failed. Over the vehicle was a disk 16 m in diameter with portholes around the periphery, emitting a current of hot air and a high-pitched sound. It had a dome on top and bottom. It rose as the car started by itself. The car was a 1954 Dodge Coronet without automatic transmission. The witness spent four hours with two Kirtland AFB officers who told him of similar observations. The case was never reported to Blue Book.
Source: Magonia 448
---
Date: December 11 1957
Location: Chestnut Louisiana
Time:
Summary: Mary Louise Tobin, a school teacher, was driving on State Highway 1 when she saw an object that she compared to the rising sun, in the vicinity of a smoking car. The driver, an elderly lady, came out with a child who seemed to have suffered burns. The unknown object went away: The disabled car did not catch on fire.
Source: Magonia 449
---
Date: December 11 1957
Location: Ellsworth Wisconsin
Time: 1600
Summary: Many cars stopped to observe a silent, reddish, glowing disk, about 15 m in diameter, which flew 6 m above the ground at about 80 km/h. A small, windowless cabin was visible on the underside of the object.
Source: Magonia 450
---
Date:
Location:
Time:
Summary: Dec. 11, 1957; Guthrie, Penna. and Parkersburg, West Virginia (BBU)
10 p.m. USAF pilots of three F-86's with 87th FI Sq saw an orange circular or crescent-shaped object moving erratically at Mach 1.5 (about 1,000 mph) with ground radar tracking. (Dan Wilson, Brad Sparks, Project 1947, McDonald list)
Source:
---
Date:
Location:
Time:
Summary: Dec. 11, 1957; Lake City AFS; Tennessee (BBU)
At 7:48 p.m. EST, an AN/FPS-10 radar set picked up object about the size of three B-47 a/c in close formation. The speed of the object was estimated at 90 knots. When first detected the object was at 225 degrees at 13,000 feet in altitude. When last detected the object had descended to 11,000 feet at 205 degrees. The length of the observation was 41 minutes. (McDonald list)
Source:
---
Date:
Location:
Time:
Summary: Dec. 12, 1957; Chatham, Windsor area, Canada
Trans-Canada Airlines pilot, many police, saw orange oval UFO curving rapidly at low altitude. [UFOE, X]
Source:
---
Date:
Location:
Time:
Summary: Dec. 12-15, 1957; Misawa, Chitose, Hokkaido, Japan (BBU)
Beginning at  1745 hours local time, Dec. 12,  at least 13 witnesses observed a very bright light in the sky to the SSW over the Sea of Japan. The object was tracked on radar and seen through binoculars.  At 1822 local time a scramble was ordered and two F-86D's took off from Misawa AFB. Site P-45 assumed control of Subway Red (F-86D) at 1829 local and immediately was vectored toward the object. P-45 was painting the object by the Height Range Indicator and visually. Subway Red reported he had a visual on the object at1839 local but lost it almost simultaniously. In the meantime, site P-45 had lost contact, both visually and electronically with the object. Site 29 advised they were observing the object at a bearing of 240 degrees, 110 miles from site 45. Subway Red was vectored toward the object and obtained another visual, but the object wasn't moving latterally, but vertically. The aircraft lost the object and the chase was broken off. The object was circular in shape and was under visual observation for one hour and twenty minutes and under radar observation for approximately 35 minutes. The object was tracked on radar at speeds ranging from 94 mph to 1686 mph. (Dan Wilson, Brad Sparks, UFOE, VIII; McDonald list; FUFOR Index)
Source:
---
Date:
Location:
Time: Dec. 13, 1957; Col Anahuac, Mexico (BBU 5545)
9:35 a.m. R. C. Cano saw 14-15 [or 30] circular, tapered discs, very bright, fly in a formation like a stack of coins, then change to an inverted-V formation. (Berliner; cf. Hynek UFO Rpt. p. 120) 20 mins
Summary:
Source:
---
Date:
Location:
Time:
Summary: Dec. 16, 1957; Old Saybrook, Conn.
Elliptical UFO with "portholes." [UFOE, XII]
Source:
---
Date:
Location:
Time:
Summary: Dec. 17, 1957; Fruita-Grand Junction, Colo. (BBU 5559)
7:20 p.m. F. G. Hickman, 17, saw a round object change from yellow to white to green to red, with red tail 2x as long as the body. Object stopped, started, backed up. (Berliner) 45 mins
Source:
---
Date:
Location:
Time:
Summary: Dec. 18, 1957; Sarasota, Florida
Cat. 3. White light source glided overhead, TV interference noted.
Source:
---
Date: December 18 1957: Cigar-shaped UFO with Occupants Viewable
---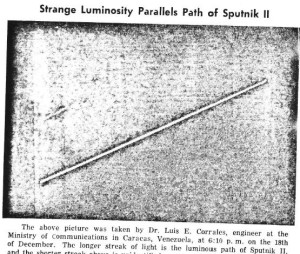 Date: December 18 1957
Location: Caracas Venezuela
Time:
Summary: The longer streak or light is the luminous path of sputnik II and the shorter streak above is unidentified. The blown-up negative has been intensively studied by Dr. Corrales and other qualified scientists. Dr. Corrales, "It cannot be a double exposure for the stars would have registered double image on the plate also and they didn't. it cannot be an internal camera reflection as the path isn't the same size as the one left by the sputnik. It is not a scratch on the plate, for examination by magnifying it is a precipitation of the emulsion on the photographic material , whieh is only accomplished by light alone. The camera' pr,oiog"rpr,J;;lil;; we can't identify If the luminous trail running the path produced bv -paralrert o the sateliie,s tra' is -lnother uoav unJ -ii period became Iuminous during a short of time, we would.be prFr; "n f,vpotr,"ri, fr".J lo-p"ouJli urveUOfn. Inasmuch the Doctor hesitates to ituo"iru, we,'take the liberty: It is obvious that the object is not a ………..flying intelligently and therefore it must be an controlled in our opinion
Source:
---
Date:
Location:
Time:
Summary: Dec. 19, 1957; Pepperrell AFB, Newfoundland, Canada (BBU)
7:02 p.m. local. One red egg-shaped object the size of a pea held at arm's length was seen visually and picked up on radar. The object was reportedly stationary but it did move. There were also 5 photos taken of the object but were undeveloped for possible instructions. The length of the observation was 8 minutes. (McDonald list, Dan Wilson, BB files)
Source:
---
Date: December 21 1957
Location: Ponte Poran Brazil
Time: 1830
Summary: Mrs. Mendonca and five other persons saw a light in the south, which later appeared as two spherical objects coming closer to the witnesses on an oscillating course. One of them hovered close to the car while the other circled. They were shaped like a sphere surrounded by a flat ring, and chased the car for two hours over the deserted road. Estimated diameter: 5 m.
Source: Magonia 452
---
Date: December 23 1957
Location: Sea of Japan                                 BBU
Time: 9:34 p.m.
Summary:   A projectile was sighted by the aircraft commander which passed over the tail of an RB-47 aircraft. It appeared to have a long trail behind and traveled in an arcing course, disappearing in a very bright explosion like a flash bomb. Radar was jammed and could not be tuned out. According to the PROJECT 10073 RECORD CARD, this was an Air-Visual, Ground-Radar, and Air-Intercept Radar sighting. 
Source: McDonald list; FUFOR Index, Dan Wilson
---
Date: December 30 1957
Location: Drakestown New Jersey
Time: night
Summary:  George Chowanski, an auto mechanic was alerted by the barking of his dog and heard a whirring sound similar to that of an electric shaver. A lighted object was observed by Chowanski and his wife as it came within 60 cm of the ground. Two figures came out of the bottom of the object, walked around a clearing, and one picked up something before returning to the craft, which then took off. Total duration: 2 min.
Source: Magonia 453
Related articles