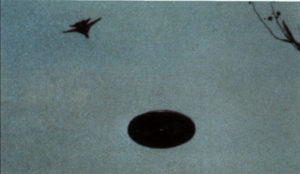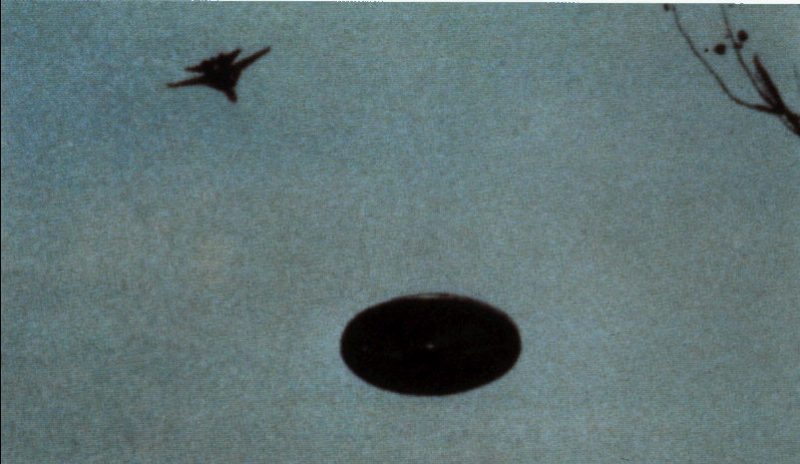 (Last Updated On: December 19, 2016)
Date: May 1988
Location: Quantock Hills, Somerset England
Time: daytime
Summary: The witness had been out taking photographs of the countryside when he noticed a large object approaching and making a low noise. The craft flew directly over his head at very low altitude. The craft was shaped like a saucer with stacked decks and protruding wings. It was an extremely complex structure. A humanoid figure was seen standing on the rim of the craft. The witness took several photographs but as the craft left it emitted a strong heat wave that destroyed the negatives. The witness developed very serious ill aftereffects after the incident.
Source: Ken Phillips, Judith Jaafar, Northern UFO News # 162

---
Date:  May 1988
Location:  Near Leningrad Russia
Time:  0943 A
Summary:  A man out skateboarding alone noticed a metallic oval shaped craft approaching him at high speed. The witness ran in a panic but the object caught up to him and landed nearby on a tripod like apparatus. The witness became curious and walked towards the object, he could see that it was an egg shaped craft with two antennae like protrusions in the front and a flashing red light on top. As the witness tried to walk away several short strangely dressed humanoids grabbed him, they dragged him inside the object as the witness screamed. Inside he found himself lying naked on a small table, surrounded by the humanoids that spoke in an unknown language. The witness attempted to steal an "object" in order to prove the incident but it became very hot and heavy and he had to drop it. He was finally released. He glanced at his watch and noticed that only 5 minutes had gone by, but to him it had felt like 2 hours inside the object.
Source:  Antonio Huneeus, IF Bulletin Vol. 1 # 3
---
Date:  May 1988
Location:  
Time:  
Summary:  
Source:  
Location. Gulf Breeze, Florida
Date: May 1 1988
Time: 0120A
Ed Walters found himself walking along a dirt path in a dark wooded area. He soon sees a hovering lighted object overhead and attempts to photograph it. Soon he is surrounded by several figures that grab him from behind. The creatures seem to move in short bursts of speed. He remembers falling down and then being surrounded by at least 20 creatures. Each one equipped with a silver rod like object and covered with a box type suit. He was unable to move. The creatures pick him up and move him. He noticed that their hands felt rough, like snakeskin. A burning spiral of pain twisted down his spine like an electrical shock. Suddenly he was able to move again. The creatures then scattered around him. He felt a voice in his head that constantly talked to him, calling him by the name of "Zehaas." He rolled on the sand and tried to grab the nearest creature but missed. He then rushed the creatures, which had now formed a circle around him. He began to struggle, but one of the creatures rushed forward and touched him on the shoulder with one of the silver rods, causing a white flash. He was then hit repeatedly with the silver rods, at times causing pain. He continues to struggle and fell backwards on top of one of the creatures; he then noticed that the creature wore a helmet. The creature began to struggle and a sour smell, like mildew filled Walters nostrils. Finally the struggle ended and Walters became unconscious. Upon waking up he found himself in a round hazy room, where he was then apparently examined.
Source: Ed Walters, UFO Abductions in Gulf Breeze
---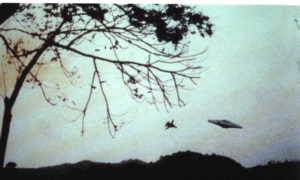 Date:  May 9 1988
Location:  Puerto Rico
Time:  
Summary:  
Source:  
---
Date:  May 1988
Location:  
Time:  
Summary:  
Source:  
Location. Near Cabo Rojo Puerto Rico
Date: May 10 1988
Time: 0430A
Amaury Rivera was driving back home alone after work amidst a thick fog. He was going slowly when he suddenly heard the sound of someone running alongside of his vehicle. He turned his head and saw a short humanoid with a large white head and large dark oval shaped eyes. The witness panicked and stopped the car, he then saw another similar being approaching form the other side of the car, and then he blacked out. He later woke up still inside the car in a huge dark metallic room alongside about 10 other vehicles. Another short being then approached the witness and touched him on his forehead, he then blacked out again. He soon woke up in a large square room accompanied by about 20 other humans that apparently had also been abducted. They were all sitting. Two short gray thin humanoids, with large heads, huge black eyes, and long arms stood watching the group. A tall man like being now appeared, he had light skin and shoulder length black hair, muscular and wearing a black outfit with boots. He approached the group giving the impression that he was the leader and spoke of many things and especially of many things yet to come. Many of these, Rivera refuses to talk about. Moments later Rivera blacked out again and later wakes up in his car and back on the road. He was crying uncontrollably then sees a huge circular metallic disc overhead. Several military jets appeared to be circling the object. Rivera remembers he had a camera in the car and is able to take some very clear pictures of the object and the jets before they all leave.
Source: Jorge Martin, Enigma # 41
---
Date: May 11 1988
Location: Mugnano, Italy
Time: unknown
Summary: Three youngsters reported being followed by two strange humanoids that moved in strange jump-like movements and wore fluorescent outfits along a street.
Source: UFO CUN
---
Date:  May 1988
Location:  
Time:  
Summary:  
Source:  
Location. Sao Paulo, Brazil
Date: May 13 1988
Time: night
Painter Maria Adilia Germana Hohagen reported seeing numerous "extraterrestrial" craft flying over the area. On the above date she heard a voice in her head telling her to return to her home. She did, and from a balcony she observed an object with multicolored lights that emitted several metallic spheres. During a hypnotic regression the witness remembered being abducted and medically examined by several human like 2-meter tall humanoids. No other information.
Source: Pablo Villarrubia, Mario Rangel
---
Date:  May 1988
Location:  
Time:  
Summary:  
Source:  
Location. San Francisco California
Date: May 16 1988
Time: evening
The witness was instructed via telepathy to go back to her hotel room. Inside she felt strongly that she was being watched, and then she suddenly became extremely emotional and curled on the bed crying. White beams of light suddenly began emanating from her mouth, nose, eyes, and ears. A female being suddenly appeared, she was described as having pleasant facial features, a very angular face with large dark eyes and whitish gray glowing skin. This being comforted the witness and told her that "they" were our "creators." The being communicated by using telepathy. The witness was also able to see two men dressed in white "biblical" robes. These appeared to be monitoring her vital signs. All throughout the incident the female being calmed the witness by explaining to her the purpose of the contacts.
Source: Brad Steiger, Sherry Hansen Steiger, "Starborn"
---
Date:  May 1988
Location:  
Time:  
Summary:  
Source:  
Location. Beirut Lebanon
Date: May 18 1988
Time: evening
A man named Hemrod Levins was enroute to his home after work when there was a sudden bombing attack. Suddenly everything became quite around him and he saw himself floating away from the Earth. He thought he had died when he suddenly heard a voice speaking his language and found himself inside a metallic compartment. Nearby there was a wheel-like object that was spinning at very high speed. The voice seemed to originate from inside of it. The voice spoke to the witness; among many things it talked about, were eternal life, black holes, and the fact that they needed ozone for their survival. Soon there was silence and the witness suddenly found himself back in the balcony of his home unhurt.
Source: Carlos Canet, Santeria Y Palo Mayombe # 79
---
Date:  May 20 1988
Location:  Townshend Vermont
Time:  late night
Summary:  His dog wanting to go out awakened the witness, who was sleeping with his wife. When he took the dog out he noticed a blue light shining through the kitchen window. He went out and saw a glowing object hovering over a field near his house. Later he walked back inside the house. Under hypnosis he recalled several short beings with large heads and eyes, entering his bedroom. The beings lift him and his wife and floated them towards a bright light. They were taken in front of a large hovering object that glowed a bright blue from its bottom. It was silent and there was a strong smell of ozone in the air. They were both taken inside the object and medically examined by the beings. Later they both floated across the lawn, into their house and through the unopened front door.
Source:  Raymond E Fowler, Mufon Journal # 300
---
Date:  May 1988
Location:  
Time:  
Summary:  
Source:  
Related articles