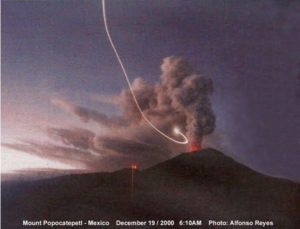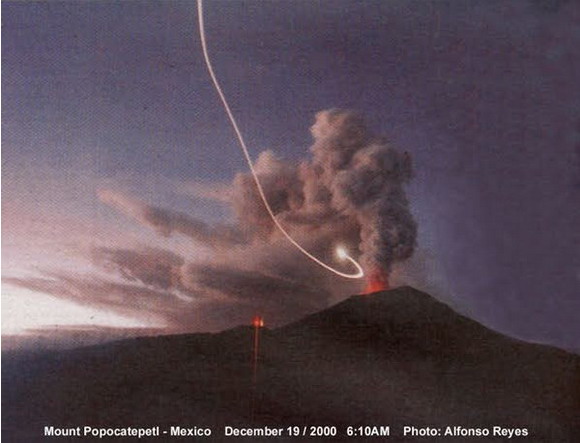 (Last Updated On: January 15, 2017)
Date: Winter 2000
Location:  Donetsk, Ukraine
Time:  after midnight
Summary:  A local woman, L. Andreeva had gone to bed after midnight and everything appeared normal but her small dog "Rozochka" was behaving strangely, whining constantly and hiding under the bed. Finally the witness switched off the lamp and went to bed, attempting to sleep. After some time as she was about to fall sleep she suddenly felt as if someone was staring at her. She tried to reach the lamp switch but couldn't even move her hand. She felt completely paralyzed, she attempted to scream but nothing came out. Her dog was whining under the bed and the wind was howling behind the window. The moon was shining very brightly and then she saw a figure in a tight-fitting silvery overall that was leaning over her. Strangely, she felt no fear, only curiosity. She looked at the figure and described it as about 2 meters in height, similar to a human, but with an oval-shaped head and grayish skin. The alien's slanted eyes attentively looked at her. Instead of a mouth the humanoid had but a slit. Suddenly the alien communicated with her telepathically, he told her not to worry, and to relax, telling her that no harm would come to her, she then lost consciousness. When she opened her eyes again she saw the dawn and nothing had changed in the room. The alien had vanished and her dog was lying next to her bed sleeping. The witness felt rested.
Source:  "NNN" Newspaper Dnepropetrovsk Ukraine # 1
---
Date: Winter 2000
Location:  Calgary
Time:  4:30 am
Summary:  "In the winter of 2000, I was working in a 24-hour porn shop in Calgary. My shift was 11 pm to 7 am on the Trans-Canada highway. The locals will know this spot. The usual business was truckers and the scorned 2:30 crowd from the bars. One night at 4:30 am, a "ghoul" entered the store. He was breathing really weird with loud, labored breath. He looked at me in this unnatural way when he came in. I will never forget this guys eyes, they were black. Not in a psychedelic way, which I'm familiar with; they were empty. A chill went up my spine…it makes my eyes water just remembering it. He went straight to the back corner of the store and stayed there. I went to see what was up and to my horror I found a masturbating zombie cackling to his new found riches. He started jumping around making these insane noises that haunt me to this day. I grabbed this guy by the hair and belt and marched him out of the store kicked the door open and threw him down the steps. I locked the store and regrouped for 30 minutes in the back room. This is no joke. There are some freaky souls in this plane." 
Source:  Eyewitness report
---
Date: December  2000
Location:  Colonia Agricola Oriental, Mexico City, Mexico
Time:  unknown
Summary:  Salvador Guerrero (involved in a previous encounter in March) along with Juan Flores videotaped another "hombrecito Volador" (little flying man) in the same location. 
Source:  "Mysterious Flying Humanoids" Santiago Yturria
---
Date: December  2000
Location:  
Time:  
Summary:  
Source:  
Location. Los Boldos, Chile
Date: December 2000
Time: 1930
Artidoro Inostroza Seguel was watching television with his wife and son when he briefly stepped out to the porch for a breath of fresh air. He saw about 50 meters away an approaching yellow-reddish light. He then noticed that it was a humanoid figure that was apparently carrying the light. The figure wore a dark divers suit, with a hood. On the chest area it had a white-gray stripe that glowed. The humanoid approached to within 8 meters from the witness, who noticed that it was about 2 meters in height. The guard dog did not show any reaction at all. The witness walked back inside the house. Later his wife saw strange lights from the kitchen window area; Artidoro then fired several warning shots at the lights.
Source: Raul Gajardo Leopold, CEFAA
---
Date: December  2000
Location:  
Time:  
Summary:  
Source:  
Location. Not Given
Date: December 2000
Time: 0030A
The witness suddenly woke up in the middle of the night lying on a metallic table, looking into a bright floodlight. In a state of panic the witness attempted to get up, but could not move at all. Soon several figures wearing what appeared to be silvery Hazmat suits entered the room. They came closer to the witness one of them rolling a metal cart forward. There were several bizarre tools on the cart. The apparent leader of the aliens picked up 4 or 5 metal rods with cords on them. One was placed under the witness tongue and others elsewhere including the genitalia. Another one came forward with a rather long hypodermic needle. The witness shut his eyes but these were soon forced open with clips and a black helmet or mask-like implement was strapped on the witness. Before long he found it hard to breathe. He attempted to struggle but his arms were pinned down. His last memory before blacking out was of seeing another figure coming towards him holding some type of tool. Next he woke up back on his bed.
Source: Unsolved Mysteries.com
---
Date: December  2000
Location:  
Time:  
Summary:  
Source:  
Location. Aracena, Spain
Date: December 2000
Time: evening
Margarita Lopetegui was sitting on a field near a local castle when she saw an object shaped like an upside down plate approaching her position, it was about 8 to 9 meters in diameter. Suddenly a beam of light emerged from the object and covered the witness, in an instant she found herself onboard the object. The interior was very bright and she could see a table and an elderly being wearing a white gown standing next to it. Three other beings suddenly appear all wearing silvery tight-fitting outfits; they carried what resembled a stretcher. They had human-like faces and assisted the witness on to the stretcher. At this point she saw clouds of a vapor like substance that emerged from different locations inside the object she then lost consciousness. Soon she woke up again and she was assisted by the same three beings from the stretcher. She exited down a solid ramp made out of light. The ramp then disintegrated and the object left.
Source: Revista 12, Spain
---
Date: December  2000
Location:  
Time:  
Summary:  
Source:  
Location. Butaco Valley, Chile
Date: December 2000
Time: night
During a period of heavy UFO activity in the area, Maria Concha Rivas and her husband reported seeing a giant humanoid figure, reddish in color and about 10-feet tall standing by a nearby river. Frightened they did not stick around and went back inside the house. They did not see the humanoid depart.
Source: UFO Roundup December 2000
---
Date: December  2000
Location:  
Time:  
Summary:  
Source:  
Location. Near Columbia Missouri
Date: December 2000
Time: night
An avid bow-hunter had recently found 3 deer carcasses completely drained of blood and was out on another night hunting expedition when he again found a dead deer with two bleeding wounds abut 2 inches apart in the neck area. As he began his trek back to the truck he heard a sound in the brush behind him. As he continued to walk, he soon realized that whatever it was it was following him. He turned around to see the brush move on the hillside and he was able to make out a dark shape moving quickly against the snow. The witness turned the flashlight on the direction and was stunned to see, a creature about 3 ft tall, baboon-like, with thick, matted, dark hair. Its face was baboon-like and the eyes were a little larger than those of a human being. The creature ran up the hill as the witness moved rapidly towards his truck, he could make out its shape about 15 yards away from him. The witness fired his bow at apparently hitting it, it then ran away.
Source: Chupacabra Page
---
Date: December  2000
Location:  
Time:  
Summary:  
Source:  
Location. Vancouver, British Columbia, Canada
Date: December 1 2000
Time: 1000A
Several days after witnessing two low flying objects over the area, on two separate night. (One of the objects was described as huge, making a rumbling like noise; it had a V-shaped tail with two rows of round and oblong windows and was black, gray, and silver in color.) And after receiving a suspicious phone call from someone claiming to be a General from the Canadian armed forces, two strange men appeared at the door of the witness residence. They produced wallets, one black, one brown, containing photo ID that stated they were from the Canadian Air Defense. They asked to come inside. The witness extended his hand, but was ignored. Moving into the house took them through the kitchen area, but they stopped upon seeing the microwave. After some questioning, the witness lowered a portion of a counter and they carefully slid through the extra space. Sitting down they produced a small silver colored tape recorder and inserted a small disc, between a nickel and a quarter in size. On entering the house one of the men had noticed an unusual walking stick in the hallway, to which he remarked that the head of the stick's carving, painted red, reminded him of primates back home. The two men were olive skinned and appeared to have slanted eyes. Each wore glasses with thick rims. They wore gray suits with black shirts, one had a white tie, and the other was buttoned up to the neck. The one with the tie had a clip that contained a red "stone" that flickered. The other had a ruby ring surrounded with diamonds. His watch was square but without apparent hands, instead being encircled with buttons that periodically illuminated from white to green to mauve. The strap appeared to be molded into the skin and was a solid steel band. The belt on his pants was of metallic strips with a square buckle. Both had very large feet, estimated to be 14″. Each carried a brief case that was heavy and cold. When sitting down they never relaxed into their chairs but retained a stiff back the whole time. Not once during their stay in the house did they speak to each other. The witness two cats were extremely agitated the whole time during the visitors stay. Also the owner's dog that lived upstairs barked during the whole episode. The men noticed that the witness was wearing a very unusual watch and one of them touched his arm. The touch felt very cold and clammy. They questioned the witness about his sightings, and one of them appeared to be taken short hand notes. When they questioned him they looked into his eyes and seemed to "pierce his brain". As they were leaving they again carefully avoided the microwave. Outside in the yard they spent about 30 minutes scouring the ground with a Geiger counter. As they rounded the corner of the house the witness went from the kitchen to the bedroom, which gave him a clearer view of the driveway and the road. Despite the very short period of time it took him to achieve this, the two men were not in sight, nor was a car leaving, or no car door could be heard slamming, they had vanished. Later they witness discovered that on the windowsill, only six inches behind where one of the men had been sitting, was a Windex bottle and was partially melted as if heat had been applied to it. Alongside was a cassette warped in a similar manner. The witness suffered from a severe migraine type headache after the two men left, his eyes also felt gritty and teary, and his face now appeared sunburned. He also suffered from strange dreams, one that was of lying prone on a table in a round room with a bright light above him then sensing being touched.
Source: Graham Conway, UFO BC
---
Date: December  2000
Location:  
Time:  
Summary:  
Source:  
Location. Vancouver, British Columbia, Canada
Date: December 3 2000
Time: noon
Going outside his house the witness saw the same two men he had seen before (see previous case) in the driveway. Both were dressed in white coveralls. One was carrying a Geiger counter, the other a 12 to 16 inch parabolic dish in his hand, pointing to the sky, plus earphones and a microphone that was attached. He appeared to be searching the sky. The wires all led into a black box at his waist. At one point he had what looked like a camera, although not video, aimed at a tree over which the UFO had been originally seen. During the time they were together neither was seen speaking to each other. Nor was any car seen which they might have arrived in.
Source: Graham Conway, UFO BC
---
Date: December  2000
Location:  
Time:  
Summary:  
Source:  
Location. Colonia Lolenco, Chile
Date: December 8 2000
Time: 0250A
Retired civil guard Luis Arturo Bayer Garcia, 52 year of age was riding his motorcycle along an isolated area when he saw standing on the side of the road a tall, thin, figure, almost 2 meters in height. He was not able to see any facial features, only a gray-yellow texture. It seemed to be wearing a two-piece outfit and was totally motionless. The witness accelerated away from the area at high speed.
Source: Raul Gajardo Leopold, CEFAA
---
Date: December  2000
Location:  
Time:  
Summary:  
Source:  
Location. Calama, Chile
Date: December 8 2000
Time: 0400A
A Mr. Vega woke up in the middle of the night, unable to sleep because of the heat. Suddenly he heard a loud thump on the roof of the adjacent patio, and then he heard the sounds of strange movements from outside. He went to investigate the sounds that seemed to come from an area where a 6-meter tall antenna was located. From his position he could hear loud scratching and "swaying" sounds apparently coming from the antenna cable. Still looking out the window Mr. Vega saw floating on top of a nearby metal sheet roof a strange black simian like figure, it floated quickly over the roof then was lost from sight in the direction of a neighbor's yard. The creature exhibited "swimming" motions in mid-air, moving its arms and legs rapidly. Mr. Vega noticed what appeared to be an "energy" glow on top of the creature that seemed to accompany it leaving behind a luminous track. The witness also recalled that the moment he opened the window he was hit by a "cold wave" that practically froze his nose and ears, just minutes before he had been sweating as a result of the heat. He was also overcome by a feeling of fright, but armed with a stick stepped out into the patio. While in the patio he suffered from cold shivers and spasms, he also noticed two guard dogs that were cowered and whimpering on a corner. The next day he found some damage to the antenna and surrounding plants and also to a chain-link fence.
Source: Calama UFO Center
---
Date: December  2000
Location:  
Time:  
Summary:  
Source:  
Location. Colonia la Presa, Ciudad Juarez, Mexico
Date: December 11 2000
Time: 0815A
Several students at the local Valentin Gomez Farias School were sent to the yard by their teacher in order to collect some wood. As they reach the location, they reported being showered by numerous stones and then accosted by several small man-like figures wearing caps that seemed to be in an angry mood. One of the students, Rafael Ortega, reported being struck on the face by a board wielded by one of the little men. One of the teachers also reported seeing one of the small humanoid running through the yard.
Source: Martin R Medina, OJIO
---
Date: December  2000
Location:  
Time:  
Summary:  
Source:  
Location. Iturama, Brazil
Date: December 13 2000
Time: 2200
Joao Joaquim Da Silva, 50, his wife Rosa 43, a cousin, granddaughter and another woman were traveling by car on their way back to town when they spotted red and yellow lights on what appeared to be a square-shaped object flying over the road. A small round light appeared to detach itself from the object and fly away. Joao decided to pull off to the side of the road to see what was going on. Suddenly they saw the object descending behind some nearby trees, it had rotating red and yellow lights. Joao then heard a loud cracking sound and felt a loud buzzing in his head, immediately he felt paralyzed as a buzzing sound permeated the area. The little girl began screaming saying that she could see several figures approaching the car. One of the women saw a white face figure, lacking a nose and with large black oval shaped eyes. At the same time Joao experienced a terrible headache and felt himself being levitated and feeling as if he was somehow "shrinking" in size. Soon he floated back to the car. Then all saw what they described as a beautiful hovering oval shaped craft, apparently metallic and only about 12 meters away. A strong heat wave enveloped the group. The witnesses then left the area. Later on the different family members remember seeing several short humanoids onboard the object. The little girl remembered the little humanoids doing something to her feet. In a strange twist the witnesses also recalled seeing a strange symbol on the object and on the heads of several of the humanoids that when described it seemed to resemble the famous (or infamous) UMMO logo (!).
Source: Osni Nielsen, UFO Genesis Brazil
---
Date: December 18 2000
Location:  Colonia la Presa, Ciudad Juarez, Mexico
Time:  morning
Summary:  Again several students at the Farias School reported seeing several little men all wearing different colored outfits in the yard of the school. This time the little men climbed up on top of each other and seem to form a human pyramid. Then they seemed to fusion themselves into one small figure all dressed in black. The little figure dressed in black appeared to have been the leader. 
Source:  Martin R. Medina, OJIO
---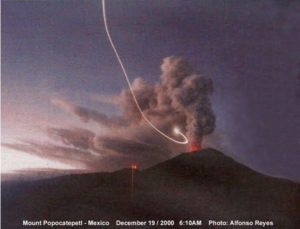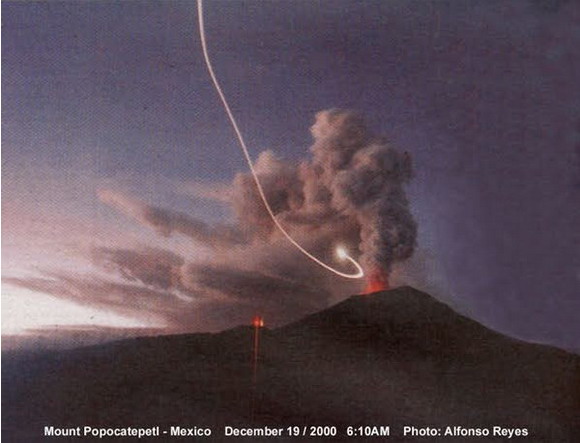 Date: December 19 2000
Location:  Mt. Popocatepetl, Mexico
Time:  6:10 am
Summary:  
Source:  
---
Date: December 19 2000
Location:   Tampa, Florida
Time:  2100
Summary:  Autumn Dreesan had gone out to empty the trash and as she walked back from the curb she heard a noise above her. It was a very high-pitched whistle, she could barely hear. Her dog, which had accompanied her, turned his head from side to side. The noise grew louder and she looked up. She saw a bright circular light floating near the moon. Her dog ran back into the house. The noise suddenly stopped, then fiver very strange humanoids appeared in a circle around her. They were about four and a half feet tall, pure white in color, had no hair, and had very large red oval shaped eyes, no mouth, and two slits for noses and no ears that she could see. Their heads were egg shaped. She stood frozen with fear. Two of them grabbed her arms, and two of them grabbed her legs. The last one held his left palm up to the sky, and her neighborhood dissolved into an odd round room with a dentist-like chair in the middle of it. Similar beings lined the wall of the room. She was led to the chair and was forced to sit in it with her arms at her side and her legs together. Suddenly, her arms, chest, forehead, and legs were chained to the chair. The chair tilted back, flat like a table. There was some light in the room, but she could not see the source of it. Five humanoids then leaned over her; her clothes were somehow removed by one of the humanoids. He left with her clothes then came back with a table with multiple syringes, some were empty, and some were filled with different colored liquids. Then one of the humanoids took a blood sample from her using a syringe. Then in the exact spot on her arm they injected a thick looking blue liquid. Immediately her whole body went numb, but she was still awake, but everything was blurry. One of the beings now leaned over her right foot. She then felt a painful jabbing and then something being stuck. She became numb again. He then put his warm white fingers on her forehead and she felt calm and relaxed. She then heard a soft beautiful voice that somehow terrified her. The voice told her not to be afraid, that they hurt most others, but that she was special. That she was essential to their plans. They said the Earth was the most under evolved planet in the universe. That there was a superior race in the galaxy very far away that was planning to take over Earth, turning humanity into slaves. This was going to happen soon, and that they could only take one member of her family and that she had been chosen. She was then told that she must go. The room then dissolved into the curb, with her standing there holding a trash bag. She had been gone for three hours she found her dog back on her bed trembling with fear. The next day she found a strange wound on her foot.
Source:  UFOS and Aliens among us, E-mail info
---
Date: December 21 2000
Location:  Popocatepetl Volcano, Mexico
Time:  
Summary:  
Source:  
---
Date: December 27 2000
Location:  Vancouver, British Columbia Canada
Time:  1600
Summary:  A man appeared at the door of the previous UFO and "Man in black" witness. He stated that he had come to see his unusual watch. He stated that his name was Mr. Smith and showed some ID. He wore a dark charcoal suit, white shirt, and black tie. He also wore a black fedora. His feet were very large, "size 13, or 14", like the witness previous visitors. His shoes were black and shiny, with no signs of dirt on them at all. He was about 4-feet 8 inches to 5-feet tall, very thin, and very pale skinned with very long fingers. He also wore black wrap around glasses with silver frames. The witness extended his hand but was ignored (again). Upon entering the house the visitor commented upon the carved walking stick in the hallway. He also asked the witness to turn the microwave off before he walked in front of it. Sitting down at the kitchen table he produced a small silver tape recorder, claiming it could record up to 80 hours or more. Using a pick like tool from his breast pocket he examined the witness watch. He opened a black briefcase, removed some paper, a silver pencil with a red top, and a pen like flash light that emitted a mauve, pencil thin beam, which scanned the interior of the watch with. He took a small digital type camera and with it he took several pictures of the watch. During the whole of his visit he spoke very little, and his speech seemed slurred. Again the cats were agitated during the stranger's visit. He again expressed interest in the watch and the witness asked 500$ for it, but he replied that he had to check with his colleagues. The stranger also expressed interest in a computer saying that it had very minimal power. The stranger departed without saying good-bye. The witness went immediately to the window but could not see any sign of the visitor or any car in the vicinity, he had simply vanished. A plastic hair blower nozzle was found melted and a ruler in a drawer close to where the visitor had been sitting was bent into a slight S curve. Again the witness suffered from a severe headache and an eruptive nosebleed.
Source:   Graham Conway, UFO BC
---
Date: December 31 2000
Location:  Kingsville, Texas
Time:  0400A
Summary:  The witness suddenly awoke and heard a low frequency buzz or vibration. He sensed that the house was tilting at an angle and braced himself thinking that it was an earthquake. As the tried to brace himself he realized that he was totally immobilized, could not move any limb or his head. At that time he looked to his right toward the skylight and saw a beam of blue light that he sensed was searching and had found him. To his left he also saw a light coming from the window. Now he felt in a semi-awake state, and realized he was being examined in bed. Looking around he could make out a small dark figure on his left, above his head to his right. Suddenly directly in front of him about 10 feet away, he saw what appeared to be a holographic figure. He asked them what they wanted, but received no response. He sensed that they were intent in examining him. It suddenly stopped and the blue light then gradually went away from the skylight and the window.
Source:   Filer's Files # 5, 2001
---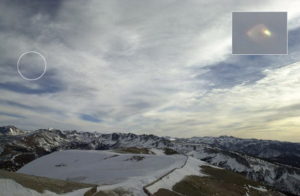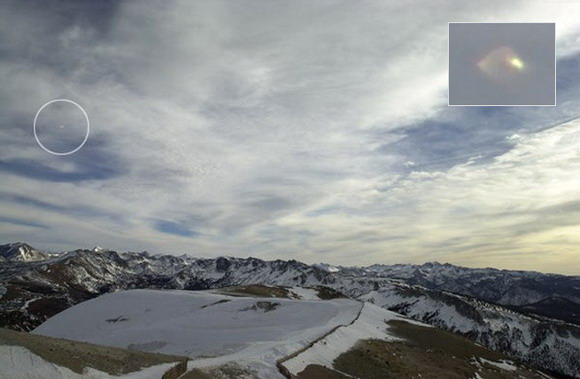 Date: Late  2000
Location:  Mammoth Mountain area, California
Time:  
Summary:  
Source:  
---
Date: December  2000
Location:  
Time:  
Summary:  
Source:  
Related articles