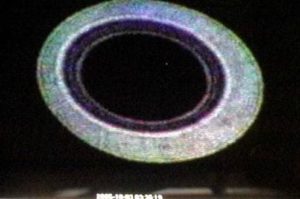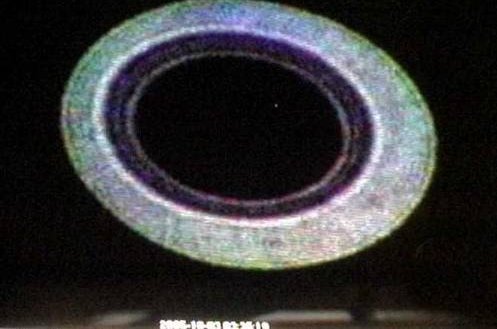 (Last Updated On: August 17, 2016)
Date: October 2005
Location: Newberry, South Carolina
Time:
Summary: In October 2005, a woman in Newberry, South Carolina reported to the police that she had seen two creatures resembling the Lizard Man outside her home.
Source:
---
Date: October 1 2005
Location: Charbonier, Capilla del Monte, Argentina
Time: night
Summary: A man heard a ruckus coming from the farm animal pens where he kept his chickens, horses, etc and armed with a flashlight he went to check what the problem was. Arriving at the corral he almost ran into a huge black bird-like creature with red eyes, as he pointed his flashlight at it the flashlight "exploded" (!). The strange bird then flew low over the witness and disappeared towards nearby route 38. The creature was about 1m in height. According to the witness he found a dead goat with no signs of wounds and several chickens from a nearby neighbor also died the same night, again without any visible signs of lesions or wounds.
Source: Proyecto CATENT, Argentina
---
Date: October 1 2005
Location: Wichita, Kansas
Time: night
Summary: Angela Hausinger remembers seeing a triangle-like ship over her; she was trying to run away but was not scared, but had a feeling of super amount of adrenaline. The ship was over her, not to high up. Once it was directly over her the noise was unbearable, like a roar. There were many lights around the bottom, mostly white, and then red. She remembers grabbing her head tightly. She was then suddenly inside the object. There were other "humans" in there as well. She had the feeling that she knew someone that was there but she was not able to pin-point who it was. There was a lot of activity going on around her. She was standing in a short hallway with a couple of other people. She then noticed she was wearing a white exam gown, it was full length and no skin was showing. She kept thinking how stiff the air was and she couldn't wait to get out. A gray humanoid passed them in the hallway and for some reason the witness tried very hard so not to be looked at, she had her head hanging down like as if trying to make herself less noticeable. The gray wore a long cloak which was "very pretty". A man standing next to her started explaining something they were watching. To their left were 2 persons, they appeared to be of Indian descent, black hair and very dark skin lying on two tables. She had the feeling this was a father and son. The child appeared to be around 7 or so. There was a taller cloaked figure, with the features of a gray but his skin tone was bluish. He turned the head of the father to the side facing the witness and a black super shiny tar-like substance started oozing out of his mouth. He kept pressure on the side of this man's head until he was sure it was out. At the same time they were doing this to the child also. She was told that this was because they had something wrong with their stomachs. She was suddenly in a dark lab like area where 2 humans were working; one was male and the other female. The woman was of Asian descent and the male looked like Asian/Hawaiian. He was very attractive. Both appeared to be in their 30's. She was dressed in white and green scrub like clothing, the male was in a black cloak like outfit. He was with a "patient" inside a glass like cubicle. There was a bed inside. This room was very small. The presence of the 2 people and the bed inside this cubicle filled it to the max. The lab itself was filled with black machines with lights on them much like the room at the Dr's offices where they do ultrasound exams, it was also very compact. He was doing "something" to this patient (a woman) she looked exhausted. She was covered with a dark green blanket. The witness remembers the lady "doctor" telling him "this was enough". The lady doctor then leaned over the witness—she was sitting on a stool and asked her twice about, "my concerns for my daughter becoming pregnant". She didn't answer her, the noises were so loud —but she told her there was a "sand like substance" but did not say if she could become pregnant or not. She was told that these human extraterrestrials were helping those with health issues, they were not harming us. The ship was supposedly a "hospital". She does not remember anything after that.
Source: http://www.iwasabducted.com/abductionboard/reports
---
Date:  October 1 2005
Location: Buxton UK/England
Time: 21:35
Summary: As I was looking up to the North to see a satellite that was due over my house in a couple of minutes time, suddenly there were 3 satellite looking objects, moving together from NW to SE. I already had my binoculars in hand, and thro them they appeared a rather gold colour. What was weird though was being three of them they we obviously in a triangle shape but they didn't stay still? Every few seconds or so one or two of them would move relative to each other but they all seemed to keep within similar distance. As they got more to the south east they disappeared instantly, which to me seems that the light from them was reflected from the sun and they went into the earth's shadow.
Source:  National UFO Reporting Center
---
Date: October 4 2005
Location: Shenyang China
Time: 17:21
Summary:
Source: National UFO Reporting Center
---
Date: October 4 2005
Location: Hyvinkää Finland
Time: 21:30
Summary: This message is sent to clarify my earlier sighting of similar phenomenon last month. This evening I was again walking with my dog but this time my little sister was also with me. Planet Mars was very visible well above the eastern horizon. At about 21:25 me and my sister observed an extremely bright Iridium satellite flash above the constellation of Ursa Major. Five minutes after that I noticed a bright satellite moving just outside the left side of what the astronomers of the Northern hemisphere would call the Pegasi Square and told also my sister to take a look at it. At the time of noticing it was almost straight above my head and was heading SE. What made this satellite peculiar was that it was closely (< 2 degrees) followed by a less visible satellite just as when I observed it about a week earlier (I have no doubt that the objects I saw tonight were the very same ones witnessed in earlier report). The satellites continued into same direction maintaining their less-than-2-degree distance and slowly fainted away about 90 seconds later well below the Pegasi Square. Also my little sister saw 2 satellites. We both paid attention to the slow visible speed of these satellites. The facts that these satellites behaved normally, that I observed this phenomenon twice within a short time, almost exactly in the same direction and almost on the same hour both evenings made clear to me that this phenomenon has little to do with UFOs, Aliens or Extraterrestrial life. What I've most probably been witnessing on both evenings is a formation of NOSS satellites. No investigation is needed. Thank you.
Source: National UFO Reporting Center
---
Date: October 5 2005
Location: Daqing China
Time: 06:30
Summary: circular then oval red dish took place from ground I'm trying to tell the truth that happened in the fall of 1988 when I saw a UFO together with my family and other fellow villagers. I just happen to find your webpage while I was searching messages on UFO. I haven't found any places on the web China Wide that I could report it after many tries. I feel responsible as a human being to tell what I saw that evening. That evening we heard a sound of bombing when we were having dinner. As it was very loud, we rushed out of the house. We were seeing a red, exactly circular dish-like object of about 50cm rising near the water tower from the ground with tan thick dust around. (When I saw it, it has been on the way up, not just started rising) The rising is straight up. When it came up to about 500 km in a few seconds, it suddenly took an abrupt turning of about 120 degrees, and it became an oval shape, and the dust couldn't been seen. Then extremely fastly, it rushed out of our sight in couple of seconds.
Source: National UFO Reporting Center
---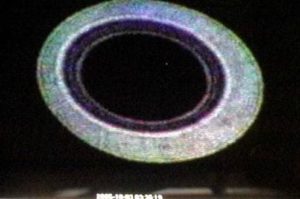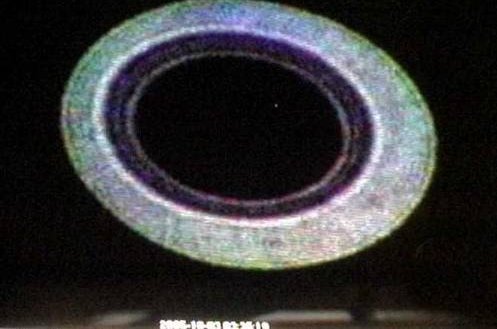 Date: October 5 2005
Location:  Coahuila, Mexico.
Time:  
Summary:  
Source:  
---
Date: October 7 2005
Location: Cardston Canada, AB
Time: 10:30
Summary: I was watching television, out of the corner of my eye, to the North West I suddenly saw a very large round, blue light, it wasn't there before, and it looked like it was falling out of the sky as if it was going to hit the ground, and then it was gone just like that. Very bright, very blue. I have never in my life ever seen anything like that ever. I am frightened, because I live out of town.. should I be frightened? I am not one to lie, or to fabricate anything, and it was so strange..so fast. Like it just disappeared within seconds.
Source: National UFO Reporting Center
---
Date: October 7 2005
Location: Kirby Bellars Leicestershire UK/England
Time: 09:00
Summary: 4 point star shape,flying low slowed and then sped off,one light at each "point" Duration: 20 seconds
Source: National UFO Reporting Center
---
Date: October 9 2005
Location: Sigulda Latvia
Time: 23:50
Summary: We were sitting in jacuzzi located in the backyard an watching stars. First two flying objects seemed as a falling stars but after some 3-5 minutes we have seen 8-12 stars triangle flying object just passed us (WITH NO SOUNDS) in the similar speed as falling stars.
Source: National UFO Reporting Center
---
Date: October 9 2005
Location: Mount Vernon, Ohio
Time: afternoon
Summary: The witness reported seeing a pterodactyl like creature flying fairly high in the sky over the area; it still looked larger than a hawk. It had an odd shaped "head" with a beak that didn't look like a bird's beak, but leathery, like its entire body. The creature had a long tail with a kind of "ball" at the end. The thing appeared to be grayish. The witness was traveling in his car at the time. (The witness claims of seeing a similar creature before).
Source: Your True Tales November 2005 Page 25
---
Date: October 12 2005
Location: Gurgaon India
Time: 19:35
Summary: I and my wife had just visited the corner of our mini city where a fair was on with about 300 odd people waiting to to celebrate an indian festival- Dussehra While I and my wife were waiting in our car with the crowd before us, my wife observed a blue oval ball in the horizon. What caught our attention was the manner in which it was moving vertically up and down with inconsistent speed and while it kept going up it was getting invisible and then back into its blue color. Now, since we have a lot of local and international flights flying all over us due to the Intl Airport at Delhi, I know that the light could not have been any thing that I can imagine to be usually visible in the area.
Source: National UFO Reporting Center
---
Date: October 13 2005
Location: Shropshire UK/England
Time: 19:10
Summary: It was getting dark and we notices a yellow/red bright low light in the sky, it certainly was too low to be a star, it stayed in its spot for 10 minutes. Looking at it carefully it looked like it was hovering a little then the light moved away and disappeared. Also, i might like to add we see a lot of lights in the sky which look like a normal star but has a more orange light, might not be anything but these will travel very very quickly and then suddenly stop then waiting 5 mins it moves again then disappears! What are these lights we keep seeing. Is scary i see more now then ever….
Source: National UFO Reporting Center
---
Date: October 14 2005
Location: Llanelli UK/England
Time: 03:36
Summary: A triangular shape flew over my house early this morning while i was out side. It blocked out all of the stars as it flew over, i all i could see is a black triangle shaped object flying over marked out be the stars. It made no noise and or did not alter it course in any way. I could not tell the size of the object but i guess it must have been quite large.
Source: National UFO Reporting Center
---
Date: October  2005
Location:  
Time:  
Summary:  
Source:  
Location. Near Oakdale, Nebraska
Date: mid October 2005
Time: early morning
The witness was hunting deer in Neligh park area and had just crossed a fence from a cornfield into the old pasture to an old river bank near his tree stand. Daylight was just beginning when he became aware that he was not alone. To his right he could sort of see another figure heading in the same direction about 8 to 10ft away. He said "sort of see" because initially it seemed that this figure or being was not solid, and he could see partially through it and see the trees in the background. The being then seemed to become aware of the witness and stopped and turned to stare at him. At this point it became more solid, and the witness could no longer see through him. The figure appeared to have no covering on his head, except dark curly hair about two inches long. He had dark piercing eyes, no facial hair and features that were unique from any person the witness had ever seen. The closest resemblance was perhaps to a native American Indian, but still quite different. He appeared to be covered in something tight-fitting of solid texture in dark gray or dark green color, no cloth. His feet were covered with what seemed to be a continuance of his clothing. He had nothing in his hands, which appeared to be very similar to the witness'. He seemed to be quite muscular and several inches taller than the witness, perhaps 6'6" or 7'. They both looked at each other for about 30seconds. He showed no fear, only some curiosity, as he broke eye contact with the witness to look him over. Curiosity with the absence of fear was what the witness also felt. At the end of the 30 or so seconds, he partially turned away from the witness and within another 5 or 10 seconds, became transparent and disappeared. In subsequent visits to the area the witness has not experienced any other encounters.
Source: Your True Tales—June 2006
---
Date: October 16 2005
Location:  Barrio Quemado de San Lorenzo, Puerto Rico
Time:   daytime and night
Summary:  Twice in one day two witnesses an adult and a teenager who wished to remain anonymous reported encountering a bizarre being described as very thin almost skeletal, green in color, and small red slanted eyes. The being was seen within a banana grove on each occasion. The young witness reportedly suffered a nervous breakdown.
Source:   Lucy Guzman de Ovni.Net http://www.ovni.net
---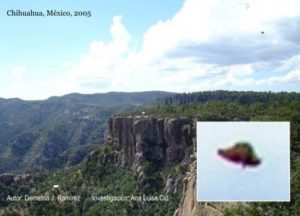 Date: October 18 2005
Location:  Chihuahua, Mexico.
Time:  
Summary:  
Source:  
---
Date: October 20 2005
Location:   Comerio, Puerto Rico
Time:  0545A
Summary:  The witness Roberto C. was in his home sitting in the balcony when he saw at about 30degrees altitude, towards the west, a gray oval-shaped object that was moving from side to side as it descended. He could hear a sort of a whooshing sound. The craft landed and a door opened but then immediately closed. The craft then rose up into the air again and disappeared behind the clouds. The sighting lasted about 5 minutes.
Source:  Lucy Guzman Ovni.Net http://www.ovni.net
---
Date: October  2005
Location:  
Time:  
Summary:  
Source:  
Location. Nancy, Toul, France
Date: October 23 2005
Time: 1800
A man reported filming a strange phenomenon in the sky. It was a black human-shape with a large head which moved horizontally, steadily and slowly. It emitted no light, and no sound. The video was shown on local TV broadcast on France 3. One explanation is that the figure could be a runaway toy balloon.
Source: Patrick Gross, November 9 2005 in Http://ufologie.net
---
Date: October 25 2005
Location:  
Time:  
Summary:  
Source:  
---
Date: October 26 2005
Location:  Vaudreuil-Dorion, Quebec, Canada
Time:  2130
Summary:  A young man that was taking out the garbage came back running inside out of breath, he reported that he had seen in front of the neighbor's driveway a bizarre 8ft tall being. No details are given on the appearance of the humanoid but the witness brother saw 2 similar creatures back in the summer of 2004.
Source:  NUFORC
---
Date: October 29 2005
Location:  Albion, Indiana
Time:  1132A
Summary:  In this rural area the witness was outside working on his jeep when suddenly he saw very bright lights overhead that hurt his eyes. A bright light then flew over him that covered the whole sky; he then heard a very loud noise like a tornado siren that hurt his ears. Immediately after, a beam of light began pulling the witness up into some type of object, incredibly the witness held on to his jeep and he was let down. The light or object then left the area.
Source:  http://www.ufosnw.com
---
Date: October  2005
Location:  
Time:  
Summary:  
Source:  
Related articles