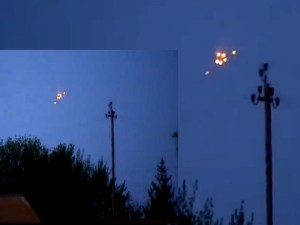 (Last Updated On: April 19, 2017)
Date:  March 1 2016
Location:  Nevada 
Time:  
Summary:  Outside, saw a red orange thing flying around the start. Didn't seem to be air plain or chopper. The the light was disappearing and it turns a little gray and I watch it coming down,over the mountain. Than I freak out and run away.

Source:  MUFON
---
Date:  March 1 2016
Location:  Ridgecrest, California
Time:  
Summary:  I was trying out my night vision camera on a jet that was circling our valley. After watching it for a good while I stopped taping and went inside and stored it on my computer. I later when analyzing it seen what was aliens in a craft of some sort . So now after 5 months I was going to enhance the video and when I started doing that by first turning up the brightness I noticed that the ufo / aliens were going thru a black hole..
Source:  MUFON
---
Date: March 1 2016
Location:   Little Mountain, South Carolina
Time:  about 1 a.m
Summary:  I was home watching TV and decided to walk my dog it was about 1 a.m. in the morning. What made me notice the object was the multi colored bright lights usually when I see lights in the sky is using a white light or a red light from an airplane. I continue to watch the object and the different color lights. When I first saw the object I thought it was a star or a plane. I watched the object for a little over an hour at the minimum the object will cover and occasionally go left to right. I lost sight of the object when it finally move over the tree line.

Source:  MUFON
---
Date:  March 1 2016
Location:  Mancelona, Michigan
Time:  
Summary:  Driving south on 641 towards traverse city with my son heading home. I noticed a very bright flash of light that seemed to pulsate or spin around like a lighthouse would. Having been in the military i had a hobby of identifying flying craft and the way this craft did a 170 degree turn really was amazing. The g force alone from such a turn would have killed the pilot of any human craft and thus left me with the realization that it was a alien craft, scared my son as well. It seemed to gain altitude and then just disappear heading south south west. The craft was flying over any area south of the corner of the intersection of m72 and 641, just west of traverse city.

Source:  MUFON
---
Date:  March 1 2016
Location:  Medford, Oregon
Time:  approx 20:00
Summary:
At approx 20:00 Pacific Standard Time on 3/1/16 I noticed a bright yellow light appear to the east of the constellation Orion from the vantage point of 42.348533,-122.836794. The object appeared to be an atmospheric anomaly; it was similar to an explosion in low Earth orbit. Approximately 5 minutes after that, a solid white light appeared on the lower horizon, passing westbound over the sky of North Medford at a high rate of speed. Its elevation was approximately 750 feet AGL. This solid white light traveled for a visible distance of 1-2 miles and then disappeared. It was heading in the direction of the prior observed anomaly in a linear path; no directional deviations were observed. Within the next 2-3 minutes, faint solid white lights were observed moving Southbound at a very high elevation in a linear path. These could have possibly been satellites, but the timing was very suspicious.

Source:  MUFON
---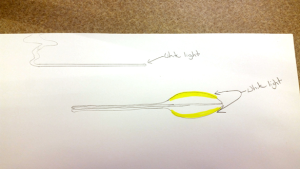 Date:  March 1 2016
Location:  Strawn, Texas
Time:  9:30 pm
Summary:  Over Possum Kingdom lake at 9:30 pm I saw an object spoon/egg shaped with a long tail glowing bright white on top and bottom of the curved part. Looked like two spoons on top one another with a very long straight tail. Glowing bright white at the front top and bottom, curved end. Going from NW to SE. It was only a couple hundred feet from the ground. Very fast and silent. It was going so fast it only took a minute. I've NEVER seen ANYTHING like it.

Source:  MUFON
---
Date:  March 2 2016
Location:  Texas 
Time:  
Summary:  I was standing on my back porch facing due east when an object boomerang shaped with multiple wings flew by at an enormous rate of speed heading north. The object was a light blue almost luminescent in color. The object appeared to be no larger than a mid sized aircraft. I have never seen anything like it. Object was boomerang shaped, with multiple wings. Flew low and fast. Made zero noise. I am not crazy. This really happened. Scared me to death.

Source:  MUFON
---
Date:  March 2 2016
Location:  Albany, Wisconsin
Time:  
Summary:  I heard multiple loud jet noises which is unusual due to our rural location and nearest flight path. I'm former Air Force and thought one of the sounds was like a fighter not a commercial aircraft because it was so loud. Went out on the porch to look for craft making the noise. Saw a white object about 20 degrees above the sight-line of the barn which initially looked like a white bird circling like a hawk on a thermalcline but not just around but in an upwards and downwards circular pattern very slowly. I did not see any fighter planes. The object looked as if was a "v" shape or had rectangular wings. The object stopped circling and then appeared a solid wing-less shape. The object took a direct and very straight flight path at the same altitude S/SE without making a sound. The object when moving S/SE looked like a solid shape without wings. I was about to run in a grab my camera when it began its S/SE path and I wouldn't have had time – so I just observed it.

Source:  MUFON
---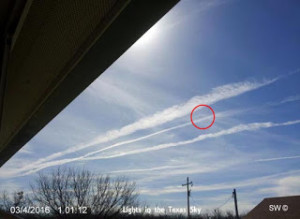 Date:  March 4 2016
Location:  Stephen County, Texas (Breckenridge area)
Time:  10:00 a.m.
Summary: I captured what appears to be some type of disk. It appears to be a disk with a flattened top.  Whatever it is, the object must have been traveling at a high rate of speed, as it did not show up at all in the 1first photo.
-Sunny
Source:  Sunny SOURCE
---
Date:  March 4 2016
Location:  Victoria, Virginia
Time:  7 pm
Summary:  I had just closed up my family business at 7pm, on March 4th, 2016; When I noticed a jet flying high up, over the building, and thought I should test my new Galaxy S7 Edge phone's camera on a good distance shot. I took 2 photo's of this jet moving upwards, into the clouds. In the second shot, it looked like I could see the shape of the jet, so I zoomed in to see how crisp it actually gets, and almost didn't notice the black shape/s underneath. I believe it to be one object moving very fast, out of the bottom right cloud, and leveling off just underneath the jet. It's just unidentified!? What do you think. Oval shaped wingless bug, or UFO?.. You Decide!

Source:  MUFON
---
Date:  March 5 2016
Location:  Larkhall lanarkshire
Time:  11:45pm
Summary:  I was smoking a fag out my bedroom window when i noticed an aeroplane in the sky at the back of the plane there was a bright silver object flying behind it it was around a mile above it zig zagging across the sky following the plane i told my boyfriend to have a look in case i was imaging it he also saw it very strange no way was it a lantern flying that close to the plane that night frannie woke in a panic froze to the bed the window was open a bit and he could here breathing he couldn't bring himself to look as he felt a presence there and told me this in the morning
Source:  MUFON
---
Date:  March 6 2016
Location:  Udaipur, Rajasthan 
Time:  around 4-5am 
Summary:  1. I was at Udaipur and doing star photography in early morning around 4-5am in INDIA 2. At fist time I didn't notice the object but when I was reviewing photos clicked by me at that time I came to know about that object. 3. I thought its like star. 4. The object seems moving towards sky from earth behind the hill in diagonal path. You can see Object in attached photos that captured by me. The Object sees at top-right corner of photo, behind the hill in form of Red dotted line which is moving towards sky. Camera: Canon Rebel T6i Mode: Manual Time: 4:00 – 5:00am (India)

Source:  MUFON
---
Date:  March 6 2016
Location:  Sydney, Australia
Time:  
Summary:  
Source:  MUFON
---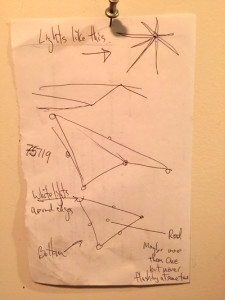 Date:  March 8 2016
Location:  Ohio Cleveland
Time:  10:21 p.m.
Summary:  The event occurred beginning about 10:21 p.m. on March 8, 2016, with the object heading south, and the witness soon dictated details into a telephone as he is a lifelong visual artist. "At first I saw it coming," the witness stated."It was traveling slowly. It was not that high up in the air and it was an unusual constellation of lights so a grab my iPhone and I thought I should take a picture of whatever it is. And then it got closer and I got closer. We were converging right over Interstate 90."  The witness first thought the object was something that could be identified. "As it got closer and closer I thought it might be a group of helicopters. But they were in too tight of a cluster. I saw a constellation of lights that were in an abstract sort of triangular form. As the craft got closer, I kept looking up and I saw that there was a slightly lighter color to the body than the dark sky." The witness described the lighting on the objects. "There were lights on all three corners and in between the corners with a dazzling white very, very white, bright, bright light. On the bottom there was a flashing red light. At least one. Maybe they were alternating from different positions on the bottom." The craft was traveling very slow and low to the ground. "The craft was traveling very slowly. It was probably four to six telephone poles off of the ground. Not regular telephone poles, but the kind of tall ones that are along the interstate. If this craft was indeed triangular, it appeared to be traveling backwards away from the point." There was an aspect of this triangular pattern that was hard for the witness to comprehend. "The lights seemed to be pointing toward me, not so much at me, but so bright that it looked like they were pointed at me, although it was not pointed at me at all. That's how dazzling the lights were." As the object moved overhead, the witness thought there was structure to the object. "As the craft approached the highway before it crossed over me, I thought it could be a structure, a linear structure like I-beams or something that have lights along it and it was not a flat triangle. It appeared to have a flat aspect, but the front seemed to be folded a little making it like two long, skinny triangles, but only in the front." The witness was not afraid. "I did not feel any unusual feelings outside of disbelief. I racked my mind trying to figure out what it could be other than a craft. It was not that high off the ground. As an artist my life profession is about looking and seeing. I'm very articulate and I'm able to describe things well. I worked as a carpenter for 30 years and I have a pretty good sense of dimension. I would guess this craft was between 40 and 60 feet long. Of course perspective could have thrown all of this off. Of course everything about this could be incorrect. But if it was what it appeared to be, I saw something quite remarkable and would like to know if anybody else saw the same damn thing." The witness provided an exact location for the sighting. "It was west of exit 169 on Interstate 90 – that was what I dictated (with only punctuation changes). I am most curious if there were other reports of this thing. It had to have been seen by many others because it was so low and moved so slowly and was over a very, very populated area – along the edge of Cleveland. And lastly, and strangely enough, I have been struggling to photograph my drawings and for some reason they will not photograph. I have never had a problem with taking photos on my phone. Very strange. And I am not even suggesting that they are related at all.
Source:  MUFON Case 75119
---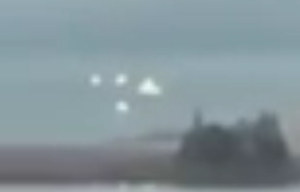 Date:  March 9 2016
Location:  Penthland Hills in Scotland
Time:  
Summary:  Video
Source:  MUFON
---
Date:  March 13 2016
Location:  Mexico City
Time:  
Summary:  A UFO Sighting was caught on camera by a Mexican pilot.

Source:  Latest UFO Sightings World
---
Date:  March 13 2016
Location:  Heinsberg, North Rhine-Westphalia
Time:  
Summary:  Me and a friend walk around in our hometown. We talked to each other and both of us gots strong headaches. At first we thought its just a coincidence but than I watched up and saw this two bright shining lights. At first we thought there are just two airplanes but they where very close to each other. Than they started to move quickly and had strange trajectories. I wanted to take a picture with my cell phone but it doesn't work. My Friend tried to took a picture with his cell phone but he cant use it because his battery was empty very quickly. I wanted to call my mother but I had no mobile reception. Our headaches become stronger. In this moment both objects hovered over a powerline. Meanwhile my headaches become so strong that I wanted to cry. I could see that the lights of two industrial Tower falled out. This two objects were still about the powerline and around them appearce an aura. It looks very strange, like a white veil. In this moment my headache was so strong that i wasn't able to think and my heart starting hurting. Then both objects flew vertically at high speed upwards. After this we couldn't see both objects and our headaches were away. Than we took our phones and I had mobile reception and my friend was able to start up his cell phone. In this moment we could see that the tower lights start up. After 2 Minuets we were able to hear sounds of Helicopters. There were five of them. Black colored flew to the power line. While the hole event we were scared. Our headaches were really strong and we wasn't sure what happened there. At the next morning I went to my family doctor because my hearth still huts. It turned out that I got a damage on my heart. After a few days I get a skin rash. But I didn't go to the doctor because I thought it could be an allergic reaction. Since this event, my heart are not able to heal and work like before, sometimes i'm not able to think clearly and when I be next to power lines, my heart star hurting very strong.

Source:  MUFON
---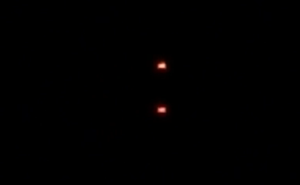 Date:  March 16 2016
Location:  Mesa, Arizona
Time:  starting at 2150 to 2209,
Summary:  On Saturday night, 16 March 2013, starting at 2150 to 2209, I recorded the following lights crossing the Mesa, Arizona skyline. I was on the second floor of an apartment complex on Lindsey and US-60. I was going to close the blinds in my daughter's room when the incident occurred. The reason I find this interesting is that there are 2-red vertical lights that slowly moved from the North-West to the East. Possibly coming from the Anthem, Cave Creek Area headed toward Superstition Mountains. An aircraft is supposed to have green lights on this side. Red was the only light visible throughout the whole recording and it was steady and never rotated or moved out of position. At about 11-minutes into filming the top light begin to fade than went out. At 15-minutes 20 seconds the second light began to fade than went out. Near the end of the filming I do show an aircraft landing at Falcon Field. I have 21-years in Naval Aviation as an Aviation Ordnanceman working on Fixed & Rotary Wing aircraft and there weapons; and 6-years in the Aerospace Industry. Three of those were manufacturing Military Helicopters and three were in Iraq & Afghanistan as a Contractor with numerous Army Medivac Units. I have been in combat situations both in the Navy and as a Contractor. With all this said, I know for a fact these are not Military Flares or other ordnance. As far as an Air Ship, Balloon or other type of aircraft, I am 99% sure it is not. I do not know of any aircraft like this or that has formation lights like this and/or then extinguishes itself. There were no clouds or haze this night. It was a comfortable cool air. As far as a shape, I could not tell. I did try to look for something that would identify its shape and transparency but did not find any evidence of it. It was too far away to determine if it had a sound. I can only guesstimate the object(s) were 8-10 miles from me.
Source:  MUFON
---
Date:  March 16 2016
Location:  Siracusa, Sicily, Italy
Time:  
Summary:  This video was taken on 16 March 2016 in Siracusa, Sicily, during a rain storm over the city. A person looking out his window saw this strange object flying over the building in front of him and used his cell phone to capture the video. The video was taken at 18:00 hours local time and the entire family was present when the video was taken. There was a very strong wind which would rule out it being a drone. A request was forwarded to the city hall to ask if any helicopters were in flight during the storm and they answered negatively.
Source:  Latest UFO Sightings World
---
Date:  March 16 2016
Location:  Gatlinburg, Tennessee
Time:  
Summary:  
Source:  MUFON
---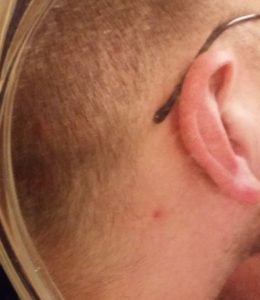 Date:  March 16 2016
Location:  Bloomington, IN
Time:  4:23AM
Summary:    I was asleep in my bed about 4:00 am after going to sleep late (maybe midnight), I awoke in sleep paralysis coupled with shooting pain in my head and neck, at first I felt like my head was in the jaws of some large animal, like a puma. The pain was intense across the crown of my head and back of neck, as if something were forcing my spine to be straight while I was being held by a device. I broke free from this device after feeling two injections, one into my spine which left serious pain and the other behind my lower left ear on my neck (offset from the spine), which left me feeling drained. I mustered enough willpower to wrench myself free from the vice grip and turned to see an entity with black skin and speckled all over with silver (the entity was at least 6-8 feet tall, but was hunched over so height was not easily determinable, it felt larger than me and left a predatory aura of menace) – its eyes were speckled with silver swirls, reminding me of a chameleon's lidded eyes but conveyed the impression of swirling galaxies. The black skinned entity had long arms with an extra joint between the wrist and hand area. The entity made a loud noise as if surprised that I had wrenched free from the vice or device it had used on me, the sound was a deep throated noise that was similar to "Urrruck". It didn't seem to be telepathic communication or anything, just a loud noise it made. Then it suddenly seemed to grow hazy and vanish. By this point I was fully awake and terrified. I felt a terrible menace in my darkened house, with only a faint kitchen light. I felt or somehow knew, the entity was still here, waiting for my body to grow tired and me to fall asleep again. I forced myself out of bed and began searching my house, flipping on lights in every room as I did so. I found my kitchen and bedroom/bathroom empty. I still felt pain from my back, shoulder, neck and head that persisted. Fueled mostly by adrenaline I entered my sitting room and suddenly felt a spot of cold behind my couch and my hairs all stood on end. I began to check the entryway door to my house and suddenly I heard the sound of both my backdoor and my front door slamming loudly and simultaneously. I opened the door fast to see if I could catch someone or something running away, but found that my front door was locked. I ran immediately to the back door and discovered the same thing. I don't know if this was due to some sort of temporal anomaly or an ability to pass through solid matter, but I was fully awake and very terrified by that point. I went out the back door and looked up into the sky, the stars were out and light cloud cover, with clouds racing on the wind. Only one cloud was not moving and it had a round hole in the cloud cover – nothing seemed to be there but it was perfectly circular. I couldn't say how high up above the house it was, but it seemed close (<100<500yards). I went back inside after giving the sky the middle finger and returned to my house. I didn't know what to do but I wouldn't get back to sleep until 10am. I looked at myself in mirror and found a mark on the back of my neck under my left ear where I felt the second injection. I photographed this injection mark (although possibly it could have been a bug bite, although it was not there when I went to sleep) with my cellphone and the next day I would find a second mark (unphotographed) on the back of my neck right below the skull, right on my spine. The event was menacing and predatory and unlike any other encounter I've had. I periodically document my encounters during sleep paralysis when I seem to encounter entities, although this event was far more extreme and persisted long after I was fully awake. The entity encountered was unlike anything I've ever seen before or heard of as well.
Source:  
---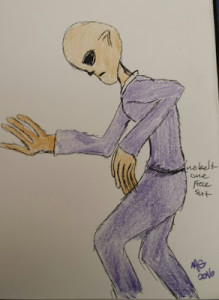 Date: March 17 2016
Location:  Monona, WI
Time:  
Summary:  3 to 4 ft. tall grey like creature with pointed ears, large black eyes, small mouth and nose, in blue one piece suit with long fingers, likely less than 5. Creature was witnessed in reflection of room while back was turned apparently sneaking from hiding to staircase. Appears to have entered and left house by de-materialization or portal of some kind. I was alone in room, seeing mother out to car, father was asleep in another room. Creature vanished after that leaving no trace. 
Source:  MUFON CMS
---
Date:  March 21 2016
Location:  Hanover, Germany
Time:  
Summary:  A bright UFO Sighting was caught on camera over the skies of Hanover, Germany.
Source:  
---
Date:  March 22 2016
Location:  Orlando, Florida
Time:  
Summary:  i was with my family and then my wife said what is that lighting up red on the bottom of the kite i said that's not a kite and then i a look at it and crab my phone and then i video tape it with my phone and it was hovered for 5 min during a thunderstorm it was triangular black object 5 witnesses it was great I'm a believer i was a kid iv seen it before and my family i have video to prove it let me know if anyone wants t see on youtube it is ..ufo sam bam ..thank u in enjoy

Source:  MUFON
---
Date:  March 22 2016
Location:  Baga Creek, Calangute, India
Time:  around 8.30 p.m
Summary:  Me and my Best Friend Akshay Kauthankar aka "Hunter" were just relaxing on the Baga Creek Beach Area at around 8.30 p.m all off a sudden 'Hunter" spotted 3 Red Lights in the Sky that were stationary not moving at all and it made no sound at all we could not explain what the hell it was and by the way "SORRY THE VIDEO IS IN HORIZONTAL AND VERTICAL POSITION "but it was CoOL UFO Sighting…………………..
Source:  SOURCE
---
Date:  March 23 2016
Location:  Barboursville, Virginia
Time:  
Summary:  I noticed strange cloud formations. Decided to catch a couple of pictures. I took three pictures in three different places. When I reviewed the pictures I noticed the green orbs. I had once observed a green orb in 2004 at night. I noticed a greenlight about 300 yards away. As I stood and watched, it headed to where I was standing. It made no sound, it was iridescent green, 20 feet off the ground, The size of a very large beach ball, it was very bright green but illuminated nothing around it. It stopped 10 feet from where I was standing, hovered in place for almost a minute. Then it shot straight up and disappeared. To this day no one believes what I saw, I know what I saw. What I don't know is, truly What it is, I did see. Perhaps what I have observed is merely atmospheric anomalies, phenomenons. However, the photographs are interesting.

Source:  MUFON
---
Date:  March 23 2016
Location:  Calgary, Alberta, Canada
Time:  11:03
Summary:  Second story residence in main bedroom with large windows I observed a very bright brilliant flashing white strobe light object with 2 lights on either end of the cylinder. It was randomly flashing strobe white light at various speeds and no pattern to the flashing. It was moving slowly approx 1000 ft above the ground moving slowly NW to Nose Hill Park in Calgary, Alberta, Canada, then after 30mins it abruptly turned and moved S to SW for another 15 min still flashing random strobe lights till it came to a point right under the cloud layers then moved straight up and disappeared. Have Video having tough time to download

Source:  MUFON
---
Date:  March 23 2016
Location:  Sumter, South Carolina
Time:  
Summary:  I was out in my backyard with a fire due to the nice weather. Looking at the stars and satellites. Noticed triangle shaped object, no sound, white constant lights in corners and red strobe in center that pulsated. Tried to figure out what type of aircraft but no sound and no wings, etc. Just dark triangle shape that creeped along. Went and got wife to look so that I wouldn't be the only one to see it. I looked to be about 3000 feet in altitude and traveled 210 course then 40 minutes later came back reverse course 030. I was ready for the return and got footage with phone and night vision I use for hunting coyotes. I live next to an Air Force Base and use to seeing aircraft. This was different and hope others saw it tonight.
Source:  MUFON
---
Date:  March 23 2016
Location:  Mudgee, Australia
Time:  
Summary:  This new footage of a fast unidentified flying object was seen and recorded in the sky above Mudgee, a town in the central west of New South Wales, Australia. This happened on 23rd March 2016. The camera was used.CANON. X A. 25. Full H D. with I R. 850. optical filter fitted. Daylight capture. Night Shot position on. This UFO size possible was: 9-15 meter diameter? This craft passed above the Chem Trail High speed.
Source:  SOURCE
---
Date:  March 24 2016
Location:  Arroyo Grande, a city in San Luis Obispo County, California
Time:  7 PM to 10:30 PM
Summary:  I live out in the country there's a large eucalyptus trees all around I've seen these trees many times before and never noticed any flashing lights I was on my deck taking my laundry downstairs to do it and noticed two blue flashing lights I got closer and I noticed two red flashing lights in my line of sight there was one blue light at 12 o'clock one at 6 o'clock when I got closer underneath the tree I saw one red light at 12 o'clock and one red light at 6 o'clock The blue lights one on top was flashing the bottom was not both red lights where not flashing. I thought to myself it might be a drone that landed in the treetop or possibly a bird nested with something that was making these lights. I watch these objects for three hours from 7 PM to 10:30 PM March 24, 2016 about 10:26 they disappeared and it's now 11:19 and still looking out for the lights I will continue As a follower of Mufon I understand and believe in this to be fact and I'm alway on the lookout for such. I attached some videos that I took with my cell phone I apologize for the swearing
Source:  MUFON
---
Date:  March 25 2016
Location:  Corona, California
Time:  
Summary:  Making a delivery at school site and look up and saw object with bright light in a quarter moon shape going in a circle n took about 15 seconds to make complete circle. Made delivery and object was going very slow in a southeast direction. Total time that object was seen was about 15 minutes

Source:  MUFON
---
Date:  March 26 2016
Location:  Bear River, Nova Scotia
Time:  
Summary:  was driving back home on 101 when i looked to my left in woods and saw from high in sky a beam of blue white light coming from way up in sky straight to ground, first i thought it was a tower with a series of lights from top to bottom flashing each for a few seconds from top to bottom,but no tower there,it was not continuous but breaking up but definitely beam from up down, same width. almost like a laser pointer. this only lasted a max of 3 seconds

Source:  MUFON
---
Date:  March 27 2016
Location:  Anoka, Indiana
Time:  between 545 – 620 pm
Summary:  I was in my friends car coming home from going out to eat. We took a country road out close to where I live, she asked me if I would help her find an old friends house from 20+ years ago. AS she did not live in this area anymore and forgotten the area. I agreed so on the way home to my right out the car window which was rolled down I see a starlike object appear non moving in any sort of direction , brighten for about 5 secs In awe I place my hand on my friends shoulder while checking the rearview mirror to make sure no one is behind us (because i was about to ask her to pull over) so that she could also see it, and just as she turned her head to me to see what I wanted it faded away.I began crying and told her I seen a star. I felt emotional that it was gone and like she did not believe me. I wanted to badly for her to see it also.this occurred approx between 545 – 620 pm March 27th

Source:  MUFON
---
Date:  March 27 2016
Location:  Callao Salvaje, Canarias
Time:  
Summary:  One mothership with cigar appearance plus 5 objects near mothership, faraway up to skyline caught from our security camera with movement detector. You can see clearing the photo , but in video only appear as a flash during one second in the second number two of the film.

Source:  MUFON
---
Date:  March 28 2016
Location:  Cajarc,  France
Time:  
Summary:  I was taking pictures of French mountains with a friend, using long exposure time, on a small path close to the town, when I saw a strange light among the clouds. I first thought it was the moon but then I remembered it was a day of new moon. Besides, it was moving slowly, back and forth laterally. I was fascinated, I did not know what it could be at all, but it was beautiful, so I took a picture. It is a 10 seconds exposure so the object is blurry because of its motion. The light around it looked unreal, as if it was a very powerful but very far object, above the mountains. That is why I thought then it was an UFO. My friend was amazed too. Gradually, the light became dimmer, and the object vanished in the dark in a few seconds. All that remained were clouds. We got home.

Source:  MUFON
---
Date:  March 29 2016
Location:  Village Commons in South Hadley, Massachusetts 
Time:  08:30
Summary:  Driving towards the Village Commons in South Hadley, my friend and I could see two bright lights in the sky that kind of looked like head lights. They were just sitting in the same spot for a very long time. We could see them about a half a mile away. As we got towards the center of the village commons, it looked as though the ufo was now over us. The two lights that we had previously seen turned into three very bright lights. As we were freaking out I had climbed into the backseat of the car and stuck my head out the window. I could see the three very bright lights in a triangle shape and as I was looking at them, I could make out the circular shape of the craft. It looked very low and gigantic. Not long after it just sat above us and hovered, it started to move very fast and get far away. At this point, I needed to head home but my friend who witnessed it with me, continued to search for it after I left. She found it again on 202 in South Hadley and followed it all the way to Memorial Drive in Chicopee. She called me freaking out saying how close she was to it and that she was going to pull over to try and capture a picture. As soon as she parked, she said she was underneath it like we were before, and then the phone started to act up. I started to lose her and eventually our call dropped. She called me back freaking out telling me she captured pictures and a video. I strongly believe that I saw a ufo tonight. You can watch the video and decide for yourself whether or not you believe my story.

Source:  MUFON
---
Date:  March 29 2016
Location:  East Wittering, England
Time:  
Summary:  I observed the first object, which appeared like a large, orange star, with a sort of aura of colour around a brighter core, as I was leaving a friend's house and getting into another friend's car with them. I noticed the object because just as I was about to turn the corner out of the driveway to the curb where we were parked, I felt a sort of 'pull' inside my head to look in the direction of the object, and saw the written words "Look over there" 'in the front' of my mind (that's the best way I can describe it). My friend noticed that I was looking at the object, but we didn't talk about it – UFOs are not a subject that, at present, I feel I can discuss with them so easily, and I imagine that they probably thought it was just a plane. At the time, the object was simply hovering in the sky, but as we got into the car I continued to watch it, and it began to 'drift' (it was more like sliding, like an air hockey puck) to the right, from my perspective. Its light remained constant as it did so. As we turned onto the main road out of the residential area we were in, the orange object began to softly, gently pulsate, like a throbbing 'dimmer' then 'brighter' then 'dimmer', etc., and started to turn gradually paler in colour. As we drove on our route back from East Wittering to Chichester, the object stopped moving again. About 3-4 minutes after my sighting of it had started, it had become white in colour and dimmer. It also flashed a few times, like the way lights flash on the bottom of planes. When it stopped flashing, a second object just like it, with the same dimness, and also white, faded into view 'beneath' it and to its right(from my perspective). It drifted slowly to the right the way the other one had before. About a minute later it had stopped moving and both objects were hovering in the sky, at a constant height and in one place. My last sighting of the two objects was after we went round a bend in the road. I noticed that they were getting closer, and then our car passed them by (they were to the right of us). Then my line of sight of them became blocked by trees. By that point, the second object had become red in colour, and the first was starting to turn back to its original orange colour. This is not the first time that I've seen UFOs of this type – I've also seen UFOs of other types before as well, both in England and in New Zealand, many times in the company of other eyewitnesses. At the time of the sighting, particularly as we approached Chichester, a few planes were visible in the sky, with their typical light configurations. I've seen countless planes, helicopters, satellites, chinese lanterns, stars, planets, etc. in my lifetime, and they're very easy to distinguish from anomalous aerial phenomena such as the two objects I witnessed tonight.
Source:  
---
Date:  March 29 2016
Location:  Langley, British Columbia
Time:  8.30 pm
Summary:  at 8.30 pm tonight took out some garbage.Looking up at night sky.not yet total dark.saw the light ball moving silent and incediblely fast,not a satellite as i know they are not that bright and now where that fast to cross the sky.it was maybe 40 seconds to travell from when i looked up to when it was gone.was a full light-white.what got me was the speed.no shooting star.
Source:  MUFON
---
Date:  March 29 2016
Location:  Massachusetts
Time:  
Summary:  unidentified flying object
Source:  
---
Date:  March 29 2016
Location:  Temecula, California
Time:  
Summary:  My wife and I were in the backyard and we both were looking for shooting stars when we both saw what we thought at first was a flock of birds, then the object changes direction and shot off to the side. The object had no noise, was almost transparent with some white, no lights, no noise. Almost like the sky above was projected on the bottom. I had seen 3 of the same triangle shaped objects one night a month or two ago but thought, no I must of just seen something wrong and it was for a few seconds and went behind trees where I could not see anymore. This time my wife was sitting right next to me so I knew we were both seeing it , she estimated 7-10 seconds that we saw it. It is hard to describe, triangle shape, low to the ground under 1000 feet, almost transparent.

Source: MUFON
---
Date:  March 29 2016
Location:  Decatur, Illinois
Time:  
Summary:  Was leaving Doherty's pub after I ate lunch(was not drinking)and looked up to see what I first thought was a flock of geese in a v-formation. The 15-20 objects were traveling from south to north. They first appeared white and black yet somehow partly transparent with small wings. The v-formation suddenly broke up and the objects grouped together in a circular formation. I then called a parking enforcement lady(meter maid) over and pointed the objects out to her. Another man smoking behind an office building was observing them also. By this time the objects appeared as metallic or chrome orbs. They then started swirling like leaves in a whirlwind while moving to the west, away from us. The sky was clear and the sun seemed to reflect off of the objects in many different colors, one color at a time – very bright, almost star-like. The objects then appeared to turn the exact color of the blue sky or maybe became invisible. The meter maid and I looked at each other and were speechless. I felt as though the objects knew I was watching them and that they wanted to be seen by me.

Source:  MUFON
---
Date:  March 29 2016
Location:  Whitewater, WI
Time:  
Summary:  As I was driving to work down a dark country road, between two empty fields, a route that I've taken daily for the past year and a half, a rectangular shape about four feet wide passed across the street in front of me. The shape was transparent, and it was only visible because I had my high-beams on. My beams kind of reflected off of it as they would off of fog. However, this shape had very definite sides. I could not tell where the top of it was, because I could not see anything beyond how high my headlights went. I first caught sight of it as it was in the oncoming traffic lane. I thought it might be a shadow, but there were no other cars on the road, and no other sources of light out of the ordinary. I realized the shape was moving across the street in front of me. I lifted off the gas, to make sure I would not intercept it. The shape did not vary in size or form as it moved to the right. The width and speed remained consistent. I had chills come across my body as I watched it travel, and realized I had no idea what it was. It reached the right side of the road when I was probably no more than eight feet away from it. At that point it was leaving the range of my headlights, and was no longer visible. For the past week and a half, I've been focusing on that portion of the road, to see if I could find any other explanation, but can't come up with anything. I'm basically just reaching out here to see if anyone has any ideas, and if anyone else has ever encountered anything like this.
Source:  MUFON CMS
---
Date:  March 29 2016
Location:  Morganton, North Carolina
Time:  
Summary:  Was outside between 9-10 pm looking south. What I thought was one of the stars in Orion began to move across the sky. It moved upward in an arc to the left, toward the northeast sky. When it was in the northeast, appearing near Jupiter its direction changed from a continued arc to more of a descension. It descended and was out of sight. There seemed to be a glow coming from that area in the distance afterwards. At first I thought it might be the light of the moon commencing to rise but the moon did not rise for several more hours. Heard dogs barking in the distance. Seemed like it would have been miles away. It appeared like a bright star or like Jupiter or Venus appear. It moved much faster than a plane. Whole event occurred in 5-7 seconds.
My family had a very close encounter in 1973 with an object that hovered directly over our car (after my dad pulled off the road to watch it). The 1973 object moved quickly and even stopped in midair and reversed its direction. The starlike object's movement reminded me of the 1973 object.

Source:  MUFON
---
Date:  March 30 2016
Location:  Sonora, California
Time:  
Summary:  I don't smoke in my home,so I'm often outside observing the night sky. I live about a mile West of Soulsbyville, CA. This the first time I've decided to report this but not my first observation of this strange anomaly. I've been seeing this for quite some time. I have seen satellites fly over with the naked eye many times which is why this is not what I'm seeing. When I look in the sky to the east I'm seeing a light and occasionally multiple lights approximately the size of satellites making extreme movements in direction up down left and right. Tonight I went back in the house to turn off the porch light for better viewing but when I returned I couldn't spot it again. Having worked at a national laboratory I know what we are capable of and would not make a report like this if I thought it to be something man made. These anomalies are moving in a way that defies logic in human terms. I will attempt to film them when I see them again which is more frequent than I first thought.

Source:  MUFON
---
Date:  March 30 2016
Location:  Fairport, New York 
Time:  Night
Summary:  Went out for a smoke and looked up because it is a crystal clear tonight, you can see all stars, looking towards the east I saw a wide bright red light, flashing intermittently, thought it was a plane heading west to the airport but it had no sound whatsoever and was flying very smooth and low. Planes pass by apartment complex everyday and I can tell this was no ordinary commercial aircraft, couple of planes actually went by tonight and I heard their engines and descent. This object was just pure silent, hovered at a steady speed in the most smooth way I've ever witnessed ever in my life, without the light it must be totally stealth and impossible to see. I took several pictures with my iphone and upon zooming in, an disc shape with an upper center deck can be seen. Whatever it was, it was so silent and smooth it literately freaked me out. I am familiar with planes and their beacons and lights arrangements in fuselage, wings, etc. This object's red light, more like a beam, was far bigger and wider than any commercial airliner and was positioned in the front fascia of the object as if it was "scanning" the land area from above. I lost sight of the object when it went over my roof.

Source:  MUFON
---
Date:  March 30 2016
Location:  Morganton, North Carolina
Time:  
Summary:  On 03-30-2016 at approximately 2058 hrs, I observed two bright lights unattached to an aircraft traveling in a direct linear flight path. At the time, the sky was clear of cloud cover and my friend and I were standing by his truck drinking a couple beers. We starting talking about other odd occurrences and tried to interpret them. My friend refers to UFO's as travelers. No sooner than he said that, I just happened to look up and saw what I thought to be a star, but it was moving. It was moving in a straight line from the north to the south. I immediately got my friend's attention and pointed at the object. I tried to record the light with my phone, but the light was too dim to be seen on the camera phone even after I zoomed in. I put my phone up and looked at the sky again. Amazingly, their was another light that I had thought was a star, but a lot brighter. It was hovering in the sky like a star before it started its flight path. This second light was not only brighter, but followed the same flight path to the south. This time, I got to record it. This was not a shooting star. I have seen them and this was not it. No sound was heard and the objects were flying at a high rate of speed. Shortly after the second light, I saw was appeared to be a jet following the same flight path. Judging by the sound of the afterburner, I believe it may have been an F/A-18. After being in the military for several years, I am pretty sure of that. The only thing that would be close to that sound would be a Harrier Jet or an F-22 Raptor. We watched the whole thing until we could no longer see them. This is the fourth encounter I have seen in the same county. In the video there is mild adult language used.

Source:  MUFON
---
Date:  March 30 2016
Location:  West Chester, Pennsylvania
Time:  
Summary:  very fast objects, that are flying across the sky
Source:  SOURCE
---
Date:  March 31 2016
Location:  Waynesville, MO
Time:  around 2:30 am
Summary:   I woke up around 2:30 am by flashes of white light. at first, I thought it was lightning from a storm since the flashes were so sudden, but there were no storms that night. I turned over and saw a gray alien who stood at 4 feet tall (estimated) next to my bed. My room is very dark at night, so I could only see its face (alarm clock's light) and not the rest of it. The gray alien seemed curious to see me. I tried communicating with it, but somehow couldn't and just went back to sleep. I was able to move during the time, but I felt weak. About 5 minutes later, I saw a few flashes of white light, looked again, and the gray alien was gone!
Source:  MUFON
---
Date:  March  2016
Location:  
Time:  
Summary:  
Source:  
Related articles