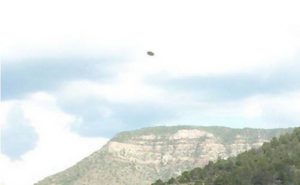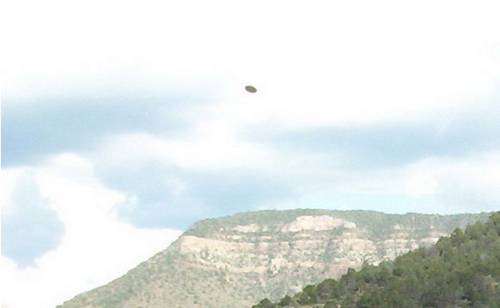 (Last Updated On: August 17, 2016)
Date:  August 2005
Location:  Szczecin, Poland
Time:  night
Summary:  Monika B's 7-year old son had asked her to sleep in the bedroom with her and of course she agreed. They were about to get into bed when the boy suddenly remarked, "Mommy! Look at the wall behind the window. What a green color. It looks like a skull". She looked at the wall and indeed a skull was visible in the center of a greenish background. They then went to bed. Turning her head her son asked her not to look in that direction but her curiosity prevailed. She peered at the wall and she noticed that the skull had begun to transform itself into the image of a "gray" alien, known from many descriptions. She was afraid and was almost paralyzed. She wanted to approach the window and look at it at a closer distance but either fear or something other prevented her from getting up. She was now completely "turned off" unable to move. The witness and her son have been involved in other bizarre experiences, some with paranormal connotations.
Source:   Piotr Cielebias, Poland
---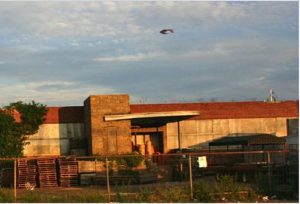 Date:  August 2005
Location:  Jersey City
Time:  
Summary:  
Source:  
---
Date:  August 2005
Location:  
Time:  
Summary:  
Source:  
Location. Plainfield, Indiana
Date: August 2005
Time: 0420A
The witness who lived in a highly developed housing neighborhood was staying up late at night watching television when he suddenly experienced an urge to look out the window of the second story unit. He stood up and slowly peaked out from behind the blinds, and when he did, across the street, right underneath a streetlight he saw 3 entities walking, a tall one, a shorter one, and another tall one, in that order, the short one was in between the tall ones. They were skinny, had long limbs, slightly larger heads then humans and walked in a strange manner. One of the strangest things about the experience was that at the exact second that he looked out the blinds the entities were staring at him (hence the mental impulse?), as if they knew he would be looking out the window at that exact second. Also they were not walking side by side like three humans most likely would, they were walking in a single file, and walked in a sort of mechanical "zombie" manner, arms bent back dangling, knees bent, and heads dangling as well but cocked so they could stare at the witness. However because of an unspecified glare outside the room the witness could not make out any specific facial details or the color of their skin, they were just well defined. They kept staring at the witness and he kept staring back, but they kept walking until they couldn't see them anymore apparently disappearing behind a row of houses. Once they went out of his sight the next thing he remembers was backing away from the window, putting his hands on his head and saying "what do I do now". Then he slowly fell to the floor, for some reason his legs were unable to support him, so he crawled to his bed and laid down. He was in panic, his heart racing and his legs useless, and he was very afraid to fall asleep thinking that he would never wake up again. He thought about calling his older sister or even dialing 911, but did not. Soon his heart went back to normal and he was able to walk again.
Source: MUFON reports page, and NUFORC
---
Date: August 4 2005
Location: Brazil
Time: 14:00
Summary: Small Gold Flat Chip(s) Extracted From Mouth
Here's a play by play of exactly what has transpired. I'm an American living in Brazil with my girlfriend of 5 years. About three months ago I was driving back with her from the town where she grew up in Brazil. We were conversing, passing time, and she happened to tell me this story about how she and her sister used to expel metal pieces out of their mouths when they were kids. I was nodding my head and acknowledging her, but inside my head my thoughts could frankly be described as, 'mmhmm, oky doky', like 'yeah, sure, I'll just forget my girlfriend ever mentioned this crazy story'. She continued to say that her mother had the last piece extracted analyzed in a lab and the results were that the object was not "from this world". I naturally probed with a few questions, but I wasn't convinced so I honestly let the story in one ear and out the other because the mother or sister wasn't there to back the story and I need proof to believe something like this.
Friday August 4th, 2005 – The Proof My girlfriend decides to come home for lunch, a rare occasion. I made her a sandwich, she ate, then had to rush back to the hospital (she's a doctor). She went into the bathroom to brush her teeth and I remained on the couch with our dog. All of the sudden she came out holding her finger out at me with a gold piece on it and said, "Remember when I told you me and my sister were getting these metal pieces out of our mouths? Well, here's one" (very calmly and confidently). She came out and showed me this thing like this wasn't the first time she's shown someone else these objects and she handed it to me and told me to keep it. She also had this air about her like, "You believe me now?". So I inspected it. I was really curious. I asked her if it had come off her necklace and she said, "C'mon (my name), no". Then I made her swear on my grandmother's soul that she wasn't lying and she did. My grandparents who are diseased mean the world to me and she knows it. Then I started thinking, was it in the bread, egg, salt, onion, tomato, cheese, ketchup, or lettuce that I made her? Was it in the grape juice she drank? How about the toothpaste? So I went into the bathroom and pointed out the toothpaste tube we'd been using and asked her if this was the toothpaste she'd used and she confirmed it was the one. So I squeezed the remains out on the bathroom counter and mushed it around with my finger to see if there were any more chips, no chips. Then she left, she had to get back. I got curious having this thing in my possession and wanted to check online to see if anyone else has had this same strange phenomenon happening to them. I wasn't having any luck. I started putting in on Yahoo, "coughing up metal", etc. I was clicking around with no luck until I happened upon this website, reading this story.
http://www.ufoinfo.com/filer/2000/ff_0003.shtml "STRANGE GOLD IMPLANT FOUND Bill Bean writes that, "In July of 1997, I became mysteriously ill and couldn't swallow, because there was a pressure on my throat." I felt I was choking, just drinking water. It was the most horrible experience of my life, and I wish it on no one. I saw eight different doctors and many tests were done and nobody gave me an answers. I was rushed by ambulance to the hospital, three times in three weeks. I truly thought I was dying. I noticed a pattern of red circular marks on my back that I felt was a reaction to the medication. My wife photographed them. I could not eat and my weight went from a muscular 240 lbs. to 198 lbs. On December 16, 1997, I was in the bathroom with my wife, brushing my teeth when felt a bristle came off my toothbrush causing me to cough. I reached in my mouth to get the object with my right index finger and found a gold – square – flat – chip. Our first thoughts were that it had to come out of the toothbrush. Something told me to save it and I did. The next night, while brushing my teeth, I started coughing again and expelled two more of these things in the sink. After expelling the first piece, I felt like some pressure had come off of my throat and the next night a lot of pressure had come off. I began eating normally and felt much better. Last year, I sent one piece to Derrel Sims who had the object analyzed. Bill says, "My piece matches a piece that was surgically removed from a person four years ago in Brazil. An isotopic test to determine if the piece is alien is being accomplished." Thanks to Bill Bean bllin@erols.com. Editors Note: Derrel Sims and I feel this may be the most significant implant case thus far. derrel@holman.net" When I read that line, "On December 16, 1997, I was in the bathroom with my wife, brushing my teeth when felt a bristle came off my toothbrush causing me to cough. I reached in my mouth to get the object with my right index finger and found a gold – square – flat – chip.", a surge of fear shot right through me. I felt like I was in a movie suddenly or a bad dream. How could this all be some weird coincidence? It's possible sure, but I have a hard time formulating a hypothesis. Is some company having a food processing flaw allowing 20 some odd chips to fall into vats over the years and these three people in different countries happen to consume? There are so many possibilities! Could it be the government somehow tracking people? Why the two sisters? Why the man, if he's telling the truth? Could extraterrestrials be abducting and experimenting on us? My girlfriend, seems to think they are coming from her nasal passage, not travelling up her esophagus and surfacing in the throat. Or perhaps if it is a food consumption flaw perhaps it's getting caught in the back of the throat in the tonsils or skin. In 2002 after she extracted a chip, she moved with me shortly after to the US in 2003. Coincidently, she had a bad nasal infection and smell emanating from her nose. Another oddity related to this: both sisters have a benign cyst in the same location in the cerebellum in their brains. My girlfriend two months ago was feeling immense migraines and motor skill loss, so we went a diagnostics center here in Brazil to have an MRI done. I saw her holding up the large X-Ray looking sheets into the light and she said, "Weird, I have the same cyst as my sister and in the same spot". Immediately after I read that similar story online, what did I rashly do in a panic? I called SETI. I got their secretary in California and she couldn't help me, all she said was that she was sorry, but she didn't know where to guide me in this apologetic voice. Then she advised me that my girlfriend should see a doctor. I told her, "the person who is expelling these is a doctor". And she didn't have anything to say, but that she didn't know how to help me.
That's when I started emailing as many UFO researchers as I could. Everyone seemed to refer me to A.J. Gaevard here in Brazil. So I contacted Mr. Gaevard and he was very nice and helpful and directed me to someone here close to home. What I do know is that when the mother of the two sisters had the piece in 2002 analyzed, from what I gather, they basically took it, said it was not from this planet, and didn't give it back and the family didn't hear anything back. So the girls weren't extracting anymore chips and the issue subsided and nobody talked about it, until now. I had my girlfriend call her mother in front of me and ask what happened exactly to the last chip. So her mother called her contact and this is what her mother explained to my girlfriend, who explained to me: The first lab didn't know what it was or what it was made of, so they sent it to another lab where they said it was somehow composed of quartz. That's it. And it took three years later for the mother to find this out in 2005.
Update: We have since remained in contact with A.J. Gevaerd and his close friend and colleague who is an esteemed doctor and publisher, which we met in person last Monday (8/29/05) to drop the chip off for analysis. They are conducting research on the piece now. Results will be posted in Gevaerd's magazine sometime in the near future.
Source:
---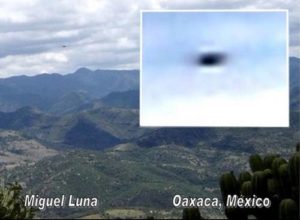 Date:  August 5 2005
Location:  Oaxaca, Mexico
Time:  
Summary:  
Source:  
---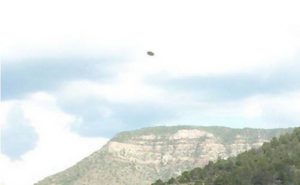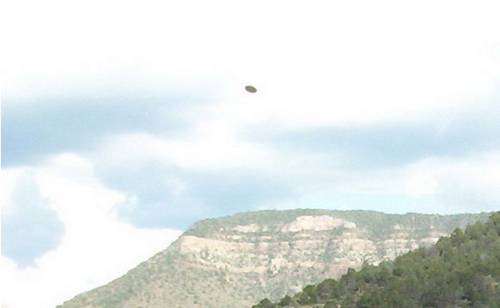 Date:  August 6 2005
Location:  Salt River Canyon Arizona
Time:  
Summary:  
Source:  
---
Date: August 6 2005
Location: Jilin, Jilin Province, China
Time: 1800
Summary: A student named Li was walking out of the Jilin University when he and his girlfriend reportedly saw something unusual in the sky. "I saw a bright animal-shaped object flying in the sky, heading southeast," Li recalled. "It was incredibly dazzling, just like a gigantic dragon. I immediately took a picture of this unusual event on my cellphone."
Source: http://www.mysterious-america.net
---
Date: August 10 2005
Location: Ampoita-ALBA Romania
Time: 14:00
Summary: Strange object in the sky I made a picture of my family. After developing and watching it we saw a strange object, like a saucer, in the sky. I do not know exactly what it was but it was not a usual plane/helicopter. I will send you a picture to check it.
Source:  National UFO Reporting Center
---
Date:  August 2005
Location:  
Time:  
Summary:  
Source:  
Location. Edmonton, Alberta, Canada
Date: August 11 2005
Time: afternoon
Angela Derzaph was at the local library with her children when a little girl sat right in front of them. She was holding a book and flipping pages but was not reading. She was looking directly at her son who sat reading a book to the witness. She had absolutely no expression on her face and moved her head in a very peculiar manner. The witness other son was sitting behind the strange girl at another table and never did see her face directly but he did see her from the side. She caught his attention because there was something odd. He noticed that she was holding a book but was looking at his mother. Her eyes shifted and occasionally she would look to the side. But more bizarrely her eyes were "not of this world". They were not deformed but were 2 and a half to three times the size of normal eyes and were almond shaped and incredibly were at a 60degree angle. Everything else about her was normal. Soon a woman whom the witness assumed was the girl's mother of about 55-years of age approached the girl. She asked her why she was reading French since she did not know how to read French. The girl then stood up without expression almost robotic like and walked around, every so often glancing back at Angela. She grabbed a book off the shelf and threw it in the woman's basket and they left.
Source: first hand report from witness aderzaph@yahoo.ca
---
Date:  August 2005
Location:  
Time:  
Summary:  
Source:  
Location. Near Wilmore, Pennsylvania
Date: August 16 2005
Time: 2130
The main witness his son, his brother and nephew were fishing at the Wilmore Reservoir outside Portage in Cambria County. They had built a fire for light source even though they had a flashlight. They were sitting on the dock fishing when his son playing with the flashlight directed it towards the fire some 40ft from their location. Between 2 trees about 3 ft behind the fire the main witness caught a glimpse of something. His son then moved the light. His brother then grabbed the flashlight and shined it back; it was then that the main witness realized that he hadn't been the only one who saw it. What they saw was extremely terrifying. It was a 7 to 8 ft tall figure, its arms almost as long as its body. It appeared to be hunched over a bit. They didn't get a good look at the face, but it was definitely not human. It was bright white but not shiny like an albino and it moved as if its knees were in backwards.
Source: http://www.alien-ufos.com/forum also in NUFORC with similar details
---
Date:  August 2005
Location:  
Time:  
Summary:  
Source:  
Location. Sampzon, Ardeche, France
Date: August 16 2005
Time: 2130
A man out walking his dog along a wooded path suddenly felt that someone was following him, looking behind him, he saw at about 5 meters away a strange silhouette that seemed to lack any human features, and the witness could see a chest area and a translucent head. He called for his dog, which ran and then lay prostrate on the ground in front of the figure. The witness does not recall how he stayed there staring at the figure, but it apparently did not have any bad intentions, since the witness did not feel fear just fascination. However as the witness attempted to approach the figure, it ran away at incredible speed leaving behind a cold puff of smoke behind. Even stranger, when the witness returned to the house it was already 0035A, it seems that he had lost 3 hours of time. (There is no mention of any hypnotic regression being performed).
Source: GREPI, Switzerland
---
Date: August 20 2005
Location: Wakefield England
Time: 20:00
Summary: silver disc very high up in the sky west Yorkshire England Only i could c this silver disc very high up .The day was very clear no cloud by i told other people to have a look but the silver disc just dissapeared. there was no smoke coming out at the back of the disc at all .
Source: National UFO Reporting Center
---
Date:  August 2005
Location:  
Time:  
Summary:  
Source:  
Location. Demerdzhi mountain plateau, Crimea, Ukraine
Date: August 21 2005
Time: about midnight
As told by 21-year old Ivan N. a group of 12 tourists, including 7 adults and 5 teenagers, were spending their second day of tour camped on the plateau between northern Demerdzhi and Stol-Gora. Several Moscow residents were in the group. The night was very light and there was a full moon. The children had gone to sleep while the adults sat around. Ivan's assistant Alexander and several more men had gone to nearby woods in order to satisfy some physiological needs. When they returned to the camp they were trembling with fear and then the whole group heard a frightful snarl or growl very close to the camp. The men went to the perimeter of the camp, Alexander armed with an axe. Moments later they all saw strange creatures resembling "wild men" or animals only a few meters away. There were 3 creatures, about 2 to 2.5m in height, their real height was difficult to establish, because they were bending over and periodically sat down on their front extremities. All three resembled huge apes, and were growling. Their faces were very dark, and the eyes were almost not visible. Their heads were positioned low over their shoulders almost lacking necks. On their backs they had something resembling humps. Alexander was closer and saw that the hairy creatures were covered in light fur on their heads and eyebrows, with some areas on their shoulders. The witnesses could not tell what sex the creatures were. Creatures appeared to be aggressive but not openly, and appeared more curious. The witnesses became terrified, Alexander trembling with fear. The children woke up and came out of their tents after hearing the growling noises and became terrified with some of the girls crying and screaming. The encounter or "siege" lasted for about 40-45minutes, with all the men becoming impotent due to the terrible fear felt. Finally the strange creatures turned around and walked away in strange manner, like hoping or jumping. The rest of the night the witnesses were unable to sleep and in the morning they failed to find any tracks or prints since the ground had been covered with a thick layer of fallen leaves. Some of those present attempted to film the event but the film was very poor and indistinct probably because of the poor lighting.
Source: Irina Shahno in: "Situation" weekly newspaper, Simferopol Crimea # 10, September 8 2005
---
Date: August 23 2005
Location: Tralee, County Kerry, Ireland
Time: 0200A
Summary: Shaun Bush claims he was abducted by aliens on this day. But they weren't the probing jabbing aliens, they were peaceful aliens, they wanted to talk and oddly enough spoke English. He was taken onboard a spherical craft about ten feet in height. Inside he was taken into a massive room, which looked like any room you would find in a house, only bigger. He was shown to a chair and gave him food, "a hamburger". They let him go after what seemed like a few days, but it was actually just 3 hours. They had taken him at about 0200A and it was now 0500A when he found himself back in his room.
Source: reports
---
Date:  August 2005
Location:  
Time:  
Summary:  
Source:  
Location. Ljubovija, Serbia
Date: August 23-24 2005
Time: evening
The witness, Milos Dokic was getting some work done in front of his house when he heard the children that were playing soccer nearby shout, "A man flying!" He briefly glanced at the roof of a nearby yellow building and saw a small man with a black cape walking on the edge of the roof. He got back to work thinking it was somebody installing a television antenna. When the children began shouting a second time, the witness wife, Slavojka came out of the house to see a man floating in midair, between the yellow building and the Ljubovijatrans building. He was surrounded by a faint glow and his eyes glowed mysteriously as well. They then attempted to approach the humanoid but he retreated, always keeping the same distance. Then a strange game ensued, every time they approached the strange figure he would retreat, always keeping the same distance, when they stopped he stopped, all the time hovering in the air. After a few times that this occurred the humanoid abruptly turned around and disappeared behind the poplar trees near the Ljubovijatrans building. The following day at around 1500 the mysterious figure was seen again, flying towards the Kik Hill then turning towards Nemic. There were many witnesses this time, people walking on Drin Street, including a bus full of people and crowds of people that were waiting at the stadium for the soccer match to begin. The description was again identical; some said that it appeared to fly as if it had an engine of some sort strapped to its back, defying gravity. The police conducted an investigation but without any definite results. After hearing about these sightings a man, Dule Lazarovic came forward saying that his children had seen something similar earlier in the summer of the same year but at the time he did not take the story seriously. This sighting took place in the village of Lokanj near Zvornik, some 50km from Ljubovija where Lazarovic's family was on vacation. His two children, Lazar and Dejana, along with other children from the village saw for three nights in a row a similar being also apparently flying; they described it as having the shape of a man that was stooped over. The children were very upset and did not go outside to play anymore after that.
Source: Ananova News http://www.ananova.com/news/story/sm_1512284.html
---
Date: August 27 2005
Location: Apodaca, Nuevo Leon Mexico
Time: 10:00 
Summary: A half hour ago, I and others have seen a very bright "star" moving from northeast to southwest almost on the cenit (70 to 90°) with a very clear sky and a very bright sunshine. I´m sure it is not a balloon, because it had a so very slow motion, it seems to be motionless, but it was moving in a "line" direction slowly. The object had a trajectory to pass so far and beside the moon, I estimate 20° beside, but it turn 90° before the moon and change the path to southeast with a "just a little" more velocity simply to vanish. The appearance of the object is something like see the mars bright and magnitude at night buth in white color and on daylight, without troubles to see naked eye. I know very well the motion of high altitude planes, satellites, meteorological balloons, Apodaca is 112 miles south aprox. from Laredo Texas USA.
Source: National UFO Reporting Center
---
Date: August 27 2005
Location: Hobart Tasmania, Australia
Time: 20:15
Summary: Moving orange stars in random formation moving north to south white aura when moving through cloud 6 orange objects, the size of large stars, below cloud height, in a scattered formation, moving slowly across the sky from a northerly to a southerly direction. We got out of our vehicle and could not hear them making any sound. Randomly scattered, say 500 metres apart. It was night time. A white aura appeared as the objects moved through ( random ) clouds
Source: National UFO Reporting Center
---
Date: August 27 2005
Location: Amman Jordan
Time: 23:00
Summary: 15 circular yellow lights ,in the form of triangle head moved from east to north west for 2-3 minutes befor disapearing in the horizon. I was looking at Polaris (north star) from my balconey to align my telescope when I saw in my naked eyes a group of small,yellow circular lights in the form of triangle head(around 15 of them) passing above me in the sky at a coniderable speed going north-west direction, I called my wife to see them and she did and then I called my 4 dauthers to come with us to the roof to have better view and tracking and they kept traveling as a group but some of them where not keeping the same distance and speed from each others (as if they where slowing and speeding up) , this is not satelight pattern ,nor it could be aircraft pattern ( no sound at all) and they where very high up in the skey ,this lasted 2-3 minutes and then they disapeared in the horizon the was full of haze and city light. This is the first time in my life I see an UFO.
Source: National UFO Reporting Center
---
Date: August 28 2005
Location: Fort McMurray Canada, AB
Time: 00:30 
Summary: Formations of red lights flying across night sky. At 12:30 am on August 28, 2005 while looking to see Mars, myself and my parents notice groups of faint red lights shooting across the sky. These lights moved very fast and some where in a V-formation, while others were just in an un-organized group. They were moving in a westerly direction. There was way to many to count. They began to dissappear after about an hour. The groups ranged from 1 to 25. At first i thought they were birds but quickly decided against it due to the speed and direction they were flying. they would stay in formation but each individual light would bounce up or down or side to side while still moving forward. it was not a quick shift, but almost graceful. they move no sound either. just wisked by.
Source:  National UFO Reporting Center
---
Date: August 28 2005
Location: Dragesti Romania
Time: 17:34
Summary: too many description I can't give you,when I took the picture I didn't know it is something there…I was in vacation visiting my family and I was on the way to village where I use to spend my vacation when I was a kid,I just wanted to have pictures with that forest…I only looked closely to this picture when I came back in Florida where I live,I think it is not a bird,It is not very visible only if it's magnified,in this area nobody have jet planes…or airports…honest I think it is something that you'll find better than me,more professional tools etc.I hope this is not a waste of time for you,I will send a couple of pictures to have an idea,why I think it can be an UFO.
Source: National UFO Reporting Center
---
Date:  August 2005
Location:  
Time:  
Summary:  
Source:  
Related articles